Blog
11/8/2018 - 0 Comments
A guest post by Mike Dershowitz, the CEO of Rethink Staffing, a Fair Trade Outsourcing Company, and its sister facility, RTS Philly Outsourcing Center. He believes that when companies focus on their employees' social and economic progress, it motivates them to perform better at work and produce outperforming results. Contact him at 888-631-0398 or mike@rethinkstaffing.com for an initial consultation. Read more from Mike on his Medium site.
Original publish date: August 27, 2018
I've been living in Berlin, Germany this summer. It has been an incredibly productive time for me and for Rethink Staffing as a whole, including finally building a real sales team that can deliver results.
My favorite breakfast place is two blocks from where we're renting a flat, called
Anna Blume
. It was introduced to me by a Berliner friend 3 years ago upon a visit for business, and situated in the old East Berlin neighborhood of
Prenzlauer Berg
. The coffee is good, and the
bauernomelette
(think of pickles, potatoes and eggs) is my favorite.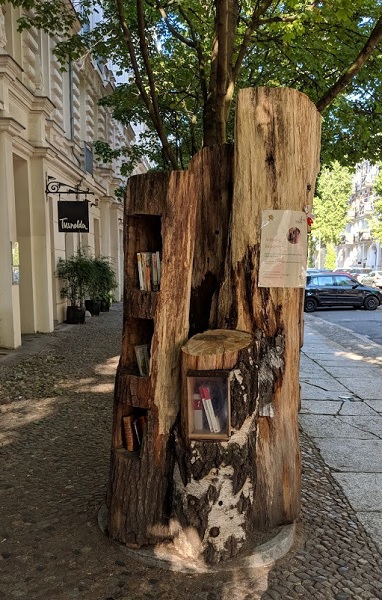 When there alone, I find myself quite contemplative.
I go there weekly to write. My favorite table faces west, and right in front of this table on the street there is the most interesting old tree that has been transformed into a potent symbol of the communal and trustworthy nature inherent in German society.
But to me, it's also a powerful symbol of how persistent, little actions can have such a large impact on people's lives and the world at large.
This tree has been transformed into a book exchange. Some craftsman took the trunk of it, cut small shelves-cum-compartments into it, covered with plastic fronts to protect the books from the rain, and placed it on the street with a small note of instruction. The compartments contain no locks, there is no record keeping mechanism whatsoever. You can place or take as many books as you like.
I usually sit there any hour and half, eating, writing, and — like
a shoddy Balzac
 — (at least in my mind) drink a few coffees. In that scant hour and a half of that day of the week, I see all manner of people come by, and with a frequency that astonishes. I'm there for just 90 minutes, but I must see 7 or 8 people come by in that time.
That one craftsperson, with this simple idea of a book exchange, has now impacted thousands of lives. Do the math: I'm there for just 90 minutes one day a week; how many weeks, months and years has the tree been delivering thought-provoking texts, giving pleasure to people as they read something fun, or providing much needed distraction to someone that maybe in some form of distress or crisis.
The enormity of the aggregate of instances of influences on those people using the tree, created by that one craftsperson who created it, can probably never be calculated or known. It was this realization that led me to interpret the value of the tree as a potent reminder to my sales people.
Progress is made in the aggregate. No great labor or achievement was accomplished in one isolated action of such instantaneous, conjured power. Rather, the passage of years and thousands of hours of work can be most consistently attributed to great achievement. Ask any professional athlete, superior craftsperson, or writer. It was the result of thousands or a million little actions.
So I remind my sales team (and yours):
Progress is made in the aggregate.
Every day, you must be laboring to get your message to as many people, through as many small, simple actions as you can muster within the energy that you possess for that day. You must always be meeting new people, reconnecting with old contacts, and telling anyone who will listen why you are doing what you are doing.
For you shall never know what little action you may have done months ago, when interacting with another little action (of yours or another), and how, when those actions combine, may finally be the spark needed to advance your goals. That spark is what results in your prospects finally sending the "let's catch up" email or "It's time for us to get serious about this" email. Or even, in this day and age, that rare phone call.
So, I say this to all those salespeople out there who maybe struggling with the day-to-day repetitive nature of sales (and to my sales team):
You are that craftsperson.
You are creating that tree where you and others come to exchange ideas. Your job is to help your prospects take a little idea from you, one from another, and combine them until those ideas create something of value for your prospect (which hopefully is what you're selling).
Do that for people you meet, and for potential customers, and you will always be successful. But you must do that every day, and in a thousand small little ways.
Progress is made in the aggregate.
11/7/2018 - 0 Comments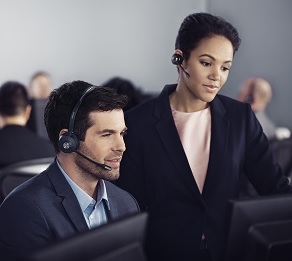 Jabra has announced that all variants in the
Jabra Pro 9400
series of DECT wireless headsets are at their end of life date, and are no longer being manufactured as of October 2018. The Pro 9400 headsets will be sold for as long as stock is available.
Recommended Replacement: Jabra Engage Series
In its place, Jabra is recommending the Engage DECT wireless headsets. The Jabra Engage 65 and 75 Series includes a range of Stereo, Mono and Convertible models to enable an easy migration from the Pro 9400. The Jabra Engage Series is engineered to be the world's most powerful professional range of wireless headsets. Utilizing new, exclusive technology that gives 3x better wireless density – while still maintaining excellent connection quality – Engage helps deliver better conversations to boost customer satisfaction.
The Engage series boasts better sounding calls, more talk time (up to 13 hours!), and better productivity because of the built-in busylights on each headset. Security features going beyond DECT security Step C providing enhanced protection against eavesdropping. A micro-USB charger in the base makes it easier to dock the headset correctly in one simple action and ensure it is charging. With the fast charge feature, you can power the headset to 40% in just 30 minutes. If the battery gets critically low during a call, Jabra Engage can also be charged using a standard wall charger while you are still on the call.
What is the difference between Engage 65 and Engage 75? Engage 65 connects to desk phones and PCs, and buttons on the base unit are intuitive and easy to use. Engage 75 headsets can connect to five devices simultaneously: 2 USB devices (softphone and/or desk phone), 2 Bluetooth devices and 1 analog desk phone. The base unit is touchscreen.


New to the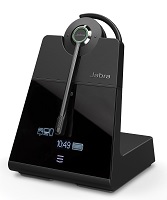 Engage series are the Convertible models with a smaller ear speaker and 3 included wearing styles: ear hook, neckband and headband. The Convertible model is available in both Engage 65 and Engage 75 variants.

We will continue to sell accessories for the Pro 9400 series, especially the popular replacement battery kit.

Call our headset experts today for assistance in choosing the best Jabra wireless headset for you: 1-866-998-9991.
10/16/2018 - 0 Comments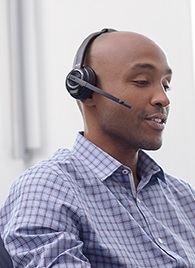 Noisy open offices can lead to unproductive and stressed-out employees ... and, unfortunately, this work environment is prevalent. Organizations should look to headsets as tools to bridge the gap and increase productivity in the workplace. Headsets must meet the needs of employees (who need headsets that are comfortable, convenient, and cancel background noise)
and
their customers (who need clear conversations, every time they call) to achieve organizational goals.
Plantronics' newest DECT wireless headset series, the Savi 8200, has been built for the human experience. The Savi 8220 features active noise canceling (ANC) that blocks out background noise so you can always stay focused on what's important. This is the first headset on the market that's designed with ANC for desk phones! And, to further enhance collaboration and communication, these headsets also connect to PCs and mobile phones/tablets. Count on Plantronics technology for rich, people-first collaboration experiences so good that ideas can be shared and heard—wherever, whenever and however they happen.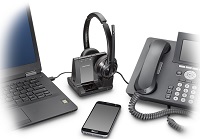 With the noise-canceling mic, you'll sound your best even in noisy environments. For the most sensitive environments, you can turn up noise canceling with the close conversation limiting feature (configurable in Plantronics Hub,
free download here
) for additional privacy. The mic boom is flexible, allowing for optimal placement: two finger widths away from the corner of the user's mouth.
Top Features of the Savi 8220:
*Active Noise Canceling
*
UC
and
Microsoft certified
versions
*Conference up to 4 headsets to 1 base unit - great for training in contact centers and also conference calls
*Connect 2 devices together, for conferencing between PC to desk phone; or mobile phone to PC
*13 hours of talk time!
*Ringer on the base (can be disabled, if needed)
*Large leatherette ear cushions and padded leatherette headband
*Roam up to 590 feet away from the base (this depends upon physical environment)
*DECT Security certified: uses the latest standards in DECT wireless security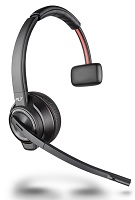 The Savi 8200 also comes in a single-ear variant, which does not have ANC. And, just like the Savi 8220 headsets, the Savi 8210 comes in
UC
and
Microsoft
versions for every user environment.
Is it time to reassess headsets at your organization? Are you looking for high quality professional headsets with superior sound?
Take a look at the Plantronics Savi 8200 headsets, and call one of our headset experts today: 1-866-998-9991.
10/10/2018 - 0 Comments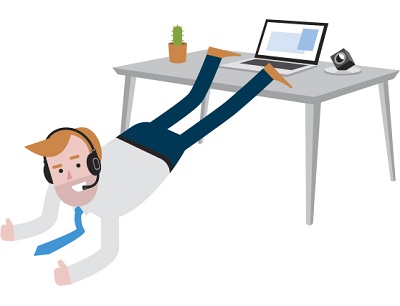 It's a scientific fact that leading a sedentary lifestyle can be harmful to one's health.
The job category of "knowledge worker" – people who handle information as their job – can be considered sedentary, where employees remain seated and desk-bound for 8 or more hours each day. This does not include their commute time to the job … which could be an hour or more each way. Your job (and the time it takes to get there) just may be harming you!
What are the harmful effects of inactivity?
According to an article on the Australian government health department web site, some hazards associated with sitting all day include:
Weakened legs and gluteals, which could lead to falls, and strains when exercising
Weight gain
Hips and back – hip flexor muscles shortened, leading to problems in hip joints; sitting for extended periods of time can cause problems in your back, especially if you have poor posture
Anxiety and depression
Cancer, heart disease, diabetes
Varicose veins, Deep vein thrombosis
Stiff neck and shoulders
In the United States, it's estimated that 86 percent of workers have desk jobs. This sitting epidemic could be a national health crisis! So, what can be done about this?
The current official U.S.-government issued
Physical Activity Guidelines
, in place since 2008, says that adults (classified as ages 18-64) who are physically active are less likely to develop chronic diseases than adults who aren't active – regardless of gender or ethnicity. The Office of Disease Prevention and Health Promotion reports that
the worst thing to do is to avoid activity – any physical activity is better than none, and has health benefits.
Aerobic activity is best for substantial health benefits. Each week, strive for at least 150 minutes (2 hours, 30 minutes) of
moderate-intensity
aerobic physical activity (brisk walking, ballroom dancing, doubles tennis, water aerobics); or, 75 minutes (1 hour, 15 minutes) of
vigorous-intensity
aerobic physical activity (jogging, singles tennis, jumping rope, aerobic dancing or swimming laps); or a combination of these activities. Doing more than these recommended amounts each week leads to even greater health benefits.
At least twice a week, muscle-strengthening activities that are moderate or high intensity and involve all major muscle groups should be completed. This is defined as lifting weights or using resistance bands. Why is strength training recommended? It protects bone health and muscle mass, makes you stronger and fitter, keeps weight off for good, burns more calories, and helps with balance, coordination and posture — to name a few of the benefits.
New government guidelines are expected to be published by the end of 2018.
Of course, these activities will happen either before or after work; however, it is still possible to incorporate physical activity into even the most sedentary of desk jobs.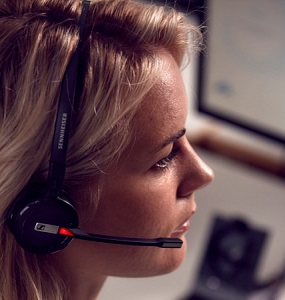 Tips to Keep Your Office in Shape:
* Take the stairs instead of the elevator
* Walk over and talk to co-workers, rather than sending an email
* Exercise on your lunch break
* Organize "walking meetings"
* Use a
wireless headset
and walk around the office while on calls
* Park your car in a far away spot to get extra steps to the building; or, ride your bike or walk to work.
Enjoy this quick Sennheiser video about how to get your office in shape (we particularly like the chair lifts!)
Get moving on your job today – even if you are one of the approximately 86 percent of the U.S. workers who sit all day – be creative and find ways to incorporate movement in your daily routine.
Sources:
Victoria State Government Better Health Channel:
The dangers of sitting: why sitting is the new smoking
ODPHP:
Guidelines for Adult Activity
U.S. News and World Report:
Are you suffering from sitting disease?
Everyday Health:
7 Ways Strength Training Boosts Your Health and Fitness
10/8/2018 - 0 Comments
This new Jabra wireless trade-in promotion is a first of its kind, offering
$40 cash back for each non-Jabra wireless headset that is traded in
, when you purchase a new Engage Series wireless headset. If you have wanted to make the switch to a Jabra wireless headset, NOW IS THE TIME! We have not seen a trade-in this big, EVER!
Or, if you already use a Jabra wireless headset (specifically, the PRO 920, 930, 935, 9450, 9460, 9465, or Motion/Motion Office), you can upgrade to the new Jabra Engage wireless series and receive a $20 rebate check in the mail for trading in your old Jabra wireless through the Technology Refresh promotion.
Additionally, when you upgrade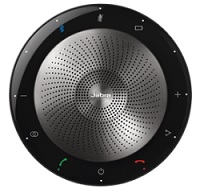 your technology to the new
Jabra Speak 710
wireless speakerphone, receive $20 back for a Jabra Speak 410/510, or $40 for a non-Jabra personal or huddle room speakerphone that is traded in. The Speak 710 (both UC and MS versions) offers wireless linking and connects to an additional Speak 710, for double the room coverage (up to 12 people). Connect to laptop, smart phone and tablet via USB or Bluetooth, and with plug-and-play simplicity, it's easy to set up wherever you take meetings. Fifteen hours of battery life ensures you can meet (or listen to music) for a long time.
Corded headsets have also been added to the mix, and with any Jabra Biz 2300 or 2400 II headset purchased, get $10/unit for existing Jabra wired solutions; or $20/unit for any non-Jabra wired solution.
These
Technology Refresh
promotions are only
good through June 30, 2019,
so take advantage of the savings and equip your staff with the latest and greatest in office and mobile wireless technology. Click here for the promotion's
T's and C's
.
Learn more about the qualifying headsets, below: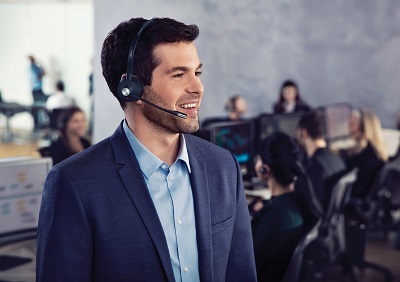 Engage with Jabra
and its Engage series, an entirely new class of DECT wireless professional headsets. The series provides superior wireless connectivity to a range of up to 490 feet - and enables up to 3 times more users to operate in the same office space with no loss in connection quality. Integrated busy lights in these headsets increase productivity and alert co-workers' to your busy status.
Engage 75 headsets connect up to five devices simultaneously, increasing availability for customer calls. And the choice of wearing styles support workers' preferences and workstyles.
For detailed information about each Engage headset, click on any of the following links:
Engage 65 Mono
Engage 65 Stereo
Engage 65 Convertible
Engage 75 Mono
Engage 75 Stereo
Engage 75 Convertible
Biz 2300 and Biz 2400 II headsets
Jabra's corded headsets feature world-class sound, tough construction, and comfort for all-day use. The specially designed "air shock" noise-cancelling microphones filter out sharp breathing sounds and popping noises often heard in conversations. Available in both one-ear and two-ear models, and with connections to desk phones or PCs, Biz 2300 and 2400 II headsets are perfect for all-day wear in contact centers, offices and more.
Visit the Jabra web site to learn more about the promotion, and instructions on how to claim the cash back:
Jabra Technology Refresh
Contact us today for recommendations on the best headsets for your unique requirements! 1-866-998-9991