Since it is the season of celebrating love, we put together this list of a few of the things we love at our office.
Headsets
As a leading reseller of headsets, we are fortunate to test all of the high quality professional headsets that we sell. Some of our favorites today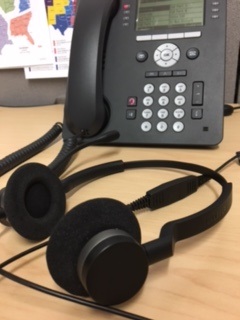 include the Jabra
Evolve 40
and
Evolve 65
, Sennheiser
SD Pro 1
and
SD Pro 2
, Jabra
BIZ 2300
, VXi
V150
and from Plantronics, the
Voyager Focus
and
Savi W730
.
Why do we love these headsets? Many of them are wireless, lightweight, comfortable, and offer flexible connections. Whether we're on phone calls, streaming music, participating in webinars or videoconferencing, in the office or traveling, the headsets provide quality sound, noise cancelling mics, and in the case of the Voyager Focus, Active Noise Cancelling in the ear speakers that can be switched on and off.
The choice between corded or wireless; Bluetooth or DECT; single or duo ear; wearing style; desk phone, PC or mobile phone connection, and so much more means that you are getting a custom headset for your unique situation. The technology in these headsets is also top-of-line: hearing protections, wideband audio, and in the case of USB or UC headsets, firmware updates.
By no means is this an exhaustive list of our favorites; however, it is indicative of the size and scope of headsets that we offer.
Speakerphones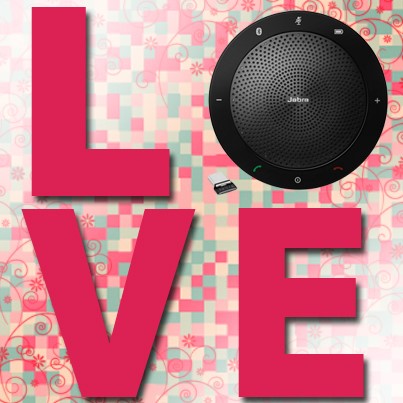 Turning our attention to conference phones and speakerphones, we are again fortunate to test most of the units that we sell. Some of our favorites include the Jabra
Speak 510+
,
Konftel 300
and Sennheiser
TeamConnect Wireless
.
For smaller room conferencing needs, the Jabra Speak 510+ (both
UC
and
MS
versions) is perfect for those break-out sessions (less than 7 people). The 510+ comes with a Bluetooth dongle that will connect your PC to the Speak unit. It is also Bluetooth-enabled for conferences via smartphone or tablet, and can be hard-wired to a PC with the included USB cable that wraps underneath the speaker. This USB cable is connected to the Speak 510, so that it can never be accidentally misplaced.
For analog conference lines, the
Konftel 300
is a top choice. Its sleek design looks great on any conference table, and the large buttons on the unit make call dialing easy. We also love its versatility, since it can also be connected to PCs, and with the purchase of an accessory cable, the unit can also be connected to smartphones and tablets. Expansion mics are available as an optional purchase to increase the coverage area of the Konftel 300. The final selection in this category is the Sennheiser
TeamConnect Wireless
system, which we use every week for our Monday morning meetings. With our work-at-home staff calling in, and the staff here in the office spread throughout a large-sized room, TeamConnect Wireless satellite mics can be placed strategically to pick up voices, no matter where they're located! The handy, hard-sided charging case that comes with this system truly makes the TeamConnect Wireless the most diverse conference unit that we offer.
Goodies
We are fortunate that our local
Mountain Man
representative keeps us stocked with candy, nut and snack choices. Passing through the break room, you're bound to find something yummy to munch on! A staff favorite: Cherry Sours candy. For salty snacks, our local popcorn company, Le-Vi Kettle Corn, delivers a variety of popcorn flavors that please most everyone.
We cannot forget about the beverages that keep us going, including our morning pot of
LaRue Coffee
, based out of Omaha, NE. The variety pack delivers deliciousness on the daily ... and offers such delectable choices as Chocolate Hazelnut, Jamaican Me Crazy and French Vanilla ... what more could an office staff want? After lunch, our beverage choices turn to our basket full of (caffeine free)
Bigelow Teas
. From Ginger Snappish to Girl Scout Thin Mints, the selection of choices keeps us nice and warm, especially during our cold Nebraska winters!
What do you love about your office? Leave us a comment on the Comments tab, above.