Blog
11/7/2016 - 0 Comments
How many workers report working outside of the office, at least part of the time?
According to Citrix, a staggering 61%. We would guess it could be even more! And, did you know that more than 3 audio devices are used daily for work activities?
Workers will find a cost-effective solution for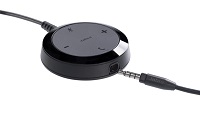 managing multiple devices both inside and outside of work, with Jabra's updated Evolve 30 II headsets. In addition to the USB connection for your PC, you can pull the 3.5 mm connector out of the call controller and plug it into your mobile devices: smart phones and tablets.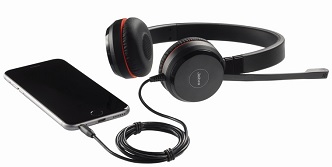 The generously sized soft leatherette ear cushions and adjustable headband make the headset easy to wear all day. And to protect your headset, a soft carry pouch is included for storage and transport.
Noise cancelling microphones are standard to the Evolve series; background noise is all but eliminated when the mic is positioned properly. With plug and play ease of use, and a comfortable fit and feel at a great price, all recommend this updated headset for your work needs.
Evolve 30 II variants:
Evolve 30 II Mono UC
Evolve 30 II Mono MS
Evolve 30 II Duo UC
Evolve 30 II Duo MS
With Avcomm Solutions' exclusive promotion, new Jabra customers can buy 10 of these headsets, and get 1 free! Learn more about our promo here:
Buy 10, Get 1 FREE Offer on Most Jabra Devices - Only at Avcomm
.
Source:
7 Enterprise Mobility Statistics You Should Know
9/28/2016 - 0 Comments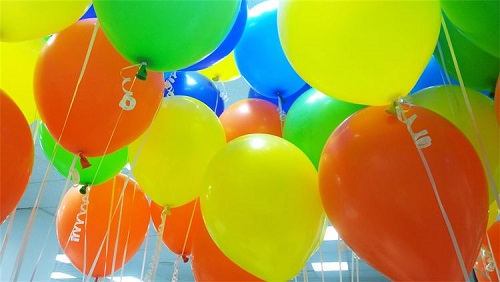 Let's party!
Our customer care agents can be customers' only connection to a company, and so it's only fitting to celebrate our Brand Ambassadors with an entire week. This year, Oct. 3-7 has been set aside to honor these important people at our organizations. Keep reading for our take on some great ideas to help you celebrate.
The Society of Consumer Affairs Professionals in Business (SOCAP International) put together a comprehensive list of ideas to mark the week in style. Click to
view the list
. SOCAP, an organization made up of customer care experts from across all industries, promotes customer care and customer engagement as a competitive advantage in business. We are proud to be SOCAP members!
SOCAP has partnered with Hallmark Business Connections to celebrate Customer Service Week to recognize and thank the thousands of professionals driving customer loyalty to your organization. #TellThemThx is the official hashtag to use when sharing the great things you're doing for Customer Service Week.
We'll highlight a few of their ideas, and throw some of our own into the mix.
How about creating a theme for the week? A few ideas that we've read about include Think Service, Commitment to Customers, One Team One Goal No Limits, and Customer Service Superstars. Or, come up with something that is relevant to your organization; for example, at Avcomm Solutions, our theme could be Headset (Super) Heroes. Use the theme throughout the week to delight your staff.
Some fun things to do during the week:
Dress Up Day:
Pajama Day, Favorite Team, Celebrity Look-Alike, Hat Day, 1980s Day; Service Champions, etc. Be creative!
Feed the Staff:
Bring in lunch for the staff, or have a potluck day; perhaps a snack would be better, and offer a buildable ice cream sundae bar with ice cream and tasty toppings (hot fudge, caramel sauce, maraschino cherries, sprinkles, fruits, whipped cream and more).
Office Olympics:
Here at Avcomm, we hosted "Minute to Win It" games for our staff's Office Olympics last month. Our games included Cookie Face (rolling an Oreo cookie down the face and into the mouth – without using hands); Stack 'Em Up, using one hand to stack 25 pennies; Suck It Up,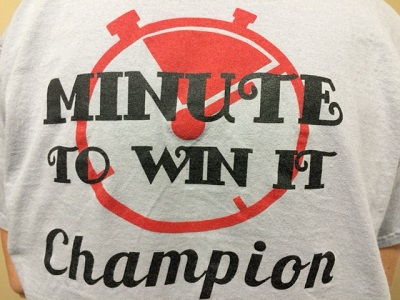 which required the transfer of M&M's from one plate to another using a straw; and Movin' On Up, where the competitors had to rotate through a stack of 25 red cups. The games are more difficult than they sound! Points were awarded to those who attempted the challenges, and to those who successfully completed the tasks in a minute. On the final day of competition, all competitors received a fun T-shirt that we designed in-house.
Small Gifts:
Each day, hand out a piece of candy with a fun, related (customer service) phrase, such as a small bag of Tootsie Rolls with the tag: "Great Customer Service is How We Roll." Or, instead, attach an inspirational customer service quote to the candy. Here are 100 Customer Service Quotes to get you started:
100 Inspirational Quotes
.
Thank-You Notes:
Administrators can write thank-you notes that share specific, personal reasons they are thankful that the agent is on staff. Another twist: ask employees to write thank you notes to each other, or to customers.
Make a Movie:
Ask each employee the same question, such as "What does excellent customer service look like to you?" and compile answers into a movie to share with the staff during a team gathering during Customer Service Week.
Training:
Perhaps a speaker, or a training video found on-line, can be a great reason to bring staff together and learn new techniques, or share an inspirational message to get the team pumped up.
We would love to hear how you're planning to celebrate Customer Service Week by clicking on the Comments tab, above.
9/21/2016 - 0 Comments
Want to amp up your output at work and feel energized? Research suggests that listening to upbeat music can bring higher productivity and overall higher feelings of job satisfaction. Give your people the choice of listening to music and watch the work get done!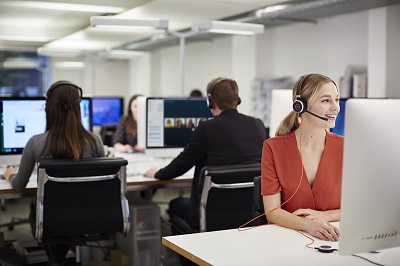 Rather than piping music that may not appeal to everyone over office speakers, perhaps a better choice would be individual music players (PC, Smartphones, Tablets)– with corresponding headsets – to personalize the experience. Connecting via USB, Bluetooth, or 3.5mm port, our headsets can handle any set-up. With the same headset, take and make phone calls, and stream your music in between. There is no "one size fits all" environment; providing a variety of headsets to choose from will give your staff the chance to choose the one that's best for them. Perhaps staying within a brand is recommended, to ensure some type of continuity within your organization.
The
types of music
matter, according to
this article
from The Telegraph.
Problem-solving or proofreading? Dance music is where it's at. This genre resulted in a higher overall accuracy and fastest performance across a variety of work tasks. Boogie on down to the best accuracy you've ever experienced – and faster!
If you're working with numbers or extremely detailed information, classical music should be blasting in the background. Spelling errors are also most accurately detected when listening to classical music (12% more!).
To keep up your momentum with data entry tasks, pop music is best. Instrumental, ambient music works well for equation solving. The music tempo can affect productivity – a faster tempo may heighten awareness and produce quicker results; a slower tempo can relax and help you focus on tasks. Overall, though, choosing music that you like best to listen to will ensure your good mood, thus raising your productivity. So, if that music is techno, country, screamo, or Gregorian chants, put that record on and groove.
Wearing a headset could be perceived as rude at your organization (depending upon the environment and expectations) – those with public-facing tasks would probably be discouraged from wearing headsets altogether. Taking regular breaks from wearing a headset may be a good idea to encourage camaraderie with co-workers.
Click on the Comments tab, above, and tell us your favorite music to listen to while you work!
Sources:
"Productivity"
Music Works For You
"The Power of Music, Tapped in a Cubicle"
New York Times
"Music and Productivity: 5 Ideas for Using Music To Boost Performance"
Psychology Today
9/12/2016 - 0 Comments
Congratulations on purchasing a new Plantronics Bluetooth headset! Your next step is to download the FREE Plantronics Hub app, which ensures connection between smartphone and headset. It also serves as a user guide/help desk for your new headset, and has some cool features, too.

Download the "Plantronics Hub" app from
App Store
(for iPhone); for Android Devices, Google Play store has it here:
Plantronics Hub
.
Once you have the app, turn on Bluetooth to pair the headset to your smartphone. Open Plantronics Hub, and select your Plantronics headset: the options are BackBeat, Explorer, M series, Marque, Voyager 5200, Edge, Focus, Legend, PRO HD headsets. Depending upon the headset you use, the features will be different. Immediately, your headset's talk time is displayed, so there are no surprises when you're on a call and lose battery power!
In our estimation, the coolest feature is
Find My Headset
. There are 2 options to locate the headset, either Send Tone (loud tone sent through earphones which is adjustable on the app) or BackTrack (retraces where the headset's been on a map).
A few caveats: the headset must be turned "on" to use Send Tone. The tone (an alert sound) can be difficult to hear, though fortunately, the volume is adjustable from the app. With a smaller headset, however, such as the Voyager Edge, the volume increase may not be enough to find the headset due to its smaller ear speaker.
Once you have found the headset, select "Found" on the bottom of the screen. A new screen will appear, with a congratulatory message: "Congratulations! You found your headset in 00:22 seconds" or however long it took to find the headset! If you did not find the headset, select "Not Found." A useful list of FAQs is displayed to assist you with recovery of your headset.
Plantronics Hub acts like a Help Desk for your Bluetooth headset, too. The
How Do I?
section lists answers to every possible question you can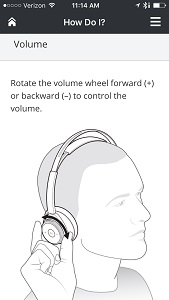 think of, including pairing, muting, configuring Active Noise Cancelling (if available) or the USB adapter, Call features and so much more. The
Buttons & Lights
tab is a diagram of the headset with a guide map is for quick identification of the pieces and parts on the headset.
Smart Sensor options can be managed from the app. Another customizable feature is the Mute Reminder. You can choose between Voice-activated, Timed (range is from every minute to every 15 minutes), or Off.
For additional functionality on-the-go, Plantronics Hub now supports the Apple Watch with the Plantronics Voyager Focus UC, Voyager Edge, and Voyager Edge UC Bluetooth headsets. Manage your headset call features from your wrist with your smartwatch.
The convenience of this app can't be understated, and provides great features at the best price: free. Let us know your thoughts on the Plantronics Hub app on the Comments tab above.
8/26/2016 - 0 Comments
If you've ever had to drive, and enter a 10-digit phone number, and then an 11-15 digit entry code to join a meeting, you will appreciate this new conferencing app from Konftel. At the touch of one button, the Unite app connects you into meetings while you're on the go: the safest, most convenient way to

participate when you're on the road. No need to worry about conference numbers or passcodes, or fumbling between your calendar and the dial pad, to connect into a meeting! Convenience is the name of the game.
The calendar feature lets you bring multiple calendars into the app (see image, below). Konftel Unite keeps you organized by displaying your day's events, meetings and calls. It sends you a friendly reminder before the start of each event and you can even schedule events from within the app.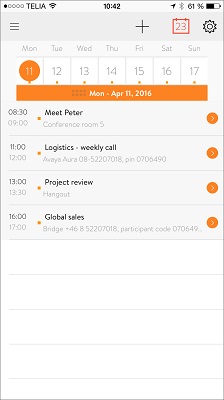 Konftel Unite has been verified for use with – but not limited to – the following web conferencing providers: AT&T Connect iMeeting, Avaya Meeting, GoToMeeting, Hangouts, JoinMe, Lync, PgiConnect, Scopia Meeting, and WebEx.
It's important to note that for the one touch conferencing to function through the Konftel Unite app, you must also have the web conferencing app (i.e. WebEx) installed on your mobile device.
Once installed, when it's time for the webinar, simply go to the Konftel Unite app, click the webinar entry in the app, and select "Join on Web." The webinar will immediately open in the corresponding web conferencing app! It's that easy!
Or if you simply need to join a teleconference, the "Join by Phone" button calls the teleconferencing bridge.
The "Open in Calendar" option will open the event in your device's standard Calendar app; it will not connect you to the webinar; however, copy and paste the link into your web browser, and you're attending the webinar.
Konftel built some additional features into the app for even more functionality. Take text or voice notes during the webinar in the app, and then email the notes from the app to the invitees you choose.
Konftel Unite is now available at no cost for both
iOS
and
Android
devices.
Watch a quick overview of the app:
Introducing the Ego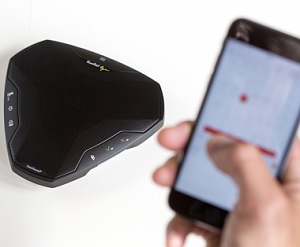 To manage calls, a smartphone or tablet is the way to go; to get the best sound for conferencing, an external speakerphone is the best choice. With Konftel devices, sensational HD sound is guaranteed, thanks to its patented OmniSound technology. This summer, Konftel introduced the
Ego
, a portable speakerphone with OmniSound.
The Ego is the perfect size for travelers, those who work at home, and smaller meeting environments such as huddle rooms. It connects via Bluetooth to your smartphone/tablet and USB for use with laptops and PCs. It's powered via USB and offers 12 hours of talk time! If you're not on a call and want to listen to music, Bluetooth A2DP provides superior audio performance. To top it off, the Ego comes in a zippered neoprene carry case to protect the device when traveling. The Ego has been awarded a prestigious RedDot Design Award for 2016.
Check out the Ego video for more information about this handy device.
Questions about the new Konftel Unite app, or the Ego? Give us a call: 1-866-998-9991.