Showing posts tagged: USB-C
4/2/2021 - 0 Comments
The current state of the workplace is in flux due to the COVID-19 Pandemic. At the beginning of the Pandemic, workers were sent to work from home at a rapid pace, with no idea when they would return. While some organizations have begun to bring back 100% of their staff, and others have completely moved to a work from home model, it appears that a hybrid method of working may be the best solution, according to surveys given to employees asking their preferences.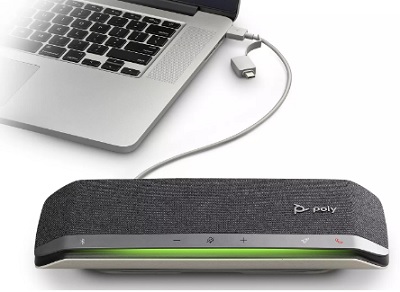 Hybrid working involves both locations: employees work some days each week in the office and spend the other days working from home so that the staff on premises is staggered and never at 100% occupancy to keep the workplace safe. In these hybrid work environments, audio tools that are flexible and can travel with you make the most sense.
If you work in a dedicated office space at home, and then travel into the office for meetings in conference rooms, Poly's new
Sync 40 and Sync 40+ speakerphones
may be the right audio device for you. The Sync 40s connect to computers via the combined USB-A and USB-C cable and smartphone via Bluetooth.
Daisy chain two Sync 40s together
Turn larger meeting spaces into professional-sounding conference rooms when you wirelessly pair two units together. When the Sync 40s are paired, you get bigger volume, more microphones, and wider voice pickup. Use two Poly Sync speakerphones with your Bluetooth-paired mobile device. Linking mode is available with Bluetooth mobile device connection only. (when connecting wirelessly to PC or smartphone via Bluetooth). Linking mode can be entered when both speakerphones are inactive (not in a call or streaming media).
• Your device will be ready to go for up to 30 hours of talk time.
• Access your favorite function — play/pause music, last-number redial, voice assistant and more — with a touch of the programmable rocket button. For use in common areas, the button can be programmed to manually clear previously paired Bluetooth devices.
• Never miss a word with multiple microphone array and full duplex audio. Workers stay productive with a high-performance, large music speaker for immersive multimedia.
• IP64 dust and water resistant. Protect your investment from everyday hazards.
• Two highly visible status light bars for 360 degree call status indication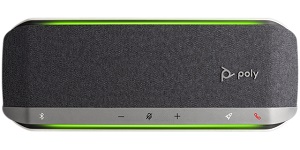 • Microsoft Teams version supports easy collaboration and communication with a dedicated Teams button that gives you instant access to the Teams App.
• Keep your smartphone charged and ready for use.
• Take calls from anywhere —an internal battery allows up to 30 hours of talk time. A convenient charge stand is also available as an additional purchase.
• MSRP: $299.95 / $349.95 for "+" versions
Our customer care team can help you decide which Sync 40/40+ model you need. As a stocking reseller, we ship out all in-stock product the same day, on orders received before 3 p.m. CT. Our convenient location in the center of the U.S. means that shipping times are quick!

Call our team at 1-866-998-9991 or Chat us.
3/25/2021 - 0 Comments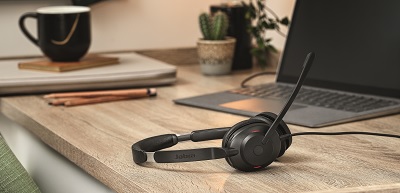 Jabra Evolve2 30
headsets at $99 ($89 for single-ear models) provide the right amount of comfort and user-friendly features that keep you working, whether it's at home or in the office. Collaboration and concentration are the two key pillars of effective work, according to Jabra, and these headsets help you with both.
The headband is cushioned in ultra soft foam covered in color-matched leatherette. The ear cushion is soft audio foam covered in leatherette with a stainless steel slider arm. While wearing the headset, adjust the headband so that it fits your head comfortably.
When using the microphone, it should be positioned close to your mouth. You can gently bend the mic boom above the tip of the boom, where there's a little bit of flexibility. Do not bend the boom arm where it meets the ear speaker; the boom arm could break off. Mute the mic by pushing the mute button at the front of the speaker. If you have voice alerts activated, you will hear that you are "Muted." To turn the voice notifications off or on, you can change the setting in
Jabra Direct
, or by pressing and holding the Mute and Volume Up buttons simultaneously for 5 seconds. You'll find the Volume buttons on the back side of the ear speaker. We recommend that you download Jabra Direct once you get this headset; it will keep your headset updated with all of the latest firmware, and allow you to change a variety of settings.
There is an integrated busylight at the back of the ear cushion, and an LED light on the USB plug, to alert you of your mute status.
The cord length is approximately 5'. This is a great length for a laptop configuration; if you are connecting to a desktop computer tower, you may need a longer length cable; we have plenty of other headsets that fit the bill.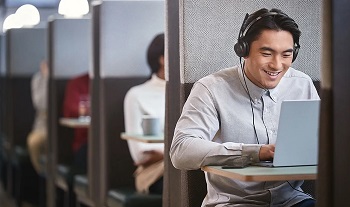 Taking collaboration one step further, the Jabra Evolve2 30 meets the Microsoft Open Office requirements (Teams Certified variants, naturally) – which is a strict test of how effective a headset microphone is at suppressing surrounding noise and office talk. The Teams button on the middle of the ear speaker will invoke Teams with a quick tap.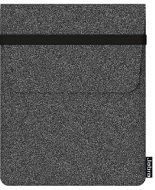 It's easy to take the headset with you and keep it protected, in the included felt carry pouch. Rotate the ear cushions flat and slide it into the pouch; the flap tucks under the elastic for security.
It may be possible to use the USB-C variant of this headset to mobile phones; however, we don't recommend it for primary use, as not all USB-C devices or apps support an audio connection to the Jabra Evolve2 30.
Our Headset Experts can recommend the best variant for your unique work needs at 866-998-9991 or you can Chat us now.
3/19/2021 - 0 Comments
Working from home can be a challenge: maybe you have a spouse or roommates who also work from home; children at home doing on-line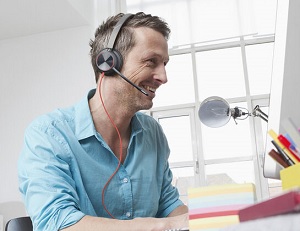 schooling; perhaps your pets are noisy. Whatever environment you have been working in, we know it can be a challenge to concentrate and focus on work tasks. That's why we suggest a high quality, professional headset designed specifically for workers who need to be on calls or in meetings using their computer, and require a distraction-free environment.
The
Poly Blackwire 8225
meets these needs, and brings some hard-hitting technology to the table:
• Advanced Hybrid ANC using four digital microphones with three user selectable options (Off - Mid - High)
• Noise canceling microphone with Acoustic Fence technology (using 2 microphones) that meets Microsoft Teams Open Office-certification levels
• Hearing protection: SoundGuard DIGITAL: Acoustic limiting for protection against sounds above 118 dBA. G616 anti-startle protection limits the noise level to 102 dBSPL; Time-Weighted Average prevents average daily noise exposure from exceeding 80 or 85 dBA (enabled by Plantronics Hub software)
Other features we really like:
• 32mm speakers with large memory foam leatherette ear cushions
• Padded headband
• Two LED indicators on speaker housing show online/in a call status
• Call controller for volume maximum/minimum, mute on/mute off, answer/end call, noise canceling off/mid/high
• 7.2 ft cable
The included carry case protects your headset while you're transitioning from home to office, and everywhere in between.
There are four options to choose from, either USB-A or USB-C, and UC or Certified for Microsoft Teams variants. To decide which variant you need, read
this blog post
.
Blackwire 8225 USB-A
Blackwire 8225-M USB-A certified for Microsoft Teams
Blackwire 8225 USB-C
Blackwire 8225-M USB-C certified for Microsoft Teams
Call our Headset Experts at 1-866-998-9991, or Chat us now, to purchase a Blackwire 8225 headset, and watch our overview of the Blackwire 8225, including a side-by-side Acoustic Fence Technology audio test at 1:31.
11/23/2020 - 0 Comments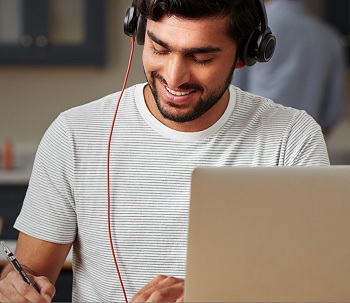 The Blackwire headset series are all-in-one USB headsets from Poly, and have been a standard for office workers who need a high quality headset with great sound. The series continues to transform with the latest technology available, as well as premium design and connection features.
The new company name,
Poly
, is the result of Plantronics and Polycom joining together. Poly, which means "many," leverages the legendary audio and video expertise of Plantronics and Polycom and its breadth of smart endpoints that connect across and between unified communications platforms to reduce the distractions, complexity, and distance in the modern workspace.
All of these Blackwire headsets offer a two-year warranty, connect via USB or USB-C (learn about the latest USB connection type,
here
); and most come with carrying cases for storage and protection during travel. The Certified for Microsoft Teams headsets seamlessly integrate with Teams and offer headset control functionality. They also meet the Microsoft Teams Open Office certification levels.
8225 Series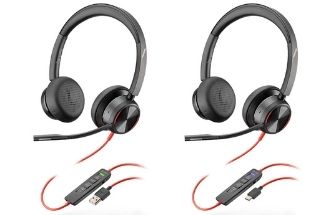 If you're working from home and need to block out the sound of family members moving around you, the technology in Blackwire 8225 headsets have you covered. The noise-canceling microphone with Acoustic Fence technology puts you in a quiet office, even if you are not. Hybrid Active Noise Canceling (ANC) makes it easy to escape the noise around you: there are three ANC settings (toggle between Off, Mid, and High levels on the side of the call controller), that help you create the best quiet zone.
This is a comfortable headset. The padded headband has soft leatherette ear cushions, with adjustable headband and 180-degree pivoting speakers to easily fit all users. We also like the status indicators (busylights) in the ear speakers that alert others when you are on a call. These two LED indicators keep you distraction free.
Blackwire 8225 USB-A
Blackwire 8225 USB-A Certified for Microsoft Teams
Blackwire 8225 USB-C
Blackwire 8225 USB-C Certified for Microsoft Teams
7225 Series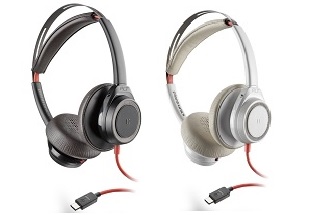 These headsets have a unique boomless mic design: the first of its kind in the corded headset market. As collaboration increasingly takes place via video, there was demand for a professional corded headset with a boomless mic. It is extremely important to wear the headset with the "R" ear speaker on your right ear, because the microphones are built into the front of the headset's speakers, creating a four-microphone array for best voice pick-up.
The 7225 headsets offer Active Noise Canceling that can be activated when needed. When you need to quickly listen in to your surroundings, push the red Open Mic button found on the bottom of the left ear speaker; and then press it again to return to your quiet headset. Another unique feature in the new Blackwire 7225 headsets: rather than an in-line call controller, all audio and media controls are on the ear speakers.
Blackwire 7225 USB White
Blackwire 7225 USB Black
Blackwire 7225 USB-C White
Blackwire 7225 USB-C Black
5200 Series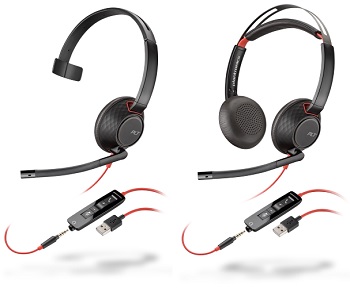 Blackwire 5200 headsets also offer excellent sound - both inbound and outbound - with a flexible mic boom featuring noise-cancelling, so background noises aren't transmitted to your callers. Listening to music is an enjoyable experience with this headset, too.The duo headsets offer a comfortable "sling" metal headband; both mono and duo have large ear cushions made of ultra soft leatherette wrapped around memory foam. This headset is a dream for all-day wearing comfort! All of the variants connect to both USB/USB-C and 3.5mm, which unplugs from the in-line call controller.
Blackwire 5210 USB and 3.5mm
Blackwire 5210 USB-C and 3.5mm
Blackwire 5220 USB and 3.5mm
Blackwire 5220 USB-C and 3.5mm
3200 Series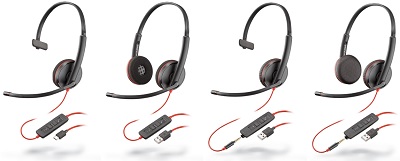 Blackwire 3200 headsets are the entry into the Blackwire world. These are great headsets, and there is some variety within the 3200 line: all of these headsets are available in either USB or USB-C variants; the Blackwire 3215 and 3225 have the additional 3.5mm connection for mobile phone and tablet use. The foam ear cushions on the 3210 and 3220 are lightweight and breathable. The ear cushions for the 3215 and 3225 are leatherette and fold flat for placement in the included carry case.
Blackwire 3210 USB
Blackwire 3210 USB-C
Blackwire 3220 USB
Blackwire 3220 USB-C
Blackwire 3215 USB and 3.5mm
Blackwire 3215 USB-C and 3.5mm
Blackwire 3225 USB and 3.5mm
Blackwire 3225 USB-C and 3.5mm
No matter which Blackwire headset you choose, we recommend that you download the free
Plantronics Hub software
. There are downloads for both Windows and Mac operating systems. Hub software allows you to customize settings and get visible status of your Plantronics audio device on your desktop. It also pushes out firmware updates to keep your headset always up-to-date.
If you're ready for a new Blackwire headset,
contact us
and we'll help you determine the best Blackwire headset for your unique needs.
8/4/2020 - 0 Comments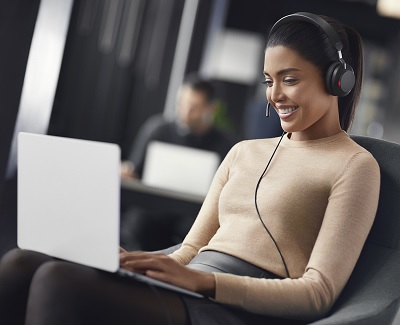 In less than one minute, you can unpack your Jabra Evolve2 40 headset, plug it into a computer, and you're ready to collaborate. Jabra Evolve2 40 headsets earn an
A+
for ease of use, comfort, sound, and Busylight placement.
This is a single-connection corded headset — USB-A
or
USB-C — a change from the previous Evolve 40 series which offered an additional 3.5mm jack. Also missing: the inline call controller, because all controls have
moved to the ear speakers
for an elegant way to control volume, answer and end calls, forward music tracks, and more.
Notable features
•Mute calls by moving the boom arm up, or down to unmute or answer call.
•The 360° busylight on both earcups is visible from all angles, acting as a do-not-disturb sign and protecting your focus.
•Advanced digital chipset.
•Motion sensors detect when headset is not being worn and automatically enables LED notification prompts.
•Powerful 40mm speakers deliver richer sound for a more immersive audio experience.
•3-microphone technology for outstanding call performance.
•The noise-isolating design from the 40mm ear speakers provides for improved focus in noisy surroundings.
•An included soft pouch perfect for storage and protecting the headset on-the-go.
Keep headsets updated, and personalize headset settings, with the free Jabra Direct software. Simply download
Jabra Direct
to your computer; it will run in the background, and notify you if updates are available for the headset.
Available in both mono and duo options, as well as UC (compatible with leading UC vendors such as Zoom, Jabber, and more) and Microsoft Teams-certified variants, the Evolve2 40 has a lot to offer, at a decent price: MSRP is $139.00 for duo ear, and $129.00 for mono ear versions. And, a two-year warranty gives you peace of mind.
View all of the Evolve2 40 headsets here: Evolve2 40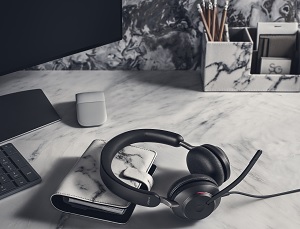 Not sure which Evolve2 40 you need?

Contact our Headset team at 1-866-998-9991 or Chat us now!