Blog
2/5/2018 - 0 Comments
The SPEAK family of speakerphones from Jabra is a range of easy to use conference call speakerphones with superior audio, for the most efficient and productive meetings wherever you are, whatever your needs. Improve personal and group collaboration among your team, no matter their location.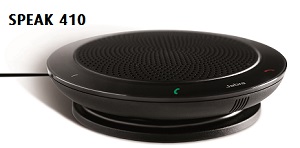 For 1-4 people in the same room, the size of the Speak 410s and Speak 510s are perfect for instant conferencing and videoconferencing on a smaller scale. The personal – yet professional – speakerphones are portable and lightweight, and turn any room into a conference room to facilitate collaboration the simple way. The slim profile and included zippered neoprene travel pouch allow for easy and protected travel.
All of the Speak series devices have user-friendly features such as the LED soft buttons at the top of the speakerphone, which allow you to answer, end, and mute calls at the tap of a button. You can also turn the speaker on and off; adjust the volume with the Volume + and Volume - buttons, and check the Battery Level. Tap the Battery Level button and all of the LEDs light up to show the charge level. Omni-directional microphones make this an ideal collaboration solution and with up to 15 hours battery life, for optimal performance.
The Speak series is optimized for Unified Communications with straightforward USB and/or Bluetooth connectivity for immediate conference call set up using your PC or smartphone/tablet. Skype for Business certified versions are available, too.
Speak 410
The
Jabra Speak 410
is the most basic of the family and connects via USB only; the connection cord wraps around the device and is secured there. The connection cord cannot be removed, so you will always have it when you need it. To make the conference call private, the Speak 410 has a 3.5mm headset port to plug your Jabra headset into. MSRP for the Speak 410 is $159.00.
Speak 510
The
Jabra Speak 510
offers USB and Bluetooth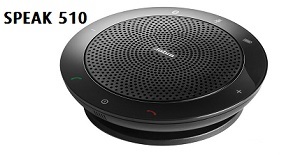 connectivity options. Connect to your PC, smartphone, tablet, or Bluetooth headset. For corded headsets, a 3.5mm headset port allows you to turn the conference call into a private conversation. When you're not on a call, you can use the device as a music speaker. MSRP is $149.00.
Speak 510+
The
Jabra Speak 510+
offers USB and Bluetooth connectivity with extensive wireless range for more flexibility to collaborate with your contacts however you choose.
The USB dongle to the laptop means you can benefit from up to approximately 325 feet of wireless range to move the conference call to the best place. This device also has the 3.5mm jack port to connect your headset; turn a public conference room discussion into a private smartphone call in seconds.
The included Jabra Link 370 BT USB dongle provides added wireless flexibility, for example:
When a public meeting space needs to become private and you need to move the device into a private room.
If the current conference space becomes too noisy and you need a 'closed door' for enhanced focus and collaboration. MSRP is $179.95.
Speak 710
The newest addition to the Speak family, the
Jabra Speak 710
can be paired with another Jabra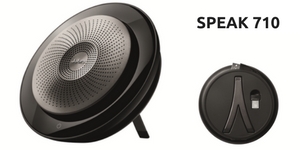 Speak 710 wirelessly in seconds. This will easily cover a meeting room of 12 people or lets you enjoy even more powerful, stereo music.
In addition, the Speak 710 has new features to the Speak series. This includes a folding stand that is stored in the back of the unit, a storage spot for the included Link 370 dongle, and a one-touch Smart Button that makes interacting with a digital assistant (such as MS Cortana, Siri and Google Now) a breeze. MSRP for the Speak 710 is $299 and the Speak 710 is available in both UC and Microsoft certified versions.
Speak 810
The
Jabra Speak 810
is a premium grade speakerphone that connects via USB and Bluetooth (NFC/MFI) and 3.5mm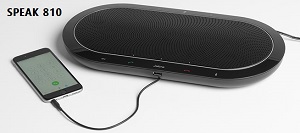 jack cable for smartphone or tablet connection. The broadest range of connectivity in the Jabra Speak Series, the Speak 810 is ideal for hassle free, simple conference call set-up in seconds, for collaboration with up to 15 attendees in the same meeting room for perfect sound.
Using ZoomTalk microphones for excellent audio quality, the mics uniquely detect the human voice and not the ambient room noises (such as people eating or keyboard tapping) making the Jabra Speak 810 the ideal choice for those empathetic to those working remotely and dialing in to the call. ZoomTalk makes it easy to hear, and easy to be heard, no matter where you are located.
With a USB charge out port for charging your tablet or smartphone the Jabra Speak 810 offers you the full flexibility to connect however you want to without the worry of battery life. A/C powered yet lightweight, the Jabra Speak 810 is portable from room to room as required. However the Kensington lock secure port means you can keep it securely locked to replace more traditional dial pad and fixed meeting room collaboration solutions.
An
optional USB Bluetooth dongle
can be purchased for approximately 325 feet of wireless range away from your PC or laptop.
MSRP for the Speak 810 is $599.00.
With the variety of choices available, the SPEAK series from Jabra is truly a professional and flexible solution for your conferencing and video conferencing needs.
Contact us
to learn more about the SPEAK family today!
2/5/2018 - 0 Comments
The
Sennheiser Presence Grey UC
Bluetooth headset brings Sennheiser sound quality and unique technologies together in a sleek device to offer some of the best noise-cancelling properties available on the market today! The durability of

the Presence Grey cannot be understated; boasting a petite frame (2"x .75" x .91") and compact design, it fits in the palm of your hand, and can be tucked into corners of purses, briefcases, or pockets, with no fear of damage. (A small, hard-sided carry case is included with the Presence Grey UC.) Its discreet profile is perfect for those who want the convenience of a Bluetooth headset, but don't necessarily want to "show off" their device.
How does it work?
Plug and play connectivity assures easy set-up and immediate use. To pair the headset to your mobile phone, press in the multi-function button at the top of the device, and at the same time, slide the on/off power slide away from the headset to turn the headset on. Release the button and it is in pairing mode. "Power On. Pairing," the friendly Sennheiser voice says. The light on the device flashes red, then blue, in pairing mode. Enable the Bluetooth visibility on your mobile phone. From the found Bluetooth devices, select "Presence Grey" to establish a Bluetooth connection to the headset. The Presence Grey is equipped with the most updated version of Bluetooth 4.0.
Connecting to the computer is just as easy: place the dongle in a USB port and the Presence Grey is ready to use for softphones, webinars, podcasts, or listening to music, providing a rich listening experience. Seamlessly switch between mobile phone and computer with ease. You can talk all day on the Presence, because the battery holds a charge of 10 hours (narrowband sound) and 8 hours (wideband).
It's simple to answer and end phone calls: slide the aluminum microphone boom arm open to answer; then slide back to end the call. Managing calls from the headset is a snap with 3-way calling and voice prompts that provide instant status updates, such as the caller's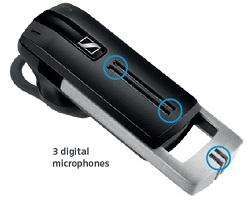 name as they are ringing in.
Talk and walk up to 82 feet (25 meters) away from your computer and 33 feet (10 meters) from mobile phone—you've got that freedom. Another neat feature: iPhone users have real time battery monitoring for the Presence.
The Presence Grey is equipped with Sennheiser ActiveGard® hearing protection technology: sound spikes and acoustic surges won't bother your calls or ears! The SpeakFocus™ technology enhances speech clarity, and WindSafe™ technology reduces wind noise in outdoor environments. These technologies, along with three strategically placed microphones, deliver sound performance that is almost too good to be true.
Does the Sennheiser Presence Grey UC overpromise and under-deliver?
We tested the Presence Grey in the exhibit hall at an annual SOCAP Conference. When our tester called in to the office, she sounded as close to us as if she was sitting at her desk. And we didn't hear any of the noise associated with hundreds of people talking in the background!
"Using the Sennheiser Presence Grey UC headset was a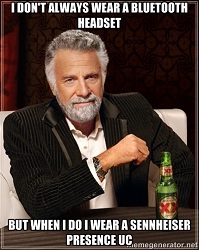 wonderful experience. It was comfortable, fit well, and most importantly, provided premium audio quality. I don't typically wear Bluetooth Headsets, but when I do, I wear the Presence Grey UC." -
Sara Diaz
, Director of Sales & Customer Support at Avcomm.
Many of us have spoken with colleagues or customers who are calling in from the road, in their car or passing through a busy airport while using a Bluetooth headset. And, I think we can all agree that many times the poor quality of those calls can be downright unbearable. That's what we absolutely love about the Sennheiser Presence Grey. The user's voice is clearly transmitted and at the same time, almost all of their area noise is canceled out.
The Presence Grey offers two wearing styles: over-the-ear with the included ear hook, or placed directly in the ear.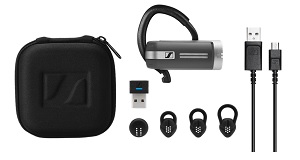 Wearers who prefer the in-the-ear style can choose from the 4 ear sleeves of varying sizes to attach to the earpiece; or may find that an ear sleeve isn't necessary. When we tested, we found that the Presence Grey was perfect without an ear sleeve, and the device remained securely in the ear.
What's in the box?
A Presence Grey headset; ear hook; BTD 800 USB dongle to plug into your computer; car charger; USB charging cable; 4 ear sleeves; carry case; and Quick and Safety guides.
Although you may find the price to be slightly higher than similar headsets in the market, we think the Presence Grey is well worth the extra dollars and with a 2-year warranty, provides peace of mind!
The Sennheiser Presence Grey also comes in a version without the USB dongle:
Presence Grey Business
.
2/2/2018 - 0 Comments
To accommodate the latest USB port on the market, headset manufacturers are now offering adapters, as well as headsets, with USB-C connectors.
Why the change in standard to USB-C? First, the size. By diminishing the size of the port, laptops continue to slim down and weigh less. At first glance, the USB-C is similar to micro USB; however, it is slightly thicker and more oval than micro USB and differs in a major way: it has no up or down orientation. PC magazine calls USB-C the emerging industry-standard connector for transmitting both data and power.*

The
Jabra USB-C Adapter
enables you to connect Jabra USB headsets to USB-C devices, providing the same functionality as if connected to a USB-A device. The adapter is flexible, which makes it easy to use with your preferred devices without flipping around.
Plantronics also offers two types of adapters:
USB-A to USB-C
and
USB-C to USB-A
. Perhaps you are currently using computers with USB-A ports, but plan to upgrade to new computers. Your business chooses to purchase USB-C headsets,

knowing that eventually, they will directly plug into the new computers. In the meantime, using an adapter will allow you to use the new headsets, with the old computers.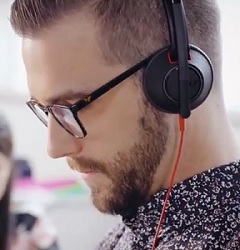 Within its Blackwire series, Plantronics offers headsets with the USB-C connector. The Blackwire 3200 and Blackwire 5200 headsets both have USB, as well as USB-C, headsets. In addition, the Blackwire 5200 headsets have 3.5mm connectors for use with mobile phones and tablets. And, they all feature in-line call controls, just like the USB-A versions, for ease of use. (Pictured is the Blackwire 5220 Duo headset.)
We expect to see the trend of USB-C headsets continue, as the technology evolves. Of course, don't expect the USB-A connectors to fade away; we believe they too will be present and readily available. The goal is to provide the technology you need, at a great price. Look to us as your headset experts.
Contact us
today!
*PC magazine:
What is USB-C? An Explainer
published March 2017
2/1/2018 - 0 Comments
"Do you have an Active Noise Cancelling headset that I can use with my desk phone?"
is one of the top questions we've been receiving lately. While all Active Noise Cancelling headsets so far are either Bluetooth or corded USB connection, with the addition of the MDA 220 adapter, employees are able to have the true concentration they need in noisy office environments that still utilize traditional desk phones.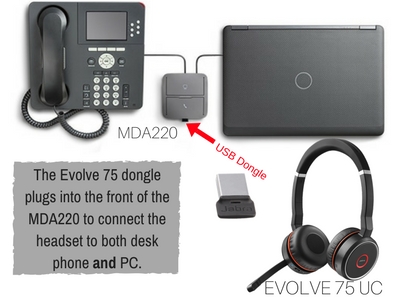 The
Plantronics MDA220 USB
(MSRP: $149.95) is an audio switcher that toggles between desk phone and PC and is great for those who are transitioning to Unified Communications and still need to use a traditional desk phone. It allows the user to utilize the same headset for both their desk phone and PC.
Avcomm has tested this solution and it's one of our top recommendations for customers with this particular need.
How to Set Up the MDA220 USB
Connect the
MDA220 USB
with the two cords at the back of the device: an RJ9 cable to plug into either the desk phone's headset or handset port, and a USB cable for connection to the PC.
The headset, or its USB dongle, connects into the USB port at the front of the
MDA220 USB
. EHS cables and handset lifters can be used with the
MDA220 USB
, to allow for remote answer/end from the headset. That would be an additional purchase, and would need to be compatible with the desk phone it's being connected to.
You can toggle between the desk phone and PC by simply pressing the corresponding icon on the MDA220,which then illuminates solid green to indicate connection.
Recommended ANC Headset Options
The
Jabra Evolve 75 UC
has captivated us with Active Noise-Cancelling in the speakers, a noise-cancelling microphone, comfortable wearability for all-day use, and a hard-sided case for travel. In addition, this headset either comes
with a charging stand
, or without. This is what we use daily at Avcomm, and the set-up that we recommend to customers whose open office environments present a challenge when it comes to concentration and productivity.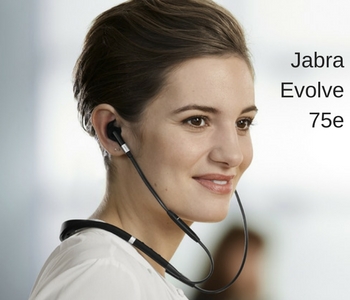 Another great option is the brand new
Jabra Evolve 75e UC
for those who prefer an ear bud wearing style. This headset also features Jabra's excellent Active Noise Cancelling technology, an integrated busylight, and a protective travel case.
Other ANC headsets you may want to consider:
Sennheiser MB 660 UC
Plantronics Voyager Focus UC
Plantronics Voyager 8200 UC
Plantronics Blackwire C725
Ready to embrace a 'cone of silence' with your desk phone? The MDA220 USB, along with an active noise-cancelling headset, will get you there.
This video shows you how to connect the MDA220 USB and a headset to your desk phone and PC:
1/19/2018 - 0 Comments
"Alright, stop! Collaborate and listen… " These wise words from Vanilla Ice circa 1989 still hold true today, especially in today's work climate. With employees working some or all of their week from home, and the Open Office design making private collaboration difficult to accomplish in the office, huddle rooms have seen an increase in popularity.
Huddle rooms, defined by AVI Systems, Inc., as "small conference areas that are equipped with audio, video and display system technology," support group collaboration at a small scale. These informal team collaboration spaces are a place to "huddle" together for impromptu and scheduled meetings, and to collaborate on projects. Typically, an average huddle room houses 5-7 people, and contains a table, TV, and some type of speakerphone and USB video camera arrangement. White boards are also prevalent (and even some smart boards) to complete the tools available.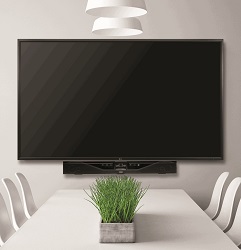 With the limited space comes requirements for equipment that not only allows for meetings and content sharing, yet doesn't cost a fortune. Organizations typically have more than one huddle room to equip.
The wall-mounted
Yamaha CS-700
(MSRP: $799) from Revolabs is a new all-in-one video and sound collaboration system that allows for simple USB connection to PC. The
CS-700
is easy to use, but don't let the simplicity fool you: it's a powerful tool. A beam-forming microphone array, and four speakers provide clear, rich sound. The 120-degree ultra-wide angle camera captures all meeting participants in one field of view. Audio, video, and screen sharing are all accomplished with one USB cable!

According to Revolabs co-founder and former CEO, JP Carney: "What this means for IT teams is a simple to use, set-it-and-forget-it meeting room audio and video system. No longer will they get calls asking how to connect to meeting room equipment, how to use camera controls, or worry about control pads walking out the door." This means that "the remote monitoring and provisioning of this unique system simplifies installation and control, reducing the number of IT service tickets and enabling simple collaboration for their customer base," said Carney.
Any video conferencing software may be used. Common applications include Microsoft Skype for Business, Vidyo, Zoom, BlueJeans, and many more. The
CS-700
provides a SIP interface to the corporate call manager, replacing the need for a separate conference phone in the huddle room. USB and SIP communications can be easily bridged in the
CS-700
, expanding the communication opportunities even further. And Bluetooth allows for fast and easy audio connections, instantly turning a mobile or computer call into a conference call.
If you're unsure about how to set up a huddle room, contact us for recommendations. The
CS-700
is just one of the many options we can put together to best fit your requirements. After all, Communication is Our Business.