Blog
1/24/2019 - 0 Comments
Are you trying to solve an echo problem? Trying to maximize security in your conferencing? To answer customers' needs, Yamaha designed a new tool, the
Conference Product Finder,
to identify the right
Yamaha
Unified Communications product with ease. Answer a few questions, and immediately your recommendations pop up.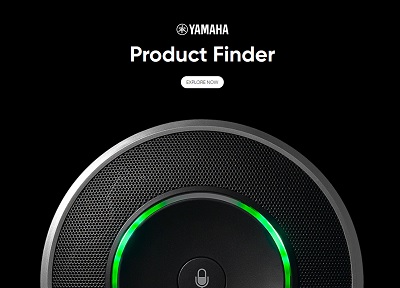 Yamaha recognizes that conferencing needs are unique; even within one organization, there may be different connection types and room arrangements. A huddle room does not require the same type of coverage that a large board room would, for example.
The first series of questions asks what you're trying to do: Enhance sound quality? Record voices? and other options. The next screen is about Compatibility: Bluetooth, VoIP, USB and Microsoft Skype for Business, or other UC platform? Next up, how many people does this system need to cover? It could be for as few as one person, and as many as 20+ people.
Depending upon your answers, the product(s) that best match your requirements, will populate. The Product Finder will ensure the best fit for device and environment, connection type, and more; we will work with customers further on pricing, availability, and delivery status.
Or, if you prefer to speak with someone directly, our staff will be happy to discuss the various conference products offered by Avcomm Solutions, and help you determine the best fit. Call us at 1-866-998-9991, or send an
email.
1/3/2019 - 0 Comments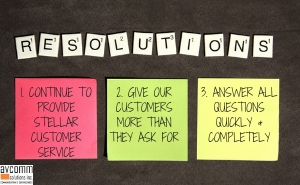 With 2019 now firmly established, we took this opportunity to look with fresh eyes at our business, our customers, and our thoughts about what we resolve to do in this new year.
Let's dive in:
1. We resolve to continue to provide stellar customer service.
Our Customer Care team is committed to our customers. We anticipate customers' needs and have product on hand and ready to ship. Sample units are sent when customers are unsure of what they need; and our 30-day money-back guarantee makes sure our customers are happy with the products that they purchased.
2. We resolve to give our customers more than they ask for.
We know which promotions give customers the best deals, making those budgets stretch farther. In working closely with our brands, our headset experts are aware of new product releases and features that help customers work smarter. We provide information via our blog and YouTube channel that adds value to our product offerings.
3. We resolve to answer all questions quickly and completely.
Whether you connect with us through the Internet, by phone, in person, or through email, our goal has always been to help customers through each purchase, tech support question, or warranty issue. Pre-sales support is mission critical, and customers receive what they need so they are able to open the box and use products immediately. What's a quick disconnect cord? Which headset works best with my phone? Why is my wireless headset making a beeping noise? Can I use a headset with my hearing aid? These questions are common, and our goal is to provide useful, comprehensive answers.
4. We resolve to tell our customers what they need to hear, and not just what they want to hear.
If we don't have the product on hand, we will let you know that delivery will be delayed. If we don't know the answer, we will tell you. (And then, we will research until we find the answer.) If we made a mistake, we will admit it. Our guiding principle at Avcomm Solutions is integrity.
5. We resolve to provide information that is essential to business productivity.
We share what we know. While some experts say "Leave it to us" we say "Let us share our knowledge with you." The
Avcomm Solutions blog
,
YouTube channel
, and social media sites
Twitter
,
Facebook
, and
LinkedIn
, are updated continuously with valuable information that benefits our customers. Information such as, how to change a battery in a wireless headset to which Active Noise Canceling headsets are available for office environments, headsets are our focus and specialty, and we love to talk about them!
Do you make resolutions each year? Are they personal or professional (or both)? Share your resolutions on the Comments tab, above.
We are grateful for your business, and your trust in us! Here's to another successful year!
12/11/2018 - 0 Comments
Tough work environments require tough headsets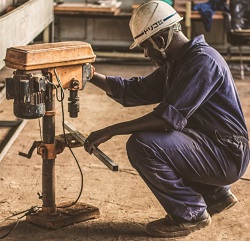 High-noise work environments can be intense.
Whether it's driving down the road in an 18-wheeler or working in a noisy warehouse – and other similarly loud environments – error-free communication and collaboration is challenging. Most of us are faced with colleague interruptions that impact productivity, but workers in high-noise environments are also faced with interruptions from equipment, or unconventional surroundings. Safety regulations in the workplace are progressively more restrictive and workers in high-noise environments have indicated that easy, hands-free group communication is of the utmost importance.
BlueParrott mobility-focused headsets are solving these challenges
for people in a variety of industries: professional drivers, utility technicians, retail floor help, hotel housekeepers and concierge staff, and warehouse order pickers.
BlueParrott
, a leader in intelligent and rugged headsets, offers microphones with unrivaled noise-cancelling technology and deliver superior call quality in high-noise environments. These headsets connect to rugged smartphones, tablets and mobile computers, land mobile radios, handheld scanners, and other mobile devices.
Professional Truck Drivers
Professional truck drivers have preferred BlueParrott headsets for years.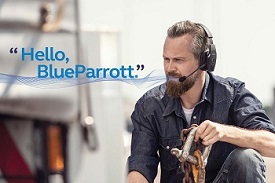 Strong and stable enough for life on the road, the wireless Bluetooth headsets feature long battery life and up to 24 hours of talk time (depending upon the headset). With hands-free call and text bans in effect around the U.S., drivers of all kinds – from local delivery drivers to Over-the-Road truckers – must use headsets for communicating.
Some of the top choices for drivers are
B450-XT
,
B350-XT
and the
B250-XTS
.
Another recommended headset is new to the market: the
B550-XT
, the world's first 100% hands-free headset. Simply by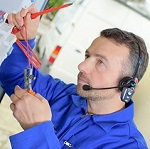 saying "Hello BlueParrott," tell your headset to "Call" contacts within your phone's Address Book. In addition, the
C400-XT
is a great choice for people who prefer a choice in wearing style: the C400-XT can be worn behind the neck (over the left or right ears), and over-the-head.
Field Service Workers
Construction workers, foremen, linemen, and others who work on job sites would all benefit from the use of these same headsets.
Retail and Hospitality Staff
The
C400-XT
is the perfect hands-free, Bluetooth-enabled headset for those who clean hotel rooms, concierge staff, and retail sales floor workers. Its discreet profile, and trio of wearing style options, offer some flexibility and customization.
Warehouse Operators and Order Pickers
The headset needed for these workers depends upon the picking device that's being used, and so there are 2 categories for the warehouse worker:
Corded
or
Bluetooth Wireless
.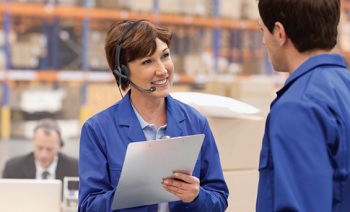 Corded headsets include the
VR11
,
VR12
, and
VR12F
, a freezer-rated headset for environments down to -22 degrees. These headsets have been "drop and tumble tested," having been dropped 8.2 feet onto concrete across the operating temperature range, and tossed 500 times across approximately 3 feet for 1,000 hits.
If the connection type needed is Bluetooth, then these wireless headsets are recommended:
B550-XT
,
B450-XT
and
C400-XT
.
Supported by the latest in headset technology
Keep BlueParrott headsets updated (via USB) with the free software program,
BlueParrott Updater
. Install the BlueParrott Updater on your computer (either PC or Mac), and ensure your BlueParrott headset always has the latest features and functions. The BlueParrott Updater download is available free, here:
BlueParrott Updater
.
The BlueParrott App is available in Apple and Android versions, at no cost. If your headset has a Parrott Button, customize the operation of the Button within the app. The headset is configured out-of-the-box with the Parrott Button configured to mute, and will mute the microphone while both off or on a call.
There is a walkie-talkie feature as well. For all Parrott Button questions, refer to the Help page:
Parrott Button How-To
Each headset is protected with a one-year warranty for peace of mind.
Contact our headset experts about BlueParrott headsets, today: 1-866-998-9991.
11/15/2018 - 0 Comments
In its continual effort to advance technologically progressive headsets, Plantronics has announced that the SupraPlus series will be phased out in 2019. SupraPlus headsets will be for sale as long as stock is available.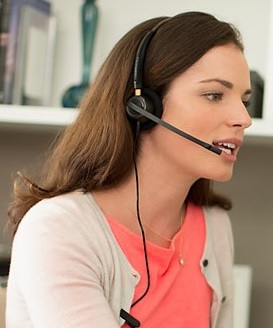 Recommended Replacement: EncorePro 500 Series
Plantronics suggests the EncorePro 500 series as the direct replacement.
The EncorePro series has continued in popularity, with Quick Disconnect, Digital and USB variants that meet the requirements of contact centers and offices around the world.
The EncorePro headband has 6 degrees of adjustment and a super soft foam ear cushion that covers the ear. Premium leatherette ear cushions are available as an optional accessory.
The EncorePro is the benchmark in headset design, winning an
iF Design Award
in 2015. The single piece, unibody style microphone boom with tactile and visual positioning is virtually break-free. The aircraft grade structural aluminum joints provide another point of strength.
The Plantronics
EncorePro 510
is the next generation of our most popular over-the-head monaural headset. Completely re-imagined for the demands of the modern customer service center and office, the HW510 has soft ear cushions for all-day wearing comfort, metal joints that deliver durability and reliability and a flexible mic with visual and tactile positioning guides for precise positioning and clearer conversations.
The Plantronics
EncorePro 520
is the binaural version of the all-new 510 design, covering both ears to provide greater focus and concentration by blocking background noise. The 520 also has soft ear cushions for all-day wearing comfort, metal joints that deliver durability and reliability, and a flexible mic with visual and tactile positioning guides for precise positioning and clearer conversations.
Ready to upgrade? Contact our
Customer Care Team
today: 1-866-998-9991
11/8/2018 - 0 Comments
A guest post by Mike Dershowitz, the CEO of Fair Trade Outsourcing, a people-first BPO company that has service delivery centers in the United States, the Philippines, and Ghana. He believes that when companies focus on their employees' social and economic progress, it motivates them to perform better at work and produce outperforming results. Contact him at +1 215 330 2895 or mike@fairtradeoutsourcing.com for an initial consultation. Read more from Mike on his Medium site.
Original publish date: August 27, 2018
I've been living in Berlin, Germany this summer. It has been an incredibly productive time for me and for Rethink Staffing as a whole, including finally building a real sales team that can deliver results.
My favorite breakfast place is two blocks from where we're renting a flat, called
Anna Blume
. It was introduced to me by a Berliner friend 3 years ago upon a visit for business, and situated in the old East Berlin neighborhood of
Prenzlauer Berg
. The coffee is good, and the
bauernomelette
(think of pickles, potatoes and eggs) is my favorite.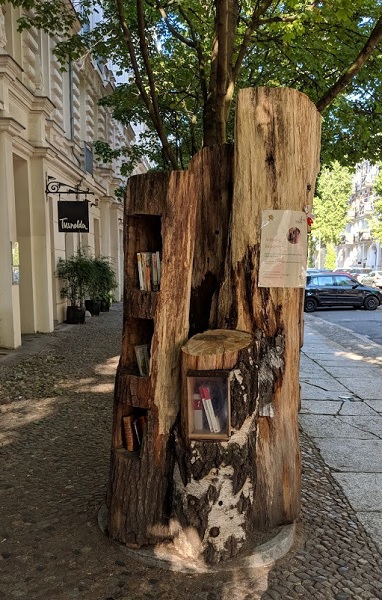 When there alone, I find myself quite contemplative.
I go there weekly to write. My favorite table faces west, and right in front of this table on the street there is the most interesting old tree that has been transformed into a potent symbol of the communal and trustworthy nature inherent in German society.
But to me, it's also a powerful symbol of how persistent, little actions can have such a large impact on people's lives and the world at large.
This tree has been transformed into a book exchange. Some craftsman took the trunk of it, cut small shelves-cum-compartments into it, covered with plastic fronts to protect the books from the rain, and placed it on the street with a small note of instruction. The compartments contain no locks, there is no record keeping mechanism whatsoever. You can place or take as many books as you like.
I usually sit there any hour and half, eating, writing, and — like
a shoddy Balzac
 — (at least in my mind) drink a few coffees. In that scant hour and a half of that day of the week, I see all manner of people come by, and with a frequency that astonishes. I'm there for just 90 minutes, but I must see 7 or 8 people come by in that time.
That one craftsperson, with this simple idea of a book exchange, has now impacted thousands of lives. Do the math: I'm there for just 90 minutes one day a week; how many weeks, months and years has the tree been delivering thought-provoking texts, giving pleasure to people as they read something fun, or providing much needed distraction to someone that maybe in some form of distress or crisis.
The enormity of the aggregate of instances of influences on those people using the tree, created by that one craftsperson who created it, can probably never be calculated or known. It was this realization that led me to interpret the value of the tree as a potent reminder to my sales people.
Progress is made in the aggregate. No great labor or achievement was accomplished in one isolated action of such instantaneous, conjured power. Rather, the passage of years and thousands of hours of work can be most consistently attributed to great achievement. Ask any professional athlete, superior craftsperson, or writer. It was the result of thousands or a million little actions.
So I remind my sales team (and yours):
Progress is made in the aggregate.
Every day, you must be laboring to get your message to as many people, through as many small, simple actions as you can muster within the energy that you possess for that day. You must always be meeting new people, reconnecting with old contacts, and telling anyone who will listen why you are doing what you are doing.
For you shall never know what little action you may have done months ago, when interacting with another little action (of yours or another), and how, when those actions combine, may finally be the spark needed to advance your goals. That spark is what results in your prospects finally sending the "let's catch up" email or "It's time for us to get serious about this" email. Or even, in this day and age, that rare phone call.
So, I say this to all those salespeople out there who maybe struggling with the day-to-day repetitive nature of sales (and to my sales team):
You are that craftsperson.
You are creating that tree where you and others come to exchange ideas. Your job is to help your prospects take a little idea from you, one from another, and combine them until those ideas create something of value for your prospect (which hopefully is what you're selling).
Do that for people you meet, and for potential customers, and you will always be successful. But you must do that every day, and in a thousand small little ways.
Progress is made in the aggregate.