Blog
9/18/2014 - 0 Comments
It's always an exciting time for our local High School's Junior and Senior classes and Avcomm Solutions, Inc. had the privilege this week of showcasing our business at Career and College Day and providing an example of just one of the many professions available for these youngsters as they begin to explore life after high school.
More than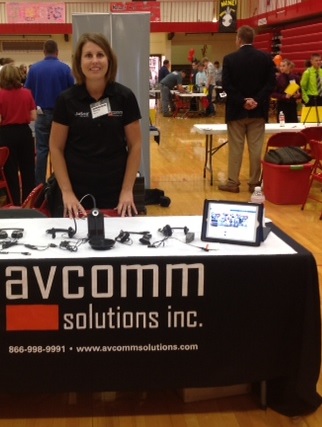 100 professionals from our local community set up information tables and were given the chance to share details about the education and skills needed to find success in their career. Avcomm Solutions, Inc., highlighted the fact that we staff a full time Social Media Specialist; a newly created position to support the ever-changing ways customers do business and bring added value to our customers at the same time.
Not only does this daylong event highlight the various careers available, over 35 colleges and universities are represented as well. This allows the students to begin the process of planning for college and/or their career of choice.
Famous Nebraskan William Jennings Bryan once said: "Destiny is not a matter of chance; it is a matter of choice. It is not a thing to be waited for; it is a thing to be achieved." Our local high school students are well on their way to accomplishing greatness in their futures.
9/9/2014 - 0 Comments
The wireless headset is a great tool to increase productivity and worker satisfaction. The decrease in neck, back, and shoulder pain and strain has been proven in several studies. On its own, a wireless headset is a great thing. With the addition of a remote answer device you are able to achieve true wireless freedom by being able to answer and end calls up to 450 feet away from your desk!
Remote answer devices come in two different styles: Remote Handset Lifter and Electronic Hook Switch Cable.
What is a Remote Handset Lifter?
A remote handset lifter (RHL) attaches to the top of the phone, underneath the handset, with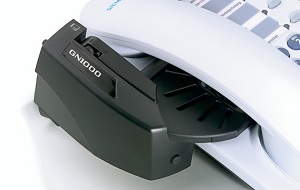 adhesive mounting strips. It will then connect to the headset base with an included cable.
When the phone rings, the RHL sends a tone into your wireless headset to alert you of the incoming call. Simply press the answer/end button on the wireless headset and you're connected to the caller. When you answer the call, the RHL lifts the handset up; when you end the call, the RHL lowers the handset into the cradle to disconnect the call.
RHLs are compatible with the majority of office telephones.
What is an EHS cable?
An electronic hookswitch cable attaches to your phone and headset base, and electronically allows you to answers and ends calls away from the desk. It's important to note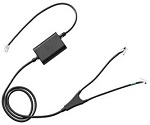 that with an EHS cable in place, the phone's handset does not physically move up or down. There are a myriad of EHS cables, and the one that's right for you depends upon your office phone's make and model.
How do remote answer devices work?
Typically, handset lifters respond to sounds within a certain frequency range. The Sennheiser HSL10 has a unique ring tone detection via a high quality microphone. Jabra's GN1000 RHL (pictured) senses the magnetic field the speaker generates when your phone rings, which means it's virtually foolproof.
The EHS cable passes predefined signaling to either answer or end the call.
Phone Compatibility
Each of the manufacturers offers a Headset Compatibility Guide on their web site to help determine whether you will need an EHS cable or a remote handset lifter.
Jabra Compatibility Guide
Plantronics Compatibility Guide
Sennheiser Compatibility Guide
VXi Compatibility Guide
If you're curious about a wireless headset and the true freedom you can experience at work, give us a call at 1-866-998-9991. To read more about why we love wireless headsets, read our blog post here:
Why Avcomm Loves Wireless Headsets (And You Should Too!)
.
8/29/2014 - 0 Comments
The movie "Jerry Maguire" features a great scene with Cuba Gooding, Jr., as an aging professional football player telling his agent Jerry Maguire that he needs to "show me the money" – Jerry needs to negotiate a high-dollar contract for his client.
This phrase is easily applicable in industry and government, where shareholders, stakeholders and more are scrutinizing the bottom line. ROI (return on investment) is a much discussed term that attempts to determine the value of something and its impact on the company's overall financial health.
Scaled-down budgets and budget cuts are forcing many to stretch their limited resources. It can be a temptation when looking at a reduced budget to quickly make decisions based upon price alone. You have X amount of dollars, and so you look for a low price, giving you (theoretically) more product for the money. Unfortunately, you get what you pay for.
A high quality headset may have a higher price tag, but over the long run, offers a better value and costs less – equaling happier customers and employees. How?
Durable construction – Corded headsets can clutter a workstation. Chairs roll over the cords on the floor, feet can get tangled in them, and the general use of corded headsets can cause cords to break, snag, and fall off. Headsets offered by Avcomm Solutions have been tested by the manufacturers for user-proof adoption.

The recent trend in headset manufacturing has been the inclusion of Kevlar cords. We know that Kevlar bullet-proof vests in the law enforcement community stop bullets, and the Kevlar reinforced headset cords add a layer of protection to the cords, so they aren't easily broken down.

High quality, heavy duty materials – plus design features that minimize the damage that can come from repetitive and sometimes hard use – will keep your agents on the phones.


Reliability – With call centers running sometimes continuous 24-hour shifts, appropriate agent coverage is a necessity. Can you rely on your headsets to work when your agents need them? Increase first call resolution, improve engagement, and reduce hold times with a reliable headset.



Comfort – The fit and feel of a headset can contribute to your agent's job satisfaction. Heavy phone users – those on the phone for the majority of their workday – will appreciate a comfortable headset that doesn't pinch or fall off their head and ears. A happy agent makes for a happy customer!



Excellent sound quality – The ability to hear and really listen to the person on the other end of the call is critical. Cisco has identified and categorized voice quality problems including echo, tunnel, soft, loud, or tinny voice, and absolute silence, as just some of the voice quality problems during phone calls: Recognizing and Categorizing Symptoms of Voice Quality Problems.

Companies that specialize in designing headsets for call-centric environments have value-added features. Audio technologies and hearing protections such as SafeTone (Jabra), ActiveGard (Sennheiser) and Sound Guard (Plantronics) ensure the safety of headset wearers. To read more about these technologies, check out our blog post: Say What? The research and development necessary to produce the best headsets for call-centric environments is a continuous evolution of excellence for our headset manufacturers.


Noise cancelling microphones – If you are in a busy, crowded or noisy office environment, noise-cancelling microphones are a must and definitely worth the added cost. Colleagues and other background noises (copy machines included) are filtered out and therefore not transmitted to your caller through the microphone. Companies dealing with highly sensitive data, including credit card information, will provide peace of mind to callers who won't hear other customers' conversations in the background of their agent's microphone. For a more detailed listing of microphone types, read our blog post.


Warranty replacement – A warranty replacement policy is another standard for high quality headsets. Sometimes, due to carelessness, or other issues, headsets can break or fail. Our manufacturers offer a 2-year, and sometimes 3-year warranty replacement, on their corded headsets. You won't be purchasing replacement headsets regularly with this safeguard in place!
Let us know how we can help you increase your profits, and impact your bottom line, with the top quality headsets that we offer here at Avcomm Solutions. Our job is to help you find the best solutions for your office's unique needs and environment.
Contact us!
Source:
Choosing the best direct connect headset solution for your contact center
. Plantronics whitepaper. 1/23/08.
8/6/2014 - 0 Comments
The Sennheiser brand has produced another award-winning product in the SP 20 Speakerphone, receiving both the 2014 iF Product Design and RedDot awards. Ease of use, quality craftsmanship and a discrete profile recommend the Sennheiser
SP 20 ML
for conference and huddle rooms, as well as individual use.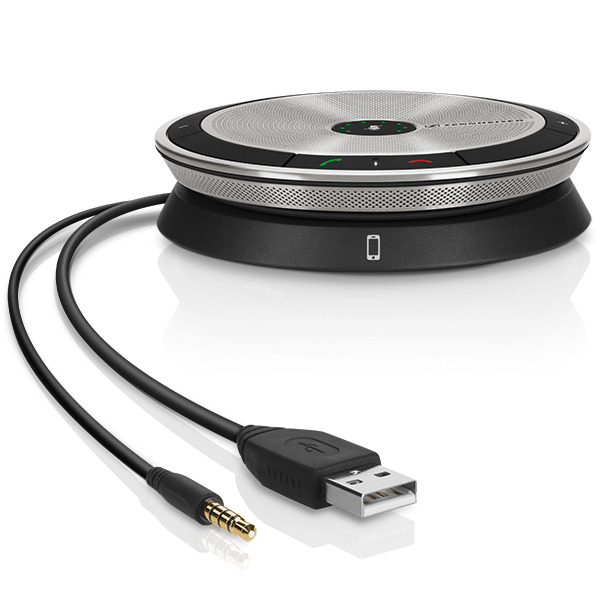 Douglas Bowersox, Business Development Manager for Sennheiser, said that the company has been anticipating the release of the new personal speakerphone for some time.
"Feedback from our strategic seeding and early market samples only further elevated our eagerness for the release of our new SP20 personal speakerphone product," he reported.
The positive buzz surrounding the release of the SP series of speakerphones (which also includes the SP 10 models) caused early sell-outs and product shortages.
"Many times new product releases struggle to grab market interest early on, not the case with the Sennheiser SP series. Fortunately/unfortunately our SP series speakerphone garnered so much interest pre-release that we quickly sold through our initial expected stocking order and several very large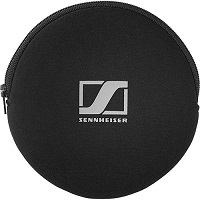 companies placed orders worldwide that quickly depleted our initial production stock," he said.
"The good news is production has been ramped up and stock is available. If you have not already experienced the premium audio performance of the Sennheiser Telephony, UC and Collaboration products we are confident the SP series of personal speakerphones will not disappoint."
Let's meet the SP 20
When you open the SP 20 box, the speakerphone is zipped inside its convenient tailored neoprene carrying pouch – making this speakerphone easy to travel with.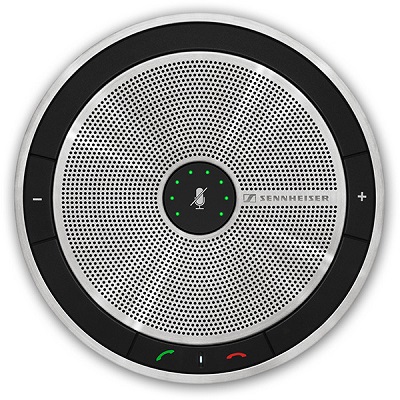 The SP 20 weighs in at a mere 7.35 ounces. The composite metal face and surrounding side lend a designer touch to the otherwise black plastic speakerphone. The mute button, indicated by a microphone with a slash through it, is in the middle of the speakerphone; surrounding the mute button are 8 LED lights; they indicate volume (in green); mute (red); and remaining battery power (blue). At the bottom of the device, red and green handset buttons answer and end calls. Volume buttons, - (decrease) and + (increase) are anchored to the left and right of the device.
The USB and 3.5 mm cords wrap around the middle of the device and stay connected to the SP 20, so there's no fear of loss. Connect either the USB cord to a PC/softphone, or the 3.5 mm cable to a mobile phone or tablet. When you're not on a call, and the device is connected to your mobile phone or tablet, the mute button becomes an equalizer: simply press the mute button for 5 seconds, and you get the world-renowned Sennheiser sound quality to listen to your music. Charge via USB for up to 20 hours of talk time; when connected via USB, get unlimited talk time.
The simplicity of use does not translate into a simple device: The dual talk feature allows for natural conversation and echo cancelling removes sound reflections. You can merge your PC/softphone and mobile calls into one conference across the devices. The illustrated Quick Start Guide shows this functionality at a glance.
At an MSRP cost of $199.95, this speakerphone won't break the bank. There are a variety of situations where the SP 20 would be the perfect product - personal offices, huddle rooms, conference rooms, and more - and with a two-year warranty, Sennheiser gives you peace of mind.
Do you have questions about how the SP 20 ML would work best for your office needs? Give us a call at 866-998-9991 and our team would be happy to assist you!
7/29/2014 - 0 Comments
Did you know that recently Avcomm Solutions became certified as a Woman Owned Small Business? After opening its doors in April of 2008, our President Susan Mitchell has led the company to continued growth and success; however, the official certification process as a woman owned business was something that remained on the horizon to be accomplished.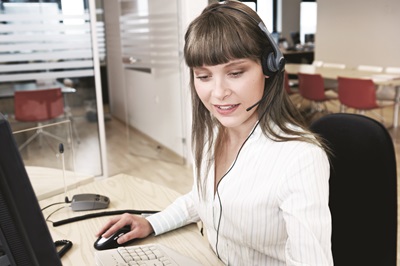 This spring, it was determined that it was time to take the official step of self-certification through the SBA (Small Business Administration). Discovery and gathering of required documentation was the first step to complete the certification. Paperwork, including the completion of the Women Owned Small Business Program Certification, was another step.
"Avcomm Solutions has been a woman owned business since its inception in 2008. In the past 5 years, we were aware that we had missed some sales opportunities with several large corporations, because we lacked the certification required by these companies," Mitchell said. "As part of our strategic planning for 2014, we decided that it was time to move forward with the process of becoming certified. By being a certified woman owned business, we are now able to compete for special opportunities that arise within the procurement programs of the state and federal governments, and through the supplier diversity programs of private corporations."
With the able assistance of some staffers in the Nebraska District offices of the SBA, the final certification process was completed. We are extremely proud of this certification, which states that more than 51% of the company is directly owned and controlled by a woman.
Avcomm is part of this woman-owned movement that continues to grow nationwide: according to National Association of Women Business Owners (NAWBO), more than 9.1 million firms are owned by women, employing nearly 7.9 million people, and generating $1.4 trillion in sales as of 2014. Women-owned firms (50% or more) account for 30% of all privately held firms and contribute 14% of employment and 11% of revenues. Over the past six years, since the depth of the U.S. recession, the only businesses that have provided a net increase in employment are large, publicly traded corporations… and privately held majority women-owned firms. In all other privately held firms, employment has declined over the 2007–2013 period. (These statistics are from
Womenable
.)
The
2014 State of Women-Owned Businesses Report
was recently published by American Express OPEN, written by Womenable. The National Association of Women Business Owners (NAWBO) partnered with Web.com to commission a national survey of NAWBO members.
The findings? Of the more than 5,000 NAWBO members polled, 92 percent say they believe more women will venture out and start their own businesses in 2014. Their own motivations for beginning a business were varied, with envisioning themselves as entrepreneurs and wanting to implement a business idea as the top two reasons given. For their 2014 investment plans, the NAWBO members state Marketing and Customer Service to be of top importance, with Hiring coming in as 4th importance for investment.
This comes as no surprise to us here at Avcomm, as continued growth and increased staff have been a natural outcome of taking the time to build relationships, providing excellent customer service before and after purchase, and becoming a one-stop shop for our customers' audio and video communication needs. By offering the best advice, and the best manufacturers out there, our high quality solutions keep your businesses running efficiently, your employees happy, and your stockholders satisfied!
To view Avcomm Solutions' certification,
please click here.