There were 3 posts tagged: Speak 750
April 8th, 2021 • 0 Comments
Up to 40% off Jabra headsets and PanaCast cameras that will keep the class engaged
When the COVID-19 quarantine began last year, K-12 schools, colleges, and universities were forced to quickly adapt to remote and hybrid learning models. This has continued into the 2020-21 school year, and educators are doing their best to provide a consistent means to educate their students effectively.
Teachers need to keep students engaged when teaching remotely, which brings unique challenges. In a Customer Database Survey in April 2020, Jabra found that 61% of teachers' time is now spent in virtual classes, with 3-4 hours each day in lectures with students. The survey also found that both teachers and students are experiencing frustrations:
• 44% of students are not satisfied with the audio or video quality of remote learning classes
• 54% of teachers find it difficult to keep students' attention when remote teaching
As an authorized Jabra reseller partner, we sell audio and video solutions that will answer the needs of the modern remote learning classroom. Our specialized team can put together a plan for your unique classroom and school. And, with some big discounts
(up to 40%!)
on these Jabra headsets and the PanaCast camera, now is the right time to equip your learning spaces.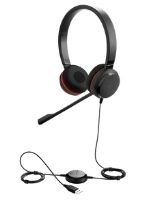 Headsets for students and teachers, with premium sound and comfort
The
Evolve 20 Special Edition headset
features leatherette ear cushions and an inline call control unit that allows you to answer/end calls, mute calls, and increase/decrease call volume with a quick touch of a button. This is a plug-and-play USB headset that requires no set-up, making it a very easy headset to use and deploy. The 2-year warranty assures customer satisfaction and a full replacement within the warranty period, if necessary.
The other Jabra headset with a major discount is this
Evolve 30 II stereo headset
that ends in a 3.5mm jack. These headsets are ideal for those using tablets and

computers with 3.5mm audio jacks. The leatherette ear cushions assure comfort for the wearer and with both ears covered, students and teachers will be able to focus on the classroom, and not their surrounding environment at home or in school.
PanaCast camera captures the classroom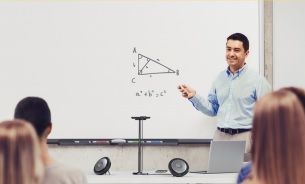 Teachers will appreciate the wall-to-wall coverage of their teaching space as they move around freely sharing educational material. The 180-degree view lets teachers take full advantage of white boards, teaching aids, and the space in the classroom to move around and keep students engaged.
Jabra PanaCast
is a plug-and-play camera, certified for Microsoft and all major UC platforms. And, if they need to change classrooms, its small size makes it easy to move to the next space.
Contact us at 1-866-998-9991 or Chat us now for your Special Pricing on these three devices.
Other smart choices:
Speak 750 speakerphone
for online and in-class learning; keep students engaged in conversations with a speakerphone. A second Speak 750 speakerphone can be wirelessly linked to double the coverage inside the classroom, for the clearest sound possible.
Evolve2 65 wireless headset
connects to both mobile phones and computers, for teachers who need the freedom to roam. Three strategically placed professional microphones ensure crystal-clear audio, so your students hear every word.
Jabra devices will keep your students engaged, your teachers teaching, and your budget happy. Contact our sales team at 1-866-998-9991 or Chat us now, to learn about these products, and more.
February 16th, 2021 • 0 Comments
Health care in the age of technology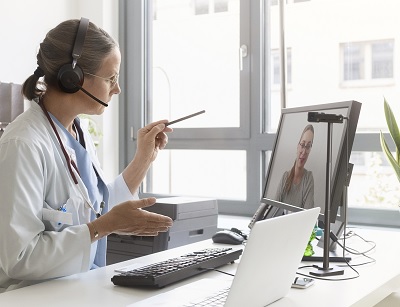 With the recent boom in
virtual health care
, the need for outstanding technology solutions that keep patients and health care practitioners connected has never been greater.
As remote health care becomes more widely available, technology has a key role to play in ensuring these virtual services are at a consistently high standard. The right devices keep health care workers connected, both to their patients and to each other.
With 90% of people believing that remote health care is as good or better than traditional services, there's never been a better time to ensure that the technology you're using to deliver remote health care options is the best that it can possibly be, specifically audio and video solutions
.
We recommend the Jabra devices, designed to bring a natural human touch to these interactions. From the immersive 180° video you get with
Jabra PanaCast
, to the world-leading professional-grade audio of
Jabra Evolve2 65
headsets, and the outstanding 2-way audio of the
Jabra Speak 750
, there's a product that's perfect for protecting the genuine human connection that's so vital to healthcare interactions.
And that's exactly where Avcomm Solutions comes in. As a Jabra Premium Partner, we are uniquely positioned to provide product recommendations, special pricing, and support after purchase, to ease your transition into professional grade audio and video communication devices.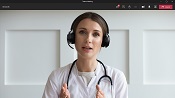 Our team provides specialized recommendations to each customer, for the best set-ups possible. Whether you need cameras, headsets, or speakerphones, we will configure the best devices for your needs.
Contact us at 1-866-998-9991 or Chat us now.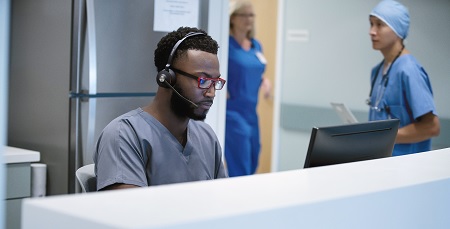 December 18th, 2020 • 0 Comments
The Speak family of speakerphones from Jabra is a range of easy to use conference call speakerphones with superior audio, for the most efficient and productive meetings wherever you are, whatever your needs. Improve personal and group collaboration among your team, no matter their location.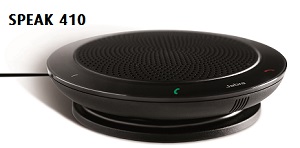 For 1-4 people in the same room, the size of the Speak 410s and Speak 510s are perfect for instant conferencing and videoconferencing on a smaller scale. The personal – yet professional – speakerphones are portable and lightweight, and turn any room into a conference room to facilitate collaboration the simple way. The slim profile and included zippered neoprene travel pouch allow for easy and protected travel.
All of the Speak series devices have user-friendly features such as the LED soft buttons at the top of the speakerphone, which allow you to answer, end, and mute calls at the tap of a button. You can also turn the speaker on and off; adjust the volume with the Volume + and Volume - buttons, and check the Battery Level. Tap the Battery Level button and all of the LEDs light up to show the charge level. Omni-directional microphones make this an ideal collaboration solution and with up to 15 hours battery life, for optimal performance.
The Speak series is optimized for Unified Communications with straightforward USB and/or Bluetooth connectivity for immediate conference call set up using your PC or smartphone/tablet. Skype for Business certified versions are available, too.
Speak 410
The
Jabra Speak 410
is the most basic of the family and connects via USB only; the connection cord wraps around the device and is secured there. The connection cord cannot be removed, so you will always have it when you need it. To make the conference call private, the Speak 410 has a 3.5mm headset port to plug your Jabra headset into. MSRP for the Speak 410 is $129.00.
Speak 510
The
Jabra Speak 510
offers USB and Bluetooth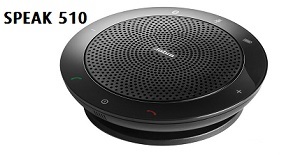 connectivity options. Connect to your PC, smartphone, tablet, or Bluetooth headset. When you're not on a call, you can use the device as a music speaker. MSRP is $149.00.
Speak 510+
The
Jabra Speak 510+
offers USB and Bluetooth connectivity with extensive wireless range for more flexibility to collaborate with your contacts however you choose.
The USB dongle to the laptop means you can benefit from up to approximately 325 feet of wireless range to move the conference call to the best place. This device also has the 3.5mm jack port to connect your headset; turn a public conference room discussion into a private smartphone call in seconds.
The included Jabra Link 370 BT USB dongle provides added wireless flexibility, for example:
When a public meeting space needs to become private and you need to move the device into a private room.
If the current conference space becomes too noisy and you need a 'closed door' for enhanced focus and collaboration. MSRP is $179.00.
Speak 710
The
Jabra Speak 710
brings a new feature to the Speak family: it can be paired with another Jabra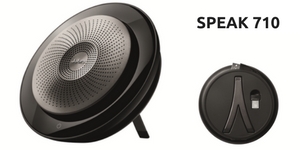 Speak 710 wirelessly — within seconds. Two Speak 710s linked together will easily cover a meeting room of 12 people and lets you enjoy even more powerful, stereo music.
In addition, the Speak 710 brings new features to the Speak series. This includes a folding stand that is stored in the back of the unit, a storage spot for the included Link 370 dongle, and a one-touch Smart Button that makes interacting with a digital assistant (such as MS Cortana, Siri and Google Now) a breeze. MSRP for the Speak 710 is $314 and the Speak 710 is available in both UC and Microsoft certified versions.
Speak 750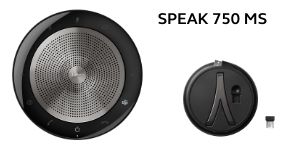 The
Jabra Speak 750
offers full duplex audio which transmits both sides of the conversation at the same time, allowing your conversations to flow just as they do in person. The Speak 750 has the same buttons and functions as the Speak 710. New to the Speak 750: the Certified for Microsoft Teams certified variant has a dedicated Teams button and a supporting LED light located next it. The Microsoft Teams button lights up purple, and the supporting LED light flashes white for notifications. Tap the Microsoft Teams button to join meetings and see when you have an upcoming call, missed calls and voicemails. MSRP is $329.
Speak 810
The
Jabra Speak 810
is a premium grade speakerphone that connects via USB and Bluetooth (NFC/MFI) and 3.5mm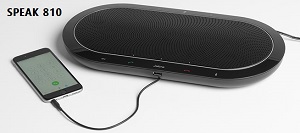 jack cable for smartphone or tablet connection. The broadest range of connectivity in the Jabra Speak Series, the Speak 810 is ideal for hassle free, simple conference call set-up in seconds, for collaboration with up to 15 attendees in the same meeting room for perfect sound.
Using ZoomTalk microphones for excellent audio quality, the mics uniquely detect the human voice and not the ambient room noises (such as people eating or keyboard tapping) making the Jabra Speak 810 the ideal choice for those empathetic to those working remotely and dialing in to the call. ZoomTalk makes it easy to hear, and easy to be heard, no matter where you are located.
With a USB charge out port for charging your tablet or smartphone the Jabra Speak 810 offers you the full flexibility to connect however you want to without the worry of battery life. A/C powered yet lightweight, the Jabra Speak 810 is portable from room to room as required. However the Kensington lock secure port means you can keep it securely locked to replace more traditional dial pad and fixed meeting room collaboration solutions.
An
optional USB Bluetooth dongle
can be purchased for approximately 325 feet of wireless range away from your PC or laptop.
MSRP for the Speak 810 is $599.00.
With the variety of choices available, the Speak series from Jabra is truly a professional and flexible solution for your conferencing and video conferencing needs.
Contact us
to learn more about the Speak family today!