Showing posts tagged: ANC
1/15/2020 - 0 Comments
The extremely generous Jabra wireless trade-in promotion that was new last year, has been extended into 2020! And, it now includes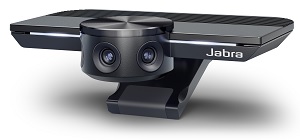 the
Jabra PanaCast
camera, the world's first intelligent 180° Panoramic-4K plug-and-play video solution. Get $75/unit for existing PanaCast 2 or 3 cameras; or $150/unit for non-Jabra huddle room cameras!
Learn more about the amazing PanaCast on our blog.
The Technology Refresh program also offers
$40 cash back for each non-Jabra wireless headset that is traded in
, with the purchase of an Engage Series wireless headset. If you have wanted to make the switch to a Jabra wireless headset, NOW IS THE TIME!
Or, if you already use a Jabra wireless headset (specifically, the PRO 920, 930, 935, 9450, 9460, 9465, 9470, or Motion Office), you can upgrade to the new Jabra Engage wireless series and receive a $20 rebate check in the mail for trading in your old Jabra wireless.
Additionally, when you upgrade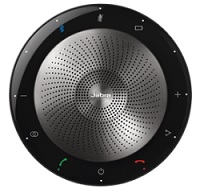 your technology to the new
Jabra Speak 710
wireless speakerphone, receive $20 back for a Jabra Speak 410/510, or $40 for a non-Jabra personal or huddle room speakerphone that is traded in. The Speak 710 (both UC and MS versions) offers wireless linking and connects to an additional Speak 710, for double the room coverage (up to 12 people). Connect to laptop, smart phone and tablet via USB or Bluetooth, and with plug-and-play simplicity, it's easy to set up — wherever you take meetings. Fifteen hours of battery life ensures you can meet (or listen to music) for a long time.
Corded headsets have also been added to the mix, and with any Jabra Engage 50, Biz 2300 or Biz 2400 II headset purchased, get $10/unit for existing Jabra wired solutions; or $20/unit for any non-Jabra wired solution.
These
Technology Refresh
promotions are only
good through June 30, 2020,
so take advantage of the savings and equip your staff with the latest and greatest in office and mobile wireless technology. Click here for the promotion's
T's and C's
.
Learn more about the qualifying headsets, below: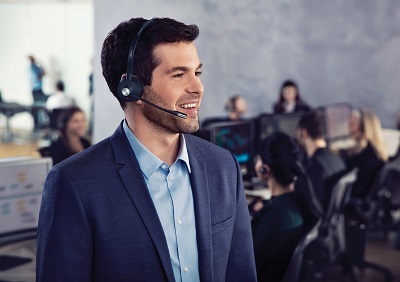 Engage with Jabra
and its Engage series, an entirely new class of DECT wireless professional headsets. The series provides superior wireless connectivity to a range of up to 490 feet - and enables up to 3 times more users to operate in the same office space with no loss in connection quality. Integrated busy lights in these headsets increase productivity and alert co-workers' to your busy status.
Engage 75 headsets connect up to five devices simultaneously, increasing availability for customer calls. And the choice of wearing styles support workers' preferences and workstyles.
For detailed information about each Engage headset, click on any of the following links:
Engage 65 Mono
Engage 65 Stereo
Engage 65 Convertible
Engage 75 Mono
Engage 75 Stereo
Engage 75 Convertible
Engage 50 headsets
These headsets have been created with state-of-the-art software including in-depth analytics for businesses, as well as live on-screen microphone guidance for agents. The three-mic system eliminates breathing sounds, background noise, and other distractions. Available in either mono or duo, the Engage 50 is a USB-C headset; an additional call controller unit can be purchased to enhance the headset.
Biz 2300 and Biz 2400 II headsets
Jabra's corded headsets feature world-class sound, tough construction, and comfort for all-day use. The specially designed "air shock" noise-cancelling microphones filter out sharp breathing sounds and popping noises often heard in conversations. Available in both one-ear and two-ear models, and with connections to desk phones or PCs, Biz 2300 and 2400 II headsets are perfect for all-day wear in contact centers, offices and more.
Visit the Jabra web site to learn more about the promotion, and instructions on how to claim the cash back:
Jabra Technology Refresh
This promotion expires June 30, 2020, and all claims must be submitted by July 31, 2020.
Contact us today for recommendations on the best headsets for your unique requirements! 1-866-998-9991
1/14/2020 - 0 Comments
Jabra announced that its Motion and

Motion Office Bluetooth headsets have been discontinued. The unique wearing style has gained a loyal following of users — the combination of over and around the ear, along with the ear piece that fits directly in the ear, ensures a secure and comfortable fit.
Connecting to mobile phones, tablets, and PCs, the UC+ models are for mobile professionals working mainly outside of the office. The Motion Office variants offer triple connectivity: mobile, PC, and desk phone for working at your desk.
We have a limited supply of the Motion headsets. Once they're gone, we recommend these Bluetooth headsets as comparable replacements: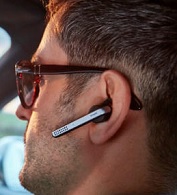 Jabra
Stealth UC
is a small headset with an included USB dongle for connection to PCs, in addition to mobile phones/tablets. The in-ear design is discreet, lightweight, and comfortable enough to wear all day. The Stealth incorporates the breakthrough microPOWER battery technology which allows for a significantly smaller design, longer talk time and a better comfort experience. The Stealth is also available in a Certified for Microsoft version:
Stealth MS
. MSRP is $158.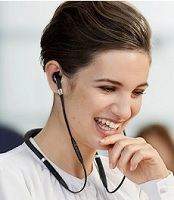 Jabra
Evolve 65e
and
Evolve 75e
are neckband with earbud styles; they are similar in design and function; however, the 75e offers the additional feature of Active Noise Canceling. The neckband vibrates on incoming phone calls, so you're aware of calls even if the ear buds aren't in your ears. Wear one ear bud to keep an ear on the surrounding environment; wear both for increased concentration. Both of these headsets are available in Microsoft-certified versions:
Evolve 65e MS
and
Evolve 75e MS
. MSRP for the Evolve 65e is $210, and $272 for Evolve 75e.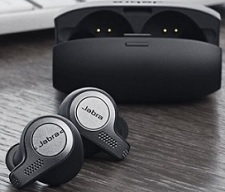 If you prefer the ear bud wearing style, without wires, Jabra
Evolve 65t
is a great option. It connects to mobile phones, and to computers with the included Link 370 USB dongle. The four-microphone technology ensures clear conversations; get up to five hours' battery on a single charge (15 hours with the included pocket-friendly charging case). There are multiple fitting options to provide a snug in-ear fit that seals out sound, for Passive Noise Cancellation to help you focus. And, it's Voice Assistant enabled (Siri, Google Assistant, Amazon Alexa), allowing you to do a variety of tasks hands-free. The Microsoft-certified version can be found here:
Evolve 65t MS
. MSRP is $346.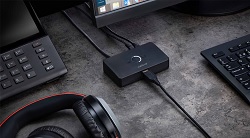 To connect any of these headsets to a desk phone, purchase the
Jabra Link 950
(MSRP: $157) and
Power Supply
(MSRP: $16). Triple connectivity will then be achieved with this additional audio switcher box.
Contact us at 1-866-998-9991 or Chat us with any questions you have about Jabra Bluetooth headsets!
12/11/2019 - 0 Comments
99% of workers in open offices are distracted.*
Who wouldn't be, with daily mayhem coming from every direction? Luckily there are plenty of high quality headsets from Poly that are designed to avert open office perils and combat the chaos.
Give your teams the perfect balance of Active Noise Canceling (ANC): not too much to be uncomfortable, not too little to let noise sneak in. Noise blocking microphone technology, too. So people on both ends of a call can hear what matters. Count on all-day comfort, thanks to premium, lightweight materials. And a range of styles that work for everyone in the office.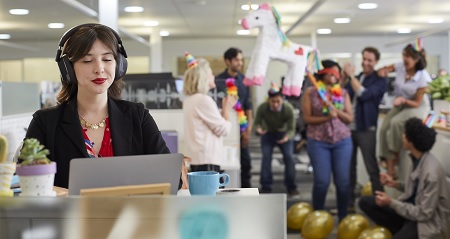 ANC Headsets from Plantronics, now Poly
Voyager 8200 UC
(pictured above) has a boomless mic design, adjustable ANC levels, connects to mobile via Bluetooth, and offers a choice of USB adapter to connect to PC: either USB-A or USB-C. The ear speakers completely surround the ear. Choose between two colors: Black or White. MSRP: $379.95.
Voyager Focus UC
is comfort+: the adjustable sling cushioned metal headband and leatherette ear cushions wrapped around pillow-soft memory foam maintains a secure fit. Available with a desktop charge stand, or without, and USB-A or USB-C. MSRP varies: $279.95 No Stand; $299.95 With Stand.
Voyager 6200 UC
features earbuds on a neckband; wear both earbuds for complete concentration, thanks to ANC, or just one, to keep an ear on the surrounding office. The neckband vibrates as an incoming call alert. Two color choices: Black and Sand; and USB-A and USB-C adapters are available. MSRP is $299.95.
Finally, if your team is primarily desk-bound, and prefer a corded ANC headset,
Blackwire 7225
headsets have a boomless mic design with the call controls on the ear speakers. Blackwire 7225 headsets are available in Black and White, and USB-A and USB-C. MSRP: $199.95.
If your teams are struggling to tune out the chaos of an open office — whether it's scooter rallies or loud talkers or ice chewers — distractions make it almost impossible for people to stay focused. Time to bring productivity back.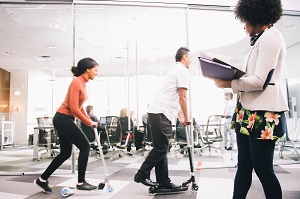 Ready to reduce interruptions and boost productivity? Download the ebook from Poly, here: Perils of the Open Office Ebook and then contact us today for personalized headset solutions: 1-866-998-9991.
*"All Your Employees Are Distracted: The Realities of Today's Open Office and What You Can Do About It," by Future Workplace, April 2019, sponsored by Poly
9/6/2019 - 0 Comments
We've seen EarPods, AirPods and wireless ear buds for fitness and everyday use ... but did you know that
Jabra
has engineered wireless ear buds for professionals working inside or outside the workplace? The Jabra Evolve 65t ear buds are equipped with microphones for superior conversation, and the included carrying case charges the ear buds on-the-go, while storing the USB dongle.
Features: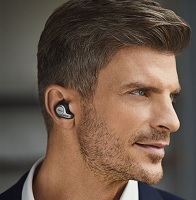 •
UC version
•
Microsoft-certified version
• Passive Noise Canceling — find your perfect fit with the three included sizes of ear tips (Small, Medium, Large)
• HearThrough — Double press the multi-function button to hear the outside world without taking off the earbud
• 4 microphone array
• Up to 15 hours battery; 5 hours talk time
• Connects to PCs and mobile phones, simultaneously
• High quality
• One-touch access to digital assistants and voice commands
• Superior musical experience with
Jabra Sound+
app integration
• MSRP: $329.00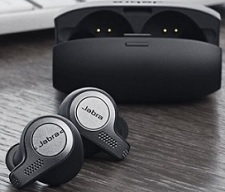 Jabra Evolve 65t was named to Fox News'
10 Top Gadgets of 2018
. This listing of top gadgets in each category, including phones, TVs, tablets and laptops, John Brandon of Fox News proclaimed the Evolve 65t sound as good - if not better - than wired earbuds and have the benefit of one-touch access to a voice assistant.
We realize that while this wearing style isn't for everyone, it will be great for those who are accustomed to ear buds and like the comfort and subtlety (there isn't an obvious "headset") that ear buds offer.
Call our Headset Experts today: 1-866-998-9991 to learn more about the
Jabra Evolve 65t
.
8/13/2019 - 0 Comments
In the U.S. alone, about 1.3 million business trips happen each day*. If you are one of these business travelers, then you know that dependable communications devices are a must for meetings, client calls, and entertainment, too.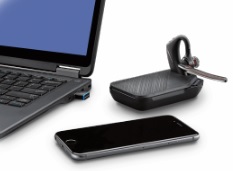 These devices go on the road with you, so that you can work anywhere.
Here are our top picks for travel gadgets with high quality, professional sound: the Plantronics Voyager 5200 UC, Jabra Speak 710, and Sennheiser MB 360 UC headset with Active Noise Canceling.
by Poly is a traditional Bluetooth style headset. Its sleek size, smart design, and comfortable fit start to tell the story. What you don't see is the technology powering it: the unique WindSmart technology detects wind direction and responds accordingly, so that your voice comes through.
Four adaptive microphones offer dynamic noise reduction. Whether you're taking a call outdoors, or running through Chicago O'Hare airport, your voice sounds clear and professional as you seamlessly transition between environments, inside or out.

Connect to mobile phone or tablet via Bluetooth; or, plug the included USB dongle into your PC, and your webinars and videoconferences are handled. (Be sure to change your Sound settings on the PC to recognize the headset!)
The included charging case stores both the headset and USB dongle, giving you up to 7 hours of talk time, and an additional 14 hours with the charging case. MSRP is $219.95.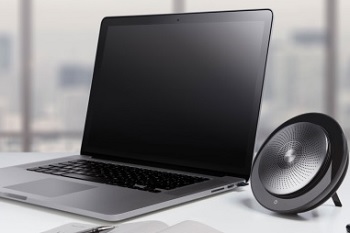 is a Bluetooth speakerphone with a USB dongle.
The omni-directional mic has 360-degree pick-up and crystal-clear audio for echo-free calls. And, it's easy to use: plug-and-play either Bluetooth or USB (using the dongle or the cable that's integrated around the middle of the Speak unit). When you're not using it for meetings, listen to music and multimedia. The rich bass hits all the right notes.
An added bonus: Connect 2 Speak 710s together when you're back in the office, and you have double the coverage. Jabra recommends the Speak 710 for up to 6 people, so it's great for individual use and also small teams. The portable device comes in a neoprene zippered carry case so that you can toss it in your briefcase and go. We especially like that the USB dongle is stored in the bottom of the speakerphone; one less thing to think about when packing it up and taking it on the road with you. MSRP is $299.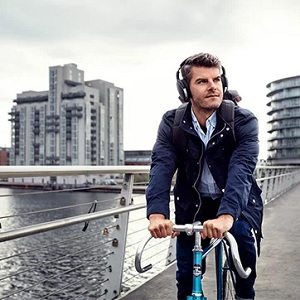 has a unique ear cup design: its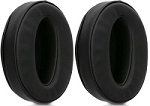 over-the-ear design completely surrounds the ear, and deep, ergonomic ear pads add noise dampening and long-lasting comfort for hours of wear. Testers report that the sound quality of this headset is excellent; whether listening to music and audio books, or during phone calls. There is no boom mic, yet the two digital noise-cancelling microphones pick up your voice for clear conversations.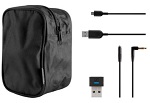 Innovative NoiseGard hybrid adaptive ANC constantly monitors your background environment for noise, thus adjusting the level of noise reduction in the headset seamlessly.
The MB 360 UC ear cushions fold to fit inside the included storage bag, which also comes with a USB dongle, USB to micro-USB charging cable, and an audio cable with 2. 5mm twist lock, 3.5 mm jack plugs and answer/end button.
Battery life is 25 hours and with Sennheiser's 2-year warranty, you've got peace of mind. MSRP is $249.00.
The best part of these devices? You can use them once you return to the office. If you're not sure which travel headset or speakerphone would best suit your needs, our team is ready to work with you! Call us at 1-866-998-9991, send an email, or Chat with us now!
*
Lola.com
:
50+ Business Travel Statistics: Airlines, Hotels and More