Showing posts tagged: wireless
4/8/2021 - 0 Comments
Up to 40% off Jabra headsets and PanaCast cameras that will keep the class engaged
When the COVID-19 quarantine began last year, K-12 schools, colleges, and universities were forced to quickly adapt to remote and hybrid learning models. This has continued into the 2020-21 school year, and educators are doing their best to provide a consistent means to educate their students effectively.
Teachers need to keep students engaged when teaching remotely, which brings unique challenges. In a Customer Database Survey in April 2020, Jabra found that 61% of teachers' time is now spent in virtual classes, with 3-4 hours each day in lectures with students. The survey also found that both teachers and students are experiencing frustrations:
• 44% of students are not satisfied with the audio or video quality of remote learning classes
• 54% of teachers find it difficult to keep students' attention when remote teaching
As an authorized Jabra reseller partner, we sell audio and video solutions that will answer the needs of the modern remote learning classroom. Our specialized team can put together a plan for your unique classroom and school. And, with some big discounts
(up to 40%!)
on these Jabra headsets and the PanaCast camera, now is the right time to equip your learning spaces.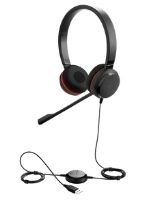 Headsets for students and teachers, with premium sound and comfort
The
Evolve 20 Special Edition headset
features leatherette ear cushions and an inline call control unit that allows you to answer/end calls, mute calls, and increase/decrease call volume with a quick touch of a button. This is a plug-and-play USB headset that requires no set-up, making it a very easy headset to use and deploy. The 2-year warranty assures customer satisfaction and a full replacement within the warranty period, if necessary.
The other Jabra headset with a major discount is this
Evolve 30 II stereo headset
that ends in a 3.5mm jack. These headsets are ideal for those using tablets and

computers with 3.5mm audio jacks. The leatherette ear cushions assure comfort for the wearer and with both ears covered, students and teachers will be able to focus on the classroom, and not their surrounding environment at home or in school.
PanaCast camera captures the classroom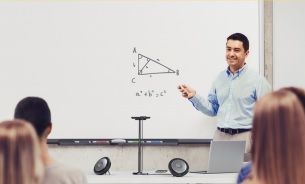 Teachers will appreciate the wall-to-wall coverage of their teaching space as they move around freely sharing educational material. The 180-degree view lets teachers take full advantage of white boards, teaching aids, and the space in the classroom to move around and keep students engaged.
Jabra PanaCast
is a plug-and-play camera, certified for Microsoft and all major UC platforms. And, if they need to change classrooms, its small size makes it easy to move to the next space.
Contact us at 1-866-998-9991 or Chat us now for your Special Pricing on these three devices.
Other smart choices:
Speak 750 speakerphone
for online and in-class learning; keep students engaged in conversations with a speakerphone. A second Speak 750 speakerphone can be wirelessly linked to double the coverage inside the classroom, for the clearest sound possible.
Evolve2 65 wireless headset
connects to both mobile phones and computers, for teachers who need the freedom to roam. Three strategically placed professional microphones ensure crystal-clear audio, so your students hear every word.
Jabra devices will keep your students engaged, your teachers teaching, and your budget happy. Contact our sales team at 1-866-998-9991 or Chat us now, to learn about these products, and more.
3/8/2021 - 0 Comments
Our team recommends Jabra Evolve wireless headsets for a variety of reasons,
and most especially for the superior Active Noise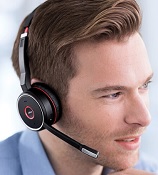 Canceling (ANC) found in the
Evolve 75
. This is our go-to headset for working in the office, working from home, and traveling. Yet, this is just
one
of the many reasons why we like Evolve wireless. The portfolio accommodates a variety of wearing preferences, from true wireless to the traditional over-the-head headband. All of these Evolve headsets connect to two devices at the same time: both mobile and PC; a
Link 370 USB dongle
is
included
with each of the headsets. Each Evolve carries a two-year warranty, longer than the typical Bluetooth headset warranty of a year or less, and all are available in both Certified for Microsoft and UC variants. To decide which variant you need,
this blog post has the information
.
If you work in a noisy office (or, work at home amidst cute children and pets), Active Noise Canceling headsets increase productivity by providing a "cone of silence" for dedicated work and interruption-free calls. Noise-canceling microphones block background noise so that your callers will hear only you and not your environment. You can wear the Evolve 75 all day — the cushioned rubber headband and large padded leatherette ear cushions provide extreme comfort. Get up to 15 hours of talk time on a single charge. Mute the mic as you lift the boom arm up.
The Evolve 75 also has a charging stand that can be purchased with the headset, or without. If you later decide that you need the charging stand, it is available as an
accessory purchase
. We recommend the version with the charging stand for those who work primarily from their desk. Otherwise, the headset is charged with the included micro USB to USB cord.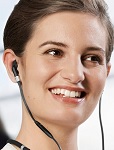 For those who prefer an alternate wearing style with Active Noise Canceling, the
Evolve 75e
is a neckband with ear buds. Wear one ear bud to be aware of your environment, or both earbuds with the ANC turned on for complete concentration. The lightweight design rests comfortably enough that you don't even realize you're wearing it. The neckband will vibrate at incoming calls, so you're assured not to miss anything. A great feature: when the ear buds are together (they are magnetized), your music pauses or your call ends. There is up to 14 hours talk time in this battery life, and a 2-hour time for a full recharge.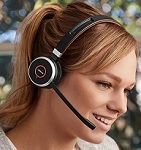 If ANC is unnecessary,
Evolve 65
headsets have three wearing choices. Evolve 65 is the over-the-head headband style;
Evolve 65e
is the neckband with ear buds (similar to the Evolve 75e above, without ANC), and
Evolve 65t
are true wireless ear buds in a charging case.
Evolve 65 offers a choice between mono and duo ear versions, and comes with a charging stand, or without. The Evolve 65 has a smaller profile and ear cushions than the Evolve 75, and is a comfortable option. We like the freedom of a mono Bluetooth headset with a traditional headband style, leaving an ear on the call and an ear on your surroundings.
Jabra Evolve2 wireless headsets
are the latest additions to the Jabra portfolio that you will want to consider.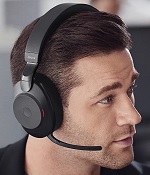 Evolve2 85
are wireless, Bluetooth, Active Noise Canceling headsets with ear cushions that completely surround the ears. The folding mic boom arm is handy when you need it; and when you don't, simply fold it up and store it in the ear speaker. The ear speakers also have microphones, so it isn't necessary to have the mic boom in place, if you don't like that look on Zoom calls, Teams meetings and more. The hard-sided zip case stores the headset, cords, flight adapter, and USB dongle, and if you are part of the current "hybrid work" force, you can easily transport your headset, safely. There is an optional charging stand, if you would like a place to store and charge the headset when not in use. It is available in both Black and Beige, USB-A or USB-C, as well as UC and Certified for Microsoft Teams variants.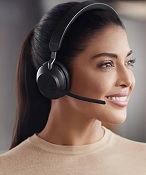 The
Evolve2 65
headsets give you 37 hours of battery life and it takes only 15 minutes to charge for 8 hours of talk time (full charge time is 90 minutes). The soft memory foam ear cushions mold to your ears, for supreme comfort. and the brightly-lit busy lights are integrated into the ear speakers. If you do not need Active Noise Canceling, we recommend this headset, rather than the Evolve2 85. Within the Evolve2 65 line, you have choices: Black or Beige, USB-A or USB-C, UC or Certified for Microsoft Teams, with a charging stand or without the stand.
If you need a recommendation for an Evolve headset that fits your work style, call our headset experts at 1-866-998-9991 or Chat us now.
3/5/2021 - 0 Comments
When the Pandemic caused businesses to close last spring, many employees were sent home with a computer, a few office supplies, and no idea of when they would be able to return to the building. Communication devices such as headsets, speakers, and cameras (if they were even considered) were haphazardly ordered, or employees were left to use their personal ear buds and the built-in cameras in laptops.
Now that we've had some time to work through these issues and many employees remain in their home work spaces, they most likely are continuing to use the same thrown-together set-ups that they were sent home with in the spring. With the benefit of this past year as a teacher, we have a better idea of what works at home, and find many companies and individuals are starting to think of ways to enhance their WFH experience. We've put together some products for you to consider that will surely improve your work from home setup.
Wireless Headset
To experience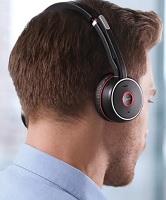 complete silence while working, we recommend the
Jabra Evolve 75
headset with Active Noise Canceling. It connects to both computers (with the included Link 370 USB adapter) and mobile phones via Bluetooth. The hear through feature lets you listen in to your surroundings, without removing the headset. We like the option to walk and talk, so you're able to take your calls on the go (up to 100 feet), whether it's to the kitchen to grab a glass of water, or to answer the front door to accept your FedEx package. The large, cushioned leatherette ear cushions rest comfortably on your ears for even the longest of calls and Zoom meetings. When you need to work in a new location, the included hard-sided zippered carry case will protect the Evolve 75 on the go. Available in both
UC
and
Microsoft
variants, you can also purchase the headset with a charging stand, if you would like to have a convenient place to store and charge the headset on a desk, when not in use.
Corded Headset
Jabra Engage 50
mono, or
Engage 50
duo, and the optional Link call control take communication to a new level. The Engage 50 is a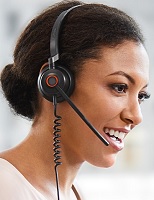 digital headset with a powerful processing chip in the ear cup that delivers advanced functionality including call analytic data. The 3-microphone system with intelligent noise-cancelation blocks out background noise and breathing sounds, so customers hear only the agents voice thereby delivering a superior call experience,

whether you work from home or a physical contact center. The call control unit accessory enables agents to adjust volume levels and mute, speed dial, answer and end calls, and update their status lights at the touch of a button. The control unit is easy to use and designed to stay in place. Two programmable buttons can be customized in
Jabra Direct
; out of the box they are programmed for Speed Dial and Busylight (green: available; red; busy). The volume dial, and mute and answer/end buttons are intuitively placed and easy to use at a touch. There are Microsoft Teams-certified and UC variants in both USB-A and USB-C options. The Engage 50 headset ends in a USB-C connection, so if you are using these headsets in a computer with USB-A sockets only, you will need to purchase a Link unit.
We recommend the Engage 50 if you take calls and participate in team meetings primarily from your computer, and do not use a desk or mobile phone.
Speakerphone
If you're working in a private space, you will be able to use a speakerphone. We recommend the
Poly Sync 40
or
Sync 40+
models and you can find all of the Sync 40 variants, here:
Poly Sync 40 Speakerphones
.
Turn smaller or flexible spaces into powerful conference rooms; the Sync 40 provides premium sound. The multi-microphone array focuses on what's being said and helps keep echo and noise out of meetings. And, full duplex audio lets conversations flow naturally, even when users talk over each other.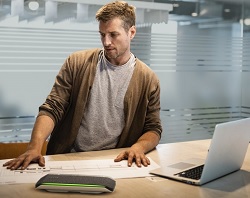 We like the flexibility that the Sync 40 offers. You can connect to either USB-A or USB-C computers with the same unit, thanks to the integrated cable that has both connections included. The Sync 40+ models include the BT600 USB dongle and a USB-A to USB-C adapter. When you go into the office, you can wirelessly pair two units together for larger meeting space needs.
It is certified for Zoom and Microsoft Teams, for seamless experiences, as well as other major UC communication platforms.
Camera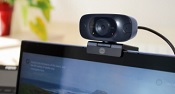 For a clear picture on all of your Teams and Zoom calls, we recommend the JPL
Vision Mini camera
, which is a diminutive device with some great features, including automatic low light correction, integrated privacy cover and 2-year warranty. The Field of View is 67° and you have full 360° camera rotation including 90° tilt for over-desk viewing.
The plug-and-play Vision Mini is designed to suit the way you like to make a video call, whether it's one to one or conference, you can place the Vision Mini webcam where you want it - on a computer monitor, desktop or tripod. It is compatible with all major platforms and the price is pretty nice: $49.95 MSRP.
Busylight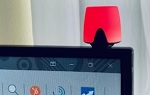 Use this at home now, and in the office when/if you return. The design of the
Omega Kuando Busylight
makes it highly visible from across a room and is an instant notification of your status: Red for Busy; Green for Available; and other colors that can be programmed to suit your work style. It will also: Ring and flash on incoming calls; Beep & flash – Indication for IMs; and there's a Flash notification for missed calls/IMs. Everyone can benefit from an Omega Busylight at their work space.
We have become quite adept at collaborating with colleagues, customers, and students from a distance, and these products will raise your communications game — whether you remain at home, or return to the office building. Contact our team for personalized recommendations to elevate your communication devices at 1-866-998-9991 or Chat us now.
2/16/2021 - 0 Comments
Health care in the age of technology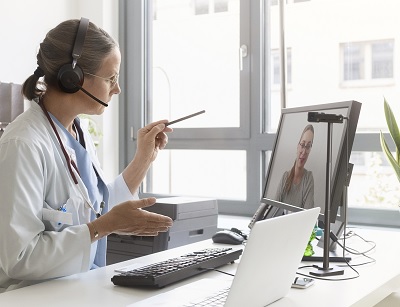 With the recent boom in
virtual health care
, the need for outstanding technology solutions that keep patients and health care practitioners connected has never been greater.
As remote health care becomes more widely available, technology has a key role to play in ensuring these virtual services are at a consistently high standard. The right devices keep health care workers connected, both to their patients and to each other.
With 90% of people believing that remote health care is as good or better than traditional services, there's never been a better time to ensure that the technology you're using to deliver remote health care options is the best that it can possibly be, specifically audio and video solutions
.
We recommend the Jabra devices, designed to bring a natural human touch to these interactions. From the immersive 180° video you get with
Jabra PanaCast
, to the world-leading professional-grade audio of
Jabra Evolve2 65
headsets, and the outstanding 2-way audio of the
Jabra Speak 750
, there's a product that's perfect for protecting the genuine human connection that's so vital to healthcare interactions.
And that's exactly where Avcomm Solutions comes in. As a Jabra Premium Partner, we are uniquely positioned to provide product recommendations, special pricing, and support after purchase, to ease your transition into professional grade audio and video communication devices.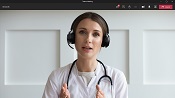 Our team provides specialized recommendations to each customer, for the best set-ups possible. Whether you need cameras, headsets, or speakerphones, we will configure the best devices for your needs.
Contact us at 1-866-998-9991 or Chat us now.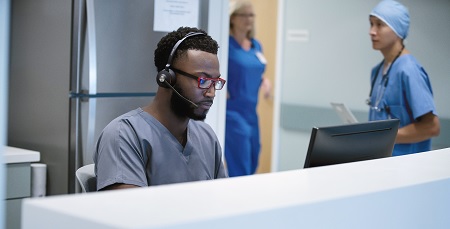 11/3/2020 - 0 Comments
The COVID-19 pandemic has fundamentally changed the work place: some were sent home to work and will stay there; others working in the office have new rules to follow.
To limit virus spread, the CDC recommends limited face-to-face contact. As people return to the office, the CDC-recommended social distancing, also called "physical distancing," (keeping a safe space between yourself and other people who are not from your household) is in effect. To practice this distancing, workers must stay at least 6 feet (about 2 arms' length) from others.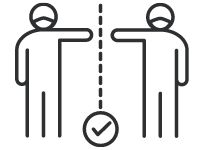 For call centric employees, side by side training is a necessity; yet, how can we accomplish this in the office, at a safe distance?
Fortunately, the technology in most DECT wireless headsets allows "call conferencing" between units. This is a great feature that allows employees to drop into calls for training or conference call purposes, with minimal contact.
Call training is easy — and safe — when you use wireless headsets.
Here's how:
1. Remove the primary/host headset from the base.
2. Drop the secondary/guest headset into the headset cradle. The host headset will hear a tone to accept the new headset. The host headset will click the "Answer/End" button.
3. Remove the guest headset from the host base. The headsets are now paired and ready to work together. This process can be repeated for an additional 2 headsets, for a total of 4 headsets on the same call.
4. The guest headset can be muted for listening purposes; simply unmute if necessary.
5. To end the conference/pairing feature, press the End button on the primary/host headset. It's that simple!
If you deploy corded headsets to your employees, you'll want to explore options beyond traditional side by side training. Perhaps your current softphone solution offers listen-in type features that you can take advantage of for training purposes.
For questions about wireless headsets in the contact center environment, or suggestions for the best wireless headsets for your unique set-up, call our Headset Experts at 1-866-998-9991 or Chat us now!