Showing posts tagged: Plantronics
1/24/2020 - 0 Comments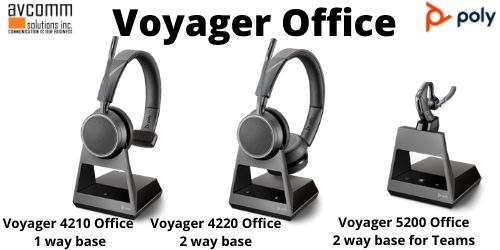 When we're in the office, most of us take calls on our desk phones, mobile phones, and various PC/Mac soft phones. We need our headset to easily support all of those connections.
Plantronics, now Poly
has answered this need with the new
Voyager Office
series.
"Open office floor plans require a certain amount of flexibility and mobility of employees," said Tamara Lane, director of product marketing, at Poly. "To escape noise and distraction, you might duck into a huddle room for a call, take your next meeting in the lobby or join a meeting from someone else's office which means you not only use a desk phone but a PC or Mac and your smartphone for collaboration. The Voyager Office Series delivers high-quality audio in a comfortable headset that performs in all of those scenarios."
Wearing Styles
The Voyager 4200 Office Series offers an over-the-ear, hi-fi stereo and mono headband wearing style. The Voyager 5200 Office Series offers a sleek and discreet over the ear wearing style for those working on the go in and out of the office. Both the Voyager 4200 and Voyager 5200 Office Series come with the option of a one-way desk phone only or two-way desk phone and PC/Mac office base, in addition to a mobile phone. The headset connects
directly to mobile phone via Bluetooth
, so this is an office wireless headset you can use without the base, ANYWHERE! And, thanks to Bluetooth 5.0 with BLE, roaming range for these headsets is up to 300 feet (dependent upon environment), and talk time is up to 12 hours!
The Voyager 4200 and Voyager 5200 Office Series have a version available with a dedicated Microsoft Teams button, both on the base and the headset, to
instantly invoke the Teams app
. This instant access to the Teams app makes scheduling a meeting, starting a call, or checking the calendar easy. The Teams versions also provide audio and visual alerts when a Teams notification occurs. The Voyager Office Series headsets are also supported by Zoom and other UC platforms.
Amazon Alexa and Tile Built-In Support
The Voyager 4200 and 5200 Series headsets also feature Amazon Alexa Built-In and Tile integrations. Just tap-and-ask, and Alexa will respond so you can focus on your tasks at hand. Tile is integrated right into the headset which makes finding your Voyager headset easy – you can literally "ring" it.
Control Calls and Media from the Headset
It's easy to manage calls and media directly on these headsets. Features include: Call answer/ignore/end, redial, mute, volume + /-. Media controls are track forward/track back/pause/play.
Voyager Office headsets are available in both USB-A and USB-C variants. Here's the complete product listing.
| Headset | Part Number | MSRP |
| --- | --- | --- |
| Voyager 4210 1 way base | 212720-01 | $279.95 |
| Voyager 4210 2 way base USB-A | 212730-01 | $299.95 |
| Voyager 4210 2 way base USB-C | 214591-01 | $299.95 |
| Voyager 4210 2 way base USB-A for Teams | 214002-01 | $299.95 |
| Voyager 4210 2 way base USB-C for Teams | 214601-01 | $299.95 |
| Voyager 4220 1 way base | 212721-01 | $299.95 |
| Voyager 4220 2 way base USB-A | 212731-01 | $319.95 |
| Voyager 4220 2 way base USB-C | 214592-01 | $319.95 |
| Voyager 4220 2 way base USB-A for Teams | 214003-01 | $319.95 |
| Voyager 4220 2 way base USB-C for Teams | 214602-01 | $319.95 |
| Voyager 5200 1 way base | 212722-01 | $279.95 |
| Voyager 5200 2 way base USB-A | 212732-01 | $299.95 |
| Voyager 5200 2 way base USB-C | 214593-01 | $299.95 |
| Voyager 5200 2 way base USB-A for Teams | 214004-01 | $299.95 |
| Voyager 5200 2 way base USB-C for Teams | 214603-01 | $299.95 |
Can't decide? Call our Headset Experts at 1-866-998-9991, or Chat us now!
1/21/2020 - 0 Comments
These promotions are offered by several of our manufacturers, and include trade-in offers, cash back, and free product. Details and deadlines for each promotion vary, so scroll through this post for all of the current promotions, or go directly to the brand:
BlueParrott
,
Jabra
,
Plantronics, now Poly
and
Sennheiser
.
BlueParrott
When you purchase 10 BlueParrott eligible products on the same invoice, receive either a FREE BlueParrott headset or Jabra Speak 710 with this
BlueParrott Promo
. Eligible headsets include the
B550-XT
,
B450-XT
,
C400-XT
,
C300-XT
,
B350-XT
,
B250-XTS
and
B250-XT
.
These are the same headsets that can be requested for the free product; or, choose a Jabra
Speak 710 UC
or
Speak 710 MS
speakerphone as the free product. Offer is valid until June 30, 2020; submit invoice
here
before July 31, 2020, to receive a free headset or speakerphone.
The generous
Technology Refresh
is back in 2020! Is it time to update your hardware?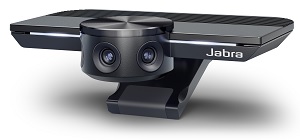 This year, the
Jabra PanaCast
is included in the program, and the cash back amounts are incredible! Get $150/unit for each non-Jabra huddle room camera you trade in; and $75/unit for existing PanaCast 2 or 3 cameras. For each Jabra or non-Jabra headset or speaker phone traded in, earn from $20-$40 per unit. Purchase Jabra Evolve or Engage wireless headsets, and get $20/unit for existing Jabra Pro 900/9400 or Motion Office headsets or $40/unit for any non-Jabra wireless headset.
When you purchase Jabra Engage 50, Biz 2300 or 2400 II, get $10/unit for your existing Jabra corded headsets; or $20/unit for any non-Jabra corded headset. With the purchase of Jabra Speak 710s, get $20/unit for existing Jabra Speak 410 or 510s, or get $40/unit for any non-Jabra personal or huddle room speakerphones. To learn more about the Technology Refresh/Trade-In program and how to save, visit the
Jabra Technology Refresh Program
site. Deadline for purchases is June 30, 2020; submit invoices by July 31, 2020.
Earn a FREE Jabra Evolve 65t or Evolve 65e!
The newest offering from Jabra, the
Evolve 65t
are true wireless ear buds for professionals who work both inside and outside of the office. The Jabra
Evolve 65e
are ear buds on a lightweight, sweat-proof neckband. Customers who qualify as
Small and Medium Businesses
must purchase eight Jabra Evolve 65 or Evolve 75 headsets; for
Enterprise
organizations, purchases of 25 and more meet the requirements for the free Evolve 65t or Evolve 65e ear buds. This offer ends June 30, 2020.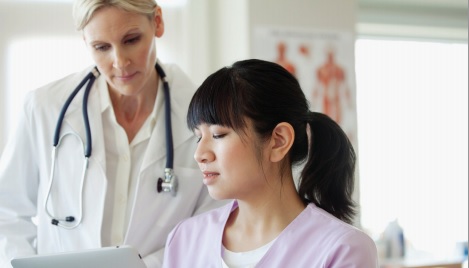 Plantronics, now Poly, is continuing its
Public Sector
discount for organizations in the government, education and health care fields. If you qualify, we will adjust your pricing to reflect this incredible discount on most Plantronics products.
These big discounts are for Education (K-12 and Higher Education); State, City, County and Local Governments; Prime Contractors for Government; Not-for-Profits; and Healthcare Caregivers. This promotion ends September 30, 2020.
The
Free Trial Program
sends out enterprise-quality headsets and speakerphones for your team — at no cost! Eligible products are the Savi 8210 and 8220 DECT wireless headsets; the Voyager 4200 UC series of Bluetooth headsets; and EncorePro 500 Digital corded headsets. Along with a DA90 USB audio processor and Plantronics Manager Pro, EncorePro 500 Digital is the first of its kind: a fully integrated audio and asset management solution. Calisto 3200, Calisto 5200 and Calisto 7200 are the three speakerphones available to test in this Free Trial Program. Read about this fantastic offer, here:
Plantronics Free Trial Program
. Up to three devices per organization may be available. Contact us to learn more!
The
GovEd Discount
from Sennheiser lets you save big! Federal Government agencies, Educational organizations, Energy producers, Healthcare providers, State & Local Government agencies, and Not-for-Profit agencies including credit unions that are 501(c), are all eligible for this discount. All Sennheiser products qualify for this discount! The GovEd Discount ends Dec. 31, 2020.

The
Sennheiser D 10
wireless headsets now have special pricing until March 31, 2020. Each D 10 headset comes with 2 wearing styles: headband and ear hook, with the option to purchase an additional neckband, if desired. The
D 10 Phone
model connects to desk phones; the
D 10 USB ML
connects to PCs and is Skype for Business certified. Sennheiser offers 2 year warranties for wireless headsets, double the industry standard. The D 10 is a single connection headset for simple set-up and use.
Are you ready to talk about new headsets? Give us a call at 1-866-998-9991 or send us an
email
!
12/11/2019 - 0 Comments
99% of workers in open offices are distracted.*
Who wouldn't be, with daily mayhem coming from every direction? Luckily there are plenty of high quality headsets from Poly that are designed to avert open office perils and combat the chaos.
Give your teams the perfect balance of Active Noise Canceling (ANC): not too much to be uncomfortable, not too little to let noise sneak in. Noise blocking microphone technology, too. So people on both ends of a call can hear what matters. Count on all-day comfort, thanks to premium, lightweight materials. And a range of styles that work for everyone in the office.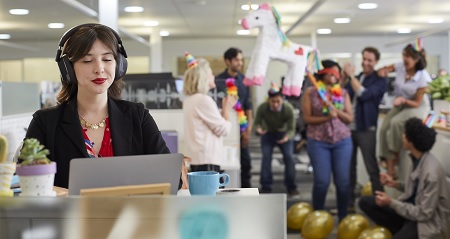 ANC Headsets from Plantronics, now Poly
Voyager 8200 UC
(pictured above) has a boomless mic design, adjustable ANC levels, connects to mobile via Bluetooth, and offers a choice of USB adapter to connect to PC: either USB-A or USB-C. The ear speakers completely surround the ear. Choose between two colors: Black or White. MSRP: $379.95.
Voyager Focus UC
is comfort+: the adjustable sling cushioned metal headband and leatherette ear cushions wrapped around pillow-soft memory foam maintains a secure fit. Available with a desktop charge stand, or without, and USB-A or USB-C. MSRP varies: $279.95 No Stand; $299.95 With Stand.
Voyager 6200 UC
features earbuds on a neckband; wear both earbuds for complete concentration, thanks to ANC, or just one, to keep an ear on the surrounding office. The neckband vibrates as an incoming call alert. Two color choices: Black and Sand; and USB-A and USB-C adapters are available. MSRP is $299.95.
Finally, if your team is primarily desk-bound, and prefer a corded ANC headset,
Blackwire 7225
headsets have a boomless mic design with the call controls on the ear speakers. Blackwire 7225 headsets are available in Black and White, and USB-A and USB-C. MSRP: $199.95.
If your teams are struggling to tune out the chaos of an open office — whether it's scooter rallies or loud talkers or ice chewers — distractions make it almost impossible for people to stay focused. Time to bring productivity back.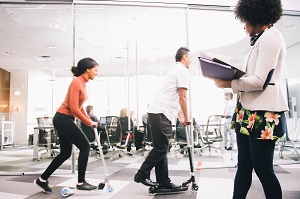 Ready to reduce interruptions and boost productivity? Download the ebook from Poly, here: Perils of the Open Office Ebook and then contact us today for personalized headset solutions: 1-866-998-9991.
*"All Your Employees Are Distracted: The Realities of Today's Open Office and What You Can Do About It," by Future Workplace, April 2019, sponsored by Poly
11/7/2019 - 0 Comments
Do more with your headsets, thanks to Amazon Alexa Built-in technology.

Specific headsets now offer Amazon Alexa Built-in, a voice-forward experience that uses Alexa to play music, control smart home devices, provide information, read news, and much, much more. With cloud-based Alexa, the offerings continually expand. Two of our brands are part of the Amazon Alexa Built-in program: Plantronics, now Poly, and Jabra.
Alexa Built-in is a category of devices created with the Alexa Voice Service (AVS) that have a microphone and speaker. You can talk to these products direclty by saying "Alexa," and receive voice responses and content instantly. Alexa Built-in products work with Alexa Skills (which are like apps) and Alexa-compatible smart home devices, bringing familiar capabilities from the Amazon Echo family of devices to a range of new form factors — in this case headsets — developed by leading brands.
Headsets with Alexa:
With Alexa built-in to your Voyager headsets, you can link your work email with your personal Alexa account, so now you can tap and ask, "Read priority email." Yep, it's that easy.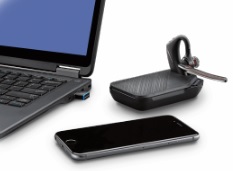 Plantronics Voyager 5200
has a comfort-tested ergonomic design that feels as good at the end of the day as it does at the start. The ergonomic earpiece is designed to feel like it's barely there. It's a comfortable, powerful tool for all-day productivity. The included portable charging case features an integrated docking stand. Completely charge your headset up to two full times, so you're always ready to talk. An included BT600 Bluetooth USB adapter connects this headset to your PC.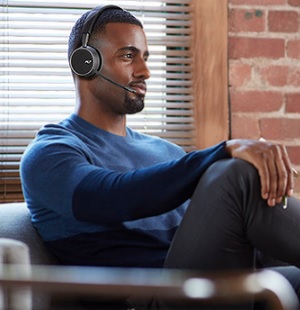 Voyager 4200 UC
headsets are available in single and dual ear versions, with USB-A or USB-C adapters. In open office environments, you may want a stereo headset to listen to media — or you may prefer a mono headset to hear your surroundings. Count on vibrant and crystal-clear audio, whether you're listening to multimedia or collaborating with colleagues, within the headset's 98 ft/30 m range. Plantronics Voyager 4200 headsets make it easy to switch between PC/Mac and mobile devices, so you're always connected. A dedicated button gives you quick access to mute, while voice prompts alert you if you're on mute when you start talking. Enhanced voice alerts tell you connection status, remaining talk time, mute status and more. Your colleagues will know when you're talking to someone because of the red call indicator light.
Voyager 4210 USB-A
Voyager 4210 USB-C
Voyager 4220 USB-A
Voyager 4220 USB-C
To use Alexa with these headsets, you must have both Plantronics Hub and Amazon Alexa apps downloaded to your mobile phone. The Voyager 4200 headsets must have firmware version >271. Use the Plantronics Hub app to update your device if required.
Jabra headsets
with Alexa Built-in are part of the Elite series: Elite 65t, Elite Active 65t, Elite 45e and Elite 75t. Contact us to learn more about these ear bud headsets.
Count on our brands to bring user-friendly technology and features to headsets that make your life easier, and more productive. Call us at 1-866-998-9991, and our dedicated team of headset professionals can provide recommendations for your headset requirements.
10/17/2019 - 0 Comments
Workplaces and work styles are continually evolving: it's estimated that 36% of workers rely on their mobile devices for day-to-day communication. The convenience of working anywhere is a key benefit of mobile phones; yet, when you're in the office, a single place to charge the phone, charge and store a headset, or even use a speakerphone, can be a real productivity boost.
For the mobile professional, Poly (Plantronics + Polycom together) has designed the Elara 60 mobile phone station. The Elara 60 series will offer a variety of configurations. The first two are the Elara 60 WS for Voyager Focus headsets. Available both
with the Focus
, and
without the Focus
(if you already own the headset), the dedicated headset hook provides a place to store and charge the headset. The Elara 60 WS offers wireless charging and a speakerphone. Other Elara 60 variants will even have a traditional phone handset.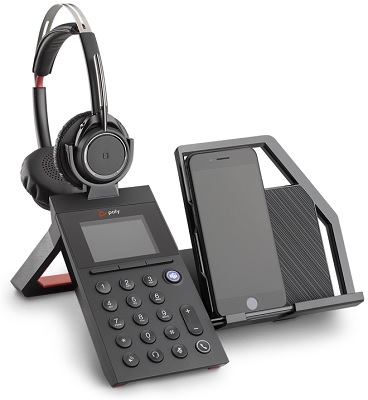 Experience the convenience of a desk phone, along with some extra features of a headset charger, mobile phone charger, and a speakerphone.
It's easy to set-up:
Plug in the included power supply, and pair your mobile phone. If you have your own headset, you will need to pair it with the Elara 60, following the easy directions on the Elara screen. It is not a touch screen, so the buttons directly below the screen will help you to navigate through the menu.
It's easy to use:
Seamlessly transition between mobile and desk phone setups to ensure important conversations are never disrupted. There are large buttons on the dial pad and a nice-sized screen that's easy to read.
It's built for Microsoft Teams:
Press the Teams button to launch Teams on mobile, and manage video, chat, and audio conferences. The button flashes if you've missed a call or have a voicemail. For video calls, the adjustable platform lets you change your camera angle, for the best possible angle in your video meetings.
It has its own app:
With the Poly Elara app, it's possible to customize settings, update Elara 60 firmware, and a handy User Guide for reference.
Watch our overview of the Poly Elara 60 WS below, and learn how its desktop-like convenience make it the ideal collaboration tool for your mobile workers.
Our team delights in finding the best communication tools for your unique environment and needs. Contact them today at 1-866-998-9991, on Chat, or email.