Blog
12/11/2019 - 0 Comments
99% of workers in open offices are distracted.*
Who wouldn't be, with daily mayhem coming from every direction? Luckily there are plenty of high quality headsets from Poly that are designed to avert open office perils and combat the chaos.
Give your teams the perfect balance of Active Noise Canceling (ANC): not too much to be uncomfortable, not too little to let noise sneak in. Noise blocking microphone technology, too. So people on both ends of a call can hear what matters. Count on all-day comfort, thanks to premium, lightweight materials. And a range of styles that work for everyone in the office.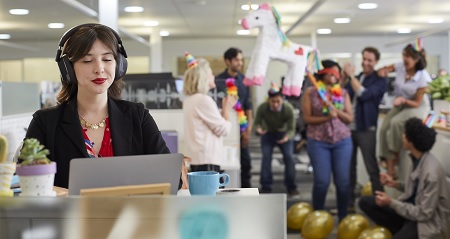 ANC Headsets from Plantronics, now Poly
Voyager 8200 UC
(pictured above) has a boomless mic design, adjustable ANC levels, connects to mobile via Bluetooth, and offers a choice of USB adapter to connect to PC: either USB-A or USB-C. The ear speakers completely surround the ear. Choose between two colors: Black or White. MSRP: $379.95.
Voyager Focus UC
is comfort+: the adjustable sling cushioned metal headband and leatherette ear cushions wrapped around pillow-soft memory foam maintains a secure fit. Available with a desktop charge stand, or without, and USB-A or USB-C. MSRP varies: $279.95 No Stand; $299.95 With Stand.
Voyager 6200 UC
features earbuds on a neckband; wear both earbuds for complete concentration, thanks to ANC, or just one, to keep an ear on the surrounding office. The neckband vibrates as an incoming call alert. Two color choices: Black and Sand; and USB-A and USB-C adapters are available. MSRP is $299.95.
Finally, if your team is primarily desk-bound, and prefer a corded ANC headset,
Blackwire 7225
headsets have a boomless mic design with the call controls on the ear speakers. Blackwire 7225 headsets are available in Black and White, and USB-A and USB-C. MSRP: $199.95.
If your teams are struggling to tune out the chaos of an open office — whether it's scooter rallies or loud talkers or ice chewers — distractions make it almost impossible for people to stay focused. Time to bring productivity back.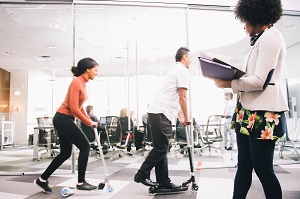 Ready to reduce interruptions and boost productivity? Download the ebook from Poly, here: Perils of the Open Office Ebook and then contact us today for personalized headset solutions: 1-866-998-9991.
*"All Your Employees Are Distracted: The Realities of Today's Open Office and What You Can Do About It," by Future Workplace, April 2019, sponsored by Poly
11/26/2019 - 0 Comments
As you are shopping the
Avcomm Solutions
web site, you may notice that many of our products such as USB headsets and speakerphones, are labeled as "
Microsoft
," "
MS
," or "
Certified for Microsoft
," while others are labeled "
UC
." We are often asked the difference between a Microsoft and UC (Unified Communications) product, and how to choose between them.
Our answer: If you are using a Microsoft platform (such as Microsoft Teams, Skype for Business, or Lync), you should purchase the Microsoft certified variant.
What this means: the models certified for Microsoft support Microsoft platforms as a Plug and Play experience. The Plug and Play experience includes:
•automatic selection as the default audio device and
•features to answer and end calls, adjust volume, and mute.
If you are using another communications platform, such as Cisco Jabber, Ring Central, or other softphone, you should purchase the standard UC version of the headset or speakerphone. If you do use a model that is certified for Microsoft Skype for Business with a different computer softphone client, the product should work the same as a UC model regarding audio and features (such as answer and end calls, adjust volume, mute).
To set up your headset or speakerphone to work with Microsoft Skype for Business (or Teams, or Lync), install the headset manufacturer's free software:
Jabra Direct
for Jabra products;
Plantronics Hub
for Plantronics, now Poly, products;
and
EPOS Connect (formerly Sennheiser HeadSetup Pro)
for EPOS | Sennheiser products.
All of these are free from the manufacturers.
For further help with your unique headset and speakerphone needs, reach out to our dedicated customer care team at 1-866-998-9991, via
email
, or Chat with us now.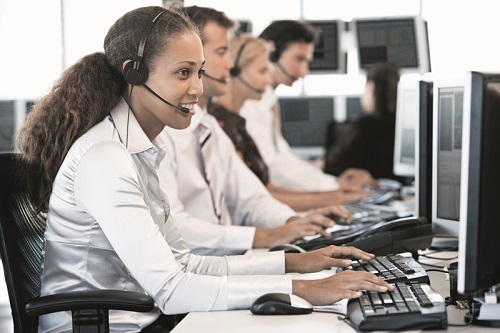 11/19/2019 - 0 Comments
BlueParrott
headsets, long the favorite of professional truck drivers, are strong and stable enough for life on the road, anywhere you go. Take calls safely with BlueParrott headsets and keep your hands free to drive. Here, we simplify the headset features and hopefully make the choice of which BlueParrott headset to buy, easier for you. With a range of features, and prices, you've got choices. All of these headsets will handle calls, and stream music and GPS directions.
| | | | | |
| --- | --- | --- | --- | --- |
| | B250-XTS | B350-XT | V450-XT | B550-XT |
| IP54 Rated | No | Yes | No | Yes |
| Talk Time | 20+ hours | 24+ hours | 24+ hours | 24+ hours |
| Standby Time | 150 hours (6 days) | 500 hours (20 days) | 500 hours (20 days) | 500 hours (20 days) |
| Wireless Range | Up to 66 ft | Up to 300 ft | Up to 300 ft | Up to 300 ft |
| Voice Activation | No | Yes | Yes | Yes |
| Parrott Button | No | Yes | Yes | Yes |
| MSRP | $99.99 | $139.99 | $149.00 | $199.99 |
All of the headsets come with leatherette and foam ear cushions, mic windscreens and USB charging cables. Additionally, a mobile charger is included with the B350-XT, B450-XT and B550-XT models.
Three of these headsets feature the popular Parrott Button, which lets you customize your favorite features at the touch of a button. Speed dial, mute, and Push-to-talk capabilities make for quick and easy access to what matters most: your conversations.
The IP54 rating means that the headset is water and dust resistant.
These headsets come with a one-year warranty. Ready to talk about a BlueParrott headset? Give our headset experts a call at 1-866-998-9991 or Chat them now, and they'll help you select the best headset for you.
11/7/2019 - 0 Comments
Do more with your headsets, thanks to Amazon Alexa Built-in technology.

Specific headsets now offer Amazon Alexa Built-in, a voice-forward experience that uses Alexa to play music, control smart home devices, provide information, read news, and much, much more. With cloud-based Alexa, the offerings continually expand. Two of our brands are part of the Amazon Alexa Built-in program: Plantronics, now Poly, and Jabra.
Alexa Built-in is a category of devices created with the Alexa Voice Service (AVS) that have a microphone and speaker. You can talk to these products direclty by saying "Alexa," and receive voice responses and content instantly. Alexa Built-in products work with Alexa Skills (which are like apps) and Alexa-compatible smart home devices, bringing familiar capabilities from the Amazon Echo family of devices to a range of new form factors — in this case headsets — developed by leading brands.
Headsets with Alexa:
With Alexa built-in to your Voyager headsets, you can link your work email with your personal Alexa account, so now you can tap and ask, "Read priority email." Yep, it's that easy.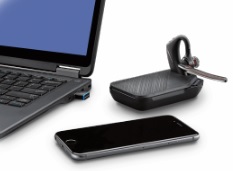 Plantronics Voyager 5200
has a comfort-tested ergonomic design that feels as good at the end of the day as it does at the start. The ergonomic earpiece is designed to feel like it's barely there. It's a comfortable, powerful tool for all-day productivity. The included portable charging case features an integrated docking stand. Completely charge your headset up to two full times, so you're always ready to talk. An included BT600 Bluetooth USB adapter connects this headset to your PC.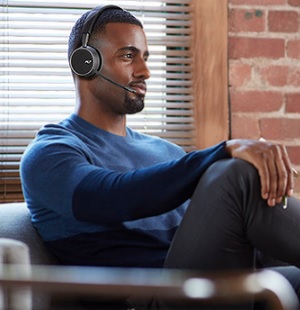 Voyager 4200 UC
headsets are available in single and dual ear versions, with USB-A or USB-C adapters. In open office environments, you may want a stereo headset to listen to media — or you may prefer a mono headset to hear your surroundings. Count on vibrant and crystal-clear audio, whether you're listening to multimedia or collaborating with colleagues, within the headset's 98 ft/30 m range. Plantronics Voyager 4200 headsets make it easy to switch between PC/Mac and mobile devices, so you're always connected. A dedicated button gives you quick access to mute, while voice prompts alert you if you're on mute when you start talking. Enhanced voice alerts tell you connection status, remaining talk time, mute status and more. Your colleagues will know when you're talking to someone because of the red call indicator light.
Voyager 4210 USB-A
Voyager 4210 USB-C
Voyager 4220 USB-A
Voyager 4220 USB-C
To use Alexa with these headsets, you must have both Plantronics Hub and Amazon Alexa apps downloaded to your mobile phone. The Voyager 4200 headsets must have firmware version >271. Use the Plantronics Hub app to update your device if required.
Jabra headsets
with Alexa Built-in are part of the Elite series: Elite 65t, Elite Active 65t, Elite 45e and Elite 75t. Contact us to learn more about these ear bud headsets.
Count on our brands to bring user-friendly technology and features to headsets that make your life easier, and more productive. Call us at 1-866-998-9991, and our dedicated team of headset professionals can provide recommendations for your headset requirements.
11/5/2019 - 0 Comments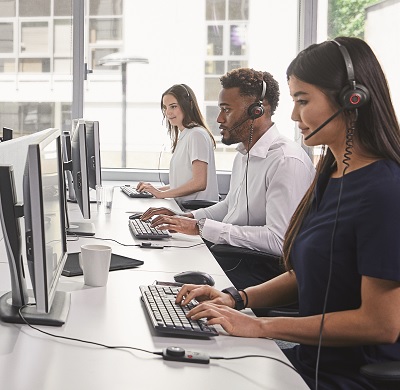 Five years ago, it was proclaimed that customers would no longer call into businesses; that they would prefer to find support via email, social and Chat channels, and organizations scrambled to train and ramp up those areas in their call centers (updating the terminology to "contact centers").
Yet, here it is, almost 2020, and it turns out,
customers are still calling businesses when they need help
. Research has shown that customers start with online assistance for simple questions; however, as matters become more complicated, phone calls remain the preferred way to contact companies. This means that customer service agents are expected to know more detailed information and handle longer, complex calls. The pressure to produce results in a cost-efficient manner means that data analytics are crucial.
With this in mind, Jabra engineered a headset that meets these needs by offering digital sound, data analytics, Busylights on the ear speakers, and is comfortable to wear through long, demanding calls. The Engage 50 corded headset is available in both
Mono
and
Duo
versions and ends in USB-C. The generous-sized leatherette ear cushions have a conical design, so that the cushions rest securely on the ear.
How is the Engage 50 a Digital Headset?
A processing chip in the headset — rather than in a control unit or cord — makes the Engage 50 a digital headset. While most wireless headsets are already digital headsets, the Engage 50 is the first Jabra corded headset to have the chip in the headset itself. The Engage 50 uses the very latest chipset, and this, along with the positioning of the chip, delivers enhanced functionality and user experience. Along with Jabra Direct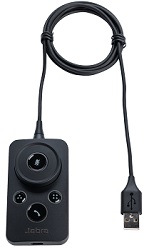 and Jabra Xpress, call analytics for the business, and on-screen microphone positioning guidance for the agents, are provided. A great headset, along with Jabra software, improves customer satisfaction.
Engage 50 Link Control Unit
The control unit improves call control and the ergonomic design helps agents work more efficiently. It is an optional accessory; however, it must be purchased in order to use the Engage 50 with USB-A ports. There are four variations of the control unit:
Jabra Engage 50 Link USB-A
Jabra Engage 50 Link USB-A Microsoft certified
Jabra Engage 50 Link USB-C
Jabra Engage 50 Link USB-C Microsoft certified
Data analytics and free Jabra software
Jabra Xpress 2.0
is designed for IT professionals to 100 percent remotely manage Jabra USB headsets and speakerphones with a set of smart tools. Xpress keeps different devices, across multiple locations and with numerous users, always updated with the latest firmware. Xpress offers easy mass deployment and agile maintenance.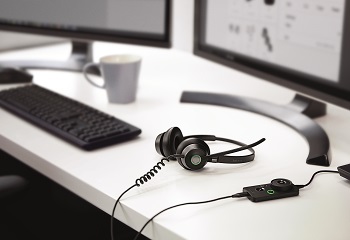 It works no matter the platform you work with, or whether you're working from your own premises, your own cloud-based service, or the Jabra cloud. And, call analytics received from individual headset users help your management team make
data-based decisions to improve agent productivity and the customer call experience
. These comprehensive insights include background noise, speech analytics, headset usage analytics and audio exposure.
Jabra Direct
is a user-friendly desktop interface offering complete integration of your softphone and headset. The Jabra Direct dashboard is a user friendly status menu available from the desktop notification area, typically accessed via the lower right corner of the desktop.The dashboard shows the status of your headset, if any updates are available, and if your softphone(s) are ready for use. By clicking your Jabra device in the dashboard, you will be linked into the Jabra Direct main application for managing setting preferences, start firmware updates or access applications that are available for your headsets.
And did we mention, these software programs are available at no cost, for both Mac and Windows platforms?
To learn more about Jabra Engage 50 headsets, call our Headset Experts at 1-866-998-9991.