Blog
12/21/2018 - 0 Comments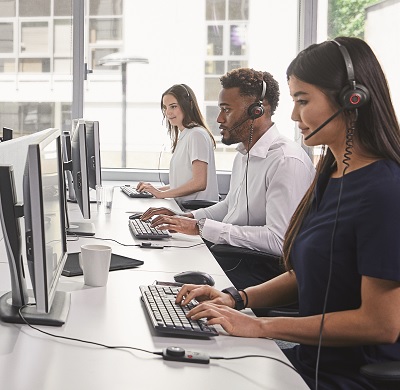 Five years ago, it was proclaimed that customers would no longer call into businesses; that they would prefer to find support via email, social and Chat channels, and organizations scrambled to train and ramp up those areas in their call centers (updating the terminology to "contact centers").
Yet, here it is, almost 2019, and it turns out,
customers are still calling businesses when they need help
. Research has shown that customers start with online assistance for simple questions; however, as matters become more complicated, phone calls remain the preferred way to contact companies. This means that customer service agents are expected to know more detailed information and handle longer, complex calls. The pressure to produce results in a cost-efficient manner means that data analytics are crucial.
With this in mind, Jabra engineered a headset that meets these needs by offering digital sound, data analytics, Busylights on the ear speakers, and is comfortable to wear through long, demanding calls. The Engage 50 corded headset is available in both
Mono
and
Duo
versions and ends in USB-C. The generous-sized leatherette ear cushions have a conical design, so that the cushions rest securely on the ear.
How is the Engage 50 a Digital Headset?
A processing chip in the headset — rather than in a control unit or cord — makes the Engage 50 a digital headset. While most wireless headsets are already digital headsets, the Engage 50 is the first Jabra corded headset to have the chip in the headset itself. The Engage 50 uses the very latest chipset, and this, along with the positioning of the chip, delivers enhanced functionality and user experience. Along with Jabra Direct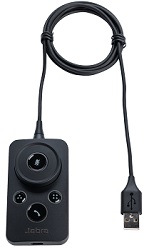 and Jabra Xpress, call analytics for the business, and on-screen microphone positioning guidance for the agents, are provided. A great headset, along with Jabra software, improves customer satisfaction.
Engage 50 Link Control Unit
The control unit improves call control and the ergonomic design helps agents work more efficiently. It is an optional accessory; however, it must be purchased in order to use the Engage 50 with USB-A ports. There are four variations of the control unit:
Jabra Engage 50 Link USB-A
Jabra Engage 50 Link USB-A Microsoft certified
Jabra Engage 50 Link USB-C
Jabra Engage 50 Link USB-C Microsoft certified
Data analytics and free Jabra software
Jabra Xpress 2.0
is designed for IT professionals to 100 percent remotely manage Jabra USB headsets and speakerphones with a set of smart tools. Xpress keeps different devices, across multiple locations and with numerous users, always updated with the latest firmware. Xpress offers easy mass deployment and agile maintenance.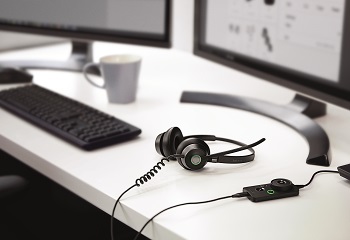 It works no matter the platform you work with, or whether you're working from your own premises, your own cloud-based service, or the Jabra cloud. And, call analytics received from individual headset users help your management team make
data-based decisions to improve agent productivity and the customer call experience
. These comprehensive insights include background noise, speech analytics, headset usage analytics and audio exposure.
Jabra Direct 2.0
is a user-friendly desktop interface offering complete integration of your softphone and headset. The Jabra Direct dashboard is a user friendly status menu available from the desktop notification area, typically accessed via the lower right corner of the desktop.The dashboard shows the status of your headset, if any updates are available, and if your softphone(s) are ready for use. By clicking your Jabra device in the dashboard, you will be linked into the Jabra Direct main application for managing setting preferences, start firmware updates or access applications that are available for your headsets.
And did we mention, these software programs are available at no cost, for both Mac and Windows platforms?
To learn more about Jabra Engage 50 headsets, call our Headset Experts at 1-866-998-9991.
12/11/2018 - 0 Comments
Tough work environments require tough headsets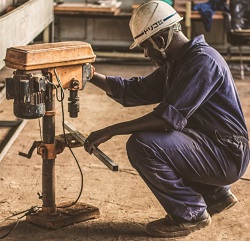 High-noise work environments can be intense.
Whether it's driving down the road in an 18-wheeler or working in a noisy warehouse – and other similarly loud environments – error-free communication and collaboration is challenging. Most of us are faced with colleague interruptions that impact productivity, but workers in high-noise environments are also faced with interruptions from equipment, or unconventional surroundings. Safety regulations in the workplace are progressively more restrictive and workers in high-noise environments have indicated that easy, hands-free group communication is of the utmost importance.
BlueParrott mobility-focused headsets are solving these challenges
for people in a variety of industries: professional drivers, utility technicians, retail floor help, hotel housekeepers and concierge staff, and warehouse order pickers.
BlueParrott
, a leader in intelligent and rugged headsets, offers microphones with unrivaled noise-cancelling technology and deliver superior call quality in high-noise environments. These headsets connect to rugged smartphones, tablets and mobile computers, land mobile radios, handheld scanners, and other mobile devices.
Professional Truck Drivers
Professional truck drivers have preferred BlueParrott headsets for years.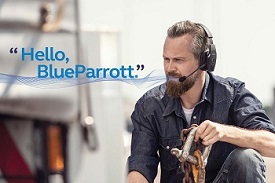 Strong and stable enough for life on the road, the wireless Bluetooth headsets feature long battery life and up to 24 hours of talk time (depending upon the headset). With hands-free call and text bans in effect around the U.S., drivers of all kinds – from local delivery drivers to Over-the-Road truckers – must use headsets for communicating.
Some of the top choices for drivers are
B450-XT
,
B350XT
and the
B250-XT
or
B250-XTS
.
Another recommended headset is new to the market: the
B550-XT
, the world's first 100% hands-free headset. Simply by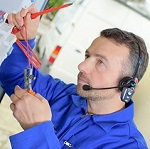 saying "Hello BlueParrott," tell your headset to "Call" contacts within your phone's Address Book. In addition, the
C400-XT
is a great choice for people who prefer a choice in wearing style: the C400-XT can be worn behind the neck (over the left or right ears), and over-the-head.
Field Service Workers
Construction workers, foremen, linemen, and others who work on job sites would all benefit from the use of these same headsets.
Retail and Hospitality Staff
The
C400-XT
is the perfect hands-free, Bluetooth-enabled headset for those who clean hotel rooms, concierge staff, and retail sales floor workers. Its discreet profile, and trio of wearing style options, offer some flexibility and customization.
Warehouse Operators and Order Pickers
The headset needed for these workers depends upon the picking device that's being used, and so there are 2 categories for the warehouse worker:
Corded
or
Bluetooth Wireless
.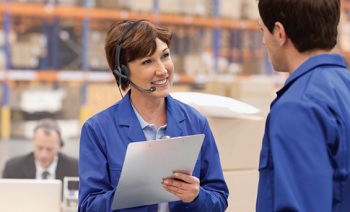 Corded headsets include the
VR11
,
VR12
, and
VR12F
, a freezer-rated headset for environments down to -22 degrees. These headsets have been "drop and tumble tested," having been dropped 8.2 feet onto concrete across the operating temperature range, and tossed 500 times across approximately 3 feet for 1,000 hits.
If the connection type needed is Bluetooth, then these wireless headsets are recommended:
B550-XT
,
B450-XT
and
C400-XT
.
Supported by the latest in headset technology
Keep BlueParrott headsets updated (via USB) with the free software program,
BlueParrott Updater
. Install the BlueParrott Updater on your computer (either PC or Mac), and ensure your BlueParrott headset always has the latest features and functions. The BlueParrott Updater download is available free, here:
BlueParrott Updater
.
The BlueParrott App is available in Apple and Android versions, at no cost. If your headset has a Parrott Button, customize the operation of the Button within the app. The headset is configured out-of-the-box with the Parrott Button configured to mute, and will mute the microphone while both off or on a call.
There is a walkie-talkie feature as well. For all Parrott Button questions, refer to the Help page:
Parrott Button How-To
Each headset is protected with a one-year warranty for peace of mind.
Contact our headset experts about BlueParrott headsets, today: 1-866-998-9991.
11/15/2018 - 0 Comments
In its continual effort to advance technologically progressive headsets, Plantronics has announced that the SupraPlus series will be phased out in 2019. SupraPlus headsets will be for sale as long as stock is available.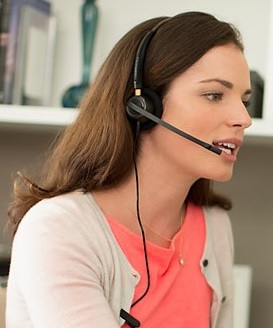 Recommended Replacement: EncorePro 500 Series
Plantronics suggests the EncorePro 500 series as the direct replacement.
The EncorePro series has continued in popularity, with Quick Disconnect, Digital and USB variants that meet the requirements of contact centers and offices around the world.
The EncorePro headband has 6 degrees of adjustment and a super soft foam ear cushion that covers the ear. Premium leatherette ear cushions are available as an optional accessory.
The EncorePro is the benchmark in headset design, winning an
iF Design Award
in 2015. The single piece, unibody style microphone boom with tactile and visual positioning is virtually break-free. The aircraft grade structural aluminum joints provide another point of strength.
The Plantronics
EncorePro 510
is the next generation of our most popular over-the-head monaural headset. Completely re-imagined for the demands of the modern customer service center and office, the HW510 has soft ear cushions for all-day wearing comfort, metal joints that deliver durability and reliability and a flexible mic with visual and tactile positioning guides for precise positioning and clearer conversations.
The Plantronics
EncorePro 520
is the binaural version of the all-new 510 design, covering both ears to provide greater focus and concentration by blocking background noise. The 520 also has soft ear cushions for all-day wearing comfort, metal joints that deliver durability and reliability, and a flexible mic with visual and tactile positioning guides for precise positioning and clearer conversations.
Plantronics is offering a new promotion!
Upgrade Like A Pro:
For a limited time, customers who buy new EncorePro headsets will become eligible to trade up an equal number of SupraPlus headsets to receive a
$15 trade up allowance for each headset
. This promotion ends March 31, 2019, and claims must be submitted before April 30, 2019. Claims can be submitted on the Plantronics web site:
Upgrade Like a Pro
Ready to upgrade? Contact our
Customer Care Team
today: 1-866-998-9991
11/8/2018 - 0 Comments
A guest post by Mike Dershowitz, the CEO of Rethink Staffing, a Fair Trade Outsourcing Company, and its sister facility, RTS Philly Outsourcing Center. He believes that when companies focus on their employees' social and economic progress, it motivates them to perform better at work and produce outperforming results. Contact him at 888-631-0398 or mike@rethinkstaffing.com for an initial consultation. Read more from Mike on his Medium site.
Original publish date: August 27, 2018
I've been living in Berlin, Germany this summer. It has been an incredibly productive time for me and for Rethink Staffing as a whole, including finally building a real sales team that can deliver results.
My favorite breakfast place is two blocks from where we're renting a flat, called
Anna Blume
. It was introduced to me by a Berliner friend 3 years ago upon a visit for business, and situated in the old East Berlin neighborhood of
Prenzlauer Berg
. The coffee is good, and the
bauernomelette
(think of pickles, potatoes and eggs) is my favorite.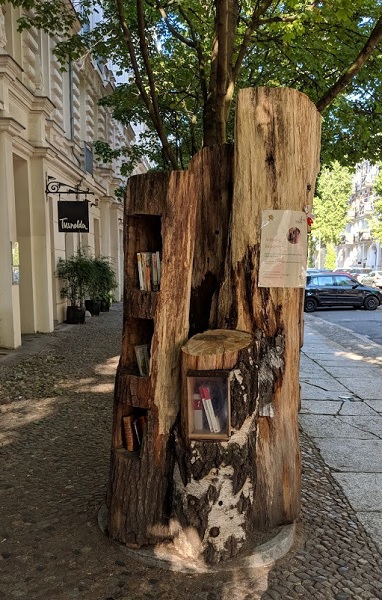 When there alone, I find myself quite contemplative.
I go there weekly to write. My favorite table faces west, and right in front of this table on the street there is the most interesting old tree that has been transformed into a potent symbol of the communal and trustworthy nature inherent in German society.
But to me, it's also a powerful symbol of how persistent, little actions can have such a large impact on people's lives and the world at large.
This tree has been transformed into a book exchange. Some craftsman took the trunk of it, cut small shelves-cum-compartments into it, covered with plastic fronts to protect the books from the rain, and placed it on the street with a small note of instruction. The compartments contain no locks, there is no record keeping mechanism whatsoever. You can place or take as many books as you like.
I usually sit there any hour and half, eating, writing, and — like
a shoddy Balzac
 — (at least in my mind) drink a few coffees. In that scant hour and a half of that day of the week, I see all manner of people come by, and with a frequency that astonishes. I'm there for just 90 minutes, but I must see 7 or 8 people come by in that time.
That one craftsperson, with this simple idea of a book exchange, has now impacted thousands of lives. Do the math: I'm there for just 90 minutes one day a week; how many weeks, months and years has the tree been delivering thought-provoking texts, giving pleasure to people as they read something fun, or providing much needed distraction to someone that maybe in some form of distress or crisis.
The enormity of the aggregate of instances of influences on those people using the tree, created by that one craftsperson who created it, can probably never be calculated or known. It was this realization that led me to interpret the value of the tree as a potent reminder to my sales people.
Progress is made in the aggregate. No great labor or achievement was accomplished in one isolated action of such instantaneous, conjured power. Rather, the passage of years and thousands of hours of work can be most consistently attributed to great achievement. Ask any professional athlete, superior craftsperson, or writer. It was the result of thousands or a million little actions.
So I remind my sales team (and yours):
Progress is made in the aggregate.
Every day, you must be laboring to get your message to as many people, through as many small, simple actions as you can muster within the energy that you possess for that day. You must always be meeting new people, reconnecting with old contacts, and telling anyone who will listen why you are doing what you are doing.
For you shall never know what little action you may have done months ago, when interacting with another little action (of yours or another), and how, when those actions combine, may finally be the spark needed to advance your goals. That spark is what results in your prospects finally sending the "let's catch up" email or "It's time for us to get serious about this" email. Or even, in this day and age, that rare phone call.
So, I say this to all those salespeople out there who maybe struggling with the day-to-day repetitive nature of sales (and to my sales team):
You are that craftsperson.
You are creating that tree where you and others come to exchange ideas. Your job is to help your prospects take a little idea from you, one from another, and combine them until those ideas create something of value for your prospect (which hopefully is what you're selling).
Do that for people you meet, and for potential customers, and you will always be successful. But you must do that every day, and in a thousand small little ways.
Progress is made in the aggregate.
11/7/2018 - 0 Comments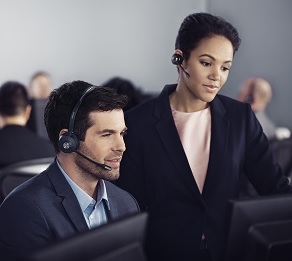 Jabra has announced that all variants in the
Jabra Pro 9400
series of DECT wireless headsets are at their end of life date, and are no longer being manufactured as of October 2018. The Pro 9400 headsets will be sold for as long as stock is available.
Recommended Replacement: Jabra Engage Series
In its place, Jabra is recommending the Engage DECT wireless headsets. The Jabra Engage 65 and 75 Series includes a range of Stereo, Mono and Convertible models to enable an easy migration from the Pro 9400. The Jabra Engage Series is engineered to be the world's most powerful professional range of wireless headsets. Utilizing new, exclusive technology that gives 3x better wireless density – while still maintaining excellent connection quality – Engage helps deliver better conversations to boost customer satisfaction.
The Engage series boasts better sounding calls, more talk time (up to 13 hours!), and better productivity because of the built-in busylights on each headset. Security features going beyond DECT security Step C providing enhanced protection against eavesdropping. A micro-USB charger in the base makes it easier to dock the headset correctly in one simple action and ensure it is charging. With the fast charge feature, you can power the headset to 40% in just 30 minutes. If the battery gets critically low during a call, Jabra Engage can also be charged using a standard wall charger while you are still on the call.
What is the difference between Engage 65 and Engage 75? Engage 65 connects to desk phones and PCs, and buttons on the base unit are intuitive and easy to use. Engage 75 headsets can connect to five devices simultaneously: 2 USB devices (softphone and/or desk phone), 2 Bluetooth devices and 1 analog desk phone. The base unit is touchscreen.


New to the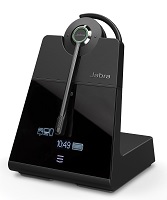 Engage series are the Convertible models with a smaller ear speaker and 3 included wearing styles: ear hook, neckband and headband. The Convertible model is available in both Engage 65 and Engage 75 variants.

We will continue to sell accessories for the Pro 9400 series, especially the popular replacement battery kit.

Call our headset experts today for assistance in choosing the best Jabra wireless headset for you: 1-866-998-9991.