9/28/2020
This school year, remote learning is front and center as teachers are learning new strategies to effectively educate their students at a distance. Instant collaboration tools, including the Jabra PanaCast, are necessary in well-equipped classrooms.

Certified for Microsoft Teams and Zoom, Jabra PanaCast works with all UC platforms.

Be confident that teachers can connect, with whatever equipment they are using; it is plug-and-play by bringing your own laptop. You can add on a hub or dock that also connects speaker, TV, power and internet, for a simple one-cable user interface. It has an integrated mounting bracket and a standard 1/4"-20 thread that can be used on a tripod; a wall mount and table stand are available as additional purchases.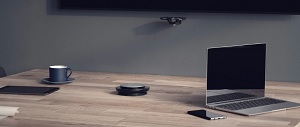 Teachers will appreciate the 180° Panoramic view. They can take full advantage of white boards, teaching aids, and the space in the classroom to move around and keep students engaged. The PanaCast is reasonably priced ($695 MSRP) and offers a 2-year warranty.

When you combine the Jabra PanaCast with a Jabra Speak 750 speakerphone, it's an optimal video and audio experience that's like a face-to-face class.

In this video below, Gina Spencer, a member of the Jabra Collaboration Team, provides a brief overview of just some of the many benefits the PanaCast can offer to your classroom.

To schedule a one-on-one demo of the Jabra PanaCast, contact our Customer Care Team at 1-866-998-9991.
TAGS: Jabra, PanaCast, Distance Education, Remote Learning, Tools for School, Teaching and learning, Plug and play, Video