There were 5 posts tagged: 3.5mm
April 8th, 2021 • 0 Comments
Up to 40% off Jabra headsets and PanaCast cameras that will keep the class engaged
When the COVID-19 quarantine began last year, K-12 schools, colleges, and universities were forced to quickly adapt to remote and hybrid learning models. This has continued into the 2020-21 school year, and educators are doing their best to provide a consistent means to educate their students effectively.
Teachers need to keep students engaged when teaching remotely, which brings unique challenges. In a Customer Database Survey in April 2020, Jabra found that 61% of teachers' time is now spent in virtual classes, with 3-4 hours each day in lectures with students. The survey also found that both teachers and students are experiencing frustrations:
• 44% of students are not satisfied with the audio or video quality of remote learning classes
• 54% of teachers find it difficult to keep students' attention when remote teaching
As an authorized Jabra reseller partner, we sell audio and video solutions that will answer the needs of the modern remote learning classroom. Our specialized team can put together a plan for your unique classroom and school. And, with some big discounts
(up to 40%!)
on these Jabra headsets and the PanaCast camera, now is the right time to equip your learning spaces.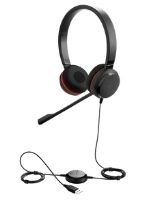 Headsets for students and teachers, with premium sound and comfort
The
Evolve 20 Special Edition headset
features leatherette ear cushions and an inline call control unit that allows you to answer/end calls, mute calls, and increase/decrease call volume with a quick touch of a button. This is a plug-and-play USB headset that requires no set-up, making it a very easy headset to use and deploy. The 2-year warranty assures customer satisfaction and a full replacement within the warranty period, if necessary.
The other Jabra headset with a major discount is this
Evolve 30 II stereo headset
that ends in a 3.5mm jack. These headsets are ideal for those using tablets and

computers with 3.5mm audio jacks. The leatherette ear cushions assure comfort for the wearer and with both ears covered, students and teachers will be able to focus on the classroom, and not their surrounding environment at home or in school.
PanaCast camera captures the classroom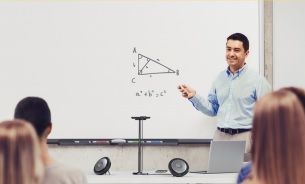 Teachers will appreciate the wall-to-wall coverage of their teaching space as they move around freely sharing educational material. The 180-degree view lets teachers take full advantage of white boards, teaching aids, and the space in the classroom to move around and keep students engaged.
Jabra PanaCast
is a plug-and-play camera, certified for Microsoft and all major UC platforms. And, if they need to change classrooms, its small size makes it easy to move to the next space.
Contact us at 1-866-998-9991 or Chat us now for your Special Pricing on these three devices.
Other smart choices:
Speak 750 speakerphone
for online and in-class learning; keep students engaged in conversations with a speakerphone. A second Speak 750 speakerphone can be wirelessly linked to double the coverage inside the classroom, for the clearest sound possible.
Evolve2 65 wireless headset
connects to both mobile phones and computers, for teachers who need the freedom to roam. Three strategically placed professional microphones ensure crystal-clear audio, so your students hear every word.
Jabra devices will keep your students engaged, your teachers teaching, and your budget happy. Contact our sales team at 1-866-998-9991 or Chat us now, to learn about these products, and more.
November 23rd, 2020 • 0 Comments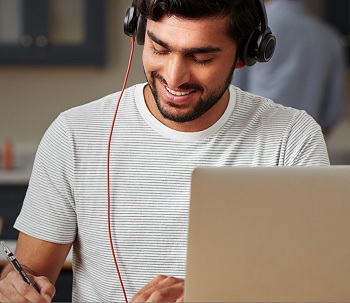 The Blackwire headset series are all-in-one USB headsets from Poly, and have been a standard for office workers who need a high quality headset with great sound. The series continues to transform with the latest technology available, as well as premium design and connection features.
The new company name,
Poly
, is the result of Plantronics and Polycom joining together. Poly, which means "many," leverages the legendary audio and video expertise of Plantronics and Polycom and its breadth of smart endpoints that connect across and between unified communications platforms to reduce the distractions, complexity, and distance in the modern workspace.
All of these Blackwire headsets offer a two-year warranty, connect via USB or USB-C (learn about the latest USB connection type,
here
); and most come with carrying cases for storage and protection during travel. The Certified for Microsoft Teams headsets seamlessly integrate with Teams and offer headset control functionality. They also meet the Microsoft Teams Open Office certification levels.
8225 Series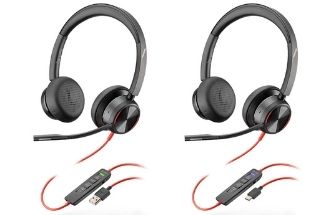 If you're working from home and need to block out the sound of family members moving around you, the technology in Blackwire 8225 headsets have you covered. The noise-canceling microphone with Acoustic Fence technology puts you in a quiet office, even if you are not. Hybrid Active Noise Canceling (ANC) makes it easy to escape the noise around you: there are three ANC settings (toggle between Off, Mid, and High levels on the side of the call controller), that help you create the best quiet zone.
This is a comfortable headset. The padded headband has soft leatherette ear cushions, with adjustable headband and 180-degree pivoting speakers to easily fit all users. We also like the status indicators (busylights) in the ear speakers that alert others when you are on a call. These two LED indicators keep you distraction free.
Blackwire 8225 USB-A
Blackwire 8225 USB-A Certified for Microsoft Teams
Blackwire 8225 USB-C
Blackwire 8225 USB-C Certified for Microsoft Teams
7225 Series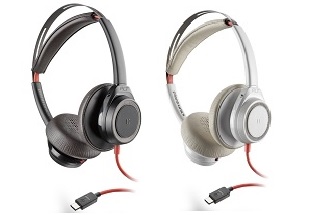 These headsets have a unique boomless mic design: the first of its kind in the corded headset market. As collaboration increasingly takes place via video, there was demand for a professional corded headset with a boomless mic. It is extremely important to wear the headset with the "R" ear speaker on your right ear, because the microphones are built into the front of the headset's speakers, creating a four-microphone array for best voice pick-up.
The 7225 headsets offer Active Noise Canceling that can be activated when needed. When you need to quickly listen in to your surroundings, push the red Open Mic button found on the bottom of the left ear speaker; and then press it again to return to your quiet headset. Another unique feature in the new Blackwire 7225 headsets: rather than an in-line call controller, all audio and media controls are on the ear speakers.
Blackwire 7225 USB White
Blackwire 7225 USB Black
Blackwire 7225 USB-C White
Blackwire 7225 USB-C Black
5200 Series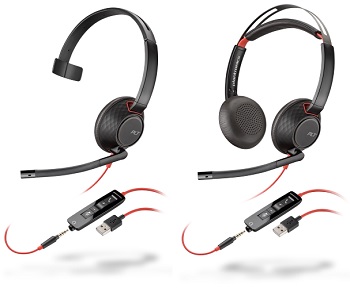 Blackwire 5200 headsets also offer excellent sound - both inbound and outbound - with a flexible mic boom featuring noise-cancelling, so background noises aren't transmitted to your callers. Listening to music is an enjoyable experience with this headset, too.The duo headsets offer a comfortable "sling" metal headband; both mono and duo have large ear cushions made of ultra soft leatherette wrapped around memory foam. This headset is a dream for all-day wearing comfort! All of the variants connect to both USB/USB-C and 3.5mm, which unplugs from the in-line call controller.
Blackwire 5210 USB and 3.5mm
Blackwire 5210 USB-C and 3.5mm
Blackwire 5220 USB and 3.5mm
Blackwire 5220 USB-C and 3.5mm
3200 Series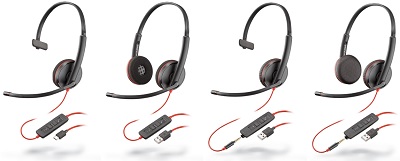 Blackwire 3200 headsets are the entry into the Blackwire world. These are great headsets, and there is some variety within the 3200 line: all of these headsets are available in either USB or USB-C variants; the Blackwire 3215 and 3225 have the additional 3.5mm connection for mobile phone and tablet use. The foam ear cushions on the 3210 and 3220 are lightweight and breathable. The ear cushions for the 3215 and 3225 are leatherette and fold flat for placement in the included carry case.
Blackwire 3210 USB
Blackwire 3210 USB-C
Blackwire 3220 USB
Blackwire 3220 USB-C
Blackwire 3215 USB and 3.5mm
Blackwire 3215 USB-C and 3.5mm
Blackwire 3225 USB and 3.5mm
Blackwire 3225 USB-C and 3.5mm
No matter which Blackwire headset you choose, we recommend that you download the free
Plantronics Hub software
. There are downloads for both Windows and Mac operating systems. Hub software allows you to customize settings and get visible status of your Plantronics audio device on your desktop. It also pushes out firmware updates to keep your headset always up-to-date.
If you're ready for a new Blackwire headset,
contact us
and we'll help you determine the best Blackwire headset for your unique needs.
January 2nd, 2020 • 0 Comments
Sound quality is crucial when making calls and streaming multimedia. We always want to use the best headset for each environment, connection type, and personal wearing preference. We assume that "all headsets are created equal," but that is not the case. Recently,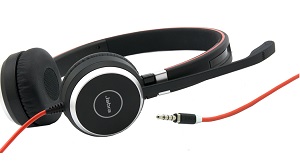 we heard the statement: "Jack connections work more reliably than USB ones" when used with PCs; in fact, USB headsets offer more benefits and better sound quality, as well as reliability. We recommend USB headsets over 3.5mm headsets when connecting to computers, and here's why:
Jack connections, or 3.5mm connectors, are pin-shaped plugs that can support stereo sound and microphones, depending on the number of separate connector rings on the plug or jack. The 3.5mm jack has been a standard feature across numerous devices, especially portable ones, such as the transistor radio, Walkman, and most recently, different makes and models of smartphones. They can also be used with computers that have the 3.5mm jack plug. The 3.5mm uses the device's sound processing system, such as a computer's sound card, for analog sound.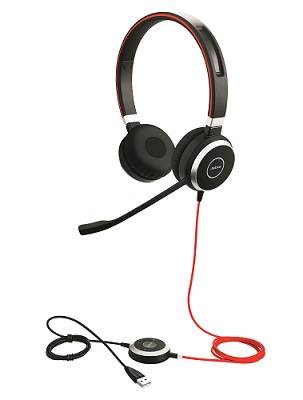 USB headsets bypass your computer's sound card and use their own sound processing system, for better sound quality than 3.5mm headsets. USB headsets benefit from digital-to-analog processing outside of the computer. USB processes digital sound from your device and runs it through its sound system that filters out the audio and removes ambient noise, resulting in much cleaner sounds. For rich wideband audio, and to hear more highs and lows, USB connection is typically preferred. USB provides a lifelike audio experience, compared with 3.5mm headsets.
Another great feature found in USB headsets: in-line call controllers, for ease of call management. Buttons for answer/end, volume, and mute are standards for the control units.
USB headsets can be continually updated, thanks to the free firmware updates offered by each brand, such as Jabra Direct for all Jabra USB devices. And, with cloud-based software management programs that support all main operating systems (some free, others available at scaling costs), global inventory, mass deployments, call analytics, agile maintenance and more can be achieved at the click of a button from an IT administrator.
Jabra Xpress
is one of these global software management software packages.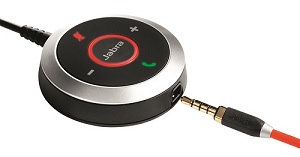 The Jabra Evolve 40 headset pictured throughout this post offers both 3.5mm and USB connections. It is a versatile headset for both in the office, and on the go. We always recommend the use of the USB connection when using the Evolve 40 with a PC. The Jabra Eolve 40 is available in both standard USB and USB-C options.
Our Headset Experts are ready to help you find the best headset for your environment. Give us a call at 1-866-998-9991 or Chat us now!
Source:
USB vs Analog Headsets
, azcentral.
August 7th, 2019 • 0 Comments
Compatibility and comfort rule in the Plantronics Blackwire headsets by Poly. The series is durable, stylish, and lightweight (and the Blackwire 7225 even offers Active Noise Canceling). Plug-and-play with PCs and mobile phones, and you can work anywhere! Learn more about Blackwire, and
Subscribe
to our YouTube channel today.
July 12th, 2018 • 0 Comments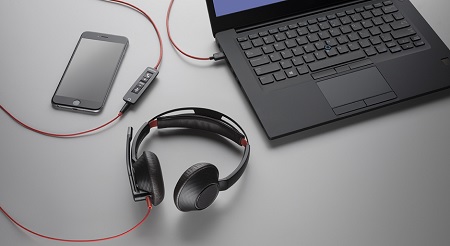 When today's workplace can be noisy and filled with distractions, device connectivity should be straightforward.
That's why the Blackwire 5200 series allows management of PC calls using USB or USB-C, or plug the 3.5 mm (this is found in the in-line call controller) into a smartphone or tablet. And the headsets are so comfortable, they can be worn all day. Similar to the USB port, the USB-C represents a new standard in the world of device compatibility and is becoming more prevalent in the latest PCs, smartphones and tablets.
In our testing of the Blackwire 5220 Duo, the feature that is immediately obvious and appreciated is the cushioned metal "sling" headband and large ear cushions comprised of ultra soft leatherette wrapped around memory foam. Yes, the very same memory foam found in mattresses, shoes, and pillows, is the secret ingredient of these ear cushions. Even those of us who wear glasses don't feel as though our ears are being "squeezed" into the side of our head. The headset is surprisingly lightweight, and comfortable enough to wear all day.
Most importantly, the headset has excellent sound - both inbound and outbound - with a flexible mic boom featuring noise-cancelling, so background noises aren't transmitted to your callers. Listening to music is an enjoyable experience with this headset, too.
Some Product Highlights:
•Ideal for all-day use, long conference calls and listening to multimedia
•Noise-cancelling microphone masks nearby talkers for maximum call privacy
•Variants include universal USB or USB-C
•Connectivity to smartphone and tablet via 3.5 mm
•In-line call controller with answer/end, volume up/down and mute
•Available in mono (Blackwire 5210) or hi-fi stereo with passive noise reduction (Blackwire 5220)
Product Variants:
Blackwire 5210 Mono USB and 3.5 mm
Blackwire 5210 Mono USB-C and 3.5 mm
Blackwire 5220 Duo USB and 3.5 mm
Blackwire 5220 Duo USB-C and 3.5 mm
Contact us today to learn more about these Blackwire headsets! 1-866-998-9991.