Blog
3/4/2015 - 0 Comments
At the beginning of each year, resolutions are made, and then later broken – most commonly, those resolutions are exercise and diet plans. We make resolutions to exercise for the right reasons, but with the wrong goal in mind. Yes, exercise helps to control your weight, which is important.
However, we are shortchanging ourselves if we think that's the ONLY reason to incorporate exercise into our daily routines.
This
blog post
published by the Mayo Clinic lists multiple reasons why exercise is important. There are other incredible benefits to moving your body that we may discount, but that are equally important in order to have a healthy, well-balanced life. In addition to controlling weight, exercise also combats health conditions and diseases; gives you more energy; improves your mood; promotes better sleep, and more!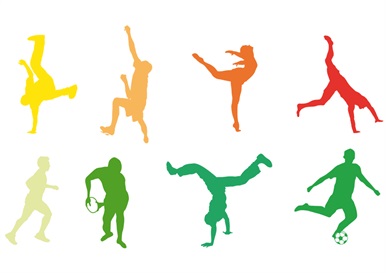 A general recommendation is to exercise 30 minutes each day (
this amounts to only 2% of your day!
). People with specific weight loss or fitness goals will most likely need to exercise more.
Some tips to turn exercise into a daily routine:
Find the right activity or program. This is probably the most important tip! If you don't like what you're doing, you probably won't do it again! Costs can vary from the cost of a pair of good pair of shoes for walking and running, to purchasing a home weight system, or signing up for a monthly membership at a fitness center. You may be fortunate enough to work at an organization that offers gym memberships, or has an on-site gym. Take advantage of these benefits.


Consistency is key – however, if you miss a day (or a week, or even a month) – don't use that as the excuse to stop exercising altogether. Start where you're at and enjoy the journey. Just don't give up! You will have sore muscles, and at first, you may be more tired than you were before you started exercising. Sticking with exercise will pay big rewards in overall health and happiness.


Have fun! If you're not enjoying what you're doing, what's the point? There are plenty of things in life that we are duty-bound to complete; make exercise the time that you look forward to because you know how much fun you will have! Need some time with friends? Make a date to walk, go to the gym, or take a Jazzercise class together. It could very well be the best part of your day!


Every once in a while, mix things up! Once you find the right exercise program or activity, it's still a good idea to change things up every once in a while. Keeping things fresh keeps your mind engaged and your overall satisfaction with exercise. Some ideas: Try out a yoga class; sign up for a local 5K; gather your friends and create a volleyball team to compete at the local rec center. There are plenty of opportunities to exercise, once you start looking for them!
Office workers are seated for 8 hours a day and at risk for heart disease, weight gain, diabetes, depression, and a whole slew of other health problems. Adding exercise to your daily routine can add life to your years, and years to your life!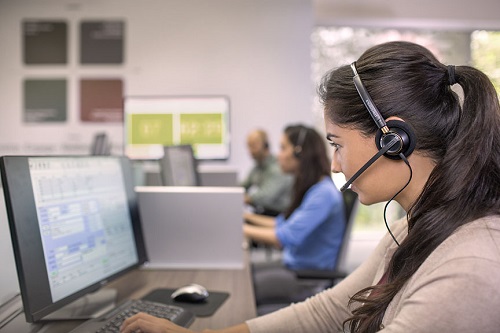 Additional Source:
http://www.mayoclinic.org/healthy-living/fitness/expert-answers/exercise/faq-20057916
12/31/2014 - 0 Comments
Today's work space has evolved from offices and cubicles to an open work environment. Doors, walls and thus sound barriers have been removed to create a "bullpen" atmosphere that theoretically facilitates open communication and easy sharing of ideas. According to this
New Yorker piece
, approximately 70 percent of work places have moved to an open office design. The open office design does have benefits; however, open office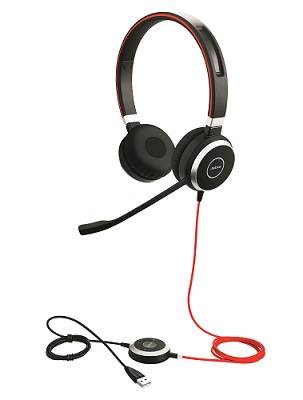 environments can take a toll on workers. Jabra has found that
69 percent
of knowledge workers say that a noisy open office environment
negatively impacts their productivity
.
Jabra's solution is the new Evolve series of headsets, which create a concentration zone, thus
minimizing distractions while improving productivity
. In addition, headsets with multiple connectivity options give you maximum flexibility and make sense for a variety of users, most especially those who use several devices during a typical day.
The
Jabra Evolve 40
is a plug and play headset that connects to your PC, tablet, and mobile phone. User comfort is fundamental: the adjustable headband and large leatherette ear cushions rest lightly on your head and ears, and the cushions rotate up and down to conform to your ears. The high quality headset has an MSRP at $95.00 for the
mono
version, $109.00 for the
duo-eared
headset, and is available in
UC
and
Microsoft Lync
optimized versions.
Use this headset for phone calls, video conferencing and listening to music while at your desk. The USB adapter allows you to answer and end calls, mute the microphone and adjust the speaker volume when using the headset with your computer. By pressing the inner circle of the controller, the busy light turns on (and off) and when lit, alerts co-workers of your busy status.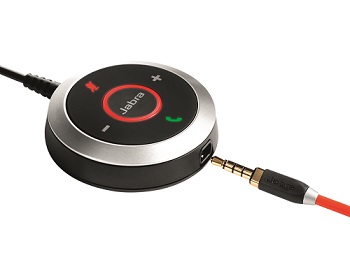 Busy light indicators are located on both the headset (the speaker with the mic boom attached) and the center circle of the controller. The bottom of the controller has a foam grip and stays put on your desk. When you're ready to leave for the day, simply unplug the 3.5mm jack stick from the in-line call controller and choose to take your headset with you for mobile calls or music.
The look of the headset, with its red cord connecting to the premium inline controller, and red detailing on the front and back of the black headband, contribute to the Evolve 40's "cool factor." This is the headset you'll use at work and then on the subway as you listen to music on your ride home. In addition to its good looks, the audio quality of the entire Evolve series is incredible. The boom arm is magnetized so that it integrates into the magnetized groove in the headband when not in use. Although we've found that the boom arm pops up and does not stay in place as well as we'd like, it
is
out of the way when you are listening to music.
A noise-cancelling microphone blocks out background noise so that your caller hears you, and not your colleagues. The microphone boom arm is bendable for perfect mic placement and the sturdy plastic retains the mic position for ease of use. For easy portability, the ear cushions rotate and lay flat for placement in the soft neoprene carrying pouch, which is included with the headset.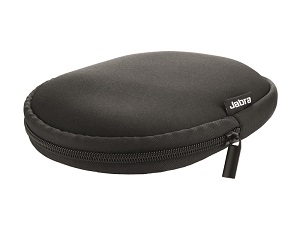 The Evolve 40 stays up-to-date with firmware updates that are pushed through Jabra Direct, a free download from Jabra. With all of these features and a two-year warranty, the Evolve 40 is a great choice for those in open office environments that need a personal concentration zone.
12/17/2014 - 0 Comments
"Ho, ho, but no matter. Christmas was on its way. Lovely, glorious, beautiful Christmas, upon which the entire kid year revolved." - Ralphie "A Christmas Story"
The best holiday traditions connect us to our past, and allow us to relive good times, as well as creating new memories. Christmas baking, Christmas music, visiting family, holiday parties and decorating are just some of the many traditional activities in December. One of our staff's favorite traditions is watching holiday movies.
Movies such as "A Christmas Story," "Elf," "National Lampoon's Christmas Vacation" and "How the Grinch Stole Christmas" (both the classic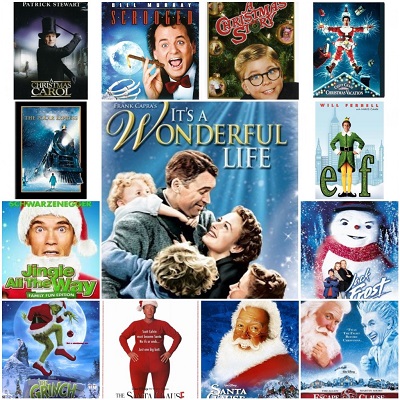 cartoon version and the Jim Carrey version), as well as classic holiday TV programs such as "Rudolph the Red Nosed Reindeer," "A Charlie Brown Christmas," "The Year Without a Santa Claus" and "Frosty the Snowman" entertain us during the month of December.
Movies can put us in a "holiday mood" and into the "Christmas Spirit" by transporting us into the holiday scenes that unfold before us. Some movies are a "must see" year after year … and it's always fun to find out what others' favorite movies are, to add a new movie to our queue.
Are you known as the Clark Griswold of your neighborhood? Perhaps you're The Scrooge in your family, or the George Bailey around your town. These easily recognizable movie characters provide a cultural touchstone that brings us together during this season of goodwill.
Who can forget this famous movie line: "You'll shoot your eye out," referring to what the adults told Ralphie after learning of his Christmas wish for a Red Rider BB gun in "A Christmas Story?" Holiday movies are packed full of now-classic quotes that are repeated all year. Other memorable lines: "The best way to spread Christmas Cheer is singing loud for all to hear" and "Every time a bell rings, an angel gets his wings." Tell us who said these quotes in our Comments and enter to win an Avcomm Solutions prize pack of goodies!
Have you ever wondered which holiday movie you most resemble? An online quiz: "
Which Holiday Movie Are You?
" made the rounds at our office. Take the quiz to find the movie that best describes you! We have laughed at the accuracy of the results (we may even have a few Grinches in our midst!).
We wish you a very Merry Christmas, a Happy New Year, and plenty of time to watch your favorite holiday movies! And finally, take two minutes and watch this recap of "The Greatest Christmas Films of All Time."
12/10/2014 - 0 Comments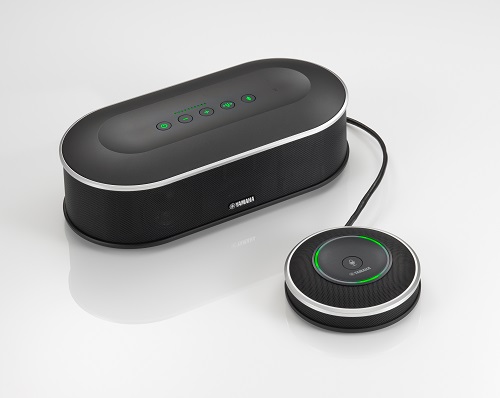 The latest offering from Yamaha's audio division is the YVC-1000, a USB Microphone Speaker system that will take your video conferencing to the next level. In addition to USB connection, the YVC-1000 connects to smart phones and tablets via Bluetooth and NFC technology, as well as to existing video conferencing systems.
The highly configurable and scalable device is unique in that it offers a separate speaker and microphone. Out of the box, the YVC-1000 is perfect for small to medium-size meetings (13'x16') and can be expanded for a room up to 30' x 36'. The unit allows for up to five expansion microphones and two external speakers to be connected for additional participants.

Tuning Fork Feature
To ensure optimal sound quality at the touch of a button, simply press and hold the Tuning Fork button at the top of the YVC-1000. This will activate the automatic audio tuning function, measure the room, and optimize the acoustic settings for your current environment. Voice prompts and a green lit tuning fork button indicate that the process has been done successfully.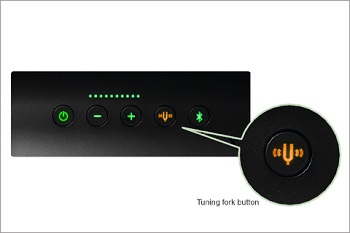 Yamaha's sound optimization technologies deliver features essential to effective communication, such as Adaptive echo canceller, Automatic tracking, Automatic gain control, Noise reduction, Reverb suppression, and Automatic room EQ. More information about each of these technologies can be found here:
YVC-1000 Product page
.
What's in the box?
Control Unit (with built-in speaker); Microphone; Power Cable; USB Cable; Microphone Cable; Quick Start Guide
The YVC-1000 has been available since mid-July and has been a popular offering in the web conferencing market. Organizations that may find this YVC-1000 Microphone Speaker System to be of value are businesses, hotel conference rooms, health care organizations, educational environments, and more. It's a truly versatile system that warrants a second look.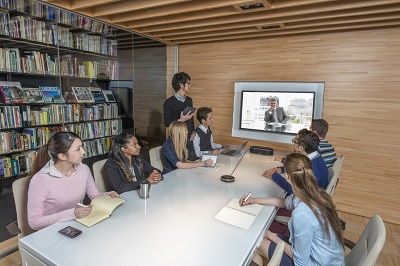 Interested in finding out more about the YVC-1000?
Contact us!
We would love to demo this product for you!
11/26/2014 - 0 Comments
We recently co-hosted a webinar with
Unify Square
and
Jabra
titled, "Driving Successful User Adoption of Microsoft Lync Enterprise Voice." An all-star cast, including Khai Tran from Jabra, highlighted the challenges of Lync deployments, some ways to smooth the transition, and the importance of choosing high quality audio devices that best fit the environment and users.
The #1 reason why Lync adoptions fail? Unify Square says that the
fear of change
is the biggest determinant of failure. At its core, Microsoft Lync
changes the way people work
. The success of Lync deployments depend on end users and each end user adapts at their own rate. An organization can't leave them to their own "devices" – the key to user adoption is to encourage staff to embrace and participate in the changes. In other words, you need to meet users where they live.
The good news: when you manage the change (by being proactive), you can better guide the implementation and adoption, culminating in a positive outcome.
Unify Square staff shared steps for successful adoption:
1. Determine the business outcomes desired and then SHARE those goals with everyone.
2. Segment users into common groups and find out about common adoption challenges, for example, what concerns them about not having a desk phone?
3. Create training materials for end users that cover the basics and how to get assistance; a centralized web site, feedback program and real-time support lay the groundwork for success.
4. Host "Device Demo Days" where users can try out sample devices to determine preference (one ear vs. two ear headsets; over the head vs. behind the neck wearing style, etc.).
"Devices make experiences"
Of course, a key element to successful adoption is what's known as "The Last Three Feet" in telecommunications: the devices (headsets, speakerphones, and more) that are used. The device must be
user friendly
– comfortable, reliable and easy-to-use. The device must also be of high quality: incorporating hearing protection and speech analytics technologies, superior materials, and durable construction are just a few of the necessities. If a low end, poor quality device is chosen, the overall Lync deployment is in jeopardy. The quality of the system is judged by the quality of the voice experience.
Jabra has a variety of devices optimized for Microsoft Lync that are plug-and-play. As a Microsoft Gold Communications Partner, Jabra devices integrate into current and new generations of Microsoft Lync solutions, delivering the ultimate voice collaboration experience. See the entire portfolio of Jabra Lync Optimized audio devices here:
Jabra Lync Device Portfolio
.
Because a Lync Voice solution is only as good as the audio end-point used, Jabra has a Discovery Offer of up to five free devices for companies who are rolling out Microsoft Lync or Microsoft Office 365. Read more about the
Discovery Offer
on the Jabra web site.
Are you interested in learning more about deploying Lync at your organization? Do you need a blueprint for successful adoption? Have you considered "The Last Three Feet?" We're here to help – give us a call today!