Blog
4/29/2019 - 0 Comments
The introduction of Active Noise Cancellation (ANC) technology into business professional headsets has been a successful pairing. With noisy open office environments and working on the go, active noise canceling technology is important for success (and a sure way to find focus in the midst of chaos).
We are fortunate to test the headsets that we sell, which makes it easy for us to recommend targeted solutions for each customer's unique work style and environment. In this video,
Carey McCoy
provides an overview of the three Active Noise-Canceling headsets that Jabra offers. From corded to wireless, large ear cushions to small ear buds, Jabra has a headset for you!
Take a few minutes to watch this informative and entertaining overview, and then be sure to "Subscribe" to our YouTube channel! Give our headset experts a call at 1-866-998-9991 for personalized headset recommendations.
3/19/2019 - 0 Comments
A guest post by Mike Dershowitz, the CEO of Rethink Staffing, a Fair Trade Outsourcing Company, and its sister facility, RTS Philly Outsourcing Center. He believes that when companies focus on their employees' social and economic progress, it motivates them to perform better at work and produce outperforming results. Contact him at 888-631-0398 or mike@rethinkstaffing.com for an initial consultation. Read more from Mike on his Medium site.
Original publish date: September 3, 2018
As much as the contact center world is deploying AI and bots, like any other business, to optimize its operations with existing humans, or someday replace them, there has been a parallel, growing body of practice known as "Video consumer Service" that is quietly changing our industry as well.
With broadband almost everywhere now,
video conferencing
has come into the mainstream and is used by many business professionals almost on a daily basis. A
2017 study
by IHS Markit stated that 85% of companies surveyed use video conferencing as part of their unified communications environment.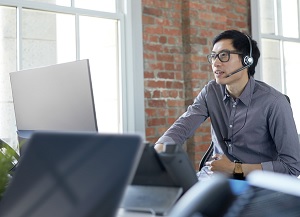 Make no mistake, video consumer service could be coming to your contact center. Video consumer service gives us a fascinating window, not only into the future, but also into a world where "phone etiquette" is insufficient, and a place where bots will not be able to go for decades, if ever.
At
Rethink Staffing
, one of our earliest consumers was a company with a pure Video Consumer Service need. While we do handle their regular multi-channel support, their video consumer service staff is
twelve times
the size of their multi-channel staff. For their business, Video
is
consumer service.
Asked whether or not we could do this, our answer was "absolutely," and we had a handful of early Agents who were game. But once we got started, there were a host of issues we definitely had to worry about, for which neither we nor our client was prepared for.
For the uninitiated, video consumer service is simply rendering a consumer service session via video, where you can see the consumer, and your consumers can see you, and interact with you through a microphone, speakers and a webcam. While not for everyone, you'd be surprised how many consumers find it a viable option.
In preparation for the day when a video consumer opportunity may be at your doorstep, here's a small list of things to consider if one of these comes across your desk:
First up? "Eyelines."
When your consumers can see your agents via video, it's a whole new ball game about what your contact center actually looks like. The consumer will care,
and comment
, about what they see. Embarrassment ensues, like the time we inadvertently positioned an agent's desk in front of the door to the men's room without realizing it. Luckily all the consumer saw was hands being washed before we caught that mistake and corrected it.
Second: "New Etiquette."
We had to re-write the rules here, on both sides. What shocked us most was how some agents became lax in their behavior on camera, in many cases without noticing it. Like the time that a consumer who went to retrieve a piece of information, and our Agent decided now was a good time to brush her hair, and reapply makeup, and continued to do so when the consumer returned.
Third: "Connection."
Connection and computer speeds at your consumer's point of contact will vary greatly. While the software for video consumer service should validate your consumer's technology, this will impact the way your Agents render service. They have to be on the lookout for pauses, echoes, and other impediments to smooth communication. Think back to the early days when we started getting calls from consumers on mobile phones.
Fourth: "Thick Skin."
We had to retrain folks on what they could expect to see from those outlier consumers. No longer were we worried about sarcastic comments, profanity, or yelling. Now, we had to worry about the visual side of all of that, as well as a window into consumer's lives that turned early agents into enthusiastic voyeurs.
And then there was the time when the Agent, confronted with an attractive member of the opposite sex on their video screen, tried to end the call by getting a date.
In the beginning, while it was certainly an entertaining and a profound window into the human psyche, the video feed ended up normalizing Agent behavior, once they were made aware, much faster than the phone does. Simply put, the human psychological need for esteem and not to be embarrassed turned out to be our biggest ally in creating professional behavior while on video.
Also, it's important to not neglect the IT issues here. Forget about just good webcams and microphones — that's table stakes. Your IT department has to worry about
massively
greater bandwidth consumption, redundancy, congestion, as well as packet routing.
Finally, the intimacy of video is so much greater than the phone; 90% of all human communication is nonverbal. The upside to video consumer service is that when it's good, your agents feel much better about helping their consumers and the thanks they receive make a much larger impact on them.
So, if you see a video consumer service application come across your desk, I say go for it. If nothing else, it will be challenging and fun. Just make sure you're prepared for what you're getting yourself into!
3/18/2019 - 0 Comments
These promotions are offered by several of our manufacturers, and include trade-in offers, cash back, and free product. Details and deadlines for each promotion vary, so scroll through this post for all of the current promotions, or go directly to the brand:
BlueParrott
,
Jabra
,
Plantronics
,
Sennheiser
and
VXi.
BlueParrott
When you purchase 10 BlueParrott eligible products on the same invoice, receive either a FREE BlueParrott headset or Jabra Speak 710 with this
BlueParrott Promo
. Eligible headsets include the
B550-XT
,
B450-XT
,
C400-XT
,
C300-XT
,
B350-XT
,
B250-XTS
and
B250-XT
.
These are the same headsets that can be requested for the free product; or, choose a Jabra
Speak 710 UC
or
Speak 710 MS
speakerphone as the free product. Offer is valid until December 31, 2019.
The generous
Trade Up to Jabra Program
is back in 2019! Is it time for a Technology Refresh? For each Jabra or non-Jabra headset or speaker phone traded in, earn from $20-$40 per unit. Purchase Jabra Evolve or Engage wireless headsets, and get $20/unit for existing Jabra Pro 900/9400 or Motion Office headsets or $40/unit for any non-Jabra wireless headset.
When you purchase Jabra Engage 50, Biz 2300 or 2400 II, get $10/unit for your existing Jabra corded headsets; or $20/unit for any non-Jabra corded headset. With the purchase of Jabra Speak 710s, get $20/unit for existing Jabra Speak 410 or 510s, or get $40/unit for any non-Jabra personal or huddle room speakerphones. To learn more about the Technology Refresh/Trade-In program and how to save, visit the
Jabra Technology Refresh Program
site. Deadline for purchases is September 30, 2019; all claims must be submitted by October 31, 2019.
Earn a FREE Jabra Evolve 65t!
The newest offering from Jabra, the
Evolve 65t
are true wireless ear buds for professionals who work both inside and outside of the office. Customers who qualify as
Small and Medium Businesses
must purchase eight Jabra Evolve 65 or Evolve 75 headsets; for
Enterprise
organizations, purchases of 25 and more meet the requirements for the free Evolve 65t ear buds. This offer ends December 31, 2019.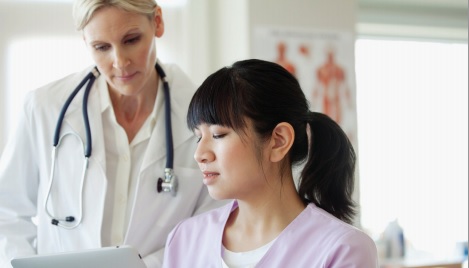 Plantronics is continuing its
Public Sector
discount for organizations in the government, education and health care fields. If you qualify, we will adjust your pricing to reflect this incredible discount on most Plantronics products.
The Public Sector promotion continues, offering big discounts to Education (K-12 and Higher Education); Federal, State, City, County and Local Governments; Prime Contractors for Government; Not-for-Profits; and Healthcare Caregivers. This promotion ends September 30, 2019.
The
GovEd Discount
from Sennheiser lets you save big! Federal Government agencies, Educational organizations, Energy producers, Healthcare providers, State & Local Government agencies, and Not-for-Profit agencies including credit unions that are 501(c), are all eligible for this discount. Most of the Sennheiser product line is eligible for this discount, including the TeamConnect Wireless speakerphone units! There are a few products that do not qualify; contact us for details. The GovEd Discount ends Dec. 31, 2019.
Purchase a new
V200
office wireless system and take advantage of the
VXi Office Wireless Trade-In Program.
For each headset purchased, and old VXi or competitive office wireless headset system sent in to VXi, you receive a $10 check. Download the claim form that's available on the
VXi Trade-In web site
once purchase is made. Claims must be made within 30 days of purchase, and an invoice must be included with the Trade-In request.
For corded headset purchases, there is a
$5 Trade-In Allowance
with purchase of new corded headsets or amplifiers. Trade in old VXi or competitor products, and receive $5 for each headset sent in. Download the Trade-In Claim form found on the
VXi Trade-In web site
, complete the information, and include the form, along with proof of purchase, when submitting the old headsets. Claims must be made within 30 days of purchase.
Are you ready to talk about new headsets? Give us a call at 1-866-998-9991 or send us an
email
!
3/13/2019 - 0 Comments
One of our customers had a very good question for us, and we realized that others may be wondering the same thing: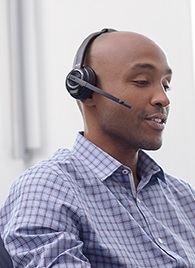 Now that Jabra, Sennheiser, and Plantronics have all come out with new wireless headset options, will my existing EHS cable still work if I purchase one of the new headsets?
The short answer is, "Yes, as long as the new headset is the same brand as your old headset!"
And, as long as you are utilizing the same phone brand and model.
Here's why:
(WARNING: Stop reading now if you aren't interested in the finer details of wireless headset remote answering).
EHS cables are built to be compatible with specific phone brands and models; as phone vendors release new phones, the headset manufacturers create compatible EHS cables.
EHS (Electronic Hook Switch) cables electronically connect to a wireless headset and phone. An EHS passes predefined signaling. Users can handle calls with the headset only, freeing them from remaining next to the phone. EHS cables provide a ring alert signal to your headset anytime your desk phone rings. It also allows you to answer and end calls right from your headset anywhere within your headset's range. EHS adapters eliminate the need for an old-school handset lifter.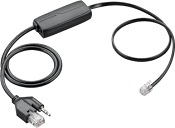 Yealink
is one phone brand that manufactures
its own EHS adapter
, compatible with the various headset brands. We sell that as well!
Please note: If you switch headset brands, then you will need to also update your EHS cable to the new brand.
If you're in doubt, check the brand's compatibility guide for the most up-to-date information:
Jabra
Plantronics
Sennheiser
Or
contact us
, and our Headset Experts will get you the answers you need: 1-866-998-9991. After all, Communication Is Our Business!
3/6/2019 - 0 Comments
Help your Jabra headset become smarter.
While you may be familiar with high-quality devices from
Jabra,
such as Evolve headsets and Speak speakerphones, you may not know that Jabra also provides innovative, AI-enhanced software that supports its USB (and Bluetooth with Link 360/370 adapter) products. Jabra Direct 2.0 is available now —
and, it's free
.
Core functions of Jabra Direct:
•Automatically get firmware updates so that your headset is always updated and secure.
•Personalize your headset settings according to personal preferences, or company requirements. Functions such as ringtone, sound optimization for music, audio protection level, sidetone level, and many more areas can be controlled.
•Remote call control (answer/end/call, mute, redial, etc.) for UC platforms.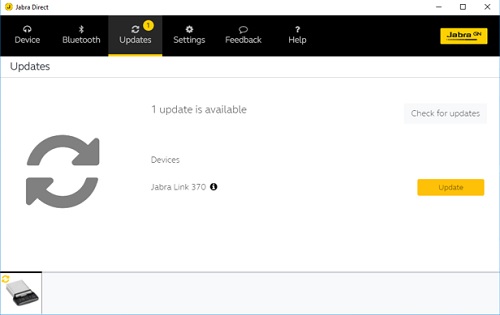 Jabra Direct has an intuitive, user-friendly interface that provides overall status of each connected device, and notifications of updates. To receive firmware update notifications, go to Settings and switch Update Notifications to "On." This alerts you to open Jabra Direct, and run updates as they are available.
Key updates in Direct 2.0:
Enterprises that use a proxy server, and those who prefer on-premise deployments, are now supported. Jabra Direct 2.0 will be able to connect to the Internet and receive settings and firmware in proxy-based environments. For enterprises that prefer not to be connected to the Internet, change settings or firmware updates on Jabra devices can be managed and controlled by the enterprise, within their firewall. Another update: Direct 2.0 provides data about end-user name and PC/Mac name, which is also then added as a service in Xpress 2.0. Additionally, Jabra announced that it has certified the handling of customer data in the Jabra Cloud with the SOC 2 declaration. Jabra is committed to protecting customer data against unwanted usage by a third party.
Download Jabra Direct 2.0 for Windows or Mac, from the
Jabra Direct
page.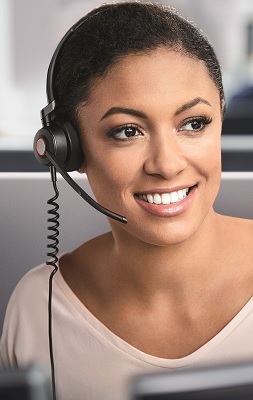 Jabra Engage 50
Jabra Engage 50 is a new generation of digital headsets that provide additional call analytic metrics. The Engage 50 is the first Jabra corded headset to have the chip in the headset itself, making it a true digital headset. The Engage 50 uses the very latest chipset, and this, along with the positioning of the chip, delivers enhanced functionality and user experience.
No longer are headsets an accessory to a phone system, simply transmitting human audio; they are now a "business critical element of the whole infrastructure," according to Jabra SVP Holger Reisinger. These digital devices provide call analytics that in some cases can listen to how people say things, extracting human sentiment from the human voice. Reisinger says that Jabra is providing proof of concept with new KPIs for the contact center, such as measuring agent friendliness against customer anger, in real time. Rather than recording calls and doing transcription analytics, this information is measured in real time and shown as a graph,
in front of the agent who is on the call
, so that the agent can adjust tactics, mid-call.
Jabra Xpress 2.0 Now Available
For organization-wide updates and inventory management, we recommend
Jabra Xpress
, a free online tool. Read all about Jabra Xpress on our blog, here:
Jabra Xpress: Mass Headset Deployment Made Easy
. This program allows IT staff to create software packages for remote updates, configurations and asset management of Jabra USB devices. Jabra Xpress has also been updated to a 2.0 version. To create an account to begin using Jabra Xpress, or update existing Jabra Xpress to the 2.0 version, go to the Xpress microsite:
Jabra Xpress 2.0
.
Jabra Direct 1.0 and Jabra Xpress 1.0 will be discontinued June 30, 2019. We recommend updating to the new 2.0 versions today. Please reach out to us with any questions you have about these updates, and let us know if you need any assistance: 1-866-998-9991.