Blog
8/26/2015 - 0 Comments
In
part 1
of this series about the open office environment, we established that open office work environments are pervasive, distracting and generally not conducive for work that requires concentration – in fact, a Plantronics study found that overall productivity is reduced by 40%.
As the saying goes, "the show must go on" and with deadlines to meet (plus the paycheck associated with the expectation of work being accomplished), here are some tips to help you navigate the environment to your advantage: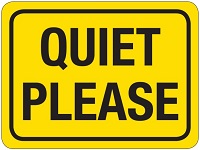 Establish expectations of a quiet office environment. Talk to your manager and ask if this policy can be implemented. If there is the expectation that the office will be quiet, conversations will be held at low volumes, and those walking through the environment should be quiet, with prolonged conversations held elsewhere. Reminders of this policy can be in the form of signs that are hung up throughout the entire work space.


Ear plugs. While this may look slightly ridiculous, sometimes it can be the only way to find true quiet, especially if you have no obligation to being on the phone. You can pick up ear plugs at any discount store for very little cost.


Headsets. With the variety of active noise cancelling headsets on the market today, and the "cool" factor that wearers of large headphones are enjoying, wearing a headset can provide a solid audial barrier. Active noise cancelling quiets ambient sounds by creating frequencies that block the noise at your ear. Not all sounds are blocked; overall, they will be significantly reduced.

Headsets also serve a practical purpose in your business environment because you can answer phone calls with them. The headsets are equipped with noise-cancelling microphones so that your caller will hear you, and not your noisy neighbor who laughs a bit too enthusiastically.

The Voyager Focus UC from Plantronics is a Bluetooth wireless headset that gives you dual ear coverage, an on/off Active Noise Cancelling switch, and an Open Mic button to tune into the environment when you need to. This headset connects seamlessly across PCs (with the included USB adapter), smartphones, and tablets. When you listen to music (delivered with incredible bass and natural midtones) the Focus UC pauses the music whenever you take the headset off, and resumes play when you put it back on. MSRP is $299.95.

For a corded headset with Active Noise Cancelling, the Jabra Evolve 80 UC has speakers that are built for style and comfort with large leatherette ear cushions, specifically designed to reduce office noise. When combined with active noise-cancelling technology, you get maximum protection against office noise. A busy-light indicator on the headset signals user availability to colleagues. The Evolve 80 connects via 3.5mm and USB for use with smart phones, tablets, and PCs. MSRP is $329.00.

Listening to music in your headset can be a great productivity booster. What type of music is best? Studies show that classical music or music without lyrics (such as an Ambient channel on iTunes Radio) can increase productivity, because it provides a mindless distraction. Music with lyrics can be distracting, especially when writing.

Or, if music just isn't your thing, "white noise" can be a great alternative. The app Noisli (also available to stream at http://www.noisli.com/ provides 16 audio samples of nature, a coffee shop, a fireplace, white noise, and others). There is a special mix for Productivity, available by selecting that choice. Other options include Rainy Mood or Simply Noise. Ultimately, it is an individual preference and something that can be determined through trial and error until you find your concentration zone.


Use busy lights or hang a "Do Not Disturb" sign on your chair or in your office space. Use this judiciously; it may appear that you are not a team player if your "Do Not Disturb" sign is displayed more often than it isn't.


Work from home. If this is a possibility, it may be worth looking into; however, a lack of infrastructure at your workplace might not allow for this solution.

Ultimately, we are responsible for how we react in any type of environment. How can we best adapt to this newer concept of open office space? Considering the variety of solutions available to combat open offices, hopefully you'll find the right solution that helps you along the way. If you have any questions regarding this topic, please reach out to us. We'd love to chat!



Overcome noise challenges in the open office
8/11/2015 - 0 Comments
Step into any business building today, and you will probably see an open office environment. Typically, phones are ringing, workers are typing, talking on the phone (sometimes on speakerphone!), and talking with each other over their desktops. The space looks busy, productive and efficient.
More than
70 percent of workers
in the United States work in these barrier-free environments. Seen as the modern way of doing business (compared to a traditional work place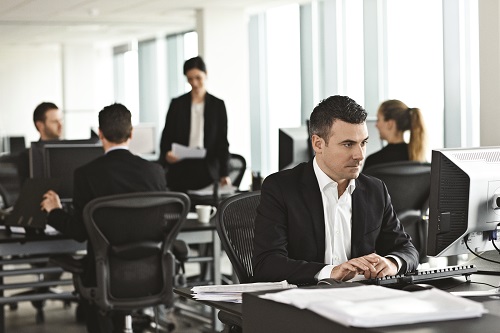 with offices and doors) the philosophy of an open workplace: to keep co-workers accessible and immediately available, is admirable. The open office "breaks down" the walls of status and division, keeping managers and employees in the same space.
There is a dark side to all of this openness, as open office floor plans have increased turnover and work-related stress, as well as lowered overall productivity (up to 40% as one
Plantronics study
found). For some workers whose senses stay on high alert all day, it is common to leave the office tired and stressed about not accomplishing daily tasks. Realistically, the open office doesn't allow for concentration or private conversation.
There are both pros and cons to open offices. Some of the
benefits
are:
Easily adaptable and expandable
Greater collaboration
Workers appear to be busy
Not as unattractive as cubicle arrangement
Lowered square foot per person: more people in one space, and less real estate cost
On the other hand, the
drawbacks
include:
Distracting: employees unable to focus
Lack of privacy: Worry of co-workers counting bathroom breaks, overhearing personal phone calls, etc.
Noisy: Plantronics reports that 53 percent of employees say they are disturbed by others when trying to focus
Lack of control over lighting and temperature
Illnesses and germs freely spread
Fortune magazine asserts "age discrimination" in the open office – those age 55 and older seem to flee the business once an open office is implemented
With all of the research – both anecdotal and scientific – available today, some environmental changes can be implemented to meet needs of both the business, and the employees. For example, huddle rooms (for two or more people working in collaboration) with a table and a door are utilized by teams that need to freely discuss projects and other items. For solitary creative work, such as writing, project planning and more, secluded rooms with a door (similar to a traditional office) are a great solution.
Employees themselves are their best managers, as they know which environmental triggers distract them. Is there a time during the day when you need to unplug from the environment, and plug into your thoughts? A great active noise-cancelling headset can be the answer to your problems. Short of moving to a secluded island (which is inconvenient, and of course, offers no wifi connection!) what are some of the ways we can manage our environment, and not let it manage us?
What we have lost in privacy, silence, and the time to think, we have hopefully gained in collaboration; ultimately, however, it is up to each individual to manage themselves within the open office environment. In
part 2
of this series, we discuss some solutions to surviving – and even thriving – in the pervasive modern open office environment.
7/14/2015 - 0 Comments
Managing an inventory of antiquated and obsolete headsets can prove to be a losing proposition. Customer service agents become frustrated with defective, older equipment that breaks, making their jobs more difficult. The purchase of new equipment, especially headsets, can improve morale and simplify work processes.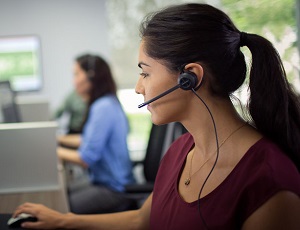 When it's time to purchase those new headsets, Plantronics has a sweet offer: buy any headset from the new and updated EncorePro series, and you receive $15 for each old headset you send in to Plantronics, up to the quantity of new headsets being purchased.
And Plantronics has made this process easier than ever, as they are providing you with the prepaid shipping label to send those old headsets in!
With four great options to choose from, the EncorePro headsets have something for every wearer and business environment. From the premium style features of the EncorePro 700 headsets, to the super-light EncorePro 530, and the complete flexibility of the EncorePro 540, the headsets feature superior noise-cancelling microphones that keep the conversation focused on the caller.
The EncorePro 500 series combines forward-looking design with comfort. High-quality custom polymers and structurally employed metals creates designs that are thoroughly robust, yet up to 22 percent lighter. Laser-welded construction and metal joints provide durability in all work place environments.
EncorePro 530
Lightest in its class, this headset is designed with wearing stability and simplicity. With a choice of two different sized soft bendable ear loops, users get all-day wearing comfort.
EncorePro 540
The unique convertible design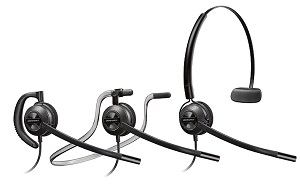 provides the choice of three easily changed wearing styles for personalized all-day comfort, without compromised performance. The patent-pending C-clip system makes switching wearing styles very easy; this headset will satisfy all user preferences!
The EncorePro 700 series is Plantronics' top-of-the-line quick disconnect headsets, designed for customer service representatives. Its distinctive design is slim and stylish with an elegant satin finish. The featherweight materials and leatherette ear pads ensure luxurious comfort, while its unique curved, telescoping microphone and pivoting boom deliver crystal-clear, private conversations.
EncorePro 710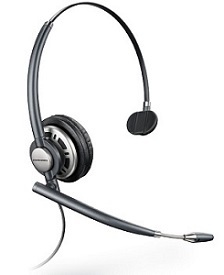 The mono ear headset helps you to keep one ear on the customer, and the other on collaboration. The mic boom arm rotates up and down, as well as out and in, for superior microphone positioning. With a unique, extendable boom arm, further positioning can be achieved. The adjustable headband and extra-padded leatherette ear cushion provide optimum comfort!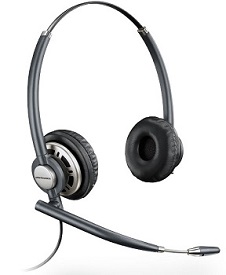 EncorePro 720
The duo ear variant provides immersive focus for improved customer interactions.
7/2/2015 - 0 Comments
Much like learning to dance, buying a
headset
can be confusing and seem out of reach. By breaking down the dance into steps, the overwhelming process of the 3-minute piece of music is simplified. The same is true with buying a headset. Follow these steps and the perfect headset is in your grasp – and on your desk – in short order.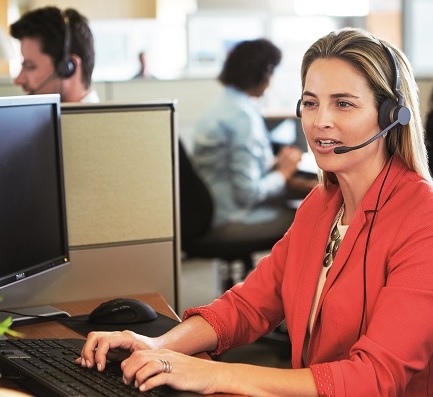 First Step:
Customization
The amount of choices and design features seem endless at first, but can be simplified to these decisions:
Wearing style (over the head, over the ear, behind the neck, convertible)


Mono or duo? How much sound do you need in order for you to concentrate on your caller rather than on everything else around you? If your work environment is noisy or busy, you might want to consider a duo style that covers both ears.


Microphone (Voice Tube, Noise Cancelling or Ultra Noise Cancelling)


Ear cushion type (foam or leatherette) and size


Weight of the headset


Connectivity – to an office phone? Computer? Mobile? Or combination?


Call control – Will you want to be able to mute your mic or volume up or down as need be?


Warranty? Most offer 2 years; some, 3. (At Avcomm, we have a 30-day money back guarantee. If an out of box failure should occur, a replacement product will be sent the day we know of the failure; just return the defective product to us using the shipping label we send out – you pay nothing).
Second Step:
Compatibility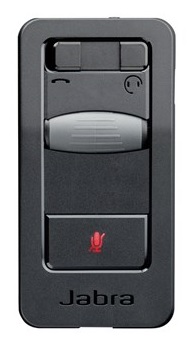 Which quick disconnect cord or amplifier do I need? How do I choose?
An amplifier provides added volume and control, allowing you to mute and adjust your volume control as you need. Batteries or USB cords give power to amplifiers, unless you purchase an AC adapter. The cost of an amplifier (typically around $100) is higher than the direct connect cord (between $20-40).
With the quick disconnect option, the wearer can keep the headset on, while stepping away from the desk,

because they are simply disconnecting the headset from the bottom cable. These quick disconnect cords are unique to each manufacturer, so you must buy the same brand headset and cord.
Each manufacturer offers a helpful compatibility guide to help determine if an amplifier is needed for your environment.
Jabra Compatibility Guide
Plantronics Compatibility Guide
Sennheiser Compatibility Guide
VXi Compatibility Guide
We are also happy to help answer any questions regarding compatibility.
Third Step:
Cost
How much am I willing to spend?
You can get more features, added durability and extended warranty with a larger initial investment. Decide which features are of utmost importance. Any of the options that Avcomm Solutions offers are commercial grade headsets – the quality is better than the $15 plug-and-play options you have seen in the office supply stores.
Bulk purchases can produce big discounts, as well as consistent, recurring orders can merit special pricing.
Fourth Step:
Contact us!
Every work environment is unique and we are prepared to tailor a solution that best fits your needs. You can call us at 1-866-998-9991 (M-F 8:30 a.m.-5 p.m. Central Time), or connect with us on Twitter (
@AvcommSolutions
) and we will be happy to walk you through the tried and true steps of choosing the right headsets for your environment!
5/5/2015 - 0 Comments
The Jabra Stealth UC headset weighs no more than a quarter, is shorter than a standard toothpick, yet delivers powerful technology. If you're looking for a small, lightweight and discreet Bluetooth headset that fits directly into your ear, the Jabra Stealth UC fits the bill. As a Red Dot Design Award 2015 winner, the product's design has been given the "cool" stamp of approval.

The Stealth headset has been available for about a year; the addition of the USB dongle has made the headset feasible for the UC market. Those who work with their PC and smartphone will enjoy the ability to use either device with this headset. Available in both
UC
and
Microsoft Lync-optimized
versions, the Stealth UC is compatible with any major softphone on the market.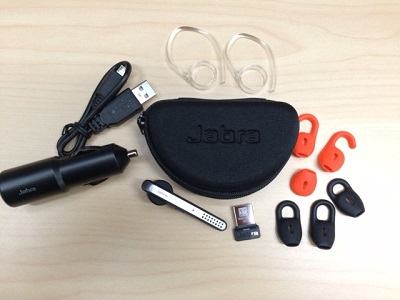 A microPOWER battery (typically found in hearing aids) makes this the lightest-weight Bluetooth headset on the market – a mere 0.28 ounce! The small design provides a comfortable in-ear fit for wearing in either the left or right ear. To customize the fit, two sets (3 red and 3 black) of comfort ear gels of various sizes are included (see image). Users who prefer an ear hook wearing style have 2 different sizes of ear hook to choose from, which are also included in the box. The Stealth will stay in the ear, so an ear hook is not necessary.
Wearers get talk time of up to 6 hours; to a fully charge the headset takes about two hours. A micro USB to USB charge cord and car charger are included in the box. A wall charger is available as an accessory purchase; however, most standard mini USB to USB charge cords will charge the headset (the exception is the iPhone 5 and 6 power cords). Talk time is stated each time you turn the headset on, so there are no surprises when you're in the middle of a call, the battery dies, and your calls gets dropped!
Other features:
Dedicated voice control button to communicate with Siri or Google Now (device dependent).
Noise Blackout technology with dual mics for noise-cancelling.
HD Voice enhances sound quality.
NFC connection (if available on your device)
Intelligent volume control automatically adjusts the volume you hear in your speaker.
Dedicated Apple hardware built-in enables the "Made for Apple iOS" certificate.
Bluetooth indicator light flashes blue for Bluetooth pairing; green when turning "on" and red when turning "off."
Voice commands.
MSRP for the Jabra Stealth UC and Stealth MS is $150.00.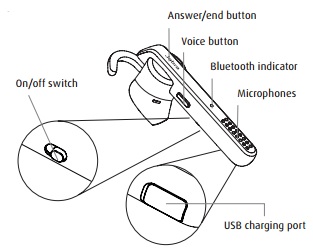 To enhance the Stealth UC experience, download the free Jabra app. More information about the apps can be found here:
Jabra Apps
.
Jabra Assist
Link to
Jabra Assist
Jabra Assist helps you pair the headset with your device of choice without hassle, the battery meter warns you when you need to recharge your device, and when you need help using your headset and in-car speakerphone you can check the animated user guidelines in the app.