Blog
6/20/2018 - 0 Comments
Tune out of a distracting environment, and tune into your work, with these headsets from Plantronics.
Active Noise Canceling
technology has crossed over to the business professional world, due to demand from professionals who require a space to concentrate, as well as headsets with noise-canceling microphones for premium call quality. The Active Noise Canceling (ANC) helps block out distracting sounds, creating a "quiet zone" to enhance productivity, no matter the environment.
Overview of Plantronics headsets with ANC: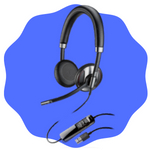 Blackwire 725
• USB
• Headband
• Corded
• Foldable ear cushions for travel
• In-line Call Controls
• Smart Sensor Technology lets you answer the call by placing the headset on your head
•
UC
and
Microsoft-certified
versions
• MSRP: $179.99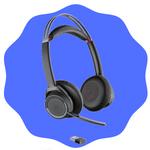 Voyager Focus UC
• Bluetooth and USB (with included dongle)
• Comfort headband
•
UC
and
Microsoft-certified
versions
• Smart mic boom: wear boom on either side and maintain right/left stereo performance and locations of volume/track buttons
• Oversized soft leatherette ear cushions
• Headset and Charging Stand available:
UC
or
Microsoft
• MSRP: $299.95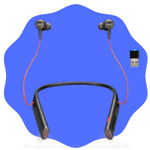 Voyager 6200 UC
• Bluetooth and USB (with included dongle)
• Neckband vibrates to signal an incoming call.
• Ear buds
• Intuitive controls
• Choice of color:
Black
or
Sand
• MSRP: $299.95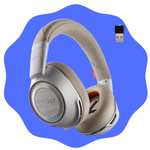 Voyager 8200 UC
• Bluetooth and USB (with included dongle)
• No microphone design features a 4-mic array for voice pick-up
• Large ear cushions completely surround the ear
• Choice of color:
Black
or
White
• MSRP: $299.95
All of these headsets come with carrying cases to protect the headsets in and out of the office.
If you're not sure which Plantronics ANC headset is right for you, give us a call at 1-866-998-9991, and our headset experts can help!
6/7/2018 - 0 Comments
This new Jabra wireless trade-in promotion is a first of its kind, offering
$40 cash back for each non-Jabra wireless headset that is traded in
, when you purchase a new Engage Series, Motion Office, Evolve 65/75 or 75e wireless headset. If you have wanted to make the switch to a Jabra wireless headset, NOW IS THE TIME! We have not seen a trade-in this big, EVER!
Or, if you already use a Jabra wireless headset (specifically, the PRO 9450, 9460, 9465 or 9470), you can upgrade to either the new Jabra Engage wireless series or the Evolve 65/75/75e and receive $20 rebate check in the mail for trading in your old Jabra wireless through the Trade-In, Trade-Up promotion.
These
Trade-In, Trade-Up
promotions are only
good through September 30, 2018,
so take advantage of the savings and equip your staff with the latest and greatest in office and mobile wireless technology. Click here for the promotion's
T's and C's
.
Learn more about the qualifying headsets, below: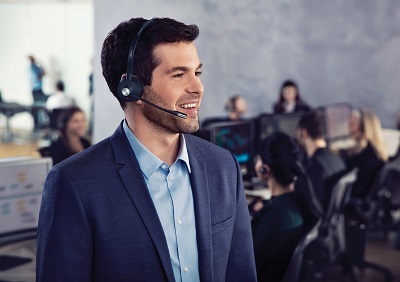 Engage with Jabra
and its Engage series, an entirely new class of DECT wireless professional headsets. The series provides superior wireless connectivity to a range of up to 490 feet - and enables up to 3 times more users to operate in the same office space with no loss in connection quality. Integrated busy lights in these headsets increase productivity and alert co-workers' to your busy status.
Engage 75 headsets connect up to five devices simultaneously, increasing availability for customer calls. And the choice of wearing styles support workers' preferences and workstyles.
For detailed information about each Engage headset, click on any of the following links:
Engage 65 Mono
Engage 65 Stereo
Engage 65 Convertible
Engage 75 Mono
Engage 75 Stereo
Engage 75 Convertible
Jabra Evolve
headsets create a complete concentration zone that boost focus and work satisfaction for employees in noisy open office environments. Whether on calls or listening to music, the Jabra Evolve headsets are compatible with all UC platforms, including Certified Microsoft Skype for Business, so your productivity and presence are seamlessly integrated; when you are busy or on a call, your headset busy light will automatically appear red.
Passive noise cancellation filters out the background noise so you can hear and be heard with clarity. This creates a concentration zone, so you can stay focused.
These Evolve headsets are all Bluetooth-enabled. The included dongle with the Evolve 65, Evolve 75 and Evolve 75e headsets connects the headsets to PCs. Evolve 65 and Evolve 75 are traditional over-the-headbands, Evolve 75e are the newest to the series, and offer neckbands with earbuds. Evolve 75 and 75e are equipped with Active Noise Canceling, for a true ANC experience.
Evolve 65
|
Mono
|
Mono Certified for Microsoft Skype for Business (MS)
|
Mono with Charging Stand
|
Mono MS with Charging Stand
|
Duo
|
Duo MS
|
Duo with Charging Stand
|
Duo MS with Charging Stand
Evolve 75
|
Duo
|
Duo MS
|
Duo with Charging Stand
|
Duo MS with Charging Stand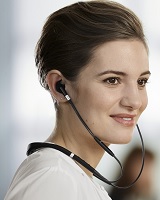 Evolve 75e
UC
|
MS
Visit the Jabra web site to learn more about the promotion, and instructions on how to claim the cash back:
Trade In, Trade Up
Contact us today for recommendations on the best headsets for your unique requirements!
5/23/2018 - 0 Comments
If you watched the recent
NBA Draft Lottery
, the event had a decidedly Vegas feel. With each of the bottom 14 teams in the league assigned chances based upon reverse order of this year's record, excitement was created by watching the ping pong balls spin in the lottery machine – and, knowing the odds of the #1 pick for each team, the audience was clearly invested in the process.
This, says Darrin Briggs, President and CEO of
Snowfly Incentives
, is gamification in action. Gamification has become a common tool in today's workplace to increase employee productivity, engagement, and job satisfaction.
When you think about it, the principles of gamification are all around us, such as at the grocery store, fitness apps, and Facebook. Briggs defines gamification as "Taking activities in life or in business and adding gaming aspects to an otherwise somewhat mundane activity." Gamification does not mean playing video games necessarily; but it does involve reinforcing behaviors that will then have a positive outcome for the business and individual.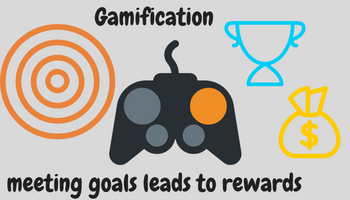 By creating small, incremental positive behaviors, a cultural shift occurs that moves everyone in the right direction. When these behaviors are tied to business goals, the program is meaningful to staff members. While gamification has taken a foothold in the business world, not all programs are created equally. Briggs estimates that 80 percent of companies administer gamification manually, while 20 percent use some sort of automated program.
Snowfly Incentives
is one of these automated programs, offering an employee recognition and incentive system that uses principles of psychology and behavior modification. The business was created in 1999 by Dr. Brooks Mitchell, a behavioral psychologist, who specializes in workplace environments. Computer analysis, and now AI (Artificial Intelligence), utilized by Snowfly quickly determines what's working, so that changes can be made on the fly for the most effective program tailored to each company.
This is a culture shift in the workplace.
As Briggs says "it's not a manager's job to motivate people. What you have to do is create an environment where people feel valued and are motivated by whatever motivates them." Snowfly knows that employees are motivated by different things: for some, it's money; others prefer time off, the chance to wear jeans at work, a close-up parking spot … the list goes on.
"Our job is to create an environment to motivate people naturally," says Briggs. "This does not mean you're playing video games all day. It's an aspect of taking something that has to do with gaming, but put it into an environment where you don't see it."
The Snowfly system has an interface that users log into, with a dashboard displaying their performance of different metrics, leaderboards, and standards. Employees can then "level up" (i.e. work their way up) to earn greater rewards. And Snowfly's real-time incentives provide immediate rewards – there's no waiting until the end of the week, month, or quarter to be awarded. Briggs says "If you want to change a behavior, you have to reinforce that behavior as quickly as possible after it was performed." This goes back to Psychology, and the research of B.F. Skinner and Pavlov.
Another thing that makes Snowfly probably the most unique to the gamification market: by employing Vegas-style principles such as slot-machine style games, an aspect of luck (or chance) increases the effectiveness of the program and the long-term engagement by employees. For various goals met, employees are rewarded with tokens for game play, which then brings possibly larger rewards. The anticipation of the potential reward is part of the fun, and creates buy-in from employees. For employers, the costs are fairly minimal; however, the perceived value, says Briggs, is as much as 40 percent higher than the actual cost.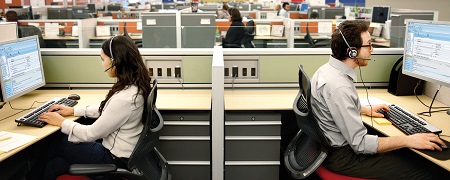 Gamification creates an environment where both employees and employers find mutual success; a well-placed and administered program is a win-win for all. For more information about Snowfly Incentives, and what they can offer your organization, contact Darrin Briggs at
dbriggs@snowfly.com
or 1-877-766-9359. Check out their web site, here:
Snowfly Incentives
.
5/7/2018 - 0 Comments
These promotions are offered by several of our manufacturers, and include trade-in offers, cash back, and free product. Details and deadlines for each promotion vary, so scroll through this post for all of the current promotions, or go directly to the brand:
Jabra
,
Plantronics
, and
VXi.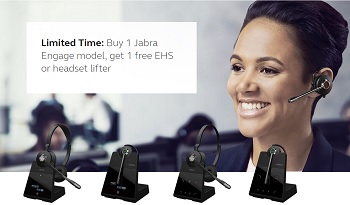 Get Engaged with Jabra:
a FREE remote answer device (either EHS cable or Handset Lifter) is yours, with purchase of any of the new Jabra Engage wireless headsets.
The Engage series is an entirely new class of DECT wireless professional headsets engineered to boost customer satisfaction. Integrated busylights (in the mic boom), up to 13 hours of talk time, Engage enables up to three times more users to operate in the same office space, with no loss in connection quality. The Evolve 65 headsets connect to an analog phone and a PC; Engage 75 headsets allow up to five connections simultaneously: 2 USB devices, 2 Bluetooth devices, and 1 desk phone.
Check out each Engage headset variant, below:
Engage 65 Mono
Engage 65 Convertible
Engage 65 Stereo
Engage 75 Mono
Engage 75 Convertible
Engage 75 Stereo
This promotion expires Sept. 30, 2018. To claim either the free EHS or Handset Lifter, visit
Get Engaged with Jabra
before Oct. 15, 2018.
The
Trade-In Offer
from Jabra gives you a rebate for the purchase of new Jabra headsets, when you trade in your old headsets:
•$20 rebate toward purchase of Jabra Pro 900/9000, Motion Office, or Evolve 65 wireless headsets or
•$10 rebate toward purchase of Jabra corded headsets (excluding UC Voice, Biz 1500 and Evolve 20/30 headsets)
Claims can be submitted at the official
Jabra Trade In page
. This program expires December 31, 2018.
Want to earn a FREE Engage 75 wireless headset?
Companies with more than 500 employees who purchase 25 of any combination of Jabra Pro 9400 and 900 wireless headsets, qualify for a free Jabra Engage wireless headset. Submit a claim to Jabra here:
Enterprise Offer
. SMB companies qualify for this promotion when they purchase eight of the Pro 9400 or 900 headsets. Submit claim here:
SMB Offer
. Offer ends Aug. 31, 2018.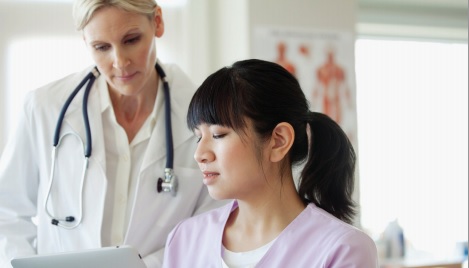 Plantronics is continuing its
Public Sector
discount for organizations in the government, education and health care fields. If you qualify, we will adjust your pricing to reflect this incredible discount on most Plantronics products.
The Public Sector promotion continues, offering big discounts to Education (K-12 and Higher Education); Federal, State, City, County and Local Governments; Prime Contractors for Government; Not-for-Profits; and Healthcare Caregivers. This promotion ends September 30, 2018.
Purchase a new
V200
office wireless system and take advantage of the
VXi Office Wireless Trade-In Program.
For each headset purchased, and old VXi or competitive office wireless headset system sent in to VXi, you receive a $10 check. Download the claim form that's available on the
VXi Trade-In web site
once purchase is made. Claims must be made within 30 days of purchase, and an invoice must be included with the Trade-In request.
For corded headset purchases, there is a
$5 Trade-In Allowance
with purchase of new corded headsets or amplifiers. Trade in old VXi or competitor products, and receive $5 for each headset sent in. Download the Trade-In Claim form found on the
VXi Trade-In web site
, complete the information, and include the form, along with proof of purchase, when submitting the old headsets. Claims must be made within 30 days of purchase.
Are you ready to talk about new headsets? Give us a call at 1-866-998-9991 or send us an
email
!
5/3/2018 - 0 Comments
Sennheiser
has lowered pricing on their single-connection wireless headsets, and it's time to take a closer look at this series.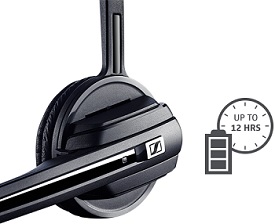 The streamlined design of the Sennheiser D 10 wireless DECT headsets makes no compromises when it comes to exceptional sound. Its single connectivity to either a desk phone or softphone/PC makes it easy to "plug and play" ... simply roll out and manage — the perfect headset solution for all sizes of companies. D 10 puts the freedom of a wireless solution within reach of even more everyday users.
Why Wireless?
We recommend wireless headsets for businesses and contact centers alike, for several reasons.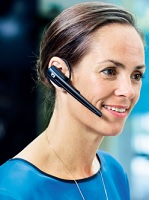 The freedom that a wireless headset allows — such as leaving your desk to grab a file, consult a colleague, or pick up a product from a product table to provide customer support — can all be accomplished while helping customers during the phone call. Placing someone on hold for extended periods of time is no longer necessary!
Another benefit of using wireless headsets is the conferencing feature. Did you know that you can conference up to three additional wireless headsets to the same base unit,
for a total of four users on the same call
? Wow! No cords are necessary; the process is a simple docking on the main base unit during an active call, accept the additional headset(s) and boom! You're on the call. To end the conferencing feature, simply end the call and turn off all of the headsets.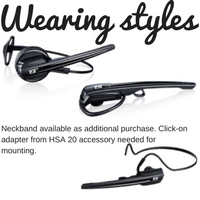 The headset comes with two wearing styles: ear hook and over-the-head band. A neckband is also available, as an additional purchase. Please note, the click-on adapter from the
HSA 20 accessory kit
is needed for mounting the headset to the neckband.
D 10 comes in 3 variants:
D 10 PHONE connects to desk phones. An EHS cable or handset lifter can be added to the order, so that you can answer and end calls away from your desk. Which one you need depends upon your desk phone; contact us and we can help determine what you need for remote answer capabilities.
D 10 USB connects to a PC or laptop. Sennheiser software can be used to upgrade the headset firmware, which is available at no charge. The Software Updater can be found on Sennheiser web site; scroll to the Download End User version.
D 10 USB ML connects to a PC or laptop and is the Microsoft-certified headset for Skype for Business/Lync. It is fully compatible with the Microsoft platforms.
With this new lower pricing, wireless headsets are a cost-effective option! The D 10 series from Sennheiser has a lot to offer — at a great price.
Contact us
today!