Blog
2/14/2017 - 1 Comments
Since it is the season of celebrating love, we put together this list of a few of the things we love at our office.
Headsets
As a leading reseller of headsets, we are fortunate to test all of the high quality professional headsets that we sell. Some of our favorites today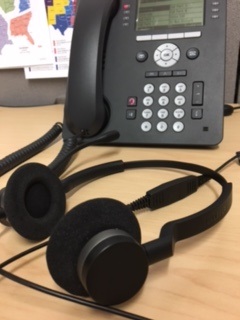 include the Jabra
Evolve 40
and
Evolve 65
, Sennheiser
SD Pro 1
and
SD Pro 2
, Jabra
BIZ 2300
, VXi
V150
and from Plantronics, the
Voyager Focus
and
Savi W730
.
Why do we love these headsets? Many of them are wireless, lightweight, comfortable, and offer flexible connections. Whether we're on phone calls, streaming music, participating in webinars or videoconferencing, in the office or traveling, the headsets provide quality sound, noise cancelling mics, and in the case of the Voyager Focus, Active Noise Cancelling in the ear speakers that can be switched on and off.
The choice between corded and wireless; Bluetooth or DECT; single or duo ear; wearing style; desk phone, PC or mobile phone connection, and so much more means that you are getting a custom headset for your unique situation. The technology in these headsets is also top-of-line: hearing protections, wideband audio, and in the case of USB or UC headsets, firmware updates.
By no means is this an exhaustive list of our favorites; however, it is indicative of the size and scope of headsets that we offer.
Speakerphones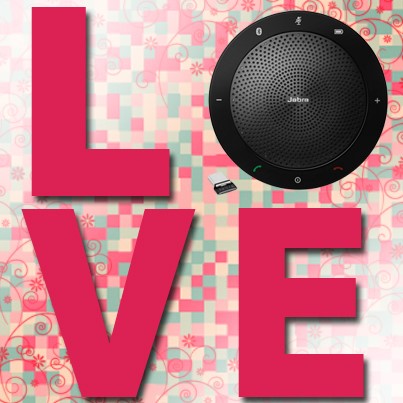 Turning our attention to conference phones and speakerphones, we are again fortunate to test most of the units that we sell. Some of our favorites include the Jabra
Speak 510+
,
Konftel 300
and Sennheiser
TeamConnect Wireless
.
For smaller room conferencing needs, the Jabra Speak 510+ (both
UC
and
MS
versions) is perfect for those break-out sessions (less than 7 people). The 510+ comes with a Bluetooth dongle that will connect your PC to the Speak unit. It is also Bluetooth-enabled for conferences via smartphone or tablet, and can be hard-wired to a PC with the included USB cable that wraps underneath the speaker. This USB cable is connected to the Speak 510, so that it can never be accidentally misplaced.
For analog conference lines, the
Konftel 300
is a top choice. Its sleek design looks great on any conference table, and the large buttons on the unit make call dialing easy. We also love its versatility, since it can also be connected to PCs, and with the purchase of an accessory cable, the unit can also be connected to smartphones and tablets. Expansion mics are available as an optional purchase to increase the coverage area of the Konftel 300. The final selection in this category is the Sennheiser
TeamConnect Wireless
system, which we use every week for our Monday morning meetings. With our work-at-home staff calling in, and the staff here in the office spread throughout a large-sized room, TeamConnect Wireless satellite mics can be placed strategically to pick up voices, no matter where they're located! The handy, hard-sided charging case that comes with this system truly makes the TeamConnect Wireless the most diverse conference unit that we offer.
Goodies
We are fortunate that our local
Mountain Man
representative keeps us stocked with candy, nut and snack choices. Passing through the break room, you're bound to find something yummy to munch on! A staff favorite: Cherry Sours candy. For salty snacks, our local popcorn company, Le-Vi Kettle Corn, delivers a variety of popcorn flavors that please most everyone.
We cannot forget about the beverages that keep us going, including our morning pot of
LaRue Coffee
, based out of Omaha, NE. The variety pack delivers deliciousness on the daily ... and offers such delectable choices as Chocolate Hazelnut, Jamaican Me Crazy and French Vanilla ... what more could an office staff want? After lunch, our beverage choices turn to our basket full of (caffeine free)
Bigelow Teas
. From Ginger Snappish to Girl Scout Thin Mints, the selection of choices keeps us nice and warm, especially during our cold Nebraska winters!
What do you love about your office? Leave us a comment on the Comments tab, above.
2/9/2017 - 0 Comments
The brands that we sell provide professional-grade, high quality headsets for every user and situation. For those tasked with purchasing headsets for hearing aid users, we have put together a list of options by manufacturer:
Sennheiser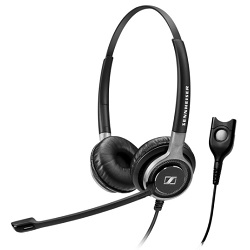 New to the scene is the
SC 660 TC
, the latest addition to Sennheiser's high quality Century wired headset series. The SC 660 TC is compatible with all standard, telecoil-equipped hearing aids.
With Sennheiser Voice Clarity wideband sound and its ultra noise cancelling microphone, the
SC 660 TC
delivers a superior and natural voice experience that makes conversations crisp and crystal clear – optimizing speech intelligibility even in noisy contact center and office environments. In addition to the speaker, SC 660 TC is equipped with a hearing aid-compatible telecoil transmitter on both sides of the headset, resulting in a richer sound experience and offering the user the greater flexibility of a double-sided solution. The transmitters send a magnetic field that can be picked up directly by the hearing aid, making it easy for users to focus on a conversation. The headset features Sennheiser ActiveGard technology that protects users from acoustic shock and sudden sound bursts. MSRP is $349.95.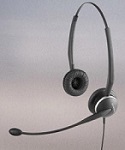 Jabra
The
GN2125 Telecoil
headset is the solution for hearing aid users, who gain the benefits and increased work efficiencies associated with headsets.
Especially designed for people who use hearing aids, the Jabra GN2125 Telecoil is equipped with a hearing aid-compatible telecoil that is fitted to the plain side of the earpiece. The telecoil cancels out surrounding background sound while heightening the sound quality from the telephone. This gives hearing aid users clearer, crisper phone conversation that is free from interference from background noise. It features a noise-cancelling microphone to eliminate ambient noise. MSRP is $225.00.
Plantronics
SupraPlus
251H
and
261H
are Telecoil hearing-aid compatible headsets. The SupraPlus series is a staple in the contact center world, and features a comfortable, adjustable headband for all-day wearing. These headsets have sound tube microphones. MSRP is $120 and $148 for mono and duo, respectively.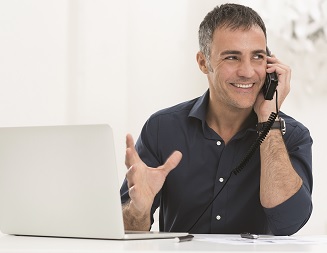 Another option from Plantronics for a USB connection are the
Clarity 340
and
Clarity 340-M
handsets. The Clarity handsets provide a truly outstanding audio experience for those with hearing challenges. Offering four tone settings to accommodate specific hearing loss patterns, hearing aid

compatibility, and a large earpiece on the handset for superior sound and amplification. The amplification option to 30dB of wideband audio with a proprietary digital sound processing (DSP) provides the best PC audio experience available.
The Clarity handsets have a connector port for a neckloop-style Telecoil coupler. MSRP for the Clarity is $149.95.
Please note that the headsets listed above end in a quick disconnect and require a bottom cable as well. If you're not quite sure what you need, or which connecting cable will work with your phone and headset, reach out to us at 1.866.998.9991 for help. We're here to help you choose the best headset for your unique environment!
1/31/2017 - 0 Comments
With the introduction of the MDA200, Plantronics asserted itself as a leader in Unified Communications for hardware solutions. The device, and its sister, the MDA100 QD, are complementary audio switchers that function with a variety of headsets to ensure smooth communication, whether it's on your desk phone, soft phone, and even smartphone!

Simple, intuitive, seamless
Our testing of the
MDA200
found that the device is pretty much the best thing since sliced bread! This device enables corded USB headsets and UC-enabled Bluetooth headsets (those with USB dongles) to be used with a desk phone and gives the user the option of switching between the desk phone and computer. When using a Bluetooth headset with the MDA200, it allows for
triple connection
to your smartphone, desk phone and computer. It's ideal for Unified Communications environments where desk phones are still present. And, what we really love about the MDA200 is that is now gives us the ability to use an active noise cancelling headset with our desk phone.
As office designs are quickly converting to open floor plans, we have received many inquiries from customers who are looking for a desk phone compatible headset that will provide active noise cancellation in the speakers. While Plantronics and Jabra both offer
ANC headsets
, they are strictly USB connection and unless you have an MDA200, you won't be able to use them with your desk phone.
We did thorough testing with several headsets, and did not need to stay within the Plantronics brand. As a disclaimer, Plantronics only guarantees the use of the MDA200 with a specific list of headsets that is continually updated.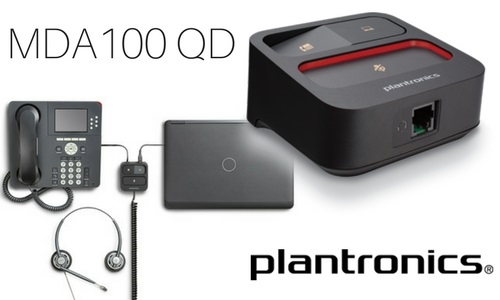 The
MDA100 QD
is used with corded Quick Disconnect headsets and enables the user to toggle back and forth from USB to desk phone. There is a Mute button at the top of the MDA100 QD. When the mute is activated, the button is depressed and the area surrounding the button is red. Release the button and the mute is turned off.
Plantronics recommends this product for customer service centers who are transitioning from desk phones to softphones and unified communications (UC), and require users to manage audio from two sources with a single headset.
The MDA200 and MDA100 QD audio switching devices utilize the headsets you already have in place and connect them to audio endpoints for the best use of your resources. Interested in learning more about the MDA family?
Contact us!
1/30/2017 - 0 Comments
A new job can be fraught with anxiety as each office has new people, new expectations and a chance to make a great first impression that stays with you throughout your tenure at the organization. And we're not even referring to the actual job tasks, which can bring more anxiety as you work to meet the expectations laid out before you. No pressure, right?!
A professional office or contact center environment can be one of the best places to work, if you play the game. And, while each environment varies, there are some tried and true etiquette rules that you must remember. Here's what made our short list:
1. Cutting fingernails at your desk is a definite no.
2. Loud conversations on the phone or with co-workers is distracting to others not a part of the conversations. If you often find yourself unable to tune out those ambient noises, you might want to invest in a good headset with active noise cancellation. Read our blog post with recommendations for some great ANC headset options.
3. Sharing too much personal information may cause your co-workers to feel uncomfortable. Save those discussions for after hours.
4. Pay attention to the office dress code. Do not "out dress" your manager; if he is not wearing a 3-piece business suit, then you should not, either. Follow his lead. By the same token, do not "underdress;" meaning, no yoga pants, sweatpants, or pajama pants.
5. Kindness rules the day. Your co-workers are going to make mistakes, and so are you! Compassion saves relationships. You should never raise your voice, or yell and scream at someone.
6. Deliver what you promise.
7. Remember the Golden Rule: Treat others as you would like to be treated.
This staff training video from DFW adds some great tips and is a quick, 3-minute reminder. Check it out!
Office Etiquette - Staff Training Film - October 2014 from Natalie Blass on Vimeo.
What would you add to this list of office etiquette tips? Reply on the Comments tab, above.
1/26/2017 - 0 Comments
These promotions are offered by several of our manufacturers, and include trade-in offers, cash back, and free product. Details and deadlines for each promotion vary, so scroll through this post for all of the current available promotions.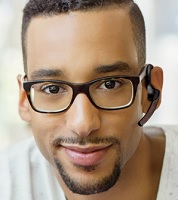 Plantronics
Go Mobile.
Mobile collaboration has never been easier! Buy 10
Voyager 5200 UC
headsets, and get a FREE
Voyager Focus UC
(MSRP $299.95). The Voyager 5200 UC offers the most advanced, adaptive noise-cancelling with WindSmart technology to reduce disruptive noise — wherever you are. (Read more about this headset on our blog, here:
Out of the Office, Not Out of Reach
).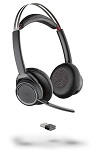 The Voyager Focus UC, with its dual ear leatherette ear cushions is ultra comfortable, and has active and passive noise-cancelling for an immersive audio experience — perfect for those open office environments when you need to focus on the job at hand.
This offer expires March 31, 2017.
Jabra
For those who work in the
Public Sector
, an incredible discount on all Jabra products is now available on any Jabra product. This means substantial savings on items you use and need every day! Contact us to find out if you quality for the Public Sector discount.
Wherever You Work
, Jabra's got the right headset solution for your environment. You can Enhance Your Open Office when you purchase 35 of any combination of the Evolve 40, 65, or 80 UC headsets, you receive a FREE Noise Guide (MSRP: $665.00). This unique device monitors noise levels and makes people aware of the impact noise has on the work environment. Enhance Your Contact Center: when you purchase 20 BIZ 1500 headsets or 10 BIZ 2300 or 2400 II corded headsets, you receive a FREE PRO 9450 wireless headset (MSRP: $348.00). And, you can Enhance Your Calls on the Go when you purchase 10 Motion UC/Stealth UC or 5 Motion Office mobile headsets and receive 1 FREE Speak 510 speakerphone (MSRP $149.00). This program is available through March 31, 2017.
The
Trade-In Offer
from Jabra gives you a rebate for the purchase of new Jabra headsets, when you trade in your old headsets:
•$20 rebate toward purchase of Jabra Pro 900/9000, Motion Office, or Evolve 65 wireless headsets or
•$10 rebate toward purchase of Jabra corded headsets (excluding UC Voice, Biz 1500 and Evolve 20/30 headsets)
Claims can be submitted at the official
Jabra Trade In page
. This program also expires March 31, 2017.
VXi
Purchase a new
Reveal Pro Office
or
V200
office wireless system and take advantage of the
VXi Office Wireless Trade-In Program.
For each headset purchased, and old VXi or competitive office wireless headset system sent in to VXi, you receive a $10 check. We will email the claim form once purchase is made. Claims must be made within 30 days of purchase, and an invoice must be included with the Trade-In request.
For corded headset purchases, there is a
$5 Trade-In Allowance
with purchase of new corded headsets or amplifiers. Trade in old VXi or competitor products, and receive $5 for each headset sent in. Download the
Trade-In Claim form
, complete the information, and include the form, along with proof of purchase, when submitting the old headsets. Claims must be made within 30 days of purchase.
Are you ready to talk about new headsets? Give us a call at 1-866-998-9991 or send us an
email
!