These promotions are offered by several of our manufacturers, and include trade-in offers, cash back, and free product. Details and deadlines for each promotion vary, so scroll through this post for all of the current promotions, or go directly to the brand:
Jabra
,
Plantronics
,
Sennheiser
and
VXi.
Buy 8 headset solutions, get 1 free!
Upgrade your communications experience with this limited time offer: Jabra Pro 9450, 9460, 9465 and 9470 are the eligible wireless products, and Jabra Biz 2300/2400 II Duo and Mono headsets are the corded products. Buy 8 of the same SKU, and the 9th is FREE.
This is good through Dec. 31, 2018, or while supplies last. And, this offer
can
be stacked with the Technology Refresh program, below, to make your dollars go farther.
Update your technology and take advantage of the unbelievable
Technology Refresh
promotion. Receive up to $40 per non-Jabra unit traded in, or $20 for every qualifying Jabra unit that's traded in. This promotion is good on purchases of the new Jabra Engage wireless headset series, and the Jabra Speak 710 wireless speakerphones. For every Biz 2300 or 2400 II headset purchased, get $10 back for every Jabra corded headset traded in, or $20 for any non-Jabra corded headset. Learn more about this generous promotion on our blog:
Jabra Technology Refresh Program Offers Cash Back on New Devices
. This promotion has been extended to the end of the year, and expires December 31, 2018.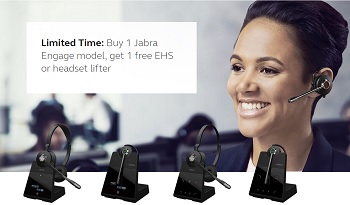 Get Engaged with Jabra:
a FREE remote answer device (either EHS cable or Handset Lifter) is yours, with purchase of any of the new Jabra Engage wireless headsets.
The Engage series is an entirely new class of DECT wireless professional headsets engineered to boost customer satisfaction. Integrated busylights (in the mic boom), up to 13 hours of talk time, Engage enables up to three times more users to operate in the same office space, with no loss in connection quality. The Evolve 65 headsets connect to an analog phone and a PC; Engage 75 headsets allow up to five connections simultaneously: 2 USB devices, 2 Bluetooth devices, and 1 desk phone.
Check out each Engage headset variant, below:
Engage 65 Mono
Engage 65 Convertible
Engage 65 Stereo
Engage 75 Mono
Engage 75 Convertible
Engage 75 Stereo
This promotion expires Dec. 31, 2018. To claim either the free EHS or Handset Lifter, visit
Get Engaged with Jabra
before Jan. 15, 2019.
The
Trade-In Offer
from Jabra gives you a rebate for the purchase of new Jabra headsets, when you trade in your old headsets:
•$20 rebate toward purchase of Jabra Pro 900/9000, Motion Office, or Evolve 65 wireless headsets or
•$10 rebate toward purchase of Jabra corded headsets (excluding UC Voice, Biz 1500 and Evolve 20/30 headsets)
Claims can be submitted at the official
Jabra Trade In page
. This program expires December 31, 2018.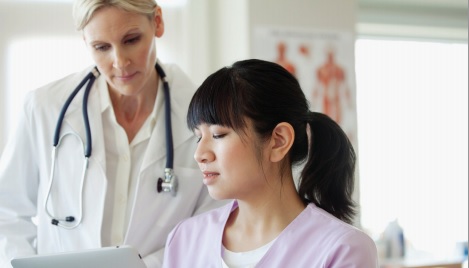 Plantronics is continuing its
Public Sector
discount for organizations in the government, education and health care fields. If you qualify, we will adjust your pricing to reflect this incredible discount on most Plantronics products.
The Public Sector promotion continues, offering big discounts to Education (K-12 and Higher Education); Federal, State, City, County and Local Governments; Prime Contractors for Government; Not-for-Profits; and Healthcare Caregivers. This promotion ends March 31, 2019.
Upgrade Like a Pro
and receive a $15 trade up allowance, when purchasing new EncorePro headsets. For a limited time, you'll be eligible to trade up an equal number of SupraPlus headsets when purchasing any EncorePro headset, to receive a $15 trade up allowance for each headset. All EncorePro headsets are eligible — Quick Disconnect, Digital, and USB models for the EncorePro 500 and 700 series. This promotion ends March 31, 2019.
Sennheiser's
Trade-In/Trade-Up
offer is good on purchases of the
new SDW 5000 DECT wireless headsets
. Customers trading in five Plantronics and/or Jabra DECT and/or corded headsets, with purchase of five SDW 5015 headsets, receive 1 free SDW 5015; or, with trade-ins of six, and the purchase of six SDW 5016 headsets, receive one SDW 5016 free.
Customers who currently use the SD and/or DW Series of Sennheiser wireless and want to upgrade to the SDW series, can purchase 10 of the SDW 5015 (or 11 of the SDW 5016), to receive an additional headset (same as purchased model), for FREE! Proof of prior purchase for the SD and/or D10 Series headsets is required. Contact us for more details; this offer expires December 31, 2018.
The
GovEd Discount
from Sennheiser lets you save big! Federal Government agencies, Educational organizations, Energy producers, Healthcare providers, State & Local Government agencies, and Not-for-Profit agencies including credit unions that are 501(C), are all eligible for this discount. Most of the Sennheiser product line is eligible for this discount, including the TeamConnect Wireless speakerphone units! There are a few products that do not qualify; contact us for details. The GovEd Discount ends Oct. 31, 2018.
Purchase a new
V200
office wireless system and take advantage of the
VXi Office Wireless Trade-In Program.
For each headset purchased, and old VXi or competitive office wireless headset system sent in to VXi, you receive a $10 check. Download the claim form that's available on the
VXi Trade-In web site
once purchase is made. Claims must be made within 30 days of purchase, and an invoice must be included with the Trade-In request.
For corded headset purchases, there is a
$5 Trade-In Allowance
with purchase of new corded headsets or amplifiers. Trade in old VXi or competitor products, and receive $5 for each headset sent in. Download the Trade-In Claim form found on the
VXi Trade-In web site
, complete the information, and include the form, along with proof of purchase, when submitting the old headsets. Claims must be made within 30 days of purchase.
Are you ready to talk about new headsets? Give us a call at 1-866-998-9991 or send us an
email
!