Blog
1/11/2021 - 0 Comments
These promotions are offered by several of our manufacturers, and include trade-in offers, cash back, and free product. Details and deadlines for each promotion vary, so scroll through this post for all of the current promotions, or go directly to the brand:
BlueParrott
and
Jabra
.
BlueParrott
When you purchase 10 BlueParrott eligible products on the same invoice, receive either a FREE BlueParrott headset or Jabra Speak 710 with this
BlueParrott Promo
. Eligible headsets include the
B550-XT
,
B450-XT
,
C400-XT
,
C300-XT
,
B350-XT
,
B250-XTS
and
B250-XT
.
These are the same headsets that can be requested for the free product; or, choose a Jabra
Speak 710 UC
or
Speak 710 MS
speakerphone as the free product. Offer is valid until June 30, 2021; submit invoice
here
before July 31, 2021, to receive a free headset or speakerphone.
The generous
Technology Refresh
is back in 2021! Is it time to update your hardware?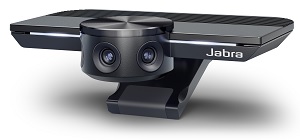 The
Jabra PanaCast
is included in the program, and the cash back amounts are incredible! Get $150/unit for each non-Jabra huddle room camera you trade in; and $75/unit for existing PanaCast 2 or 3 cameras. For each Jabra or non-Jabra headset or speaker phone traded in, earn from $20-$40 per unit. Purchase Jabra Evolve, Evolve2 or Engage wireless headsets, and get $20/unit for existing Jabra Pro 900/9400 or Motion Office headsets or $40/unit for any non-Jabra wireless headset.
When you purchase these corded headsets: Jabra Evolve2 40, Engage 50, Biz 2300 or 2400 II, get $10/unit for your existing Jabra corded headsets; or $20/unit for any non-Jabra corded headset. With the purchase of Jabra Speak 710s, get $20/unit for existing Jabra Speak 410 or 510s, or get $40/unit for any non-Jabra personal or huddle room speakerphones. To learn more about the Technology Refresh/Trade-In program and how to save, visit the
Jabra Technology Refresh Program
site. Deadline for purchases is December 31, 2021; submit invoices by January 31, 2022.
Earn up to five FREE Jabra Evolve headsets!
For every 25 Evolve headsets or ear buds you purchase, receive one Evolve2 40 or Evolve2 65 headset for free, up to a total of five. Purchase any combination of the Evolve 20, Evolve 20 Special Edition, Evolve 30 II, Evolve 40, Evolve 65, Evolve 65e, Evolve 65t, Evolve 75, Evolve 75e and Evolve 80 on the same order, and choose between one of these models as your free headset.
There are lots of choices in the Evolve series, with everything from a basic corded USB headset (Evolve 20 and Evolve 20 Special Edition) to the Evolve 65t, true wireless ear buds for professionals who work both inside and outside of the office. This offer ends June 30, 2021, and invoices must be submitted by July 31, 2021. For all of the T's and C's, and to submit an invoice, visit the
Jabra Evolve Promo
page.
Are you ready to talk about new headsets? Give us a call at 1-866-998-9991 or send us an
email
!
1/7/2021 - 0 Comments
The extremely generous Jabra trade-in promotion has been extended for another year, and is available through the end of 2021. This is a great opportunity to stretch your budgets farther when upgrading your communications experience with these industry-leading headset, speaker and video solutions.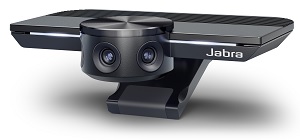 Jabra PanaCast
camera is the world's first intelligent 180° Panoramic-4K plug-and-play video solution. With purchase of the PanaCast, get $75/unit for existing PanaCast 2 or 3 cameras; or $150/unit for non-Jabra huddle room cameras!
Learn more about the amazing PanaCast on our blog,
or watch our overview video, here:
Introducing Jabra PanaCast
.
The Technology Refresh program also offers
$40 cash back for each non-Jabra wireless headset that is traded in
, with the purchase of an Engage Series DECT, Evolve2 65 or 85 Bluetooth, or Evolve Bluetooth wireless headsets. If you have wanted to make the switch to a Jabra wireless headset, NOW IS THE TIME!
Or, if you already use a Jabra wireless headset (specifically, the PRO 920, 930, 935, 9450, 9460, 9465, 9470, or Motion Office), you can upgrade to the new wireless headsets and receive a $20/unit rebate check in the mail for the trade in.
Additionally, when you upgrade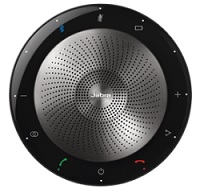 your technology to the
Jabra Speak 710
wireless speakerphone, receive $20 back for a Jabra Speak 410/510, or $40 for a non-Jabra personal or huddle room speakerphone that is traded in. The Speak 710 (both UC and MS versions) offers wireless linking and connects to an additional Speak 710, for double the room coverage (up to 12 people). Connect to laptop, smart phone and tablet via USB or Bluetooth, and with plug-and-play simplicity, it's easy to set up — wherever you take meetings. Fifteen hours of battery life ensures you can meet (or listen to music) for a long time.
Corded headsets have also been added to the mix, and with any Jabra Evolve2 40, Engage 50, Biz 2300 or Biz 2400 II headset purchased, get $10/unit for existing Jabra wired solutions; or $20/unit for any non-Jabra wired solution.
These
Technology Refresh
promotions are only
good through December 31, 2021,
so take advantage of the savings and equip your staff with the latest and greatest in office and mobile wireless technology. Click here for the promotion's
T's and C's
.
Learn more about the qualifying headsets, below: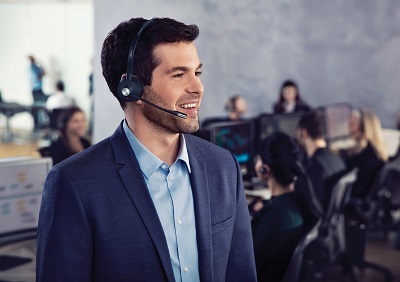 Engage with Jabra
and its Engage series, an entirely new class of DECT wireless professional headsets. The series provides superior wireless connectivity to a range of up to 490 feet - and enables up to 3 times more users to operate in the same office space with no loss in connection quality. Integrated busy lights in these headsets increase productivity and alert co-workers' to your busy status.
Engage 75 headsets connect up to five devices simultaneously, increasing availability for customer calls. And the choice of wearing styles support workers' preferences and workstyles.
For detailed information about each Engage headset, click on any of the following links:
Engage 65 Mono
Engage 65 Stereo
Engage 65 Convertible
Engage 75 Mono
Engage 75 Stereo
Engage 75 Convertible
Evolve wireless headsets
These Bluetooth headsets connect to mobile phones and PCs, thanks to the included Link 370 USB dongles. Active Noise Canceling headsets, Evolve 75 and Evolve 75e, keep the user focused on tasks and conversations, and the Evolve 65, Evolve 65e and Evolve 65t offer a variety of wearing styles (including true wireless with the Evolve 65t ear buds) for clear calls, wherever you work.
Evolve2 65 and Evolve2 85 wireless headsets
connect to computers and mobile phones, via Bluetooth and with the included USB dongle. Digital hybrid Active Noise Canceling in the
Evolve2 85
has been designed for incredible noise isolation with ear cushions that completely surround the ear.
Evolve2 65
gives you 37 hours of talk time. The isolating foam oval ear cushions and pioneering new angled earcup design work to effectively block out your surroundings. When you move the boom arm up, it will mute the mic, and down to unmute or answer call.
Evolve2 40 corded headsets
The call controls have been moved to the ear speakers, for an easy way to answer calls, change volume levels and more. Put this headset on and the noise will fade away: the isolating foam oval ear cushions and angled ear cup design block out your surroundings, for outstanding passive noise cancellation. Move the boom arm away from your mouth and the intelligent mute switch is automatically activated.
Evolve2 40
headsets are available in mono or duo; Certified for Microsoft Teams or UC; and USB-A or USB-C variants.
Engage 50 headsets
These headsets have been created with state-of-the-art software including in-depth analytics for businesses, as well as live on-screen microphone guidance for agents. The three-mic system eliminates breathing sounds, background noise, and other distractions. Available in either mono or duo, the Engage 50 is a USB-C headset; an additional call controller unit can be purchased to enhance the headset.
Biz 2300 and Biz 2400 II headsets
Jabra's corded headsets feature world-class sound, tough construction, and comfort for all-day use. The specially designed "air shock" noise-cancelling microphones filter out sharp breathing sounds and popping noises often heard in conversations. Available in both one-ear and two-ear models, and with connections to desk phones or PCs, Biz 2300 and 2400 II headsets are perfect for all-day wear in contact centers, offices and more.
Visit the Jabra web site to learn more about the promotion, and instructions on how to claim the cash back:
Jabra Technology Refresh
This promotion expires December 31, 2021, and all claims must be submitted by January 31, 2022.
Contact us today for recommendations on the best headsets for your unique requirements! 1-866-998-9991
12/23/2020 - 0 Comments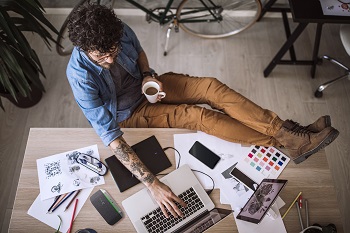 To sound like the professional you are, your calls deserve premium audio; something your laptop and smartphone speakers cannot deliver.
Poly
has the answer: the Sync 20 speakerphone provides robust audio for conference calls and music, anywhere.
A multi-microphone array reduces both echo and unwanted background noise – keeping the focus on who's speaking.
Full duplex audio technology
allows people on both ends of the call to speak simultaneously without muting each other, making conversations feel natural. You won't miss a word.
The bass reflex system with dual-passive radiators ensures high-quality, natural-sounding voice while on calls and and there's deep bass for jamming out to your favorite playlist between calls.
The best part? It's easy to set up: Take the Sync 20 out of the box, connect it to your mobile phone or computer (via Bluetooth or with the integrated USB cord on the bottom of the Sync 20), and you're ready to go.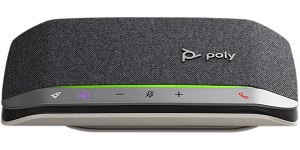 Once you're connected, the highly visible LED light indicator lets you know the call status – even from a distance. The touch buttons on the top of the Sync 20 let you answer and end calls; increase and decrease volume; mute calls; and switch between functions – such as play or pause music, last number redial, voice assistant, and more – with the touch of the programmable Rocket button. The Microsoft Teams-Certified variant has a dedicated Teams button.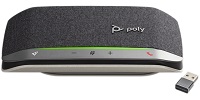 Whether you need USB-A or USB-C connection, Microsoft or UC certified, or a BT600 USB dongle (all of the "+" models), there's a speakerphone to meet everyone's requirements. You can take a look at the all of the Poly Sync 20 and 20+ variants, here:
Poly Sync Speakerphones
.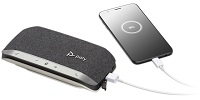 It's worth mentioning that the Sync 20 battery gives you
up to 20 hours of talk time
, and you can charge your smartphone too in the integrated USB-A charging port.
The Sync 20 has been IP64-rated for dust and water resistance, so it's safe to wipe it down with water or disinfectant to keep it clean and germ-free.
Poly is continuing the Sync series with the Sync 40 for huddle room spaces and the Sync 60 for small to mid-size conference rooms. Watch for those models in 2021. Our Customer Care Team is ready to help you determine which Sync 20 or Sync 20+ model you need. Give them a call at 1-866-998-9991 or Chat us now.
12/21/2020 - 0 Comments
Do headband-style headsets give you headaches? Or, do you prefer an on-ear or over-the-ear headset? We are fortunate to partner with brands that offer a multitude of wearing styles sure to meet the unique preferences of many.
Some of our customers like the over the ear wearing style which can be worn on either ear, and have cushions or ear gels that keep the headset secure to the ear. Customers like the versatility and lightweight design, as well as the ease of use. Connection styles vary, either corded or wireless, for truly the most optimized experience for each user.

Plantronics StarSet H31 CD
has a small ear tip that is placed directly into the ear canal, and the headset rests lightly behind the ear. The voice tube microphone will be sufficient for those working in a closed-door space by themselves; any background noise will be clearly conveyed to the person on the other end of the line. The headset is shipped with 6 different sized pliable ear tips.
Plantronics EncorePro 530

headset has an ear hook that can be bent to conform to the ear, and can be worn on either the right or left side. The foam ear cushion rests lightly, and securely,

on the ear. Or, if you prefer to have several wearing styles for the same headset, the
EncorePro 540
is a 3-in-1 headset that comes with these wearing styles: ear hook, neckband and headband. It is extremely easy to switch wearing styles, thanks to the design of the snap-on clip.
The
EPOS | Sennheiser Impact SDW 5016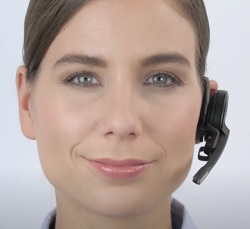 is a convertible headset with triple connection to mobile and desk phone, and computer.

A colleague who uses this headset at her desk has had a positive experience with the SDW 5016, with the headset instantly connecting to the device when needed. A note of caution: she reports that because she has "tiny ear holes" she does not experience a snug fit in her ear (even with the smallest ear tip that is included in the box).
Poly Savi 8240 UC
is a great convertible option if you'd like a wireless headset that has a single connection to a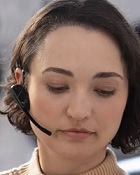 computer.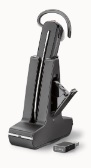 The ear hook wearing style has an ear tip and optional ear loop to secure it to your ear. A headband and neck band are included in the box, too. To further customize the headset, the included Fit Kit card has 4 gel ear tips in varying sizes; 3 different sizes of ear loops; and a fabric piece to slip onto the ear loop for comfort. On a full charge, you get up to seven hours of talk time. If you need extended talk time, the
Savi 8245 UC
includes an extra battery for unlimited talk time. The Savi 8245 UC comes with 2 batteries; the second battery is always charging in the headset base.
We have many other options that may suit your style better; call our Headset Experts at 1-866-998-9991 or Chat us now for personalized recommendations.
12/18/2020 - 0 Comments
The Speak family of speakerphones from Jabra is a range of easy to use conference call speakerphones with superior audio, for the most efficient and productive meetings wherever you are, whatever your needs. Improve personal and group collaboration among your team, no matter their location.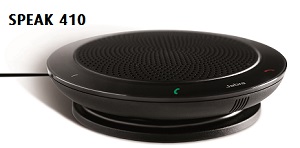 For 1-4 people in the same room, the size of the Speak 410s and Speak 510s are perfect for instant conferencing and videoconferencing on a smaller scale. The personal – yet professional – speakerphones are portable and lightweight, and turn any room into a conference room to facilitate collaboration the simple way. The slim profile and included zippered neoprene travel pouch allow for easy and protected travel.
All of the Speak series devices have user-friendly features such as the LED soft buttons at the top of the speakerphone, which allow you to answer, end, and mute calls at the tap of a button. You can also turn the speaker on and off; adjust the volume with the Volume + and Volume - buttons, and check the Battery Level. Tap the Battery Level button and all of the LEDs light up to show the charge level. Omni-directional microphones make this an ideal collaboration solution and with up to 15 hours battery life, for optimal performance.
The Speak series is optimized for Unified Communications with straightforward USB and/or Bluetooth connectivity for immediate conference call set up using your PC or smartphone/tablet. Skype for Business certified versions are available, too.
Speak 410
The
Jabra Speak 410
is the most basic of the family and connects via USB only; the connection cord wraps around the device and is secured there. The connection cord cannot be removed, so you will always have it when you need it. To make the conference call private, the Speak 410 has a 3.5mm headset port to plug your Jabra headset into. MSRP for the Speak 410 is $129.00.
Speak 510
The
Jabra Speak 510
offers USB and Bluetooth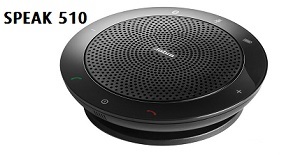 connectivity options. Connect to your PC, smartphone, tablet, or Bluetooth headset. When you're not on a call, you can use the device as a music speaker. MSRP is $149.00.
Speak 510+
The
Jabra Speak 510+
offers USB and Bluetooth connectivity with extensive wireless range for more flexibility to collaborate with your contacts however you choose.
The USB dongle to the laptop means you can benefit from up to approximately 325 feet of wireless range to move the conference call to the best place. This device also has the 3.5mm jack port to connect your headset; turn a public conference room discussion into a private smartphone call in seconds.
The included Jabra Link 370 BT USB dongle provides added wireless flexibility, for example:
When a public meeting space needs to become private and you need to move the device into a private room.
If the current conference space becomes too noisy and you need a 'closed door' for enhanced focus and collaboration. MSRP is $179.00.
Speak 710
The
Jabra Speak 710
brings a new feature to the Speak family: it can be paired with another Jabra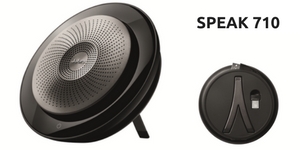 Speak 710 wirelessly — within seconds. Two Speak 710s linked together will easily cover a meeting room of 12 people and lets you enjoy even more powerful, stereo music.
In addition, the Speak 710 brings new features to the Speak series. This includes a folding stand that is stored in the back of the unit, a storage spot for the included Link 370 dongle, and a one-touch Smart Button that makes interacting with a digital assistant (such as MS Cortana, Siri and Google Now) a breeze. MSRP for the Speak 710 is $314 and the Speak 710 is available in both UC and Microsoft certified versions.
Speak 750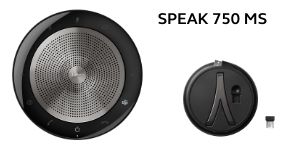 The
Jabra Speak 750
offers full duplex audio which transmits both sides of the conversation at the same time, allowing your conversations to flow just as they do in person. The Speak 750 has the same buttons and functions as the Speak 710. New to the Speak 750: the Certified for Microsoft Teams certified variant has a dedicated Teams button and a supporting LED light located next it. The Microsoft Teams button lights up purple, and the supporting LED light flashes white for notifications. Tap the Microsoft Teams button to join meetings and see when you have an upcoming call, missed calls and voicemails. MSRP is $329.
Speak 810
The
Jabra Speak 810
is a premium grade speakerphone that connects via USB and Bluetooth (NFC/MFI) and 3.5mm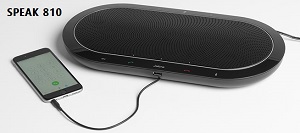 jack cable for smartphone or tablet connection. The broadest range of connectivity in the Jabra Speak Series, the Speak 810 is ideal for hassle free, simple conference call set-up in seconds, for collaboration with up to 15 attendees in the same meeting room for perfect sound.
Using ZoomTalk microphones for excellent audio quality, the mics uniquely detect the human voice and not the ambient room noises (such as people eating or keyboard tapping) making the Jabra Speak 810 the ideal choice for those empathetic to those working remotely and dialing in to the call. ZoomTalk makes it easy to hear, and easy to be heard, no matter where you are located.
With a USB charge out port for charging your tablet or smartphone the Jabra Speak 810 offers you the full flexibility to connect however you want to without the worry of battery life. A/C powered yet lightweight, the Jabra Speak 810 is portable from room to room as required. However the Kensington lock secure port means you can keep it securely locked to replace more traditional dial pad and fixed meeting room collaboration solutions.
An
optional USB Bluetooth dongle
can be purchased for approximately 325 feet of wireless range away from your PC or laptop.
MSRP for the Speak 810 is $599.00.
With the variety of choices available, the Speak series from Jabra is truly a professional and flexible solution for your conferencing and video conferencing needs.
Contact us
to learn more about the Speak family today!