Blog
3/12/2014 - 0 Comments
Here at Avcomm Solutions, Inc., we keep things simple. Are we giving you, our customer, what you need? We sure hope so.
Finding the very best solutions to your headset and conference phone dilemmas gives meaning to our days. From the home office in the center of the U.S., our customer care team of
Sara Diaz
and
Carey McCoy
work hard to give you answers, great products and fair prices.  
How do we manage this? In a few ways, such as:
Our Midwestern Hospitality
Clichéd? Of course. True? You bet! Neighbors looking out for neighbors is a common theme around here, and one that we at Avcomm embrace. We're always on the lookout for products and services that make sense for you. Once your products reach you, we expect to continue the relationship by answering any questions you may have about product setup, assisting with technical concerns and warranty repairs – and, of course,
your feedback is always appreciated
!
Strong Partnerships
By working with the best manufacturers in the headset and conference phone world, Avcomm Solutions offers products from
Jabra
,
Konftel
,
Plantronics
,
Sennheiser
and
Yamaha
. Partnerships with these companies allow us to get the essential support, resources, and information to you when you need it. You can rely on our expert advice!
A Commitment to You
We understand that you want to do your very best for your customers. We know that you want to keep your employees happy and productive. Sure, it's a balancing act, but when you get it right, the results can be transcendent. We have great products that make communication clear and simple, and we're here for you.
At Avcomm Solutions,
Communication is Our Business
.
We are very excited to announce some new ways to reach us: on Twitter:
@AvcommSolutions
, LinkedIn:
http://www.linkedin.com/company/avcomm-solutions-inc-
and Facebook:
Facebook/AvcommSolutions
3/3/2014 - 0 Comments
In our previous post, we shared the three main types of microphones found in office and contact center headsets:
see Part 1 here
. The type of microphone you choose depends on your work environment and job requirements. Another important element in audio quality is the placement of the microphone to assure that your voice is heard loud and clear.
According to Plantronics, the single biggest real-world cause of poor transmit audio is not technical; rather, it is poor microphone placement by the user. As microphones offer higher degrees of noise cancelling, they demand greater proximity and consistency of microphone placement so that the talker does not become part of the very background that is being cancelled.
Proper microphone placement is particularly important in directional microphones with noise-cancelling properties. These microphones reject background noise and bring the user's voice to the foreground. The microphone boom should be adjusted so that it is 2 finger widths from your bottom lip.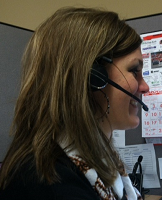 1. Flex boom models have flexible booms that are easy to bend and can be reshaped until they are near the user's mouth. Here, the Jabra PRO 9450 Mono Headset with Flex Boom is pictured.
2. Fixed boom arm models rotate from the receiver, and should not be bent. The boom arm should point directly at the user's mouth. Pictured here is Sennheiser's SC 660 USB CTRL Century Series Ultra Noise Cancelling Duo USB Headset with In-Line Call Controls.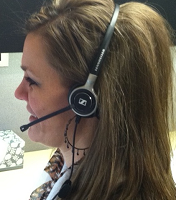 Jabra reminds new headset users that they won't need to talk as loudly as when speaking into a handheld phone. When the microphone has been positioned correctly close to the mouth, your voice will be picked up clearly – even at a lower volume.
Headsets help you to communicate clearly and effectively. Research the right microphone for the work you do, and purchase a high quality commercial headset that meets your requirements. Take that extra step of assuring correct placement of that microphone with a simple adjustment and your caller will thank you!
For more information about the proper care of your headset, and correct microphone positioning,
Jabra offers this handy one-page document
.
2/13/2014 - 0 Comments
Office headsets, used for desk phones, computers and mobile phones, can keep your hands free, allowing you to talk while you work, type and even run errands! Choosing the right office headset can be an overwhelming task; by simplifying your choices and clarifying the options, we find the best solution for you. Part of the decision-making process is selecting a headset with a microphone that provides optimal communication.
There are three main types of microphones available on the market today. We've laid each style out for you below, according to their level of background noise-cancelling. This list begins with a minimum and progresses along the continuum to the most background noise-cancelling offered.
Voice Tube/Sound Tube/Omnidirectional
Each manufacturer uses different terminology for this type of microphone, which carries sound from your mouth to a microphone that's housed in the ear of the headset. This design allows for headsets to be manufactured at a reduced cost; the drawback is that the mic does not have any noise-cancelling technologies.
The microphone is equally sensitive to sound from all directions, so that background noises will be picked up and transmitted by this microphone; the headset user's voice may be difficult to hear because of this. Sound enters on one side of the diaphragm only. (All microphones have a diaphragm, so that when the diaphragm vibrates, it causes other components in the microphone to vibrate. These vibrations are converted into an electrical current which turns into the audio signal.)
The voice/sound tube or omnidirectional microphone style is ideal if you occupy your own private office with little to no background noise.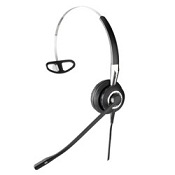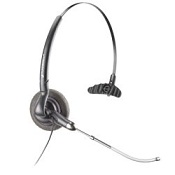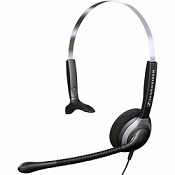 Jabra Biz 2410, Plantronics DuoSet H141 and Sennheiser SH 200
Noise-Cancelling
The next step on the continuum is Noise-Cancelling. This microphone design eliminates the majority of background noise. Upgrading to a noise-cancelling microphone is well worth the minimal extra dollars, if your environment tends to have area noise. Digital Signal Processing (DSP) is one technology used to largely reduce background noise, enhancing understanding as well as efficiency of calls. Colleagues, wind and other ambient noises are filtered out and therefore not transmitted to your caller through the microphone.
Noisy contact centers, open concept office environments and mobile workers are great candidates for these noise-cancelling microphones.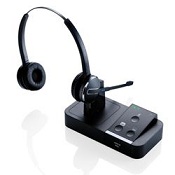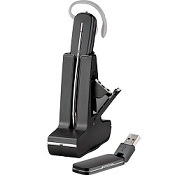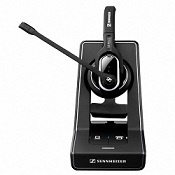 Wireless Solutions: Jabra PRO 9450 with Flex Boom, Plantronics Savi W445 and Sennheiser SD Office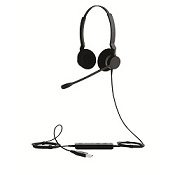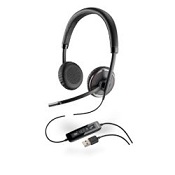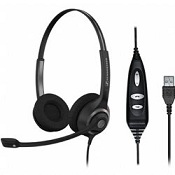 Corded Solutions: Jabra Biz 2300 USB Duo MS, Plantronics Blackwire C520-M USB and Sennheiser SC 260 USB CTRL

Ultra Noise-Cancelling

Ultra Noise-Cancelling microphones offer absolutely the best noise cancelling technology on the market. The placement of the micron components have been moved away from the entrance to the diaphragm, so the openings on both sides of the diaphragm are symmetrical. The effect is a near-elimination of background noise.

Take note that these microphones do tend to be a bit sensitive in regard to microphone positioning. The microphone should always be positioned precisely near the mouth in order to avoid the headset cancelling out all sounds - including the user's voice!

These microphones are best for extremely noisy contact centers and offices.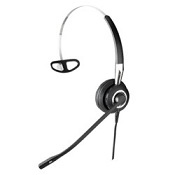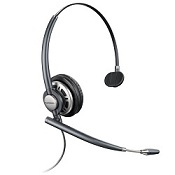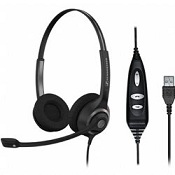 Jabra Biz 2400, Plantronics EncorePro HW291N and Sennheiser SC 660 USB CTRL

For more information about the importance of Microphone Positioning, read Part 2 of our blog post series.
2/3/2014 - 0 Comments
The Sennheiser Presence UC Bluetooth headset brings Sennheiser sound quality and unique technologies together in a sleek device to offer some of the best noise-cancelling properties available on the market today! The durability of

the Presence cannot be understated; boasting a petite frame (2"x .75" x .91") and compact design, it fits in the palm of your hand, and can be tucked into corners of purses, briefcases, or pockets, with no fear of damage. (A small, hard-sided carry case is included with the Presence UC.) Its discreet profile is perfect for those who want the convenience of a Bluetooth headset, but don't necessarily want to "show off" their device.
How does it work?
Plug and play connectivity assures easy set-up and immediate use. To pair the headset to your mobile phone, press in the multi-function button at the top of the device, and at the same time, slide the on/off power slide away from the headset to turn the headset on. Release the button and it is in pairing mode. "Power On. Pairing," the friendly Sennheiser voice says. The light on the device flashes red, then blue, in pairing mode. Enable the Bluetooth visibility on your mobile phone. From the found Bluetooth devices, select "Presence" to establish a Bluetooth connection to the headset. The Presence is equipped with the most updated version of Bluetooth 4.0.
Connecting to the computer is just as easy: place the dongle in a USB port and the Presence is ready to use for softphones, webinars, podcasts, or listening to music, providing a rich listening experience. Seamlessly switch between mobile phone and computer with ease. You can talk all day on the Presence, because the battery holds a charge of 10 hours (narrowband sound) and 8 hours (wideband).
It's simple to answer and end phone calls: slide the aluminum microphone boom arm open to answer; then slide back to end the call. Managing calls from the headset is a snap with 3-way calling and voice prompts that provide instant status updates, such as the caller's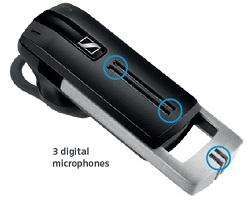 name as they are ringing in.
Talk and walk up to 82 feet (25 meters) away from your computer and 33 feet (10 meters) from mobile phone—you've got that freedom. Another neat feature: iPhone users have real time battery monitoring for the Presence.
The Presence is equipped with Sennheiser ActiveGard® hearing protection technology: sound spikes and acoustic surges won't bother your calls or ears! The SpeakFocus™ technology enhances speech clarity, and WindSafe™ technology reduces wind noise in outdoor environments. These technologies, along with three strategically placed microphones, deliver sound performance that is almost too good to be true.
Does the Sennheiser Presence UC overpromise and under-deliver?
We tested the Presence in the exhibit hall at the 2013 Annual SOCAP Conference. When our tester called in to the office, she sounded as close to us as if she was sitting at her desk. And we didn't hear any of the noise associated with hundreds of people talking in the background!
"Using the Sennheiser Presence UC headset was a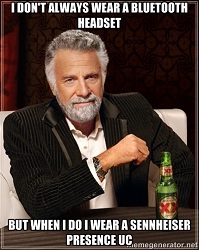 wonderful experience. It was comfortable, fit well, and most importantly, provided premium audio quality. I don't typically wear Bluetooth Headsets, but when I do, I wear the Presence UC." -
Sara Diaz
, Account Development Manager at Avcomm.
Many of us have spoken with colleagues or customers who are calling in from the road, in their car or passing through a busy airport while using a Bluetooth headset. And, I think we can all agree that many times the poor quality of those calls can be downright unbearable. That's what we absolutely love about the Sennheiser Presence. The user's voice is clearly transmitted and at the same time, almost all of their area noise is canceled out.
The Presence offers two wearing styles: over-the-ear with the included ear hook, or placed directly in the ear.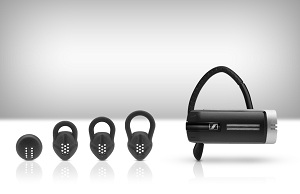 Wearers who prefer the in-the-ear style can choose from the 4 ear sleeves of varying sizes to attach to the earpiece; or may find that an ear sleeve isn't necessary. When we tested, we found that the Presence was perfect without an ear sleeve, and the device remained securely in the ear.
What's in the box?
A Presence headset; ear hook; BTD 800 USB dongle to plug into your computer; car charger; USB charging cable; 4 ear sleeves; carry case; and Quick and Safety guides.
Although you may find the price to be slightly higher than similar headsets in the market, we think the Presence is well worth the extra dollars and with a 2-year warranty, provides peace of mind! The rest of the world agrees: the Presence UC was recently honored with the German Funkschau IKT-Produkte 2013 award in business headsets, and named Best in Test by Swedish Telekomidag in wireless headsets for UC.
The Sennheiser Presence also comes in a
Microsoft Lync-enabled version
.
1/20/2014 - 0 Comments
Fortune Magazine recently released its ranking of the 100 Best Companies to Work For in the country. In addition to such perks as compressed workweeks, job sharing programs, and subsidized gym memberships, telecommuting was offered at an overwhelming
85 percent
of the companies.
Telecommuting, work at home, and work from home programs offer obvious benefits to employees (no commute, dress code, or office politics, among other matters); yet the organization can reap rewards, too.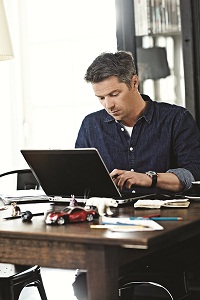 In a study reported by the
Harvard Business Review
, Ctrip, the Chinese travel web site, gave its call center employees the choice to work from home or stay in the office. Half of the staff chose to go home. The result? Those working from home
completed 13.5% more calls
than the staff working at the office!
Increased employee retention, schedule flexibility (in essence, the business is open longer hours to the public), lowered overhead and program stability are additional organizational benefits.
To make working at home a success, the right tools are essential. Unified Communications allows for collaboration with co-workers, customers, and more, and is delivered through programs such as MS Lync, Cisco Jabber, and others. UC integrates video, email, documents, fax, phone and computer to create a fully functional and collaborative workspace.
As insignificant as this may seem, one of the most important tools that ensures an optimal user experience is the actual audio hardware device being used for the voice communication. These audio devices can be in form of a headset or speakerphone. Investing in a high quality UC platform is a no-brainer. The audio device is just as important!
This is commonly referred to as "the last 3 feet" in the communications continuum, and can make or break the success of your telecommuting solution. We recommend taking the time to work with a headset expert to evaluate your company's UC environment and hardware needs. Testing the products for comfort and high quality voice transmission is key. A good, high quality audio device must be used in order to achieve the optimal experience for everyone involved. Companies are investing significant amounts of money in UC platforms and must spend ample time evaluating their audio device options as well.
Fortunately,
Jabra
,
Sennheiser
and
Plantronics
produce high quality headsets for every situation. Here at
Avcomm
, our training and expertise allows us to match the best solution for each environment. Each organization is unique and we are prepared to work on your behalf.
Taking a cue from those 100 best U.S. companies, small and medium sized businesses can offer the telecommuting option to their employees as a viable benefit that doesn't cost a lot.
To see the entire list of best companies, and the benefits they offer, go to the
CNN website
.
BACKGROUND on the 100 Best Companies study: Forbes magazine, in conjunction with the Great Place to Work Institute, chooses the companies based on these criteria:
       1. Company must be at least 5 years old and have more than 1,000 U.S. employees
       2. Employees are randomly surveyed and 2/3 of the company's score is based on the Trust Index survey, which asks questions related to attitudes about management credibility, job satisfaction and camaraderie.
       3. Responses to the Culture Audit (including questions about pay, benefit, training, recognition, diversity efforts, methods of internal communication, etc.)
Information on the benefits of telecommuting came from the Research Advisors article
here
.