Showing posts tagged: Jabra
9/30/2019 - 0 Comments
This Jabra wireless trade-in promotion is a first of its kind, offering
$40 cash back for each non-Jabra wireless headset that is traded in
, when you purchase a new Engage Series wireless headset. If you have wanted to make the switch to a Jabra wireless headset, NOW IS THE TIME! We have not seen a trade-in this big, EVER! And, it's been extended through the end of 2019!
Or, if you already use a Jabra wireless headset (specifically, the PRO 920, 930, 935, 9450, 9460, 9465, or Motion/Motion Office), you can upgrade to the new Jabra Engage wireless series and receive a $20 rebate check in the mail for trading in your old Jabra wireless through the Technology Refresh promotion.
Additionally, when you upgrade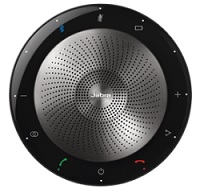 your technology to the new
Jabra Speak 710
wireless speakerphone, receive $20 back for a Jabra Speak 410/510, or $40 for a non-Jabra personal or huddle room speakerphone that is traded in. The Speak 710 (both UC and MS versions) offers wireless linking and connects to an additional Speak 710, for double the room coverage (up to 12 people). Connect to laptop, smart phone and tablet via USB or Bluetooth, and with plug-and-play simplicity, it's easy to set up wherever you take meetings. Fifteen hours of battery life ensures you can meet (or listen to music) for a long time.
Corded headsets have also been added to the mix, and with any Jabra Biz 2300 or 2400 II headset purchased, get $10/unit for existing Jabra wired solutions; or $20/unit for any non-Jabra wired solution.
These
Technology Refresh
promotions are only
good through December 31, 2019,
so take advantage of the savings and equip your staff with the latest and greatest in office and mobile wireless technology. Click here for the promotion's
T's and C's
.
Learn more about the qualifying headsets, below: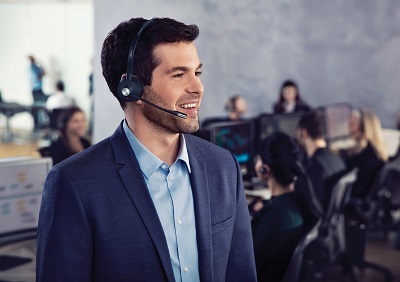 Engage with Jabra
and its Engage series, an entirely new class of DECT wireless professional headsets. The series provides superior wireless connectivity to a range of up to 490 feet - and enables up to 3 times more users to operate in the same office space with no loss in connection quality. Integrated busy lights in these headsets increase productivity and alert co-workers' to your busy status.
Engage 75 headsets connect up to five devices simultaneously, increasing availability for customer calls. And the choice of wearing styles support workers' preferences and workstyles.
For detailed information about each Engage headset, click on any of the following links:
Engage 65 Mono
Engage 65 Stereo
Engage 65 Convertible
Engage 75 Mono
Engage 75 Stereo
Engage 75 Convertible
Biz 2300 and Biz 2400 II headsets
Jabra's corded headsets feature world-class sound, tough construction, and comfort for all-day use. The specially designed "air shock" noise-cancelling microphones filter out sharp breathing sounds and popping noises often heard in conversations. Available in both one-ear and two-ear models, and with connections to desk phones or PCs, Biz 2300 and 2400 II headsets are perfect for all-day wear in contact centers, offices and more.
Visit the Jabra web site to learn more about the promotion, and instructions on how to claim the cash back:
Jabra Technology Refresh
Contact us today for recommendations on the best headsets for your unique requirements! 1-866-998-9991
9/6/2019 - 0 Comments
We've seen EarPods, AirPods and wireless ear buds for fitness and everyday use ... but did you know that
Jabra
has engineered wireless ear buds for professionals working inside or outside the workplace? The Jabra Evolve 65t ear buds are equipped with microphones for superior conversation, and the included carrying case charges the ear buds on-the-go, while storing the USB dongle.
Features: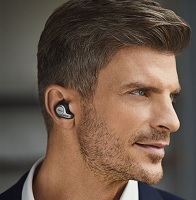 •
UC version
•
Microsoft-certified version
• Passive Noise Canceling — find your perfect fit with the three included sizes of ear tips (Small, Medium, Large)
• HearThrough — Double press the multi-function button to hear the outside world without taking off the earbud
• 4 microphone array
• Up to 15 hours battery; 5 hours talk time
• Connects to PCs and mobile phones, simultaneously
• High quality
• One-touch access to digital assistants and voice commands
• Superior musical experience with
Jabra Sound+
app integration
• MSRP: $329.00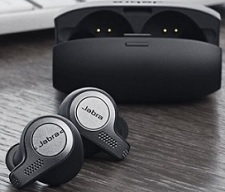 Jabra Evolve 65t was named to Fox News'
10 Top Gadgets of 2018
. This listing of top gadgets in each category, including phones, TVs, tablets and laptops, John Brandon of Fox News proclaimed the Evolve 65t sound as good - if not better - than wired earbuds and have the benefit of one-touch access to a voice assistant.
We realize that while this wearing style isn't for everyone, it will be great for those who are accustomed to ear buds and like the comfort and subtlety (there isn't an obvious "headset") that ear buds offer.
Call our Headset Experts today: 1-866-998-9991 to learn more about the
Jabra Evolve 65t
.
8/21/2019 - 0 Comments
Bring huddle rooms to life with best-in-class audio, and now video, from Jabra. The new PanaCast videocamera is the world's first intelligent, 180-degree panoramic 4K plug and play solution. It is compatible with all leading videoconferencing platforms on the market, and is certified for use with Microsoft Teams.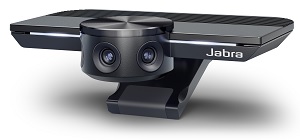 Similar to the tailor who brings together various pieces of fabric to create a cohesive whole, the nine processors (and patented technology) located inside the PanaCast body stitch images together from three separate camera lenses (13 megapixels each) to create a single image spanning 180 degrees.
This 180-degree technology means there are no invisible areas — even in the smallest huddle rooms! No blind spots, no one's cut out of the picture, and there's no wasted space. When there are only one or two people in the room, the PanaCast uses Intelligent Zoom to focus on participants when the full field of view is not needed.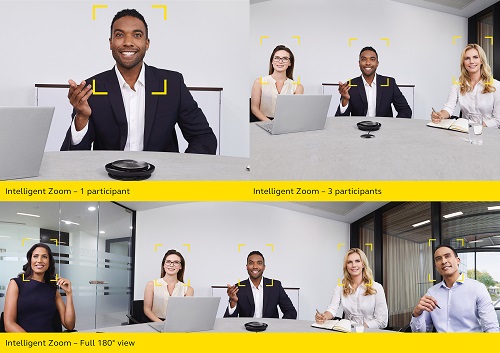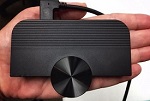 Jabra PanaCast offers 4K images, to display an image of at least 8 million active pixels. It's much sharper and results in higher clarity: 4K is four times that of the old HD standard. The size of the camera is remarkable, considering the technology packed into it: at just 6.1" x 3.5" x 1.8" the PanaCast fits in the palm of your hand.
PanaCast offers Intelligent Vision, a technology that works the way our eyes do, so that it adjusts automatically to changes in light. A dull or dimly-lit room is transformed. If your huddle room has natural light, PanaCast technology automatically adjusts the changing lighting.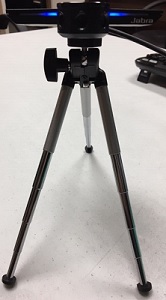 PanaCast has a standard 1/4″-20 thread and can be used with the PanaCast
wall mount
and
table stand
(available as additional purchases) or even any tripod with that screw size.
PanaCast has an integrated mount, for further flexible placement on a TV screen or laptop, for example.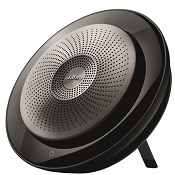 For a complete room solution, we recommend the
Jabra Speak 710
as the complementary audio device. It, too, is a plug-and-play accessory. The Speak 710 is plenty loud, and the 360-degree omnidirectional microphone picks up sound from all corners of a room. Connect with the integrated USB cord, or via Bluetooth.
The Speak 710 can be linked to an additional Speak 710, for
double the room coverage
! The two Speak units are connected wirelessly, with the press of the Link button on the Speak 710!
Jabra Direct should be downloaded to the PC that is running both the PanaCast and the Speak 710. You will be able to change settings in
Jabra Direct
, as well as update all firmware.
Jabra is known for its high quality, easy-to-use products, featuring advanced technology. As a Jabra Premier Partner, we're thrilled to offer them to our customers. Chat with us now to learn more!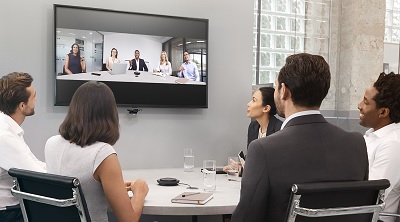 8/13/2019 - 0 Comments
In the U.S. alone, about 1.3 million business trips happen each day*. If you are one of these business travelers, then you know that dependable communications devices are a must for meetings, client calls, and entertainment, too.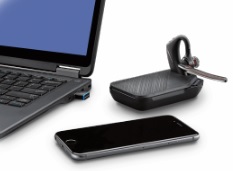 These devices go on the road with you, so that you can work anywhere.
Here are our top picks for travel gadgets with high quality, professional sound: the Plantronics Voyager 5200 UC, Jabra Speak 710, and Sennheiser MB 360 UC headset with Active Noise Canceling.
by Poly is a traditional Bluetooth style headset. Its sleek size, smart design, and comfortable fit start to tell the story. What you don't see is the technology powering it: the unique WindSmart technology detects wind direction and responds accordingly, so that your voice comes through.
Four adaptive microphones offer dynamic noise reduction. Whether you're taking a call outdoors, or running through Chicago O'Hare airport, your voice sounds clear and professional as you seamlessly transition between environments, inside or out.

Connect to mobile phone or tablet via Bluetooth; or, plug the included USB dongle into your PC, and your webinars and videoconferences are handled. (Be sure to change your Sound settings on the PC to recognize the headset!)
The included charging case stores both the headset and USB dongle, giving you up to 7 hours of talk time, and an additional 14 hours with the charging case. MSRP is $219.95.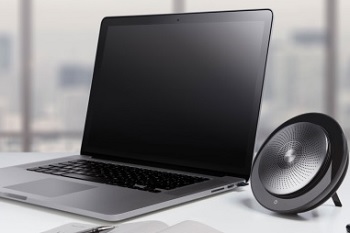 is a Bluetooth speakerphone with a USB dongle.
The omni-directional mic has 360-degree pick-up and crystal-clear audio for echo-free calls. And, it's easy to use: plug-and-play either Bluetooth or USB (using the dongle or the cable that's integrated around the middle of the Speak unit). When you're not using it for meetings, listen to music and multimedia. The rich bass hits all the right notes.
An added bonus: Connect 2 Speak 710s together when you're back in the office, and you have double the coverage. Jabra recommends the Speak 710 for up to 6 people, so it's great for individual use and also small teams. The portable device comes in a neoprene zippered carry case so that you can toss it in your briefcase and go. We especially like that the USB dongle is stored in the bottom of the speakerphone; one less thing to think about when packing it up and taking it on the road with you. MSRP is $299.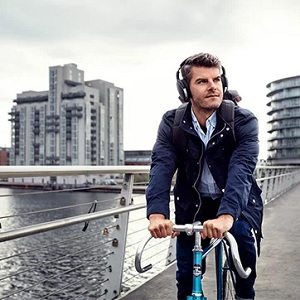 has a unique ear cup design: its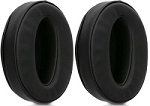 over-the-ear design completely surrounds the ear, and deep, ergonomic ear pads add noise dampening and long-lasting comfort for hours of wear. Testers report that the sound quality of this headset is excellent; whether listening to music and audio books, or during phone calls. There is no boom mic, yet the two digital noise-cancelling microphones pick up your voice for clear conversations.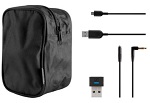 Innovative NoiseGard hybrid adaptive ANC constantly monitors your background environment for noise, thus adjusting the level of noise reduction in the headset seamlessly.
The MB 360 UC ear cushions fold to fit inside the included storage bag, which also comes with a USB dongle, USB to micro-USB charging cable, and an audio cable with 2. 5mm twist lock, 3.5 mm jack plugs and answer/end button.
Battery life is 25 hours and with Sennheiser's 2-year warranty, you've got peace of mind. MSRP is $249.00.
The best part of these devices? You can use them once you return to the office. If you're not sure which travel headset or speakerphone would best suit your needs, our team is ready to work with you! Call us at 1-866-998-9991, send an email, or Chat with us now!
*
Lola.com
:
50+ Business Travel Statistics: Airlines, Hotels and More
7/11/2019 - 0 Comments
Jabra
Speak speakerphones
are the perfect size for small conference rooms, huddle rooms, and individual use. They are easy to use, with Plug and Play technology and excellent sound quality. The
Speak 510 devices
are among the most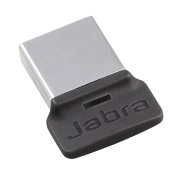 popular from the series, because they offer wireless connection via Bluetooth.
We are frequently asked "what is the
difference
between the
Speak 510
and
Speak 510+
?" The only difference between the 2 versions of the 510 is the
Link 370 USB Dongle
, which is
included with the Speak 510+ version
.
That's it! That's the only difference. But it's a big one, because that USB Dongle gives you up to 100 feet of range with the Speak 510+ from your computer, allowing you to position the speakerphone wherever you need to, completely wirelessly. We definitely recommend the Speak 510+ over the Speak 510 for this very reason. If you need to connect to computer at all, the "+" is the way to go and well worth the extra $30.
The discreet plug and play USB dongle ensures quality of sound and an extended wireless range up to 100 feet. When the Link 370 is connected to your Jabra speakerphone, the HD Voice lets you experience high-definition, crystal-clear sound and enjoy life-like conversations. In addition, HiFi Audio Streaming with A2DP alows you to stream music in amazing HiFi quality.
Speak 510+ Connected to PC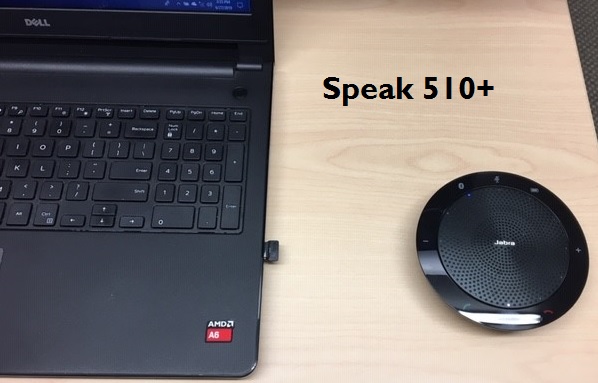 Speak 510 Connected to PC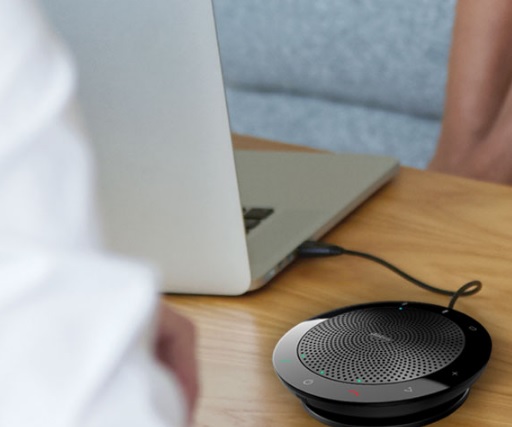 Speak 510 and Speak 510+ with Mobile Phone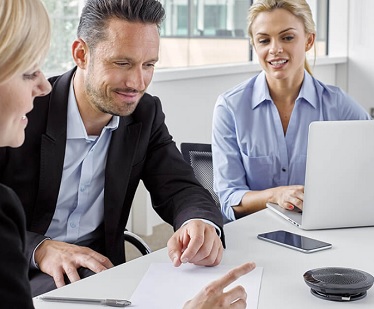 The Jabra Speak 510 and 510+ units are easy to manage and update with the FREE Jabra Direct software:
Jabra Direct
.
There are four different options of Speak 510 devices: either Speak 510 or Speak 510+, and either UC or Microsoft Certified Versions. If you are using a Microsoft platform (Lync, Skype for Business, or Teams) we recommend that you purchase the MS version of the Speak you prefer.
Speak 510 UC
Speak 510 MS
Speak 510+ UC
Speak 510+ MS
Our team is ready to help determine which Speak unit would be the best fit for your organization. Call us today: 1-866-998-9991.