Showing posts tagged: Jabra
3/13/2019 - 0 Comments
One of our customers had a very good question for us, and we realized that others may be wondering the same thing: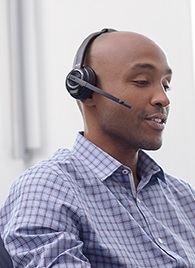 Now that Jabra, Sennheiser, and Plantronics have all come out with new wireless headset options, will my existing EHS cable still work if I purchase one of the new headsets?
The short answer is, "Yes, as long as the new headset is the same brand as your old headset!"
And, as long as you are utilizing the same phone brand and model.
Here's why:
(WARNING: Stop reading now if you aren't interested in the finer details of wireless headset remote answering).
EHS cables are built to be compatible with specific phone brands and models; as phone vendors release new phones, the headset manufacturers create compatible EHS cables.
EHS (Electronic Hook Switch) cables electronically connect to a wireless headset and phone. An EHS passes predefined signaling. Users can handle calls with the headset only, freeing them from remaining next to the phone. EHS cables provide a ring alert signal to your headset anytime your desk phone rings. It also allows you to answer and end calls right from your headset anywhere within your headset's range. EHS adapters eliminate the need for an old-school handset lifter.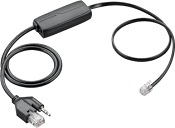 Yealink
is one phone brand that manufactures
its own EHS adapter
, compatible with the various headset brands. We sell that as well!
Please note: If you switch headset brands, then you will need to also update your EHS cable to the new brand.
If you're in doubt, check the brand's compatibility guide for the most up-to-date information:
Jabra
Plantronics
Sennheiser
Or
contact us
, and our Headset Experts will get you the answers you need: 1-866-998-9991. After all, Communication Is Our Business!
3/6/2019 - 0 Comments
Help your Jabra headset become smarter.
While you may be familiar with high-quality devices from
Jabra,
such as Evolve headsets and Speak speakerphones, you may not know that Jabra also provides innovative, AI-enhanced software that supports its USB (and Bluetooth with Link 360/370 adapter) products. Jabra Direct 2.0 is available now —
and, it's free
.
Core functions of Jabra Direct:
•Automatically get firmware updates so that your headset is always updated and secure.
•Personalize your headset settings according to personal preferences, or company requirements. Functions such as ringtone, sound optimization for music, audio protection level, sidetone level, and many more areas can be controlled.
•Remote call control (answer/end/call, mute, redial, etc.) for UC platforms.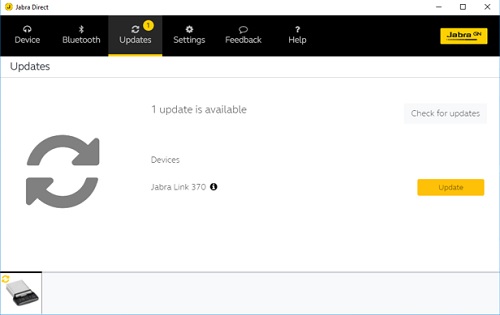 Jabra Direct has an intuitive, user-friendly interface that provides overall status of each connected device, and notifications of updates. To receive firmware update notifications, go to Settings and switch Update Notifications to "On." This alerts you to open Jabra Direct, and run updates as they are available.
Key updates in Direct 2.0:
Enterprises that use a proxy server, and those who prefer on-premise deployments, are now supported. Jabra Direct 2.0 will be able to connect to the Internet and receive settings and firmware in proxy-based environments. For enterprises that prefer not to be connected to the Internet, change settings or firmware updates on Jabra devices can be managed and controlled by the enterprise, within their firewall. Another update: Direct 2.0 provides data about end-user name and PC/Mac name, which is also then added as a service in Xpress 2.0. Additionally, Jabra announced that it has certified the handling of customer data in the Jabra Cloud with the SOC 2 declaration. Jabra is committed to protecting customer data against unwanted usage by a third party.
Download Jabra Direct 2.0 for Windows or Mac, from the
Jabra Direct
page.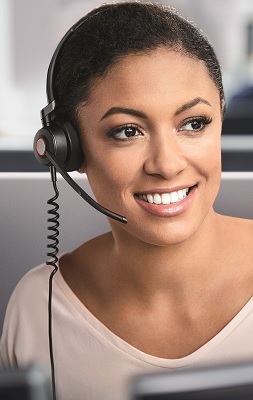 Jabra Engage 50
Jabra Engage 50 is a new generation of digital headsets that provide additional call analytic metrics. The Engage 50 is the first Jabra corded headset to have the chip in the headset itself, making it a true digital headset. The Engage 50 uses the very latest chipset, and this, along with the positioning of the chip, delivers enhanced functionality and user experience.
No longer are headsets an accessory to a phone system, simply transmitting human audio; they are now a "business critical element of the whole infrastructure," according to Jabra SVP Holger Reisinger. These digital devices provide call analytics that in some cases can listen to how people say things, extracting human sentiment from the human voice. Reisinger says that Jabra is providing proof of concept with new KPIs for the contact center, such as measuring agent friendliness against customer anger, in real time. Rather than recording calls and doing transcription analytics, this information is measured in real time and shown as a graph,
in front of the agent who is on the call
, so that the agent can adjust tactics, mid-call.
Jabra Xpress 2.0 Now Available
For organization-wide updates and inventory management, we recommend
Jabra Xpress
, a free online tool. Read all about Jabra Xpress on our blog, here:
Jabra Xpress: Mass Headset Deployment Made Easy
. This program allows IT staff to create software packages for remote updates, configurations and asset management of Jabra USB devices. Jabra Xpress has also been updated to a 2.0 version. To create an account to begin using Jabra Xpress, or update existing Jabra Xpress to the 2.0 version, go to the Xpress microsite:
Jabra Xpress 2.0
.
Jabra Direct 1.0 and Jabra Xpress 1.0 will be discontinued June 30, 2019. We recommend updating to the new 2.0 versions today. Please reach out to us with any questions you have about these updates, and let us know if you need any assistance: 1-866-998-9991.
2/19/2019 - 0 Comments
With 10 years in the headset business, headsets are our bread and butter. Of course, it makes sense that we see value in, and appreciate the use of, headsets. We came up with a (brief) list of reasons why we love headsets; and we are curious why others love their headsets. Share the reason why you love your headset on the Comments tab, above.
Headsets increase productivity.
Studies show that workers using headsets are up to 40 percent more productive than those who don't. Headsets, especially those with integrated busylights, or used with external Busylights displayed on monitors or cubicle walls, are a clear notifier of status ... red means "do not disturb." Productivity increases without interruption.
Headsets produce clear conversations.
Headset microphone technology has been designed to cancel background noise and focus on human voices, for the best possible audio experience.
Headsets protect hearing.
Each headset brand has its own patented technology, providing hearing protections that guard against sound spikes and other sound hazards.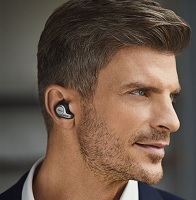 Headsets provide quiet work spaces.
If we can't erect walls and a door around our desk, we can put a headset on our ears and block background noise. To really get the benefits of a quiet work space, we suggest an Active Noise Canceling headset. Read a round-up of all of the ANC headsets we offer here:
Active Noise Canceling - The New Trend in Office Headsets
.
Headsets support correct body alignment and good posture.
One of the most important things about body mechanics and posture is alignment: how the head, shoulders, spine, hips, knees and ankles line up with each other. Proper alignment of the body puts less stress on the spine for good posture.
Headsets reduce stress.
Noise can cause stress: ringing phones and conversations affect the rhythm and rate of our hearts. Interruptions cause stress. Open offices and the noisy environments they produce cause stress. By sealing yourself away from the noise with a headset, stress levels are lessened.
Headsets are a fashion statement.
Headsets can represent a certain cool, edgy, "don't bother me, I'm busy" vibe. And, with all of the wearing styles available today, there truly is a headset for everyone: from ear buds to headbands, and everything in between, you can choose your look.
If you're not feeling the headset love, it may be time for a new, high quality, professional headset. We offer the top brands:
Jabra
,
Plantronics
,
Sennheiser
,
BlueParrott
, and
VXi
, and work with our customers to ensure the best fit for each environment and connection type. Give our headset experts a call today at 1-866-998-9991.
1/14/2019 - 0 Comments
We've seen EarPods, AirPods and wireless ear buds for fitness and everyday use ... but did you know that
Jabra
has engineered wireless ear buds for professionals working inside or outside the workplace? The Jabra Evolve 65t ear buds are equipped with microphones for superior conversation, and the included carrying case charges the ear buds on-the-go, while storing the USB dongle.
Features: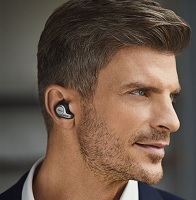 •
UC version
•
Microsoft-certified version
• Passive Noise Canceling — find your perfect fit with the three included sizes of ear tips (Small, Medium, Large)
• HearThrough — Double press the multi-function button to hear the outside world without taking off the earbud
• 4 microphone array
• Up to 15 hours battery; 5 hours talk time
• Connects to PCs and mobile phones, simultaneously
• High quality
• One-touch access to digital assistants and voice commands
• Superior musical experience with
Jabra Sound+
app integration
• MSRP: $329.00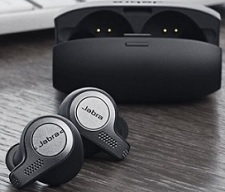 Jabra Evolve 65t was named to Fox News'
10 Top Gadgets of 2018
. This listing of top gadgets in each category, including phones, TVs, tablets and laptops, John Brandon of Fox News proclaimed the Evolve 65t sound as good - if not better - than wired earbuds and have the benefit of one-touch access to a voice assistant.
We realize that while this wearing style isn't for everyone, it will be great for those who are accustomed to ear buds and like the comfort and subtlety (there isn't an obvious "headset") that ear buds offer.
Call our Headset Experts today: 1-866-998-9991 to learn more about the
Jabra Evolve 65t
.
12/21/2018 - 0 Comments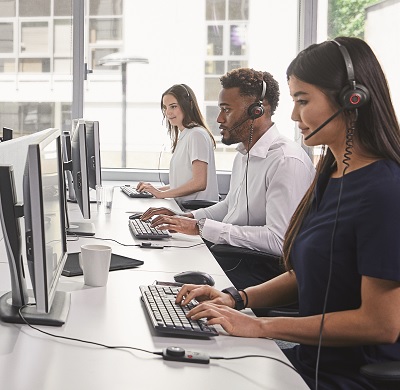 Five years ago, it was proclaimed that customers would no longer call into businesses; that they would prefer to find support via email, social and Chat channels, and organizations scrambled to train and ramp up those areas in their call centers (updating the terminology to "contact centers").
Yet, here it is, almost 2019, and it turns out,
customers are still calling businesses when they need help
. Research has shown that customers start with online assistance for simple questions; however, as matters become more complicated, phone calls remain the preferred way to contact companies. This means that customer service agents are expected to know more detailed information and handle longer, complex calls. The pressure to produce results in a cost-efficient manner means that data analytics are crucial.
With this in mind, Jabra engineered a headset that meets these needs by offering digital sound, data analytics, Busylights on the ear speakers, and is comfortable to wear through long, demanding calls. The Engage 50 corded headset is available in both
Mono
and
Duo
versions and ends in USB-C. The generous-sized leatherette ear cushions have a conical design, so that the cushions rest securely on the ear.
How is the Engage 50 a Digital Headset?
A processing chip in the headset — rather than in a control unit or cord — makes the Engage 50 a digital headset. While most wireless headsets are already digital headsets, the Engage 50 is the first Jabra corded headset to have the chip in the headset itself. The Engage 50 uses the very latest chipset, and this, along with the positioning of the chip, delivers enhanced functionality and user experience. Along with Jabra Direct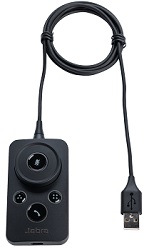 and Jabra Xpress, call analytics for the business, and on-screen microphone positioning guidance for the agents, are provided. A great headset, along with Jabra software, improves customer satisfaction.
Engage 50 Link Control Unit
The control unit improves call control and the ergonomic design helps agents work more efficiently. It is an optional accessory; however, it must be purchased in order to use the Engage 50 with USB-A ports. There are four variations of the control unit:
Jabra Engage 50 Link USB-A
Jabra Engage 50 Link USB-A Microsoft certified
Jabra Engage 50 Link USB-C
Jabra Engage 50 Link USB-C Microsoft certified
Data analytics and free Jabra software
Jabra Xpress 2.0
is designed for IT professionals to 100 percent remotely manage Jabra USB headsets and speakerphones with a set of smart tools. Xpress keeps different devices, across multiple locations and with numerous users, always updated with the latest firmware. Xpress offers easy mass deployment and agile maintenance.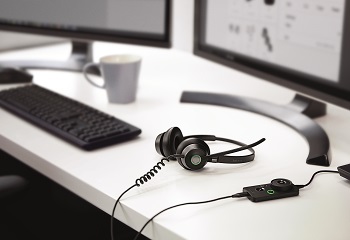 It works no matter the platform you work with, or whether you're working from your own premises, your own cloud-based service, or the Jabra cloud. And, call analytics received from individual headset users help your management team make
data-based decisions to improve agent productivity and the customer call experience
. These comprehensive insights include background noise, speech analytics, headset usage analytics and audio exposure.
Jabra Direct 2.0
is a user-friendly desktop interface offering complete integration of your softphone and headset. The Jabra Direct dashboard is a user friendly status menu available from the desktop notification area, typically accessed via the lower right corner of the desktop.The dashboard shows the status of your headset, if any updates are available, and if your softphone(s) are ready for use. By clicking your Jabra device in the dashboard, you will be linked into the Jabra Direct main application for managing setting preferences, start firmware updates or access applications that are available for your headsets.
And did we mention, these software programs are available at no cost, for both Mac and Windows platforms?
To learn more about Jabra Engage 50 headsets, call our Headset Experts at 1-866-998-9991.