Blog
12/10/2014 - 0 Comments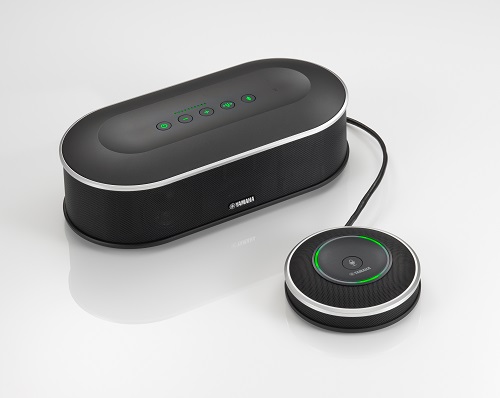 The latest offering from Yamaha's audio division is the YVC-1000, a USB Microphone Speaker system that will take your video conferencing to the next level. In addition to USB connection, the YVC-1000 connects to smart phones and tablets via Bluetooth and NFC technology, as well as to existing video conferencing systems.
The highly configurable and scalable device is unique in that it offers a separate speaker and microphone. Out of the box, the YVC-1000 is perfect for small to medium-size meetings (13'x16') and can be expanded for a room up to 30' x 36'. The unit allows for up to five expansion microphones and two external speakers to be connected for additional participants.

Tuning Fork Feature
To ensure optimal sound quality at the touch of a button, simply press and hold the Tuning Fork button at the top of the YVC-1000. This will activate the automatic audio tuning function, measure the room, and optimize the acoustic settings for your current environment. Voice prompts and a green lit tuning fork button indicate that the process has been done successfully.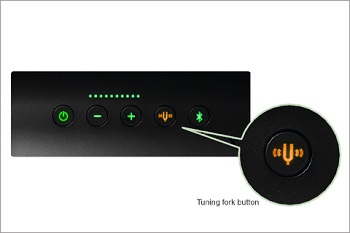 Yamaha's sound optimization technologies deliver features essential to effective communication, such as Adaptive echo canceller, Automatic tracking, Automatic gain control, Noise reduction, Reverb suppression, and Automatic room EQ. More information about each of these technologies can be found here:
YVC-1000 Product page
.
What's in the box?
Control Unit (with built-in speaker); Microphone; Power Cable; USB Cable; Microphone Cable; Quick Start Guide
The YVC-1000 has been available since mid-July and has been a popular offering in the web conferencing market. Organizations that may find this YVC-1000 Microphone Speaker System to be of value are businesses, hotel conference rooms, health care organizations, educational environments, and more. It's a truly versatile system that warrants a second look.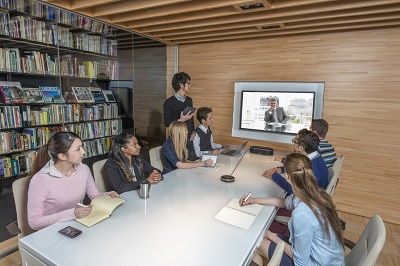 Interested in finding out more about the YVC-1000?
Contact us!
We would love to demo this product for you!
11/26/2014 - 0 Comments
We recently co-hosted a webinar with
Unify Square
and
Jabra
titled, "Driving Successful User Adoption of Microsoft Lync Enterprise Voice." An all-star cast, including Khai Tran from Jabra, highlighted the challenges of Lync deployments, some ways to smooth the transition, and the importance of choosing high quality audio devices that best fit the environment and users.
The #1 reason why Lync adoptions fail? Unify Square says that the
fear of change
is the biggest determinant of failure. At its core, Microsoft Lync
changes the way people work
. The success of Lync deployments depend on end users and each end user adapts at their own rate. An organization can't leave them to their own "devices" – the key to user adoption is to encourage staff to embrace and participate in the changes. In other words, you need to meet users where they live.
The good news: when you manage the change (by being proactive), you can better guide the implementation and adoption, culminating in a positive outcome.
Unify Square staff shared steps for successful adoption:
1. Determine the business outcomes desired and then SHARE those goals with everyone.
2. Segment users into common groups and find out about common adoption challenges, for example, what concerns them about not having a desk phone?
3. Create training materials for end users that cover the basics and how to get assistance; a centralized web site, feedback program and real-time support lay the groundwork for success.
4. Host "Device Demo Days" where users can try out sample devices to determine preference (one ear vs. two ear headsets; over the head vs. behind the neck wearing style, etc.).
"Devices make experiences"
Of course, a key element to successful adoption is what's known as "The Last Three Feet" in telecommunications: the devices (headsets, speakerphones, and more) that are used. The device must be
user friendly
– comfortable, reliable and easy-to-use. The device must also be of high quality: incorporating hearing protection and speech analytics technologies, superior materials, and durable construction are just a few of the necessities. If a low end, poor quality device is chosen, the overall Lync deployment is in jeopardy. The quality of the system is judged by the quality of the voice experience.
Jabra has a variety of devices optimized for Microsoft Lync that are plug-and-play. As a Microsoft Gold Communications Partner, Jabra devices integrate into current and new generations of Microsoft Lync solutions, delivering the ultimate voice collaboration experience. See the entire portfolio of Jabra Lync Optimized audio devices here:
Jabra Lync Device Portfolio
.
Because a Lync Voice solution is only as good as the audio end-point used, Jabra has a Discovery Offer of up to five free devices for companies who are rolling out Microsoft Lync or Microsoft Office 365. Read more about the
Discovery Offer
on the Jabra web site.
Are you interested in learning more about deploying Lync at your organization? Do you need a blueprint for successful adoption? Have you considered "The Last Three Feet?" We're here to help – give us a call today!
11/21/2014 - 0 Comments
The GN2000 series from Jabra has been a "go to" headset in contact centers for years … and has many devoted users. After almost 10 successful years on the market, the GN2000 series headsets are going to be discontinued. As of Dec. 31, 2014, the product line will be end of life with limited stock available. As vanguards in the headset industry, Jabra offers headsets with cutting edge technology and the latest style trends.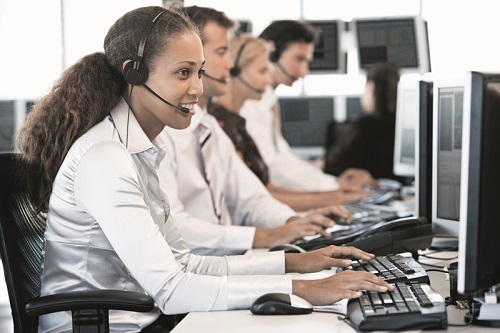 Jabra debuted the BIZ 2300 series headsets in January of this year, and suggests this series as the replacement for the GN2000s. This durable and reliable headset series is made for your brand ambassadors. Lightweight and ergonomic, the BIZ 2300 is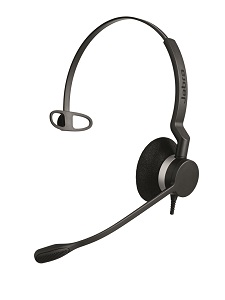 perfect for all-day wear in contact centers, offices and more.
Versions in the BIZ 2300 series include two Quick Disconnect headsets – a mono ear and duo ear option – and four USB versions – two standard UC variants, and two which are optimized for use with Microsoft Lync, available in both mono and duo. The headset design features large conical ear cups that rest lightly on the ear for a lightweight feel. Foam ear cushions are standard; leatherette cushions are available as an extra purchase, if desired. The lightweight plastic and metal headband is easy to adjust and the Kevlar reinforced cords offer exceptional durability and withstand greater abuse.
Noise-cancelling microphones will allow your customers to hear you, and not the background noise of your co-workers' conversations. The break-proof flex boom can be easily positioned toward the mouth and the 360-degree spin of the boom arm works well for any user. The microphone does not need an outer windscreen because of its unique Air Shock technology.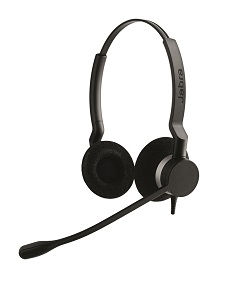 When a microphone is placed too close to the mouth, you are likely to pick up respiratory noise. The Jabra BIZ 2300 microphone is designed aerodynamically, with many small perforations and includes a foam lining that reduces the penetration of air shocks to the microphone, which optimizes the call quality.
The USB versions have inline call controls: Answer, End,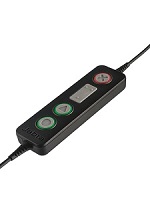 Mute and Volume controls with soft touch buttons that light up. Jabra PC Suite (
read our blog post
) and Jabra Xpress software systems are both available – at no charge – and will keep your headset updated with any firmware changes. Jabra Xpress mass deploys headsets with the correct settings in a matter of minutes. For more information about Jabra Xpress, check out our blog post
here
.
The QD headsets connect to any standard desk phone with the use of a Smart Cord or Jabra amplifier. We tested a BIZ 2325 headset with a LINK 850 amplifier, and then with a GN1200 Smart Cord, to our desk phones. The sound quality with both connections was crystal clear and callers were easy to understand with the duo ear headset. We found that having both ears covered with the headset helped us to focus on our callers, and not what was happening around us in our office. Oftentimes the headset stayed on our heads as we forgot we were wearing it!
The BIZ 2300 headsets offer a standard two-year warranty. If you are currently using the GN2000 series, Jabra is giving you the opportunity to try a BIZ 2300 headset
FREE
with this
GN2000 Update Offer
.
This offer expires December 31, 2014, so you'll want to take advantage of this soon!
11/12/2014 - 0 Comments
Plantronics has updated its EncorePro line with new headsets designed for all-day comfort and reliability. This new generation of headsets is designed for the future, with experience from the past. Balancing cost with best-practices, the EncorePro headsets deliver functionality and reliability at a reasonable price point. Headset wearing style is a matter of personal preference and comfort. With these headsets, customer service staff that spends the majority of their shift talking on the phone will value the comfort and fit of the new EncorePro headsets.
Available for purchase today are the
HW530
and
HW540
models; in December the HW510 and HW520 will be available. All of the models have a noise-cancelling microphone to ensure background noise won't be conveyed to your caller.
The Avcomm staff tested the HW540 and loved the versatility of the 3 different wearing styles: ear hook, over-the-head and behind-the-neck. The HW540 will be universally accepted by your staff: it's like getting 3 headsets in one box! And headset buying will be a breeze with the HW540 because you won't have to purchase different headsets to match each user's preference. Your staff will appreciate the changeability offered when they decide they don't want to wear their headset over their ear and would rather use the behind-the-neck piece. It's like wearing a new headset every day.
The neckpiece is made of lightweight flexible plastic that remains behind the head for all-day wearing. The ear pieces rest lightly on the ears without squeezing your ears to your head – perfect for eyeglass wearers. It's a quick change to unsnap and then snap the earpiece into a new wearing style. The ear hook is flexible and can be molded to the ear, for complete wearing comfort and headset stability. And the traditional over-the-head wearing style is always a great choice.
Disconnect the QD cord and you can walk around the office without removing the headset. Plug the QD cord back in when you're back to your desk, and you're ready for your next call. You can use this headset with your smartphone, desk phone, an amplifier, or soft phone. The connection cord is personalized to your individual set-up and we help you determine the correct one.
We also noticed:
Ear cushion is made of soft foam, and rests comfortably on the ear.
Flexible boom arm ensures the best positioning for the mic. Positioning guides are printed on the earpiece.
Impressive audio quality for clear calls. This is wideband compatible: if you are updating your phone system with wideband capability, your EncorePro headset is ready!
Aircraft grade aluminum, laser-welded construction and metal joints keep the headset lightweight and durable.
SoundGuard technology to protect your hearing.


What's in the Box? Earpiece, over-the-head, behind-the-neck and over-the-ear wearing styles, Quick Start Guide, Safety Guide, Clothing Clip, White Carry Bag.



Plantronics offers a two-year warranty on the EncorePro headsets. Learn more about the HW540 in this short video on YouTube:


Would you like to try an EncorePro HW540? Which style would you wear the most?
10/24/2014 - 0 Comments
Dave needs to buy headsets for his office staff of 25, and chooses to look on the Internet to get the very best deal. After spending some time researching headsets on his own, he decides to buy them from an online retailer, under the impression he is getting a great deal.
First problem:
The time spent researching on his own. With staffing shortages and budget crunches, we are all doing more at work than we have in the past. The time allocated to learning a new industry (headsets) may be best spent on completing work tasks. Even after spending the time to research and learn about headsets, how can Dave be certain that he bought the correct headsets for his environment?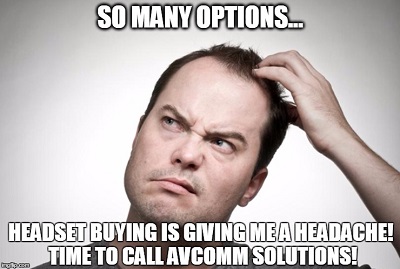 One size doesn't fit all. Each environment is unique; choosing by price point or the appearance of a headset is not going to be the right answer. Online searches don't always reveal the true product being sold (New vs. refurbished, single vs. dual speaker, connection type, etc.).
Second problem:
After placing the order, Dave realized that he had some questions and because he doesn't have the contact information of a headset specialist at the company, he chooses to send a general inquiry email through the company's website. Three days later, he still doesn't have a response, and he really needs to have product in hand within a couple of days. To whom does he turn?
Third problem:
Dave was unaware of existing promotions that could have possibly saved his company thousands of dollars, a value for the customer that goes beyond the initial price tag of the product.
Resolution: Seek Expert Advice and Support from a Dedicated Headset Specialist.
High quality audio devices such as headsets, speakerphones, and USB video cameras are our specialty. As an authorized reseller, we know the wide variety of products available, we know how they work together, and we are here to support you every step of the way. Our trained team with their expertise does the research for you; no need to spend hours on the Internet trying to separate fact from fiction.
While most online retailers have an automated shopping cart and shipping system in place, eliminating the need for a live body, here at Avcomm we personally receive and review each order that comes in, before it goes out the door. This is in an effort to ensure that when our customer receives their order, they have everything they need to install it and begin using it immediately. Emails and phone calls are returned within hours – not days – of being received. All in-stock orders received by 3pm central are shipped out the very same day. Most of our customers' jobs depend on high quality devices for communication and to go without, means money lost. We understand the importance of getting the right product in our customers' hands from the start.
And, prompt assistance with warranty repair, set-up, and tech support, continues even years after the initial purchase.
A key benefit of working with an authorized reseller is being made aware of any possible discounts or promotions that either the reseller or manufacturer has available. Authorized resellers, like Avcomm Solutions, maintain close relationships with the manufacturers and make sure that our customers are well aware of all current promotions available.
Conclusion:
Dave could have saved himself and the company lots of time, stress, and ultimately, money, if he had purchased his headsets from an authorized reseller. While the DIY sentiment might be the buzzword at home, when you're looking for headsets, a specialized expert in the field is the best option. We will guide you through the maze of choices and lead you to a solution that fits.
Let us know how we can help!