Your IT department will beg you to buy Jabra headsets once they know about Jabra Xpress, an industry-first,
free
web-based software package that quickly and accurately deploys and upgrades Jabra USB headsets and adapters, along with related utility software and Softphone drivers. Jabra estimates that in about 15 minutes, your headsets are deployed, configured to be aligned with corporate policies and ready for the end user! Jabra Xpress supports an unlimited number of users within your enterprise.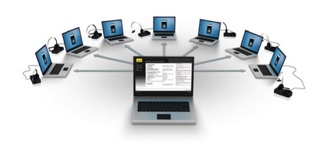 Before Jabra Xpress, the IT department could spend hours, and sometimes days (depending upon the number of headsets), to manually set up Jabra USB devices to each individual's PC. Software and firmware upgrades then were either taken care of by the IT department after hours, or dependent upon the individual user's manual intervention.
Using this online MSI configurator, software, firmware and settings are remotely deployed, thus ensuring each device has been updated, and correctly. MSI packages can be tailored for specific groups of users, to help them work most productively.
There are three tools that make up Jabra Xpress:
•
Xpress online tool
– create an MSI package for mass deployment using industry-standard enterprise management tools such as SCCM. Your Jabra device firmware, settings, and software can be custom configured for your organization's needs.
•
Jabra Device Updater
– a windows application installed on an end user's PC that governs Jabra device configurations (e.g. firmware version upgrade OR downgrade, device settings, etc).
•
Jabra WMI provider
– a WMI provider that collects detailed information of Jabra devices (e.g. model name, firmware version etc.).
The WMI provider can capture information from every Jabra device and every previously connected Jabra device, which is great for an organization's asset management. Information such as serial number, when the device was last updated, and which version they're using, is available.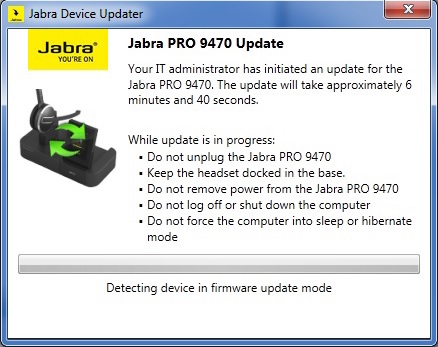 To use Jabra Xpress, Jabra Service Engineer Dennis Majikas says it's as simple as creating the MSI file from the Jabra Xpress microsite and deploying the file via the corporate deployment software that's normally used.
Another benefit of Jabra Xpress is that it's always up-to-date.
"Updates happen in real time, so you're always getting the latest and greatest," said Majikas.
Since Jabra Xpress is based on standard Microsoft technology (MSI/WMI), it's compatible with leading deployment systems such as Microsoft System Center Configuration Manager (SCCM), and will seamlessly integrate into your existing IT management infrastructure.
If your organization doesn't utilize SCCM, the MSI file can be saved to a shared network folder and accessed from there, or sent as an email attachment. Changes to the MSI file can be made by modifying a previously created configuration.
Once the MSI file has been executed and the updates have been successful, the MSI file can be deleted. There is no footprint on the user's computer.
The intuitive, user-friendly program offers a 3-page FAQ document that is continually updated with questions from current users of Jabra Xpress, and a 22-page User Guide that clearly explains the software package.
"The long term value at the end of the day demonstrates that it costs your company less to support Jabra products than others," said Majikas.
To get started with Jabra Xpress, go to the
Jabra Xpress microsite
, click on the yellow "Get access" button and request a free login. Within a day or so, you will receive a confirmation email with username and password. You can immediately use Jabra Xpress, and access all documentation and presentation material.
To learn more about Jabra Xpress, you can watch the
Jabra Xpress YouTube video
.
Feel free to contact us here at Avcomm Solutions: 1-866-998-9991 and we can set up a personalized demonstration for you.