Blog
8/6/2014 - 0 Comments
The Sennheiser brand has produced another award-winning product in the SP 20 Speakerphone, receiving both the 2014 iF Product Design and RedDot awards. Ease of use, quality craftsmanship and a discrete profile recommend the Sennheiser
SP 20 ML
for conference and huddle rooms, as well as individual use.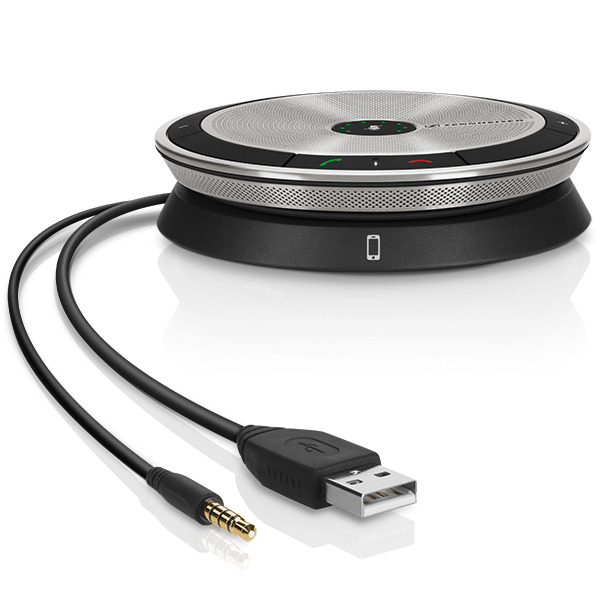 Douglas Bowersox, Business Development Manager for Sennheiser, said that the company has been anticipating the release of the new personal speakerphone for some time.
"Feedback from our strategic seeding and early market samples only further elevated our eagerness for the release of our new SP20 personal speakerphone product," he reported.
The positive buzz surrounding the release of the SP series of speakerphones (which also includes the SP 10 models) caused early sell-outs and product shortages.
"Many times new product releases struggle to grab market interest early on, not the case with the Sennheiser SP series. Fortunately/unfortunately our SP series speakerphone garnered so much interest pre-release that we quickly sold through our initial expected stocking order and several very large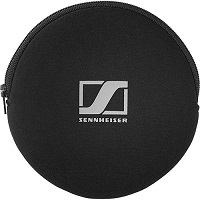 companies placed orders worldwide that quickly depleted our initial production stock," he said.
"The good news is production has been ramped up and stock is available. If you have not already experienced the premium audio performance of the Sennheiser Telephony, UC and Collaboration products we are confident the SP series of personal speakerphones will not disappoint."
Let's meet the SP 20
When you open the SP 20 box, the speakerphone is zipped inside its convenient tailored neoprene carrying pouch – making this speakerphone easy to travel with.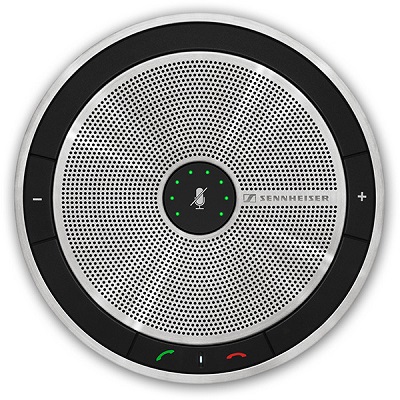 The SP 20 weighs in at a mere 7.35 ounces. The composite metal face and surrounding side lend a designer touch to the otherwise black plastic speakerphone. The mute button, indicated by a microphone with a slash through it, is in the middle of the speakerphone; surrounding the mute button are 8 LED lights; they indicate volume (in green); mute (red); and remaining battery power (blue). At the bottom of the device, red and green handset buttons answer and end calls. Volume buttons, - (decrease) and + (increase) are anchored to the left and right of the device.
The USB and 3.5 mm cords wrap around the middle of the device and stay connected to the SP 20, so there's no fear of loss. Connect either the USB cord to a PC/softphone, or the 3.5 mm cable to a mobile phone or tablet. When you're not on a call, and the device is connected to your mobile phone or tablet, the mute button becomes an equalizer: simply press the mute button for 5 seconds, and you get the world-renowned Sennheiser sound quality to listen to your music. Charge via USB for up to 20 hours of talk time; when connected via USB, get unlimited talk time.
The simplicity of use does not translate into a simple device: The dual talk feature allows for natural conversation and echo cancelling removes sound reflections. You can merge your PC/softphone and mobile calls into one conference across the devices. The illustrated Quick Start Guide shows this functionality at a glance.
At an MSRP cost of $199.95, this speakerphone won't break the bank. There are a variety of situations where the SP 20 would be the perfect product - personal offices, huddle rooms, conference rooms, and more - and with a two-year warranty, Sennheiser gives you peace of mind.
Do you have questions about how the SP 20 ML would work best for your office needs? Give us a call at 866-998-9991 and our team would be happy to assist you!
7/29/2014 - 0 Comments
Did you know that recently Avcomm Solutions became certified as a Woman Owned Small Business? After opening its doors in April of 2008, our President Susan Mitchell has led the company to continued growth and success; however, the official certification process as a woman owned business was something that remained on the horizon to be accomplished.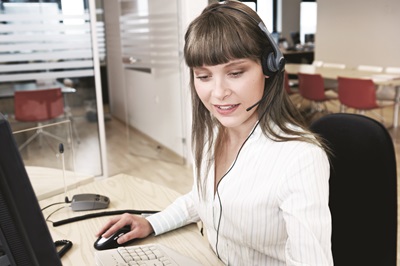 This spring, it was determined that it was time to take the official step of self-certification through the SBA (Small Business Administration). Discovery and gathering of required documentation was the first step to complete the certification. Paperwork, including the completion of the Women Owned Small Business Program Certification, was another step.
"Avcomm Solutions has been a woman owned business since its inception in 2008. In the past 5 years, we were aware that we had missed some sales opportunities with several large corporations, because we lacked the certification required by these companies," Mitchell said. "As part of our strategic planning for 2014, we decided that it was time to move forward with the process of becoming certified. By being a certified woman owned business, we are now able to compete for special opportunities that arise within the procurement programs of the state and federal governments, and through the supplier diversity programs of private corporations."
With the able assistance of some staffers in the Nebraska District offices of the SBA, the final certification process was completed. We are extremely proud of this certification, which states that more than 51% of the company is directly owned and controlled by a woman.
Avcomm is part of this woman-owned movement that continues to grow nationwide: according to National Association of Women Business Owners (NAWBO), more than 9.1 million firms are owned by women, employing nearly 7.9 million people, and generating $1.4 trillion in sales as of 2014. Women-owned firms (50% or more) account for 30% of all privately held firms and contribute 14% of employment and 11% of revenues. Over the past six years, since the depth of the U.S. recession, the only businesses that have provided a net increase in employment are large, publicly traded corporations… and privately held majority women-owned firms. In all other privately held firms, employment has declined over the 2007–2013 period. (These statistics are from
Womenable
.)
The
2014 State of Women-Owned Businesses Report
was recently published by American Express OPEN, written by Womenable. The National Association of Women Business Owners (NAWBO) partnered with Web.com to commission a national survey of NAWBO members.
The findings? Of the more than 5,000 NAWBO members polled, 92 percent say they believe more women will venture out and start their own businesses in 2014. Their own motivations for beginning a business were varied, with envisioning themselves as entrepreneurs and wanting to implement a business idea as the top two reasons given. For their 2014 investment plans, the NAWBO members state Marketing and Customer Service to be of top importance, with Hiring coming in as 4th importance for investment.
This comes as no surprise to us here at Avcomm, as continued growth and increased staff have been a natural outcome of taking the time to build relationships, providing excellent customer service before and after purchase, and becoming a one-stop shop for our customers' audio and video communication needs. By offering the best advice, and the best manufacturers out there, our high quality solutions keep your businesses running efficiently, your employees happy, and your stockholders satisfied!
To view Avcomm Solutions' certification,
please click here.
7/21/2014 - 0 Comments
We recently had the pleasure of attending the Microsoft Worldwide Partner Conference in Washington, D.C., last week. Our expectations were high, and we weren't disappointed. At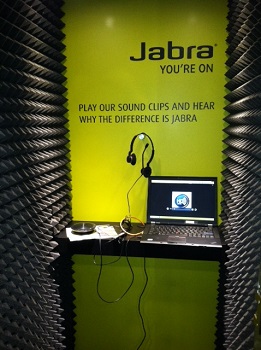 the Monday morning Vision Keynote address, Microsoft leaders articulated the organization's "clear and differentiated vision for the future in a mobile-first, cloud-first world."
Enterprise solutions that are secure, functional and rich with features is what Microsoft brings to the table, and with new ways of offering their software, Microsoft continues to stay at the forefront of its class. The launch and success of
Office 365
, a cloud based subscription suite of office software that makes your business more productive with its Software as a Service (SaaS) approach. According to Microsoft, 60% of Fortune 500 companies have purchased Office 365 in the past year.
Throughout the Commons Expo, networking opportunities were plentiful. Signing up and scheduling meetings in the Connect Portal was another way to schedule networking opportunities. And after-hours parties, sponsored by corporations, was a more informal way to visit with potential business partners.
The headset manufacturers that Avcomm offers each had a presence at the event. Jabra's sound booth invited guests to hear the difference using either a Speak 510 speakerphone or the new BIZ 2300 series headset. Additional headset models were available to play with; Jabra lives by the motto "Devices Make Experiences" and that hands-on availability encouraged visitors to test a variety of devices. Tony Everson, Jabra's Director of Strategic Alliances - Microsoft, was enthusiastic about this year's WPC.
At the Sennheiser booth, the new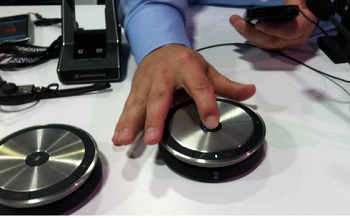 SP 10 and SP 20 speakerphones were prominently featured front and center. Plugging the SP 20 Microsoft Lync certified speakerphone into his cell phone, Area Sales Manager Jon Leighton (Telecom - Northeast) showed off the equalizer function of the device. The solid speakerphone, with stainless steel on its face, is a sleek device with powerful sound.
On Tuesday, Plantronics unveiled a new program at WPC called Plantronics Device-as-a-Service for SMB and mid-market customers to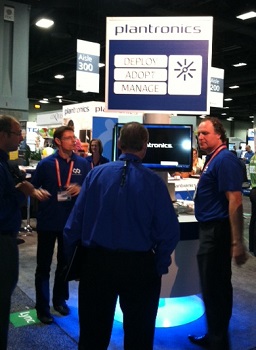 acquire Plantronics solutions along with cloud services. This makes it easy to acquire a complete solution, in a pay-as-you-go manner with 12-, 24-, and 36-month payment options. More information about the program
here
.
One of our favorite finds at WPC was the new Windows Apportals app. With this, we quickly created our very own Avcomm Solutions app! Microsoft says Windows Apportals "allows you to integrate your entire Line of Business (LOB) stack into a single, modern, touch-based experience. The concept behind Apportals is simple – introduce the same nested folder structure common in a desktop OS to the modern mobile OS."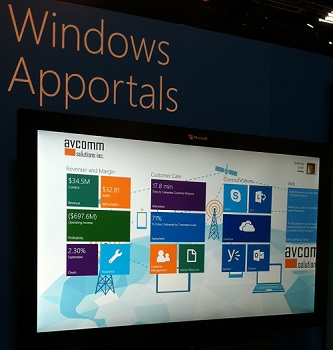 Users can set security levels to provide targeted information for your users.
Next year, WPC will take place in Orlando, a tempting way to mix business along with a family vacation to see all of the sights Orlando offers!
Did you attend WPC in Washington, D.C.? What was the highlight of your experience? You can share your thoughts on the Comments tab at the top of this post.
7/8/2014 - 0 Comments
GOOOOOOAAAAAAAAAL!
World Cup Soccer action is now a daily discussion here at Avcomm Solutions. While the majority of our employees are not rabid soccer fans, we thought it would be a fun team building activity. Each employee drew team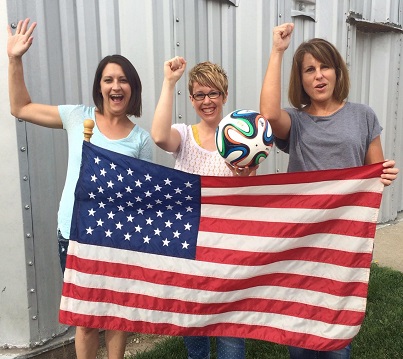 names out of a hat and prizes will be awarded to those holding the final four teams. During this month of soccer action, it has been quite a learning experience for everyone and has been fun to watch employees' excitement as their teams win.
Whether it's a major sporting event, season or holiday that brings the team together, employees appreciate when companies take the time to throw a little fun into their daily grind. Studies confirm that employees who are engaged in their work and loyal to their workplace, are less likely to leave employment. With the costs of hiring and training new employees, the benefits to retaining the employees you already have are sure to impact the bottom line.
Another activity that we've recently done is allowing employees the opportunity to give to a local charity as a corporate body. Here in Nebraska we have an annual event called the Can Care-a-Van where a TV station goes across the state to organize collections for local food pantries.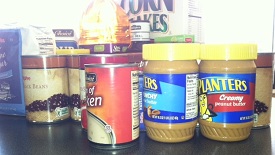 Over the course of a week's time in May, we asked that employees bring in their pantry donations and donated more than 80 pounds of food to the cause.
We hosted a Cinco de Mayo party in May, and each employee brought in a Mexican-themed dish for lunch so the team ate lunch together. The opportunity to eat together, and sample new recipes, was a great change of pace and a lot of fun. At Christmas,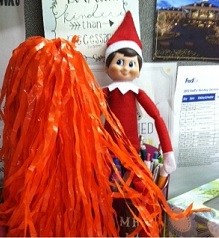 a cookie exchange brought the team together to trade delicious cookies, and a recent bridal shower for an employee was another great reason to party! At Avcomm this past Christmas, we had the office Elf on a Shelf named Sheldon. You never knew where Sheldon was going to turn up! One employee found Sheldon hiding in their pencil cup one morning, behind the pom pom!
Other workplace fun ideas have included volunteering for a community event together; Office Olympics; Christmas Cubicle Decorating Contest, Christmas party, summer picnic, and more. Working hard, and having some fun, too, keeps the Avcomm staff ready to best assist our customers!
Leave us a comment and let us know what you do at your workplace for fun and team building.
6/30/2014 - 0 Comments
Did you know that headsets can provide hearing protection for the safety and well being of your employees?
Contact center agents, 911 dispatchers, and those who talk on the phone for the majority of their workday are at a higher risk of exposure to acoustic bursts. An acoustic burst is a sudden and unexpected variation in volume level. Noise hazards include white noise, spikes, shrill alarms, fax machine signals and more.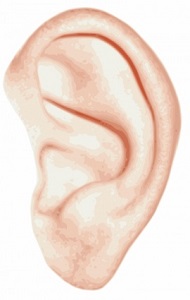 When these hazards occur, we cannot react fast enough to pull the receiver away from our ears. Over time, these acoustic bursts can lead to acoustic shock, which causes ear pain, headaches, tinnitus (ringing in the ears) and even permanent hearing loss.
The United States and the European Union have issued guidelines to protect workers' hearing. The EU Noise at Work Directive defines two critical levels for noise exposure throughout a working day. For up to 80dB(A) the employer has no obligations. Between 80dB(A) and 85dB(A) the employer should offer hearing protection and education. For levels exceeding 85dB the employees must be provided with, and wear, hearing protective equipment. For leading U.S. recommendations, the upper maximum exposure limit is 85 dB(A) (time weighted average over a full working day).
Avcomm Solutions offers three major headset brands: Jabra, Sennheiser and Plantronics. The manufacturers build their headsets with the technologies needed to protect wearer's hearing.
Jabra contact center and office headsets have
SafeTone
hearing protection, which offers
PeakStop
and
Intellitone
technologies, to eliminate potentially harmful sound spikes. PeakStop actively protects the user by keeping the absolute sound level and the energy of the peak in the safe zone at all times, preventing potentially harmful sound from reaching the ear. Intellitone regulates the average sound level down to 85dB.
All Sennheiser contact center and office headsets are equipped with
ActiveGard
, a patented technology that actively guards your hearing from acoustic bursts or shocks. ActiveGard limits the sound pressure at a level of 103dB (EU and US regulations say maximum 118dB) and reduces and removes dangerous energy from an acoustic burst. It also eliminates the distortion from an excessive incoming signal.
Plantronics contact center and office headsets offer
Sound Guard
,
SoundGuard Plus
or
SoundGuard Digital
technologies, as well as
Anti-Startle
to protect the headset wearer from sudden loud sounds.
AudioIQ
and
ClearLine
technologies are additional hearing safeguard technologies found in Plantronics products. Multistage and limiting technologies ensure hearing is protected during each call.
Another tool in protecting agents' hearing is audio processors, or amplifiers. These

offer additional hearing protection technology to enhance the protections found in the headset. Used together, clear conversations, hearing protection, and the best in functionality for corded headsets is possible.
The variety of headset and amplifier options available on the market today can be confusing to operations directors, contact center managers, and purchasing agents.
Contact us
at Avcomm Solutions for help in choosing the right set-ups for your organization, and most importantly, your agents. Their hearing safety depends on it!
For more information about hearing technologies, follow the links provided here:
Sennheiser

Jabra
Plantronics