Fortune Magazine recently released its ranking of the 100 Best Companies to Work For in the country. In addition to such perks as compressed workweeks, job sharing programs, and subsidized gym memberships, telecommuting was offered at an overwhelming
85 percent
of the companies.
Telecommuting, work at home, and work from home programs offer obvious benefits to employees (no commute, dress code, or office politics, among other matters); yet the organization can reap rewards, too.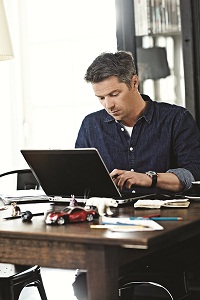 In a study reported by the
Harvard Business Review
, Ctrip, the Chinese travel web site, gave its call center employees the choice to work from home or stay in the office. Half of the staff chose to go home. The result? Those working from home
completed 13.5% more calls
than the staff working at the office!
Increased employee retention, schedule flexibility (in essence, the business is open longer hours to the public), lowered overhead and program stability are additional organizational benefits.
To make working at home a success, the right tools are essential. Unified Communications allows for collaboration with co-workers, customers, and more, and is delivered through programs such as MS Lync, Cisco Jabber, and others. UC integrates video, email, documents, fax, phone and computer to create a fully functional and collaborative workspace.
As insignificant as this may seem, one of the most important tools that ensures an optimal user experience is the actual audio hardware device being used for the voice communication. These audio devices can be in form of a headset or speakerphone. Investing in a high quality UC platform is a no-brainer. The audio device is just as important!
This is commonly referred to as "the last 3 feet" in the communications continuum, and can make or break the success of your telecommuting solution. We recommend taking the time to work with a headset expert to evaluate your company's UC environment and hardware needs. Testing the products for comfort and high quality voice transmission is key. A good, high quality audio device must be used in order to achieve the optimal experience for everyone involved. Companies are investing significant amounts of money in UC platforms and must spend ample time evaluating their audio device options as well.
Fortunately,
Jabra
,
Sennheiser
and
Plantronics
produce high quality headsets for every situation. Here at
Avcomm
, our training and expertise allows us to match the best solution for each environment. Each organization is unique and we are prepared to work on your behalf.
Taking a cue from those 100 best U.S. companies, small and medium sized businesses can offer the telecommuting option to their employees as a viable benefit that doesn't cost a lot.
To see the entire list of best companies, and the benefits they offer, go to the
CNN website
.
BACKGROUND on the 100 Best Companies study: Forbes magazine, in conjunction with the Great Place to Work Institute, chooses the companies based on these criteria:
       1. Company must be at least 5 years old and have more than 1,000 U.S. employees
       2. Employees are randomly surveyed and 2/3 of the company's score is based on the Trust Index survey, which asks questions related to attitudes about management credibility, job satisfaction and camaraderie.
       3. Responses to the Culture Audit (including questions about pay, benefit, training, recognition, diversity efforts, methods of internal communication, etc.)
Information on the benefits of telecommuting came from the Research Advisors article
here
.