Blog
6/16/2017 - 0 Comments
Visitors to the Avcomm Solutions web site may have noticed a new bright orange bubble in the lower right hand corner of their screens, announcing our "Live Chat!" When you see that pronouncement, we are online and happy to help! We are thrilled to be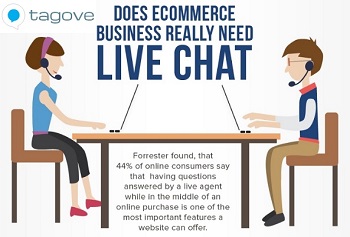 able to connect with our customers in a new way, in real time, to answer their questions immediately.
Adding Live Chat was a natural progression in our customer care, and we are part of a larger trend. In an informal survey of a variety of ecommerce web sites, the option to chat live is prevalent. Statistics show that consumers across the Internet find chat a valuable resource when they are making on-line buying decisions.
According to this infographic by
Tagove
, research by Forrester shows that 44% of online consumers say that having questions answered by a live agent while in the middle of an online purchase is one of the most important features a website can offer. In the same infographic, citing an ATG Global Consumer study, 90% of customers consider live chat helpful! That's a pretty powerful statistic, and one that Avcomm wants to capitalize upon.
Companies say that live chat increases employee efficiency if they are empowered to handle multiple conversations at the same time. According to this
TNW post
, some live agents can handle up to 6 conversations at a time (depending upon complexity of the issues, of course). And, research has shown that live chat can improve conversion rates, meaning more sales. Additionally, during chats, agents are able to chat with each other, and can gain support and advice from colleagues during particularly difficult customer conversations.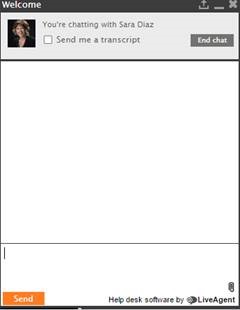 "I believe that businesses need to be aware of the ways their customers prefer to engage and then be willing to offer those various avenues of communication. For us, we started to noticed an increase of phone calls from website visitors who had simple questions or inquiries. As I put myself in those customers' shoes, I knew my preference would be to click to chat for a quick answer, if that option was available to me, versus having to call in," says Sara Diaz, Director of Sales and Customer Support at Avcomm Solutions. "I am very excited that Avcomm now offers Chat as another means for my team to support our customers."
After careful perusal of many of the chat options on the market, choosing
LiveAgent
as our Chat platform was a no-brainer. LiveAgent is the most reviewed and #1 rated help desk software for SMB in 2017. As a self-certified woman owned small business, we value both the features and the reasonable cost per month. The phenomenal customer service and support that we have received from LiveAgent was also a deciding factor.
We are extremely pleased to be able to chat with our customers in real time to provide them the best possible support and so far, in the short couple of months that we've been live, we've found our customers utilizing chat for needed product recommendations, product verification, order tracking and more!
5/30/2017 - 0 Comments
As we have navigated and observed the world of customer service recently (through various personal issues such as broken washing machines, trying to cancel auto ship orders, and tuning into news and social media reports), we are once again struck by the differences between us versus them: here at Avcomm, we care. And sadly, we are finding more often than not, that other companies just don't.
What does the customer experience look like when a company truly cares?
Inquiries are answered timely and the customer isn't expected to wait on hold.
When you call Avcomm, you will not be left hanging on hold for over an hour (yes, this happened to us recently!). Typically, your call is answered within the first several rings; if not, leave us a voice mail, and we will call you back right away! We promise. When you use our "Chat" feature, rest assured you will be answered immediately. It's disappointing and frustrating to have to wait … and wait … and wait … Can you imagine being expected to wait in a chat for 25 minutes or longer? Well, it happened this week to one of our team members. True story!


It is clearly evident that the employee knows their stuff.
Avcomm fully trains our staff to know the products and business processes inside and out. Not only do we know enough to provide the best product recommendations, but we also offer full tech support! We know our products, we know our customers, and what we don't know, we find out (see #4).


The company doesn't try to sell you something that you don't need.
Avcomm doesn't offer incentives or commission to our employees for their sales. This might surprise you, but it's true! Knowing we've helped our customer make the right purchase and that their work life will be better because of it, is what's most important to us. And, if we recommend an additional item with your purchase, it's because we truly think you would benefit from it and should take it into consideration.


Concerns are addressed immediately and a resolution is made.
It's important to Avcomm Solutions that our customers have the product they need and are extremely satisfied. We are on the case until the case is closed – think of us as the Nancy Drews of the headset world. Just like Nancy solves the case (for example, "The Bungalow Mystery," where Nancy digs up the truth in a bungalow cellar) – we find what you need: whether it's answers, product, tech help, and more.


The customer feels appreciated and happy.
We are committed to building positive relationships with our customers. Relationships that last a lifetime. We do not base our success upon the amount of the sale, but upon the fact that we have loyal customers who buy from us, year after year after year.

While we've seen some rough times in the world of customer service lately, we would never want your experience with us to be negative.

Doesn't it feel good to know that someone still cares?
5/24/2017 - 0 Comments
Jabra has added the Evolve 75 headset to its Evolve series, and it was worth waiting for! Incorporating Active Noise Cancelling in the ear cups (like the Evolve 80), with a lighter weight fit and feel (similar to the Evolve 65), we believe that this headset will be a valuable asset to many — in the office and on the go.
First, take a look at the premium hard-sided case that the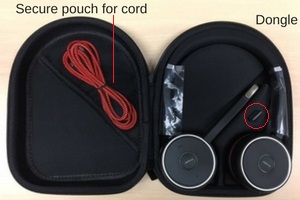 Evolve 75 comes in. Imagine you're on a plane, and you've just touched down, so it's time to put your headset, phone, and book away. This case with molded inserts makes it easy to store the headset, and is protected by the hard outer shell. The easy-to-zip zipper is smooth to operate, and individual storage areas for the charging cord, and dongle, keep the case organized.
Next, the Active Noise-Cancelling is the real deal. In our testing, we could not hear ourselves talk when we were wearing the headset and the ANC was on. To quickly listen to the surrounding environment, simply press the Listen In button on the ear cup.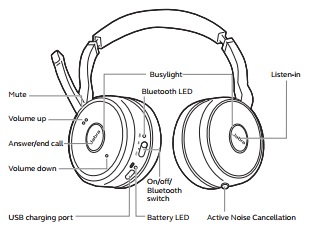 Choose the version with the charging stand, or the version without the charging stand. We think you will like the charging stand version for your desk, as it's a handy place to not only charge the headset, but also to store it when you're not wearing the Evolve 75. (On a side note, Jabra recently came out with charging stands for the Evolve 65 headsets.)
The Jabra Evolve 75 is available in 4 variants:
To learn more about the Evolve 75, and which variant would be best for you, Chat us right now!
5/10/2017 - 0 Comments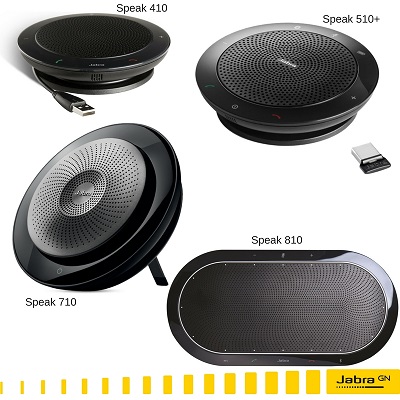 Jabra continues to build upon the success of the Speak family with its newest offering, the
Speak 710
. The Speak 710 takes wireless collaboration to the next level with its Link feature, which doubles the coverage, without cords!

Simply press this Link button on the primary unit and follow the quick, simple voice commands to pair two units together. Jabra states that a single unit is designed to support up to 6 people, and double that when linking two units together. In the testing we've done both in house and in demonstrations, we have found that the mic pick up and the speaker volume far exceeded the recommended guidelines by Jabra
The portable unit is perfect for offices and conference rooms.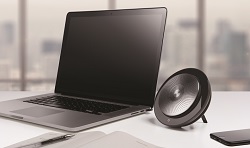 The high quality, powerful sound makes the Speak 710 a true speaker for music. In fact, it has up to double the sound of the Jabra Speak 510, Jabra's market-leading speakerphone. Play music from the music library on your smartphone or tablet, or stream music from an on-line site.
"People are increasingly choosing light-weight and compact products that provide portability and ease of use. Research has shown that the majority of conference phones are actually used for personal use.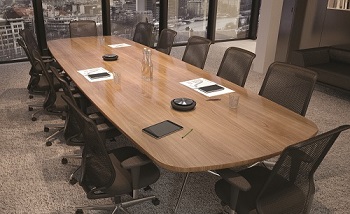 The Jabra Speak 710 offers extended mobility and combines it with an immersive audio and true music experience. This makes the device the perfect partner and music companion for business leaders and C-level executives," states Holger Reisinger, VP for Business Solutions at Jabra.
As with the other Speak products, the USB cord is attached to the speakerphone and wraps around the bottom of the device for clean, easy storage.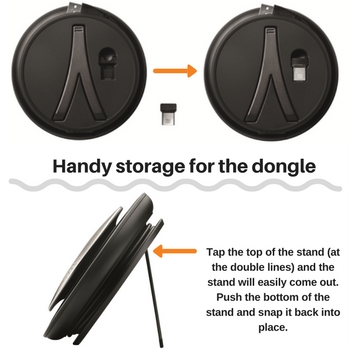 The integrated folding stand is easy to open. Touch the top of the foldable stand - just once - and it will pop out of the back. We tried to dig the bottom of the stand out of the back with limited success, so when we were told about this remarkable design feature, we were amazed! A Link 370 dongle is included with the Speak 710, and is housed in the back of the speakerphone.
You can personalize your Speak 710 with MS Cortana, Siri or Google Now as well! With the one touch

Smart Button, interacting with your digital assistant is a breeze. Add more smart functionalities through SDK for 3rd party integration. For example, push the smart button to dim conference room lights.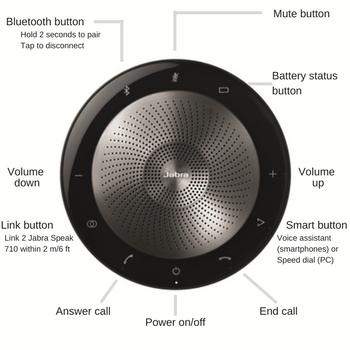 The call controls are embedded in the face of the unit. You can personalize your Jabra Speak 710 using the Jabra Direct software, which is a free download at
jabra.com/direct
The Jabra Speak 710 lasts for up to 15 hours of talk time. It takes approximately 4 hours to charge using the USB cable. A nice feature: the USB cord carries the audio path while recharging the 710 at the same time.
A neoprene travel pouch is included, for maximum portability and protection of the device. The Speak 710 is available in both
UC
and
Microsoft Skype for Business
variants.
Contact us today
if you'd like to learn more about the Speak 710, or other Speak family devices.
5/2/2017 - 0 Comments
Wireless headsets are one of the most important tools on your desk at work. The ability to multitask is a requirement today, as phone calls and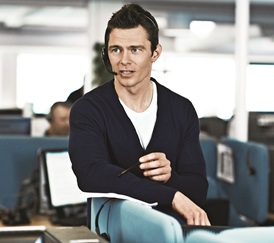 simultaneous computer data entry are a must for most jobs. When you consider the need for quick team collaboration or consultation, access to the local printer, or the capability to simply get up and stretch, everyone should have a wireless headset.
Wireless headsets connect to desk phones, PCs and smart phones/tablets. Many even offer numerous connection points, eliminating the need for multiple headsets. They come with a variety of wearing styles, and of course, a variety of price ranges. The most economic headset may not be the right headset for your needs, so it's important to think through the use of the headset, the environment where it will be used, and more.
One of the best features of a wireless headset we believe is the convenience of changing the battery. When we refer to a "field replaceable battery" we mean one that you, as the user, can change out yourself. It does not require the entire headset piece to be sent into the manufacturer for replacement. Why is this important? After about 2 years, the battery will degrade and you may notice a decrease in its talk time. You may also experience staticky calls, a microphone that won't "talk" anymore, or calls that drop for no reason. These are just some of the scenarios that could be battery-related, and are definitely worth checking into.
The cost of a replacement battery runs anywhere from $15-$35, depending upon the brand and model of your headset.
Here's a quick reference to help guide you to the correct replacement battery for your wireless headset.
If you are using a headset that has been discontinued, we have not included them on this list. Please contact us if you have an older model headset, and we can determine if a battery is available. Call us at 1-866-998-9991.