There were 1 posts tagged: WFH
April 2nd, 2021 • 0 Comments
The current state of the workplace is in flux due to the COVID-19 Pandemic. At the beginning of the Pandemic, workers were sent to work from home at a rapid pace, with no idea when they would return. While some organizations have begun to bring back 100% of their staff, and others have completely moved to a work from home model, it appears that a hybrid method of working may be the best solution, according to surveys given to employees asking their preferences.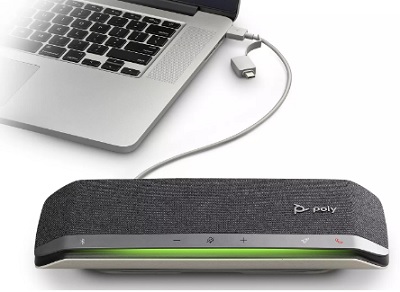 Hybrid working involves both locations: employees work some days each week in the office and spend the other days working from home so that the staff on premises is staggered and never at 100% occupancy to keep the workplace safe. In these hybrid work environments, audio tools that are flexible and can travel with you make the most sense.
If you work in a dedicated office space at home, and then travel into the office for meetings in conference rooms, Poly's new
Sync 40 and Sync 40+ speakerphones
may be the right audio device for you. The Sync 40s connect to computers via the combined USB-A and USB-C cable and smartphone via Bluetooth.
Daisy chain two Sync 40s together
Turn larger meeting spaces into professional-sounding conference rooms when you wirelessly pair two units together. When the Sync 40s are paired, you get bigger volume, more microphones, and wider voice pickup. Use two Poly Sync speakerphones with your Bluetooth-paired mobile device. Linking mode is available with Bluetooth mobile device connection only. (when connecting wirelessly to PC or smartphone via Bluetooth). Linking mode can be entered when both speakerphones are inactive (not in a call or streaming media).
• Your device will be ready to go for up to 30 hours of talk time.
• Access your favorite function — play/pause music, last-number redial, voice assistant and more — with a touch of the programmable rocket button. For use in common areas, the button can be programmed to manually clear previously paired Bluetooth devices.
• Never miss a word with multiple microphone array and full duplex audio. Workers stay productive with a high-performance, large music speaker for immersive multimedia.
• IP64 dust and water resistant. Protect your investment from everyday hazards.
• Two highly visible status light bars for 360 degree call status indication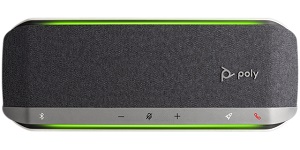 • Microsoft Teams version supports easy collaboration and communication with a dedicated Teams button that gives you instant access to the Teams App.
• Keep your smartphone charged and ready for use.
• Take calls from anywhere —an internal battery allows up to 30 hours of talk time. A convenient charge stand is also available as an additional purchase.
• MSRP: $299.95 / $349.95 for "+" versions
Our customer care team can help you decide which Sync 40/40+ model you need. As a stocking reseller, we ship out all in-stock product the same day, on orders received before 3 p.m. CT. Our convenient location in the center of the U.S. means that shipping times are quick!

Call our team at 1-866-998-9991 or Chat us.