Showing posts tagged: productivity
3/25/2021 - 0 Comments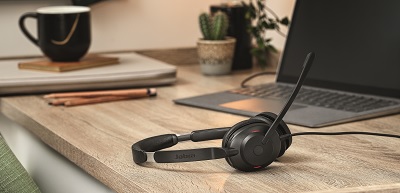 Jabra Evolve2 30
headsets at $99 ($89 for single-ear models) provide the right amount of comfort and user-friendly features that keep you working, whether it's at home or in the office. Collaboration and concentration are the two key pillars of effective work, according to Jabra, and these headsets help you with both.
The headband is cushioned in ultra soft foam covered in color-matched leatherette. The ear cushion is soft audio foam covered in leatherette with a stainless steel slider arm. While wearing the headset, adjust the headband so that it fits your head comfortably.
When using the microphone, it should be positioned close to your mouth. You can gently bend the mic boom above the tip of the boom, where there's a little bit of flexibility. Do not bend the boom arm where it meets the ear speaker; the boom arm could break off. Mute the mic by pushing the mute button at the front of the speaker. If you have voice alerts activated, you will hear that you are "Muted." To turn the voice notifications off or on, you can change the setting in
Jabra Direct
, or by pressing and holding the Mute and Volume Up buttons simultaneously for 5 seconds. You'll find the Volume buttons on the back side of the ear speaker. We recommend that you download Jabra Direct once you get this headset; it will keep your headset updated with all of the latest firmware, and allow you to change a variety of settings.
There is an integrated busylight at the back of the ear cushion, and an LED light on the USB plug, to alert you of your mute status.
The cord length is approximately 5'. This is a great length for a laptop configuration; if you are connecting to a desktop computer tower, you may need a longer length cable; we have plenty of other headsets that fit the bill.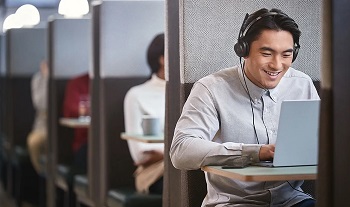 Taking collaboration one step further, the Jabra Evolve2 30 meets the Microsoft Open Office requirements (Teams Certified variants, naturally) – which is a strict test of how effective a headset microphone is at suppressing surrounding noise and office talk. The Teams button on the middle of the ear speaker will invoke Teams with a quick tap.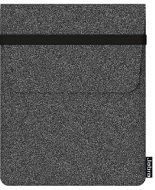 It's easy to take the headset with you and keep it protected, in the included felt carry pouch. Rotate the ear cushions flat and slide it into the pouch; the flap tucks under the elastic for security.
It may be possible to use the USB-C variant of this headset to mobile phones; however, we don't recommend it for primary use, as not all USB-C devices or apps support an audio connection to the Jabra Evolve2 30.
Our Headset Experts can recommend the best variant for your unique work needs at 866-998-9991 or you can Chat us now.
7/22/2020 - 0 Comments
Poly
's new white paper brings together thought leadership for what it calls the "Next Normal," which puts people first, to empower them in productive work environments — wherever the physical space may be.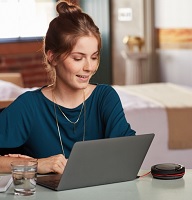 According to Poly, "2020 will be the catalyst for
hybrid working
, offering employees flexibility and choice, driving productivity through collaboration and communication." Basically, creating environments that foster productivity, collaboration, innovation and safety.
The digital transformation ensures consistent work experiences that will react to the crisis and mitigate any harm to the business.
Policies and procedures that support both the business and individual, in a "People First" culture as Poly calls it, will prove to be mutually beneficial.
Interestingly, Poly found that 85% of businesses surveyed believe that greater location flexibility has lead to an increase in productivity.
What can we expect in the "Next Normal?"
Home office spaces built into residences
Increased flexible work across locations
Recruitment over larger demographic (and perhaps geographic) areas
Work from home, meet in the office, bringing everyone together virtually
Smaller company footprints over more dispersed locations
Seamless work flows between home and office
Technology designed for ease of use with personal devices
Necessary business travel only
The only certainty? The core components of any organization: practices, workspace, and culture, will change as we transition into the "next normal." This won't be easy, but evolving to suit the needs of people and organizations will be worth it.
For more information about Hybrid Working, read
Hybrid Working: Creating the "Next Normal" in Work Practices, Spaces and Culture
, a resource from Poly.
If you need communication tools to support your work style, reach out to our Headset Experts at 1-866-998-9991 or Chat us now!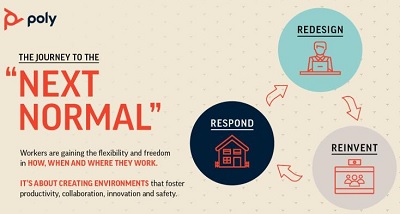 12/11/2019 - 0 Comments
99% of workers in open offices are distracted.*
Who wouldn't be, with daily mayhem coming from every direction? Luckily there are plenty of high quality headsets from Poly that are designed to avert open office perils and combat the chaos.
Give your teams the perfect balance of Active Noise Canceling (ANC): not too much to be uncomfortable, not too little to let noise sneak in. Noise blocking microphone technology, too. So people on both ends of a call can hear what matters. Count on all-day comfort, thanks to premium, lightweight materials. And a range of styles that work for everyone in the office.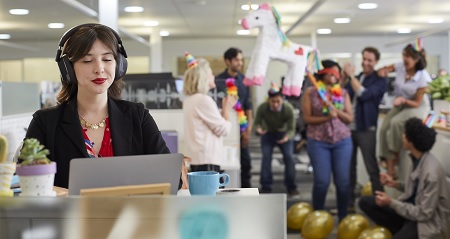 ANC Headsets from Plantronics, now Poly
Voyager 8200 UC
(pictured above) has a boomless mic design, adjustable ANC levels, connects to mobile via Bluetooth, and offers a choice of USB adapter to connect to PC: either USB-A or USB-C. The ear speakers completely surround the ear. Choose between two colors: Black or White. MSRP: $379.95.
Voyager Focus UC
is comfort+: the adjustable sling cushioned metal headband and leatherette ear cushions wrapped around pillow-soft memory foam maintains a secure fit. Available with a desktop charge stand, or without, and USB-A or USB-C. MSRP varies: $279.95 No Stand; $299.95 With Stand.
Voyager 6200 UC
features earbuds on a neckband; wear both earbuds for complete concentration, thanks to ANC, or just one, to keep an ear on the surrounding office. The neckband vibrates as an incoming call alert. Two color choices: Black and Sand; and USB-A and USB-C adapters are available. MSRP is $299.95.
Finally, if your team is primarily desk-bound, and prefer a corded ANC headset,
Blackwire 7225
headsets have a boomless mic design with the call controls on the ear speakers. Blackwire 7225 headsets are available in Black and White, and USB-A and USB-C. MSRP: $199.95.
If your teams are struggling to tune out the chaos of an open office — whether it's scooter rallies or loud talkers or ice chewers — distractions make it almost impossible for people to stay focused. Time to bring productivity back.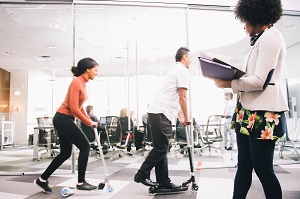 Ready to reduce interruptions and boost productivity? Download the ebook from Poly, here: Perils of the Open Office Ebook and then contact us today for personalized headset solutions: 1-866-998-9991.
*"All Your Employees Are Distracted: The Realities of Today's Open Office and What You Can Do About It," by Future Workplace, April 2019, sponsored by Poly
2/19/2019 - 0 Comments
With 10 years in the headset business, headsets are our bread and butter. Of course, it makes sense that we see value in, and appreciate the use of, headsets. We came up with a (brief) list of reasons why we love headsets; and we are curious why others love their headsets. Share the reason why you love your headset on the Comments tab, above.
Headsets increase productivity.
Studies show that workers using headsets are up to 40 percent more productive than those who don't. Headsets, especially those with integrated busylights, or used with external Busylights displayed on monitors or cubicle walls, are a clear notifier of status ... red means "do not disturb." Productivity increases without interruption.
Headsets produce clear conversations.
Headset microphone technology has been designed to cancel background noise and focus on human voices, for the best possible audio experience.
Headsets protect hearing.
Each headset brand has its own patented technology, providing hearing protections that guard against sound spikes and other sound hazards.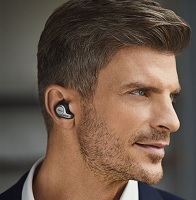 Headsets provide quiet work spaces.
If we can't erect walls and a door around our desk, we can put a headset on our ears and block background noise. To really get the benefits of a quiet work space, we suggest an Active Noise Canceling headset. Read a round-up of all of the ANC headsets we offer here:
Active Noise Canceling - The New Trend in Office Headsets
.
Headsets support correct body alignment and good posture.
One of the most important things about body mechanics and posture is alignment: how the head, shoulders, spine, hips, knees and ankles line up with each other. Proper alignment of the body puts less stress on the spine for good posture.
Headsets reduce stress.
Noise can cause stress: ringing phones and conversations affect the rhythm and rate of our hearts. Interruptions cause stress. Open offices and the noisy environments they produce cause stress. By sealing yourself away from the noise with a headset, stress levels are lessened.
Headsets are a fashion statement.
Headsets can represent a certain cool, edgy, "don't bother me, I'm busy" vibe. And, with all of the wearing styles available today, there truly is a headset for everyone: from ear buds to headbands, and everything in between, you can choose your look.
If you're not feeling the headset love, it may be time for a new, high quality, professional headset. We offer the top brands:
Jabra
,
Plantronics
,
Sennheiser
,
BlueParrott
, and
VXi
, and work with our customers to ensure the best fit for each environment and connection type. Give our headset experts a call today at 1-866-998-9991.
5/23/2018 - 0 Comments
If you watched the recent
NBA Draft Lottery
, the event had a decidedly Vegas feel. With each of the bottom 14 teams in the league assigned chances based upon reverse order of this year's record, excitement was created by watching the ping pong balls spin in the lottery machine – and, knowing the odds of the #1 pick for each team, the audience was clearly invested in the process.
This, says Darrin Briggs, President and CEO of
Snowfly Incentives
, is gamification in action. Gamification has become a common tool in today's workplace to increase employee productivity, engagement, and job satisfaction.
When you think about it, the principles of gamification are all around us, such as at the grocery store, fitness apps, and Facebook. Briggs defines gamification as "Taking activities in life or in business and adding gaming aspects to an otherwise somewhat mundane activity." Gamification does not mean playing video games necessarily; but it does involve reinforcing behaviors that will then have a positive outcome for the business and individual.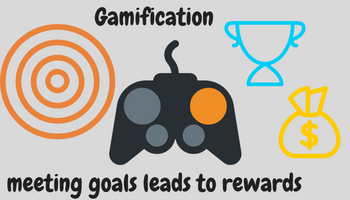 By creating small, incremental positive behaviors, a cultural shift occurs that moves everyone in the right direction. When these behaviors are tied to business goals, the program is meaningful to staff members. While gamification has taken a foothold in the business world, not all programs are created equally. Briggs estimates that 80 percent of companies administer gamification manually, while 20 percent use some sort of automated program.
Snowfly Incentives
is one of these automated programs, offering an employee recognition and incentive system that uses principles of psychology and behavior modification. The business was created in 1999 by Dr. Brooks Mitchell, a behavioral psychologist, who specializes in workplace environments. Computer analysis, and now AI (Artificial Intelligence), utilized by Snowfly quickly determines what's working, so that changes can be made on the fly for the most effective program tailored to each company.
This is a culture shift in the workplace.
As Briggs says "it's not a manager's job to motivate people. What you have to do is create an environment where people feel valued and are motivated by whatever motivates them." Snowfly knows that employees are motivated by different things: for some, it's money; others prefer time off, the chance to wear jeans at work, a close-up parking spot … the list goes on.
"Our job is to create an environment to motivate people naturally," says Briggs. "This does not mean you're playing video games all day. It's an aspect of taking something that has to do with gaming, but put it into an environment where you don't see it."
The Snowfly system has an interface that users log into, with a dashboard displaying their performance of different metrics, leaderboards, and standards. Employees can then "level up" (i.e. work their way up) to earn greater rewards. And Snowfly's real-time incentives provide immediate rewards – there's no waiting until the end of the week, month, or quarter to be awarded. Briggs says "If you want to change a behavior, you have to reinforce that behavior as quickly as possible after it was performed." This goes back to Psychology, and the research of B.F. Skinner and Pavlov.
Another thing that makes Snowfly probably the most unique to the gamification market: by employing Vegas-style principles such as slot-machine style games, an aspect of luck (or chance) increases the effectiveness of the program and the long-term engagement by employees. For various goals met, employees are rewarded with tokens for game play, which then brings possibly larger rewards. The anticipation of the potential reward is part of the fun, and creates buy-in from employees. For employers, the costs are fairly minimal; however, the perceived value, says Briggs, is as much as 40 percent higher than the actual cost.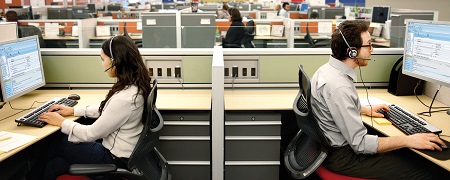 Gamification creates an environment where both employees and employers find mutual success; a well-placed and administered program is a win-win for all. For more information about Snowfly Incentives, and what they can offer your organization, contact Darrin Briggs at
dbriggs@snowfly.com
or 1-877-766-9359. Check out their web site, here:
Snowfly Incentives
.