Wireless headsets by
Sennheiser
offer iconic design, all-day comfort and legendary Sennheiser sound. They allow you to move around freely and stay connected so that you can keep working - wherever you are. And you can count on clear sound even in the busiest work environment, both in and out of the office. The 2-year warranty from Sennheiser is
twice as long
as competitor warranties on wireless headsets, giving you peace of mind.
You have options with Sennheiser wireless headsets. A few of the choices: mono or duo ear; noise-cancelling or ultra noise-cancelling microphones; a variety of wearing styles (over the head, behind the neck and over the ear); and various connection methods. If you're not sure exactly what you need, we're here to help! A few simple questions will narrow the choices and you will be using your wireless headset in no time flat!
Connect to: Desk Phone and USB
There are three great choices in this business office category: SD Pro 1, SD Pro 2, and SD Office.
SD Pro 1 headsets are single-ear.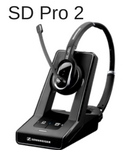 Both
UC
and
Microsoft
versions are available. Switch between desk phone and PC with a simple touch on the base station. The extended wireless range allows for conversation in a radius up to 180 feet, and within line of sight, up to 590 feet away from the base.
SD Pro 2
UC
and
ML
headsets are duo ears. The supple leatherette ear cushions and adjustable headband give this headset a premium fit and feel, and the flexible mic boom with ultra noise-cancelling can be adjusted for best proximity to the mouth for excellent sound quality.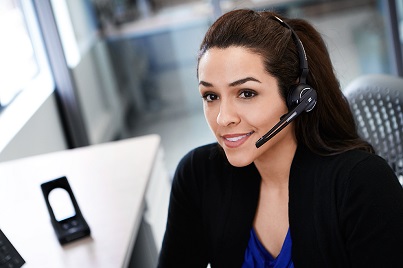 SD Office has a FlexFit wearing style system with 3 wearing choices: headband, and earhook; a neckband is available for additional purchase. The fixed mic boom is noise-cancelling and filters out background noise. Both
UC
and
Microsoft
versions are available.
All of the SD models let you answer and end calls, mute, and adjust the volume directly on these headsets. The headsets offer up to 8 hours talk time in wideband sound mode and 12 hours in narrowband mode. Proprietary technology includes HD Voice Clarity for natural wideband sound, and ActiveGard, hearing protection against acoustic shock. The headsets are interchangeable on the same base, to conference up to 4 headsets to the same base station! The video below provides a quick overview to the SD series.
Connect to: Smartphone and Tablet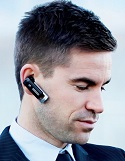 The
Presence Business
is a traditional Bluetooth headset, with incredible noise-cancelling. Callers won't know you're in the middle of a busy conference hall.
We tested the excellent noise-cancelling of the Presence in a busy conference expo hall!
MB Pro 1
and
MB Pro 2
offer the stability of a headband, and a single Bluetooth connection to smartphones and tablets. A comfortable headband and soft leatherette ear cushions have a professional polish, and accomplish all the same tasks as the Presence - just with a different look. The office worker who makes most of their calls on their smartphones may appreciate the MB Pro 1 and MB Pro 2.
The MB (Mobile Business) Pro series is the first to offer Room Experience technology, which reduces listener fatigue by giving all-day headset users the impression they are having a conversation with a person in the same room.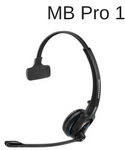 This realistic sound provides a more natural and comfortable listening experience with less stress in noisy environments.
Connect to: Smartphone, Tablet and PC
For those who need the Bluetooth connection
and
a USB connection to PC, there are plenty of choices in this category. The
MB Pro 1 UC
and
MB Pro 2 UC
versions are a traditional headband style (also available for Microsoft:
MB Pro 1 UC ML
and
MB Pro 2 UC ML
); if you prefer the smaller profile of the Presence, there are 2 options: the
UC
and
ML
(certified for Microsoft Skype for Business).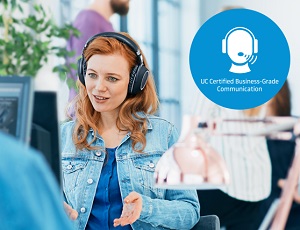 To focus on work, and not on distracting background noises, the
MB 660 UC
and
MB 660 MS
have large ear cups with Active Noise Cancelling. While there is no microphone boom, the MB 660s offer triple digital mics with Advanced Own Voice Detecting, WindSafe and Speak Focus technology for clear conversation.
Connect to: PC
Out of the box, the D 10 headsets come with over-the-head and ear hook wearing styles; a behind-the-neck band is available as an additional purchase.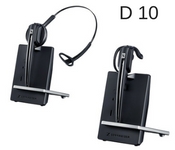 These headsets feature a built-in ringer with a choice of three ringtones and adjustable ring volume. Noise-cancelling microphones and fast recharging: up to 50% of the battery in 20 minutes, also make these headsets a good choice for a single connection headset. Options are
D 10 USB
and
D 10 USB ML
, which is certified for Microsoft Skype for Business.
Connect to: Desk Phone
The
D 10 Phone
headset offers the same features as its USB variants, listed above, and connects to desk phones only.
While this may seem overwhelming, with a few basic questions, we are able to narrow down the best Sennheiser wireless headset for the environment and user profile. Give us a call and we can assist you in your decision-making!
Check out this snapshot overview of Sennheiser wireless products, below: