Technology that delivers the best online learning experience
April 8th, 2021 • Comments
Tags: Jabra, Discount, Distance Education, Remote Learning, Online Learning, PanaCast, Jabra PanaCast, camera, Headset, Evolve 30, 3.5mm, Evolve 20 Special Edition, Evolve 20 SE, teaching, learning, teachers, students, Evolve2 65, Speak 750, speakerphone, Bluetooth, wireless
Up to 40% off Jabra headsets and PanaCast cameras that will keep the class engaged
When the COVID-19 quarantine began last year, K-12 schools, colleges, and universities were forced to quickly adapt to remote and hybrid learning models. This has continued into the 2020-21 school year, and educators are doing their best to provide a consistent means to educate their students effectively.
Teachers need to keep students engaged when teaching remotely, which brings unique challenges. In a Customer Database Survey in April 2020, Jabra found that 61% of teachers' time is now spent in virtual classes, with 3-4 hours each day in lectures with students. The survey also found that both teachers and students are experiencing frustrations:
• 44% of students are not satisfied with the audio or video quality of remote learning classes
• 54% of teachers find it difficult to keep students' attention when remote teaching
As an authorized Jabra reseller partner, we sell audio and video solutions that will answer the needs of the modern remote learning classroom. Our specialized team can put together a plan for your unique classroom and school. And, with some big discounts
(up to 40%!)
on these Jabra headsets and the PanaCast camera, now is the right time to equip your learning spaces.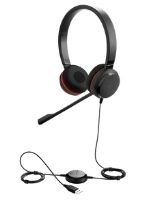 Headsets for students and teachers, with premium sound and comfort
The
Evolve 20 Special Edition headset
features leatherette ear cushions and an inline call control unit that allows you to answer/end calls, mute calls, and increase/decrease call volume with a quick touch of a button. This is a plug-and-play USB headset that requires no set-up, making it a very easy headset to use and deploy. The 2-year warranty assures customer satisfaction and a full replacement within the warranty period, if necessary.
The other Jabra headset with a major discount is this
Evolve 30 II stereo headset
that ends in a 3.5mm jack. These headsets are ideal for those using tablets and

computers with 3.5mm audio jacks. The leatherette ear cushions assure comfort for the wearer and with both ears covered, students and teachers will be able to focus on the classroom, and not their surrounding environment at home or in school.
PanaCast camera captures the classroom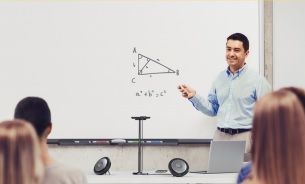 Teachers will appreciate the wall-to-wall coverage of their teaching space as they move around freely sharing educational material. The 180-degree view lets teachers take full advantage of white boards, teaching aids, and the space in the classroom to move around and keep students engaged.
Jabra PanaCast
is a plug-and-play camera, certified for Microsoft and all major UC platforms. And, if they need to change classrooms, its small size makes it easy to move to the next space.
Contact us at 1-866-998-9991 or Chat us now for your Special Pricing on these three devices.
Other smart choices:
Speak 750 speakerphone
for online and in-class learning; keep students engaged in conversations with a speakerphone. A second Speak 750 speakerphone can be wirelessly linked to double the coverage inside the classroom, for the clearest sound possible.
Evolve2 65 wireless headset
connects to both mobile phones and computers, for teachers who need the freedom to roam. Three strategically placed professional microphones ensure crystal-clear audio, so your students hear every word.
Jabra devices will keep your students engaged, your teachers teaching, and your budget happy. Contact our sales team at 1-866-998-9991 or Chat us now, to learn about these products, and more.