Jabra Evolve2 30 not your basic corded headset
March 25th, 2021 • Comments
Tags: Jabra, Evolve2, Evolve2 30, Corded, Plug and play, corded headset, headset, USB, USB-C, remote work, productivity, work from home, work anywhere, flexible working, Open Office Certification, Collaboration, Concentration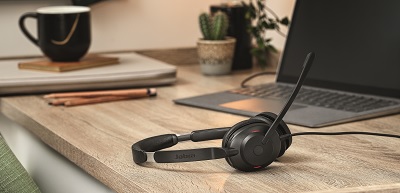 Jabra Evolve2 30
headsets at $99 ($89 for single-ear models) provide the right amount of comfort and user-friendly features that keep you working, whether it's at home or in the office. Collaboration and concentration are the two key pillars of effective work, according to Jabra, and these headsets help you with both.
The headband is cushioned in ultra soft foam covered in color-matched leatherette. The ear cushion is soft audio foam covered in leatherette with a stainless steel slider arm. While wearing the headset, adjust the headband so that it fits your head comfortably.
When using the microphone, it should be positioned close to your mouth. You can gently bend the mic boom above the tip of the boom, where there's a little bit of flexibility. Do not bend the boom arm where it meets the ear speaker; the boom arm could break off. Mute the mic by pushing the mute button at the front of the speaker. If you have voice alerts activated, you will hear that you are "Muted." To turn the voice notifications off or on, you can change the setting in
Jabra Direct
, or by pressing and holding the Mute and Volume Up buttons simultaneously for 5 seconds. You'll find the Volume buttons on the back side of the ear speaker. We recommend that you download Jabra Direct once you get this headset; it will keep your headset updated with all of the latest firmware, and allow you to change a variety of settings.
There is an integrated busylight at the back of the ear cushion, and an LED light on the USB plug, to alert you of your mute status.
The cord length is approximately 5'. This is a great length for a laptop configuration; if you are connecting to a desktop computer tower, you may need a longer length cable; we have plenty of other headsets that fit the bill.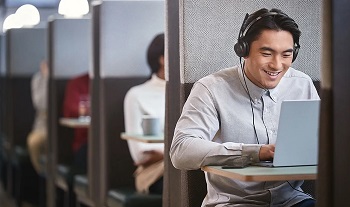 Taking collaboration one step further, the Jabra Evolve2 30 meets the Microsoft Open Office requirements (Teams Certified variants, naturally) – which is a strict test of how effective a headset microphone is at suppressing surrounding noise and office talk. The Teams button on the middle of the ear speaker will invoke Teams with a quick tap.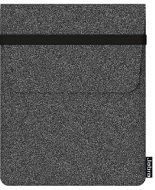 It's easy to take the headset with you and keep it protected, in the included felt carry pouch. Rotate the ear cushions flat and slide it into the pouch; the flap tucks under the elastic for security.
It may be possible to use the USB-C variant of this headset to mobile phones; however, we don't recommend it for primary use, as not all USB-C devices or apps support an audio connection to the Jabra Evolve2 30.
Our Headset Experts can recommend the best variant for your unique work needs at 866-998-9991 or you can Chat us now.