Poly Blackwire 8225 headset keeps you in the zone
March 19th, 2021 • Comments
Tags: Poly, Plantronics, ANC, Noise Canceling Microphone, Open Office, Noisy Office, Work From Home, USB, USB-C, Acoustic Fence Technology, Headset, Corded Headset
Working from home can be a challenge: maybe you have a spouse or roommates who also work from home; children at home doing on-line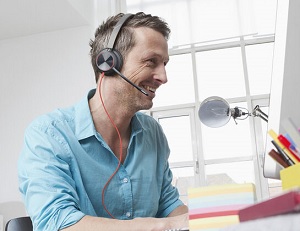 schooling; perhaps your pets are noisy. Whatever environment you have been working in, we know it can be a challenge to concentrate and focus on work tasks. That's why we suggest a high quality, professional headset designed specifically for workers who need to be on calls or in meetings using their computer, and require a distraction-free environment.
The
Poly Blackwire 8225
meets these needs, and brings some hard-hitting technology to the table:
• Advanced Hybrid ANC using four digital microphones with three user selectable options (Off - Mid - High)
• Noise canceling microphone with Acoustic Fence technology (using 2 microphones) that meets Microsoft Teams Open Office-certification levels
• Hearing protection: SoundGuard DIGITAL: Acoustic limiting for protection against sounds above 118 dBA. G616 anti-startle protection limits the noise level to 102 dBSPL; Time-Weighted Average prevents average daily noise exposure from exceeding 80 or 85 dBA (enabled by Plantronics Hub software)
Other features we really like:
• 32mm speakers with large memory foam leatherette ear cushions
• Padded headband
• Two LED indicators on speaker housing show online/in a call status
• Call controller for volume maximum/minimum, mute on/mute off, answer/end call, noise canceling off/mid/high
• 7.2 ft cable
The included carry case protects your headset while you're transitioning from home to office, and everywhere in between.
There are four options to choose from, either USB-A or USB-C, and UC or Certified for Microsoft Teams variants. To decide which variant you need, read
this blog post
.
Blackwire 8225 USB-A
Blackwire 8225-M USB-A certified for Microsoft Teams
Blackwire 8225 USB-C
Blackwire 8225-M USB-C certified for Microsoft Teams
Call our Headset Experts at 1-866-998-9991, or Chat us now, to purchase a Blackwire 8225 headset, and watch our overview of the Blackwire 8225, including a side-by-side Acoustic Fence Technology audio test at 1:31.