There were 5 posts tagged: Microsoft Teams
July 28th, 2021 • 0 Comments
Poly
couldn't build a sound-proof wall around your work space, so they built something better: the new
Voyager Focus 2
headset with a "focus zone" for complete concentration in any environment. This is an update to the popular Voyager Focus that made working in open offices easier ... with today's hybrid work and the uncertainty of where you will be working from (and unknown background noises), the Voyager Focus 2 has hybrid digital Active Noise Cancellation for even better concentration and productivity.
The intuitive, high-end headset has an executive look and feel, with premium audio and clear conversations. Additionally, hybrid digital Active Noise Cancellation provides a "focus zone," wherever you work. Then you need a headset that is flexible, reliable, professional, comfortable, and offers
outstanding audio for collaboration and concentration.
This Bluetooth headset builds on the original Voyager Focus model, keeping some of its best features (the sling headband is one of the best!)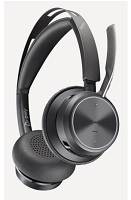 and brings in three levels of digital ANC to the ear speakers for enhanced concentration, and Acoustic Fence Technology to the smart discreet microphone boom.
The Voyager Focus 2 UC offers multipoint connectivity, which allows you to connect to two devices at the same time. Once you've paired it to your phone and connected to the USB dongle that you plug into your computer, you won't need to pair the Voyager Focus 2 again. And, the headset remembers up to 8 devices to quickly connect, without the process of pairing and unpairing.
A sleek charging dock is available with the headset, or as an additional accessory if you prefer to wait. We recommend purchasing the headset and charging station if you're planning to use this at a desk; this keeps the headset out of the way.
Place the headset on your head to answer the call ... you don't have to worry about looking for the phone.
The headband is flexible, with a super-cushioned sling design that evenly distributes the weight. This means that there's no pressure on your ears or the top of your head. Generously-sized ear cushions are wrapped in soft leatherette over high density foam and they contour to your ear. It's so comfortable, you can wear it all day — 19 hours of talk time you'll be able to keep talking. If you should need to charge the headset, you can continue to use it. Connect to PC via included micro USB cable with audio over USB mode
Another new feature: Voyager Focus 2 Office headsets connect to desk phones, computers and mobile phones and the UC variants connect to both computers and desk phones. All of the Poly Voyager Focus 2 UC and Office variants can be found, here:
Voyager Focus 2 UC and Office
.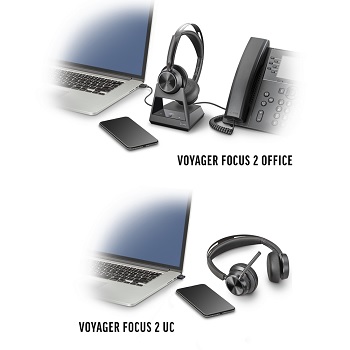 Once you receive the Voyager Focus 2, scan the QR code on the Quick Start guide with your smartphone, because there is a 5-minute Getting Started video that you will find extremely helpful, and it includes set-up instructions.
Next, download the free
Poly Lens desktop app
to your computer. You can customize the headset's settings (including the smart sensors), and stay up-to-date with the latest software. You also have access to the Voyager Focus 2 user manual, inside the Lens app.
Call our Headset Team at 1-866-998-9991 or Chat us now, for recommendations on which Voyager Focus 2 headset is best for you.
July 12th, 2021 • 0 Comments
As you are shopping the
Avcomm Solutions
web site, you may notice that many of our products such as USB headsets and speakerphones, are labeled as "
Microsoft
," "
MS
," or "
Certified for Microsoft
," while others are labeled "
UC
." We are often asked the difference between a Microsoft and UC (Unified Communications) product, and how to choose between them.
Our answer: If you are using a Microsoft platform (such as Microsoft Teams, Skype for Business, or Lync), you should purchase the Microsoft certified variant.
What this means: the models certified for Microsoft support Microsoft platforms as a Plug and Play experience. The Plug and Play experience includes:
•automatic selection as the default audio device and
•features to answer and end calls, adjust volume, and mute.
If you are using another communications platform, such as Cisco Jabber, Ring Central, or other softphone, you should purchase the standard UC version of the headset or speakerphone. If you do use a model that is certified for Microsoft Skype for Business with a different computer softphone client, the product should work the same as a UC model regarding audio and features (such as answer and end calls, adjust volume, mute).
To set up your headset or speakerphone to work with Microsoft Skype for Business (or Teams, or Lync), install the headset manufacturer's free software:
Jabra Direct
for Jabra products;
Hub Desktop
for Plantronics, now Poly, products or
Poly Lens App
for newer Poly devices;
and
EPOS Connect (formerly Sennheiser HeadSetup Pro)
for EPOS | Sennheiser products.
All of these are free from the manufacturers.
For further help with your unique headset and speakerphone needs, reach out to our dedicated customer care team at 1-866-998-9991, via
email
, or Chat with us now.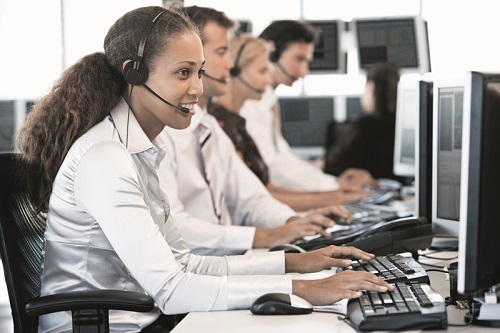 March 8th, 2021 • 0 Comments
Our team recommends Jabra Evolve wireless headsets for a variety of reasons,
and most especially for the superior Active Noise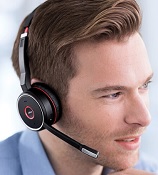 Canceling (ANC) found in the
Evolve 75
. This is our go-to headset for working in the office, working from home, and traveling. Yet, this is just
one
of the many reasons why we like Evolve wireless. The portfolio accommodates a variety of wearing preferences, from true wireless to the traditional over-the-head headband. All of these Evolve headsets connect to two devices at the same time: both mobile and PC; a
Link 370 USB dongle
is
included
with each of the headsets. Each Evolve carries a two-year warranty, longer than the typical Bluetooth headset warranty of a year or less, and all are available in both Certified for Microsoft and UC variants. To decide which variant you need,
this blog post has the information
.
If you work in a noisy office (or, work at home amidst cute children and pets), Active Noise Canceling headsets increase productivity by providing a "cone of silence" for dedicated work and interruption-free calls. Noise-canceling microphones block background noise so that your callers will hear only you and not your environment. You can wear the Evolve 75 all day — the cushioned rubber headband and large padded leatherette ear cushions provide extreme comfort. Get up to 15 hours of talk time on a single charge. Mute the mic as you lift the boom arm up.
The Evolve 75 also has a charging stand that can be purchased with the headset, or without. If you later decide that you need the charging stand, it is available as an
accessory purchase
. We recommend the version with the charging stand for those who work primarily from their desk. Otherwise, the headset is charged with the included micro USB to USB cord.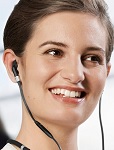 For those who prefer an alternate wearing style with Active Noise Canceling, the
Evolve 75e
is a neckband with ear buds. Wear one ear bud to be aware of your environment, or both earbuds with the ANC turned on for complete concentration. The lightweight design rests comfortably enough that you don't even realize you're wearing it. The neckband will vibrate at incoming calls, so you're assured not to miss anything. A great feature: when the ear buds are together (they are magnetized), your music pauses or your call ends. There is up to 14 hours talk time in this battery life, and a 2-hour time for a full recharge.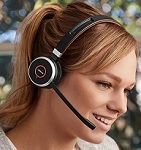 If ANC is unnecessary,
Evolve 65
headsets have three wearing choices. Evolve 65 is the over-the-head headband style;
Evolve 65e
is the neckband with ear buds (similar to the Evolve 75e above, without ANC), and
Evolve 65t
are true wireless ear buds in a charging case.
Evolve 65 offers a choice between mono and duo ear versions, and comes with a charging stand, or without. The Evolve 65 has a smaller profile and ear cushions than the Evolve 75, and is a comfortable option. We like the freedom of a mono Bluetooth headset with a traditional headband style, leaving an ear on the call and an ear on your surroundings.
Jabra Evolve2 wireless headsets
are the latest additions to the Jabra portfolio that you will want to consider.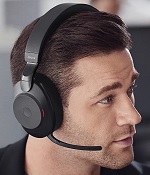 Evolve2 85
are wireless, Bluetooth, Active Noise Canceling headsets with ear cushions that completely surround the ears. The folding mic boom arm is handy when you need it; and when you don't, simply fold it up and store it in the ear speaker. The ear speakers also have microphones, so it isn't necessary to have the mic boom in place, if you don't like that look on Zoom calls, Teams meetings and more. The hard-sided zip case stores the headset, cords, flight adapter, and USB dongle, and if you are part of the current "hybrid work" force, you can easily transport your headset, safely. There is an optional charging stand, if you would like a place to store and charge the headset when not in use. It is available in both Black and Beige, USB-A or USB-C, as well as UC and Certified for Microsoft Teams variants.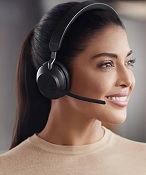 The
Evolve2 65
headsets give you 37 hours of battery life and it takes only 15 minutes to charge for 8 hours of talk time (full charge time is 90 minutes). The soft memory foam ear cushions mold to your ears, for supreme comfort. and the brightly-lit busy lights are integrated into the ear speakers. If you do not need Active Noise Canceling, we recommend this headset, rather than the Evolve2 85. Within the Evolve2 65 line, you have choices: Black or Beige, USB-A or USB-C, UC or Certified for Microsoft Teams, with a charging stand or without the stand.
If you need a recommendation for an Evolve headset that fits your work style, call our headset experts at 1-866-998-9991 or Chat us now.
June 12th, 2020 • 0 Comments
For clear conversations from anywhere you work, Jabra has introduced the new Evolve2 65 Bluetooth headset with three microphones, two of which are located in the boom arm, with one in the right ear cup. There's 37 hours of battery life, and 3 times better wireless range than the existing 65 headset for the Evolve series.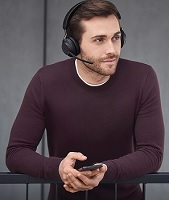 The Evolve2 65 comes with the Link 380, the Jabra adapter in USB-C and USB-A. Some variants include a charging stand to keep the headset docked when it's not in use. The Microsoft Teams certified options in the range have their own dedicated Microsoft Teams button for instant connections to collaborative meetings. The obvious LED light on these headsets can also signal different things, like missing a meeting or call.
If your platform is something other than Microsoft Teams, Evolve2 65 works with all leading Unified Communications (UC) platforms, for seamless collaboration.
True comfort, luxury
Memory foam ear cushions on self-adjusting earcup swivels, with a pioneering new angled design, mold to your ears' natural contours and cancel up to 48% more noise.
Using biometric measurements of hundreds of heads, Jabra created the perfect ergonomic design, featuring a unique headband shape that optimizes weight distribution for every head shape. The result is a headset that offers all-day comfort, day in and day out.
In Stock Now and Ready to Ship Today
•Evolve2 65 Link 380A UC Stereo with Stand, Black
MSRP: $299.00
•Evolve2 65 Link 380A UC Stereo, Black
MSRP: $249.00
Download the free
Jabra Direct
to ensure that your headset always has the latest firmware, guaranteeing you'll have the most up-to-date features, bug fixes and easy access to compatibility updates. With the user-friendly Direct Dashboard, staying current has never been easier.
Call our dedicated Headset Team at 1-866-998-9991 or Chat us now for recommendations.
January 24th, 2020 • 0 Comments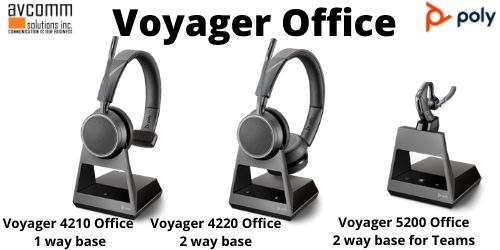 When we're in the office, most of us take calls on our desk phones, mobile phones, and various PC/Mac soft phones. We need our headset to easily support all of those connections.
Plantronics, now Poly
has answered this need with the new
Voyager Office
series.
"Open office floor plans require a certain amount of flexibility and mobility of employees," said Tamara Lane, director of product marketing, at Poly. "To escape noise and distraction, you might duck into a huddle room for a call, take your next meeting in the lobby or join a meeting from someone else's office which means you not only use a desk phone but a PC or Mac and your smartphone for collaboration. The Voyager Office Series delivers high-quality audio in a comfortable headset that performs in all of those scenarios."
Wearing Styles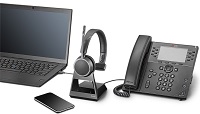 The Voyager 4200 Office Series offers an over-the-ear, hi-fi stereo and mono headband wearing style. The Voyager 5200 Office Series offers a sleek and discreet over the ear wearing style for those working on the go in and out of the office. Both the Voyager 4200 and Voyager 5200 Office Series come with the option of a one-way desk phone only or two-way desk phone and PC/Mac office base, in addition to a mobile phone. The headset connects
directly to mobile phone via Bluetooth
, so this is an office wireless headset you can use without the base, ANYWHERE! And, thanks to Bluetooth 5.0 with BLE, roaming range for these headsets is up to 300 feet (dependent upon environment), and talk time is up to 12 hours!
The Voyager 4200 and Voyager 5200 Office Series have a version available with a dedicated Microsoft Teams button, both on the base and the headset, to
instantly invoke the Teams app
. This instant access to the Teams app makes scheduling a meeting, starting a call, or checking the calendar easy. The Teams versions also provide audio and visual alerts when a Teams notification occurs. The Voyager Office Series headsets are also supported by Zoom and other UC platforms.
Amazon Alexa and Tile Built-In Support
The Voyager 4200 and 5200 Series headsets also feature Amazon Alexa Built-In and Tile integrations. Just tap-and-ask, and Alexa will respond so you can focus on your tasks at hand. Tile is integrated right into the headset which makes finding your Voyager headset easy – you can literally "ring" it.
Control Calls and Media from the Headset
It's easy to manage calls and media directly on these headsets. Features include: Call answer/ignore/end, redial, mute, volume + /-. Media controls are track forward/track back/pause/play.
Voyager Office headsets are available in both USB-A and USB-C variants. Here's the complete product listing.
| Headset | Part Number | MSRP |
| --- | --- | --- |
| Voyager 4210 1 way base | 212720-01 | $279.95 |
| Voyager 4210 2 way base USB-A | 212730-01 | $299.95 |
| Voyager 4210 2 way base USB-C | 214591-01 | $299.95 |
| Voyager 4210 2 way base USB-A for Teams | 214002-01 | $299.95 |
| Voyager 4210 2 way base USB-C for Teams | 214601-01 | $299.95 |
| Voyager 4220 1 way base | 212721-01 | $299.95 |
| Voyager 4220 2 way base USB-A | 212731-01 | $319.95 |
| Voyager 4220 2 way base USB-C | 214592-01 | $319.95 |
| Voyager 4220 2 way base USB-A for Teams | 214003-01 | $319.95 |
| Voyager 4220 2 way base USB-C for Teams | 214602-01 | $319.95 |
| Voyager 5200 1 way base | 212722-01 | $279.95 |
| Voyager 5200 2 way base USB-A | 212732-01 | $299.95 |
| Voyager 5200 2 way base USB-C | 214593-01 | $299.95 |
| Voyager 5200 2 way base USB-A for Teams | 214004-01 | $299.95 |
| Voyager 5200 2 way base USB-C for Teams | 214603-01 | $299.95 |
Can't decide? Call our Headset Experts at 1-866-998-9991, or Chat us now!