There were 1 posts tagged: Evolve 75e UC
July 6th, 2021 • 0 Comments
Within the past several years, we have noticed the increased frequency of questions about headsets with active noise cancelling. Many customers are familiar with the consumer brands out there that offer Active Noise Cancelling in headphones used for music and other media and are now asking us, "But what about for office headsets?" The pervasive noisy open office environment, as well as the continuing needs of mobile workers handling important calls on the go, provokes the question. Active noise cancelling technology (ANC) will reduce unwanted noise and eliminate distractions.
From the headset brands that we carry, there are several choices that, depending upon the connection type, may provide the ANC you need.
Bluetooth Connection
The
Jabra Evolve 75 UC
is our top pick for a wireless Bluetooth ANC headset. The large leatherette ear cushions are comfortable and perfect for all-day wear. The speakers rotate to lay flat in the hard-sided case (click here to
see the case
) that the headset comes in. The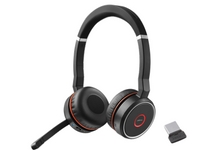 noise-cancelling microphone boom arm can be clipped to the headband when you're not on calls – a magnet secures the boom arm until you're ready to use it again. Integrated Busylights in the ear cups alert co-workers to your availability – at a glance. ANC is easy to turn on and off with the touch of a button on the left ear cup. The Listen-In feature allows you to keep ANC turned on – yet tuning into the conversation surrounding you – with a simple tap on the left ear cup. There are two certified versions of the Evolve 75: UC and Certified for Skype for Business. The included Link 370 dongle allows you to walk up to 100 feet away from the PC it's connected to. Talk time is approximately 15 hours. There is an Evolve 75 UC
version with the charging stand
, which we recommend for those who primarily work at a desk. The stand is a great place to store and charge the headset when not in use. MSRP is $279.00 ($329.00 for the headset and stand).
The
Poly Voyager 8200 UC
is the newest ANC wireless headset,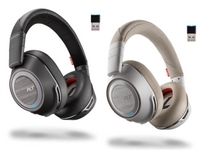 and has a contemporary boomless mic design: dual-paired omnidirectional mics with enhanced Digital Signal Processing. These technologies ensure your voice is picked up and background noise is not the focus of the conversation. Dual mode ANC lets you choose preferred noise-reduction level. Smart sensors allow you to answer calls by simply putting on the headset and automatically mute your calls or pause music by taking the headset off. It offers an almost-unbelievable 20 hours of talk time. A carrying pouch is included. The Voyager 8200 UC is available in two colors:
Black
and
White
and MSRP is $379.95.
Poly Voyager Focus UC
is the first wireless headset offering ANC. The Focus UC is compatible with smartphones, tablets, smart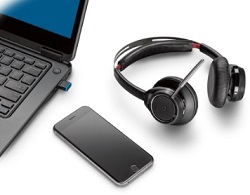 watches, and PCs via Bluetooth. It offers up to 12 hours of talk time (10 with ANC on). This is another intelligent headset: Smart sensors answer calls by simply putting on the headset, mute by taking the headset off and pause/resume music. First-to-market Dynamic Mute Alert feature senses and alerts users when they are trying to talk when muted. The sleek noise-cancelling mic can be worn on either side of the head by rotating the boom arm. A carrying pouch is also included with this headset; MSRP is $279.95 or 299.95 for the
version with the charging stand
.
Poly Voyager Focus 2 UC
builds upon the success of the Focus UC, and creates a focus zone all around you — along with up to 19 hours of talk time!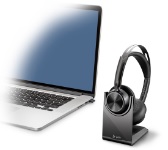 All you hear is your call with three levels of hybrid active noise canceling (ANC). All they hear is you: pro-grade microphones using Poly Acoustic Fence technology keeps conversations clear. Dynamic Mute Alert and smart sensors are built into this headset, too. Voyager Focus 2 UC connects to both cell phones and computers, with the included BT700 USB dongle (you choose between USB-A and USB-C variants). You can buy this headset with a charge stand (as pictured), or without. MSRP is $329.95; with charge stand, $349.95.
EPOS Adapt 660
has innovative hybrid adaptive ANC that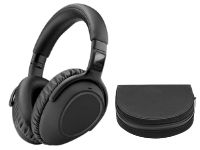 constantly monitors your background environment for noise, thus adjusting the level of noise reduction in the headset seamlessly. EPOS AI, along with 3 digital microphones, optimizes voice pickup while reducing background noise. The listening experience can be personalized with the various sound effect modes: Club, Movie, Speech, or Director (user defined). The Adapt 660 comes in a hard-sided case for travel convenience. This headset has a dedicated button that launches Microsoft Teams. It is certified for Teams, and optimized for UC platforms. MSRP is $439.00.
Powerful digital hybrid Active Noise Canceling and
37 hours of talk time give the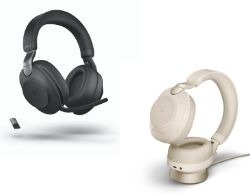 Jabra Evolve2 85
headsets one of the longest talk times on the market. The hideaway boom arm activates 6-microphone technology to deliver outstanding call performance on the go. The ergonomic headband design has soft memory foam for all-day wearing comfort. The headset folds into a hard-sided zippered carry case for ease of travel. There are several choices within the Evolve2 85 series: black or beige; with charging stand or without; Microsoft Teams certified or UC variants; and USB-A or USB-C Link 380 dongles. MSRP is $449.00, or $499.00 for models with the charging stand.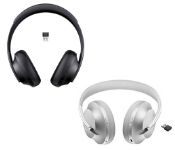 Bose Professional
is new to the office workspace, and brings us the 700 UC, a Unified Communications-certified headset with an included Bose USB-A Link dongle. Choose between
silver
or
black
. If you're familiar with Bose headphones, this may be a good option for you. Eleven levels of noise cancellation let you personalize what you hear from your surrounding environment — from virtual silence to open and ambient. An adaptive four microphone system isolates your voice from surrounding noise. MSRP is $449.95.
EPOS Adapt 560
has a discrete foldable boom arm that can be folded into the headband when not in use. MSRP is $329.00. The
Adapt 563
is the same headset, without the BTD 800 USB dongle and carry case. MSRP is $269.00.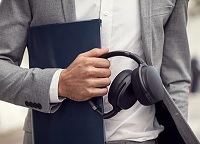 EPOS Adapt 360 offers a comfortable design and two color choices:
black
and
white
. Optimized for UC and Certified for Microsoft Teams, Adapt 360 has a dedicated Teams button (when used with the included BTD 800 USB dongle). The foldable design is convenient for travel in the included storage pouch. MSRP is $269.00.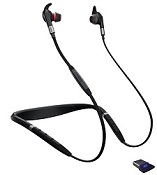 Wireless around-the-neck earbud wearing styles are the newest addition to the professional office headset market. The
Jabra Evolve 75e
has an integrated Busylight and magnetic earbuds that connect to pause your music, or end your call. The neckband is silicon rubber and is sweat and water resistant, however, make no mistake: this business headset is made for work. The three-microphone technology provides crystal-clear calls and creates a unique "talk-zone," making sure you're heard, while nearby voices are filtered out. ANC is activated by pressing a button on the neckband; to "listen in" to your environment, simply press and hold the same button. The headset comes with a USB dongle, zippered hard-sided travel case, three ear tips and three pairs of both EarGels and EarWings, and includes a desktop charging stand. MSRP is $259.00.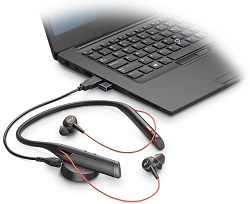 The Poly
Voyager 6200 UC
headset features Plantronics clear talk technology, four omnidirectional mics and enhanced noise cancelling, optimizing your voice and minimizing background noise. ANC can be turned on and off with the flip of a switch. Connect to PC with the included BT600 dongle. Also included: a hard-sided, zippered travel case, desktop charging stand, and 3 sizes of eartips for maximum comfort and customization.
The Voyager 6200 UC is offered in both
USB-A
and
USB-C
models. MSRP is $299.95.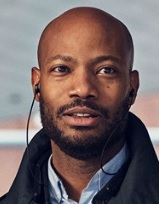 Talk all day with the EPOS
Adapt 460,
which offers 14 hours of battery life on a single charge. Hybrid ANC reduces background noise and boosts concentration. From noisy office to airport lounge, ensure you are heard, with noise-cancelling microphones that optimize speech and reduce background noise.
If you're using a Microsoft platform, choose the
Adapt 460T
variant, which is Certified for Microsoft. MSRP is $329.00.
For all of these neckband earbud headsets,
the neckband will vibrate when there is an incoming call, so you won't need to keep the earbuds in your ears at all times.
USB Connection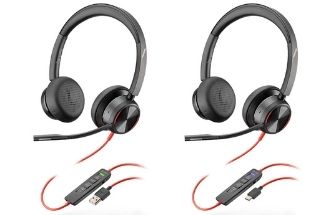 The new Poly
Blackwire 8225
is packed with technology that will be a difference-maker as you move seamlessly between calls, webinars, multimedia and more. Technologies in the Blackwire 8225 include Hybrid ANC, Acoustic Fence, and Hearing Protection. Advanced hybrid Active Noise Canceling (ANC) with three settings optimizes the users experience. The ANC switch allows the user to select between ANC Off, Mid, or High, depending upon environment.
For clear calls, Acoustic Fence technology uses two physically separated microphones and digital signal processing (DSP) to identify the users voice from the unwanted background noise and then removes it. Its lightweight design and fully adjustable headset with 180º pivoting speakers is comfortable. Choose between USB-A or USB-C variants, and UC or Microsoft-certified. MSRP is $209.95.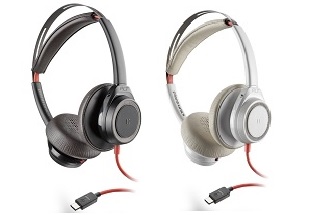 Blackwire 7225
features Active Noise Canceling and a boomless mic design, in a corded headset. A new twist: the headset controls are all located on the ear speakers, similar to a wireless headset. Video calls are common in work places today, and a resounding demand was for a headset without a mic boom. The technology found in the microphone design is impressive: its 4 mic design detects noise from all directions and separates noise from the speaker's voice. Digital Signal Processing (DSP) delivers a natural voice sound. USB-A and USB-C models are available in both color choices: Black and White. MSRP is $199.95 for all variants.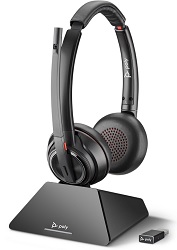 Also from Poly, the
Savi 8220 UC
is a wireless DECT headset that lets you tune out nearby noise thanks to ANC that you control with the on/off switch on the ear speaker. Conversations are secure, private, and clear because of the close conversation limiting noise cancellation in the microphone. This is a single connection headset to computers only, with the option of USB-A and USB-C models, as well as UC or Certified for Microsoft Teams variants. It comes with a carry case and USB charging cable, so that you can easily travel with the headset and leave the charge base at home. If you need freedom to roam during calls (up to 590 feet range, line of sight), this is a great choice. MSRP is $339.95.
For all of these headsets, download Plantronics Hub software to gain call control across multiple softphones. A headset control panel allows for customizing settings, including call notification.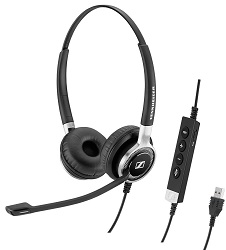 EPOS offers the
Impact SC 660 ANC USB
, which adds Active Noise Canceling into the Impact SC 660 series of premium USB headsets. ANC is easily activated with the sliding switch located on the side of the in-line call controller. An ultra noise-canceling microphone ensures that your caller will hear only you — and not your background environment. Proximity Sensor Technology allows for answering, pausing, and resuming calls by simply taking the headset on and off.
The Impact SC 660 series has a solid feel, and a luxury fit, for comfortable all-day wear, and is both Microsoft-certified and optimized for UC applications. If you need to travel with your headset (or work in another location) the ear cushions rotate to lay flat for travel in the included carry pouch. The magnetic holder is a great feature, too: attach the magnet to your desk, where the call control unit will rest; the magnet on the unit will hold the call controller in place. EPOS offers its standard three-year warranty for this headset. MSRP is $249.00.
USB and 3.5mm Connection
Jabra Evolve 80
This corded headset is compatible with devices that have a 3.5mm port and PCs via USB.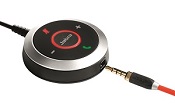 Oversized ear cup style cushions completely surround the ear and hug the user's head. It is the heaviest of the choices, weighing in at 11.43 ounces – almost ¾ of a pound. The bulkiness of the headset could prove to be a deal breaker for some users; however, customers who own this headset don't mind the heft and comment on its incredible ability to block ambient noise.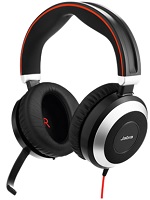 There is a comfort feature to the headset: the headband has a soft rubber cushion that allows it to lightly rest on the head.
Activate ANC at the bottom of the right ear cup. A nice feature of the Evolve 80 is the "Listen In" button: when you have ANC activated, but need to "listen in" to your environment, press the button in the middle of the right ear speaker, to temporarily disable the ANC. Press the button again to resume ANC. The rechargeable battery is charged when the Evolve 80 is connected via USB port.
Other features: a neoprene zippered pouch for travel (the ear cushions rotate to lay flat) and a noise-cancelling microphone that mutes automatically when the mic boom is docked in the headband. MSRP: $329.00.
Hi-fi stereo sound and wideband audio for listening to music and multimedia applications contribute to the luxury feel of
all
of these headsets.
ANC Headsets for Desk Phones
The very first (and so far, only)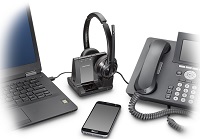 DECT wireless headset with Active Noise Canceling is the
Poly Savi 8220
. This headset connects to desk phones, PCs and mobile phones. Conference two of your three devices to collaborate with colleagues or connect up to four Savi 8200 Series headsets for training or call resolution. There are 2 versions available:
Microsoft Skype for Business certified
, and
UC
. MSRP is $459.95.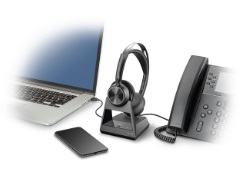 Poly Voyager Focus 2 Office
is recommended for professionals on calls all day in noisy office environments who are looking for connection to desk phones. The Voyager Focus 2 Office connects to PC via USB-A cable; desk phone via included cable; and smartphone via Bluetooth. The headset can also connect to PCs via the included USB cable. It offers up to 19 hours of talk time on a single charge.
Digital hybrid Active Noise Cancellation has three settings: high, mid, and off so you can set the right level for your surroundings, and Acoustic Fence Technology in the noise-canceling microphone ensures clear conversations. The online ear cup indicator flashes when you're on a call to alert colleagues that you are unavailable. And, you can take this headset with you to work anywhere, in the included carry case. MSRP is $459.95 in both
UC
and
Certified for Microsoft Teams
variants.
At this time, ANC technology is not available in QD (quick disconnect) headset versions. We have tested a solution here at Avcomm Solutions that has proven to be successful for our customers, and lets you use an ANC headset (Bluetooth or USB) with a desk phone!
We recommend the
Poly MDA220 USB
, an audio switcher for PCs and desk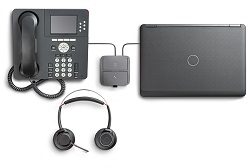 phones, along with a USB headset of your choice, to connect your ANC headset to a desk phone. Yes, that's right: an ANC headset CAN be used with your desk phone! And it's important to note that
any brand of headset can be used with the MDA220 USB.
To learn how the MDA220 USB works alongside a desk phone and PC, along with an ANC headset, read our blog post, here:
ANC Headset Compatibility with Desk Phones
.
Avcomm's 30-day money back return policy assures that you can try an ANC headset and see if it's right for you! Call us at 1-866-998-9991 or
email us
to learn more about ANC headsets.