8/21/2019
Bring huddle rooms to life with best-in-class audio, and now video, from Jabra. The new PanaCast videocamera is the world's first intelligent, 180-degree panoramic 4K plug and play solution. It is compatible with all leading videoconferencing platforms on the market, and is certified for use with Microsoft Teams.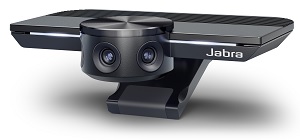 Similar to the tailor who brings together various pieces of fabric to create a cohesive whole, the nine processors (and patented technology) located inside the PanaCast body stitch images together from three separate camera lenses (13 megapixels each) to create a single image spanning 180 degrees.

This 180-degree technology means there are no invisible areas — even in the smallest huddle rooms! No blind spots, no one's cut out of the picture, and there's no wasted space. When there are only one or two people in the room, the PanaCast uses Intelligent Zoom to focus on participants when the full field of view is not needed.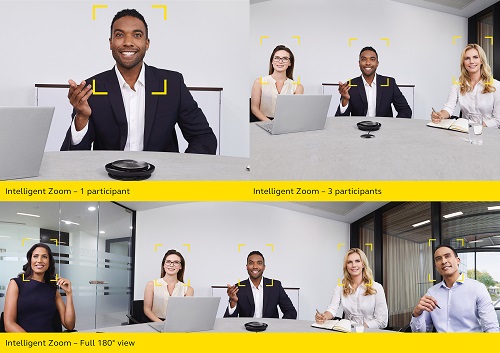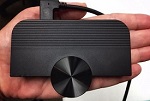 Jabra PanaCast offers 4K images, to display an image of at least 8 million active pixels. It's much sharper and results in higher clarity: 4K is four times that of the old HD standard. The size of the camera is remarkable, considering the technology packed into it: at just 6.1" x 3.5" x 1.8" the PanaCast fits in the palm of your hand.

PanaCast offers Intelligent Vision, a technology that works the way our eyes do, so that it adjusts automatically to changes in light. A dull or dimly-lit room is transformed. If your huddle room has natural light, PanaCast technology automatically adjusts the changing lighting.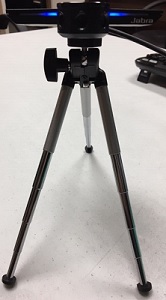 PanaCast has a standard 1/4″-20 thread and can be used with the PanaCast wall mount and table stand (available as additional purchases) or even any tripod with that screw size.

PanaCast has an integrated mount, for further flexible placement on a TV screen or laptop, for example.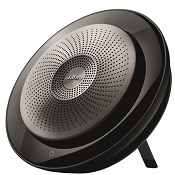 For a complete room solution, we recommend the Jabra Speak 710 as the complementary audio device. It, too, is a plug-and-play accessory. The Speak 710 is plenty loud, and the 360-degree omnidirectional microphone picks up sound from all corners of a room. Connect with the integrated USB cord, or via Bluetooth.

The Speak 710 can be linked to an additional Speak 710, for double the room coverage! The two Speak units are connected wirelessly, with the press of the Link button on the Speak 710!

Jabra Direct should be downloaded to the PC that is running both the PanaCast and the Speak 710. You will be able to change settings in Jabra Direct, as well as update all firmware.


Jabra is known for its high quality, easy-to-use products, featuring advanced technology. As a Jabra Premier Partner, we're thrilled to offer them to our customers. Chat with us now to learn more!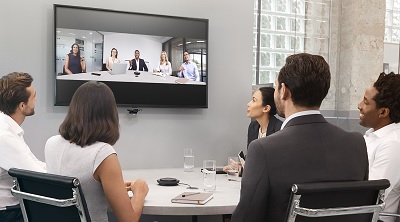 TAGS: Jabra, PanaCast, Video Stitching, Technology, Immersive, 180 Degree Coverage, Intelligent Zoom, Video Camera, Speak 710, Bluetooth, Intelligent Zoom, Intelligent Vision