Remote health care with a human touch: Improve patient satisfaction with outstanding calls
February 16th, 2021 • Comments
Tags: Health Care, Remote Health Care, Jabra PanaCast, Jabra Evolve, Jabra Evolve2 65, Virtual Health Care, Speak 750, Jabra Premium Partner, Headset Experts, headsets, speakerphones, cameras, Engage 75, wireless headsets
Health care in the age of technology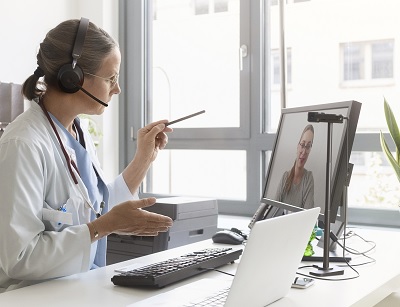 With the recent boom in
virtual health care
, the need for outstanding technology solutions that keep patients and health care practitioners connected has never been greater.
As remote health care becomes more widely available, technology has a key role to play in ensuring these virtual services are at a consistently high standard. The right devices keep health care workers connected, both to their patients and to each other.
With 90% of people believing that remote health care is as good or better than traditional services, there's never been a better time to ensure that the technology you're using to deliver remote health care options is the best that it can possibly be, specifically audio and video solutions
.
We recommend the Jabra devices, designed to bring a natural human touch to these interactions. From the immersive 180° video you get with
Jabra PanaCast
, to the world-leading professional-grade audio of
Jabra Evolve2 65
headsets, and the outstanding 2-way audio of the
Jabra Speak 750
, there's a product that's perfect for protecting the genuine human connection that's so vital to healthcare interactions.
And that's exactly where Avcomm Solutions comes in. As a Jabra Premium Partner, we are uniquely positioned to provide product recommendations, special pricing, and support after purchase, to ease your transition into professional grade audio and video communication devices.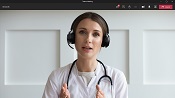 Our team provides specialized recommendations to each customer, for the best set-ups possible. Whether you need cameras, headsets, or speakerphones, we will configure the best devices for your needs.
Contact us at 1-866-998-9991 or Chat us now.