There were 5 posts tagged: speakerphones
March 5th, 2021 • 0 Comments
When the Pandemic caused businesses to close last spring, many employees were sent home with a computer, a few office supplies, and no idea of when they would be able to return to the building. Communication devices such as headsets, speakers, and cameras (if they were even considered) were haphazardly ordered, or employees were left to use their personal ear buds and the built-in cameras in laptops.
Now that we've had some time to work through these issues and many employees remain in their home work spaces, they most likely are continuing to use the same thrown-together set-ups that they were sent home with in the spring. With the benefit of this past year as a teacher, we have a better idea of what works at home, and find many companies and individuals are starting to think of ways to enhance their WFH experience. We've put together some products for you to consider that will surely improve your work from home setup.
Wireless Headset
To experience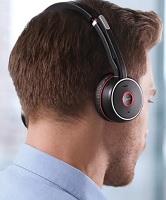 complete silence while working, we recommend the
Jabra Evolve 75
headset with Active Noise Canceling. It connects to both computers (with the included Link 370 USB adapter) and mobile phones via Bluetooth. The hear through feature lets you listen in to your surroundings, without removing the headset. We like the option to walk and talk, so you're able to take your calls on the go (up to 100 feet), whether it's to the kitchen to grab a glass of water, or to answer the front door to accept your FedEx package. The large, cushioned leatherette ear cushions rest comfortably on your ears for even the longest of calls and Zoom meetings. When you need to work in a new location, the included hard-sided zippered carry case will protect the Evolve 75 on the go. Available in both
UC
and
Microsoft
variants, you can also purchase the headset with a charging stand, if you would like to have a convenient place to store and charge the headset on a desk, when not in use.
Corded Headset
Jabra Engage 50
mono, or
Engage 50
duo, and the optional Link call control take communication to a new level. The Engage 50 is a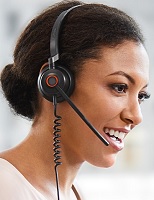 digital headset with a powerful processing chip in the ear cup that delivers advanced functionality including call analytic data. The 3-microphone system with intelligent noise-cancelation blocks out background noise and breathing sounds, so customers hear only the agents voice thereby delivering a superior call experience,

whether you work from home or a physical contact center. The call control unit accessory enables agents to adjust volume levels and mute, speed dial, answer and end calls, and update their status lights at the touch of a button. The control unit is easy to use and designed to stay in place. Two programmable buttons can be customized in
Jabra Direct
; out of the box they are programmed for Speed Dial and Busylight (green: available; red; busy). The volume dial, and mute and answer/end buttons are intuitively placed and easy to use at a touch. There are Microsoft Teams-certified and UC variants in both USB-A and USB-C options. The Engage 50 headset ends in a USB-C connection, so if you are using these headsets in a computer with USB-A sockets only, you will need to purchase a Link unit.
We recommend the Engage 50 if you take calls and participate in team meetings primarily from your computer, and do not use a desk or mobile phone.
Speakerphone
If you're working in a private space, you will be able to use a speakerphone. We recommend the
Poly Sync 40
or
Sync 40+
models and you can find all of the Sync 40 variants, here:
Poly Sync 40 Speakerphones
.
Turn smaller or flexible spaces into powerful conference rooms; the Sync 40 provides premium sound. The multi-microphone array focuses on what's being said and helps keep echo and noise out of meetings. And, full duplex audio lets conversations flow naturally, even when users talk over each other.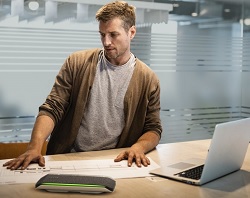 We like the flexibility that the Sync 40 offers. You can connect to either USB-A or USB-C computers with the same unit, thanks to the integrated cable that has both connections included. The Sync 40+ models include the BT600 USB dongle and a USB-A to USB-C adapter. When you go into the office, you can wirelessly pair two units together for larger meeting space needs.
It is certified for Zoom and Microsoft Teams, for seamless experiences, as well as other major UC communication platforms.
Camera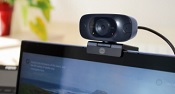 For a clear picture on all of your Teams and Zoom calls, we recommend the JPL
Vision Mini camera
, which is a diminutive device with some great features, including automatic low light correction, integrated privacy cover and 2-year warranty. The Field of View is 67° and you have full 360° camera rotation including 90° tilt for over-desk viewing.
The plug-and-play Vision Mini is designed to suit the way you like to make a video call, whether it's one to one or conference, you can place the Vision Mini webcam where you want it - on a computer monitor, desktop or tripod. It is compatible with all major platforms and the price is pretty nice: $49.95 MSRP.
Busylight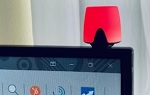 Use this at home now, and in the office when/if you return. The design of the
Omega Kuando Busylight
makes it highly visible from across a room and is an instant notification of your status: Red for Busy; Green for Available; and other colors that can be programmed to suit your work style. It will also: Ring and flash on incoming calls; Beep & flash – Indication for IMs; and there's a Flash notification for missed calls/IMs. Everyone can benefit from an Omega Busylight at their work space.
We have become quite adept at collaborating with colleagues, customers, and students from a distance, and these products will raise your communications game — whether you remain at home, or return to the office building. Contact our team for personalized recommendations to elevate your communication devices at 1-866-998-9991 or Chat us now.
March 2nd, 2021 • 0 Comments
Has your company implemented a BYOD (Bring Your Own Device) policy and you're not sure what type of audio and video product to purchase? Our team has put together a few suggestions at a variety of price points, for typical BYOD scenarios. These products will beat the audio and video quality found in a standard laptop or computer. Each individual environment and preference may require a modification, and our team is ready to provide specialized suggestions for your unique work space and situation. Call us at 1-866-998-9991 or Chat us now for help.
Quiet work spaces
If you are working in a private home office, private office, or in a hotel room, and you are able to close the door on noise, we suggest these devices:
A speakerphone with extra features,
such as the
Poly Sync 20+
: This USB-A with BT600 USB dongle speakerphone connects to computers and mobile phones.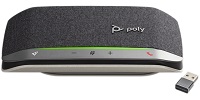 When you're not on a call or in a video conference, you can use the Sync 20 to play music. It's simple to connect and portable for use anywhere. The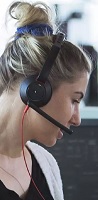 programmable Rocket Button can bring up a Voice Assistant, play music, and more. Customize this in the
Hub Desktop
software, a free download.
If you'd rather use a headset with your computer,
the
Poly Blackwire 5210
is a corded headset with call controls at your fingertips for call answer and end, volume adjustments, and mute. The lightweight headset has a large ultrasoft leatherette ear cushion, and it offers connection both via USB and 3.5mm; however, for best performance, it is recommended to connect to computers via USB. A noise-canceling microphone is integrated in the bendable mic boom so that your voice comes through loud and clear.
Other great options for a single-ear corded headset include the
Jabra Evolve II 30
which offers USB and 3.5mm connections; Poly
Blackwire 3310-M
which has a USB connection, and
Blackwire 3315-M
, which is a dual connection to USB and 3.5mm. All three of these headsets are Certified for Microsoft Teams, which means that when you connect this headset to your computer and you're logged into your Teams account, Teams will immediately recognize the device as the default sound device.
If you would prefer a wireless headset for computer only, the
Poly Savi 8200 UC
has wearing style options (mono, duo or convertible), ANC in the duo variant, and unlimited talk time in the
Savi 8245 UC
. For a wireless Bluetooth headset with dual connectivity for both mobile phone and computer, we recommend the
Jabra Evolve2 65
which seamlessly transitions between the two connections so you're always on.
Noisy work spaces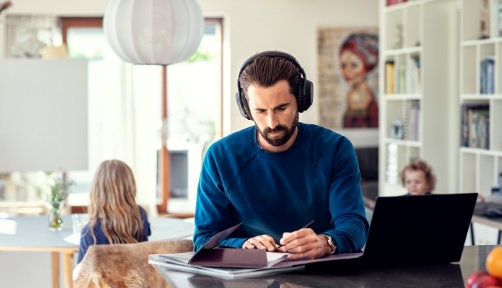 If you are working in a space with one (or more) family members, such as at the kitchen table, we recommend an Active Noise Canceling headset that will block background noise so that you are able to concentrate on your work.
EPOS Adapt 660
has adaptive Active Noise Canceling that monitors your working environment and adjusts noise reduction accordingly. Talk Through technology for listening to colleagues without removing the headset, for a quick check-in to your environment. These ear speakers completely surround the ears.
Jabra Evolve 80
has large ear speakers that completely surround the ear, and bright Busylights on the ear cups that provide a visual notification if you are on a call or do not want to be disturbed. This connects via both USB and 3.5mm jack for mobile phones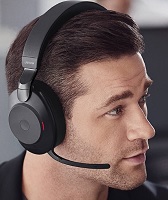 equipped with that port.
For a wireless ANC headset option from Jabra, the
Evolve2 85
has an advanced digital chipset for the clearest calls, a microphone boom that can be folded up and stored away when not in use, and Busylights that are more visible than ever, allowing you to be seen from every angle, for even fewer interruptions. These headsets have a "Listen In" feature for when you need to check in on your surroundings without taking off your headset.
A corded USB headset with advanced Active Noise Cancellation, the
Poly Blackwire 8225
has three settings for optimal productivity. Acoustic Fence Technology in the noise-canceling microphone keeps calls free from background noise, and improves vocal clarity for clear conversations.
A standard recommendation in noisy environments is to wear a duo headset with both ears covered, which helps to block ambient noise, for passive noise cancellation. The
Jabra Biz 2400 II Duo USB
headset has a Kevlar cord for durability, luxury leatherette ear cushions, an unbreakable 360° FreeSpin boom arm and call controls at your fingertips, thanks to the in-line call controller.

Poly Blackwire 5220
has a sling headband design in this dual ear headset, and connects via USB or 3.5mm. The in-line call controls are a handy feature, and let you answer/end calls, adjust volume and mute. The corresponding LED lights on the call controller provide a great visual reminder: Triple flash green=Incoming call; Double flash green=Call on hold; Solid green=On a call; Solid red=Headset is muted.
The
Poly EncorePro 320
is a lower cost option that plugs into your computer (either
USB-A
or
USB-C
), with in-line call controls for volume and mute.
For personalized recommendations, contact our Headset Experts at 1-866-998-9991 or Chat us and they will find the best solutions for your unique requirements.
February 16th, 2021 • 0 Comments
Health care in the age of technology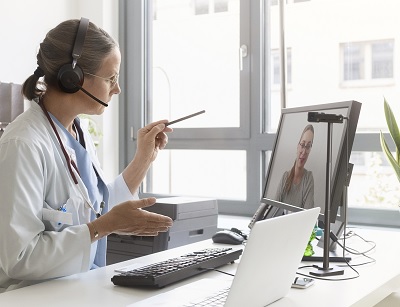 With the recent boom in
virtual health care
, the need for outstanding technology solutions that keep patients and health care practitioners connected has never been greater.
As remote health care becomes more widely available, technology has a key role to play in ensuring these virtual services are at a consistently high standard. The right devices keep health care workers connected, both to their patients and to each other.
With 90% of people believing that remote health care is as good or better than traditional services, there's never been a better time to ensure that the technology you're using to deliver remote health care options is the best that it can possibly be, specifically audio and video solutions
.
We recommend the Jabra devices, designed to bring a natural human touch to these interactions. From the immersive 180° video you get with
Jabra PanaCast
, to the world-leading professional-grade audio of
Jabra Evolve2 65
headsets, and the outstanding 2-way audio of the
Jabra Speak 750
, there's a product that's perfect for protecting the genuine human connection that's so vital to healthcare interactions.
And that's exactly where Avcomm Solutions comes in. As a Jabra Premium Partner, we are uniquely positioned to provide product recommendations, special pricing, and support after purchase, to ease your transition into professional grade audio and video communication devices.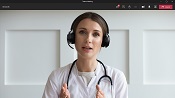 Our team provides specialized recommendations to each customer, for the best set-ups possible. Whether you need cameras, headsets, or speakerphones, we will configure the best devices for your needs.
Contact us at 1-866-998-9991 or Chat us now.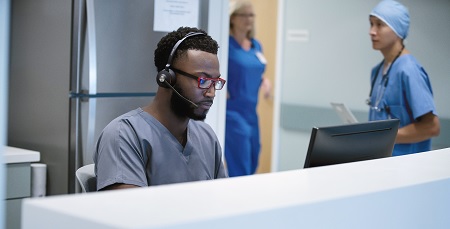 August 29th, 2019 • 0 Comments
The difference between a UC-certified device and one that's
not
certified for business use?
Sound. (And listening time. And call quality. And technology.)
Here are a few BIG differences: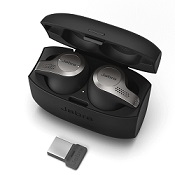 UC certified devices have:
Microphones tuned for voice
while consumer, store-bought devices only offer single-directional microphones.
UC certified devices have:
Headset Call Controls
while consumer, store-bought devices do not offer headset controls, and are missing necessary buttons.
UC certified devices have:
Multi-device connectivity to connect the same headset to both a PC and a mobile phone or tablet,
while consumer, store-bought devices are optimized for a single connection (such as, mobile phone only).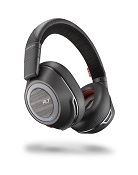 If you like the sound of:
• increased operational costs
• decreased adoption of the UC platforms your business has implemented (including Teams, Jabber, etc.) and
• decreased collaboration
then continuing to allow employees to bring in whatever headsets/ear buds/headphones they have at home is probably the best plan for your company.
However, if you're ready for UC-certified professional headsets and speakerphones to support your staff, and leverage your business systems, then contact our team on Chat, or call us at 1-866-998-9991 today!
March 6th, 2019 • 0 Comments
Help your Jabra headset become smarter.
While you may be familiar with high-quality devices from
Jabra,
such as Evolve headsets and Speak speakerphones, you may not know that Jabra also provides innovative, AI-enhanced software that supports its USB (and Bluetooth with Link 360/370 adapter) products. Jabra Direct 2.0 is available now —
and, it's free
.
Core functions of Jabra Direct:
•Automatically get firmware updates so that your headset is always updated and secure.
•Personalize your headset settings according to personal preferences, or company requirements. Functions such as ringtone, sound optimization for music, audio protection level, sidetone level, and many more areas can be controlled.
•Remote call control (answer/end/call, mute, redial, etc.) for UC platforms.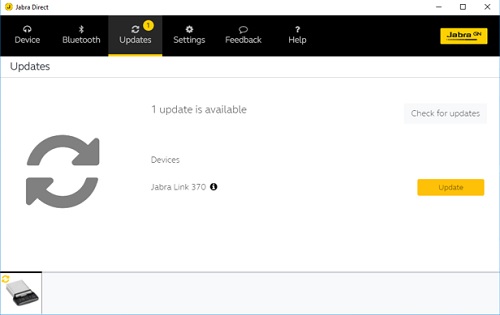 Jabra Direct has an intuitive, user-friendly interface that provides overall status of each connected device, and notifications of updates. To receive firmware update notifications, go to Settings and switch Update Notifications to "On." This alerts you to open Jabra Direct, and run updates as they are available.
Key updates in Direct 2.0:
Enterprises that use a proxy server, and those who prefer on-premise deployments, are now supported. Jabra Direct 2.0 will be able to connect to the Internet and receive settings and firmware in proxy-based environments. For enterprises that prefer not to be connected to the Internet, change settings or firmware updates on Jabra devices can be managed and controlled by the enterprise, within their firewall. Another update: Direct 2.0 provides data about end-user name and PC/Mac name, which is also then added as a service in Xpress 2.0. Additionally, Jabra announced that it has certified the handling of customer data in the Jabra Cloud with the SOC 2 declaration. Jabra is committed to protecting customer data against unwanted usage by a third party.
Download Jabra Direct 2.0 for Windows or Mac, from the
Jabra Direct
page.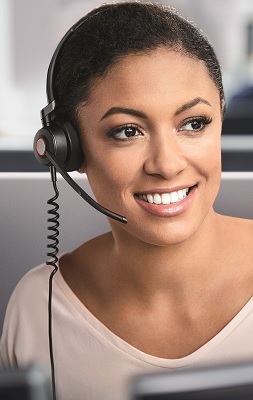 Jabra Engage 50
Jabra Engage 50 is a new generation of digital headsets that provide additional call analytic metrics. The Engage 50 is the first Jabra corded headset to have the chip in the headset itself, making it a true digital headset. The Engage 50 uses the very latest chipset, and this, along with the positioning of the chip, delivers enhanced functionality and user experience.
No longer are headsets an accessory to a phone system, simply transmitting human audio; they are now a "business critical element of the whole infrastructure," according to Jabra SVP Holger Reisinger. These digital devices provide call analytics that in some cases can listen to how people say things, extracting human sentiment from the human voice. Reisinger says that Jabra is providing proof of concept with new KPIs for the contact center, such as measuring agent friendliness against customer anger, in real time. Rather than recording calls and doing transcription analytics, this information is measured in real time and shown as a graph,
in front of the agent who is on the call
, so that the agent can adjust tactics, mid-call.
Jabra Xpress 2.0 Now Available
For organization-wide updates and inventory management, we recommend
Jabra Xpress
, a free online tool. Read all about Jabra Xpress on our blog, here:
Jabra Xpress: Mass Headset Deployment Made Easy
. This program allows IT staff to create software packages for remote updates, configurations and asset management of Jabra USB devices. Jabra Xpress has also been updated to a 2.0 version. To create an account to begin using Jabra Xpress, or update existing Jabra Xpress to the 2.0 version, go to the Xpress microsite:
Jabra Xpress 2.0
.
Jabra Direct 1.0 and Jabra Xpress 1.0 will be discontinued June 30, 2019. We recommend updating to the new 2.0 versions today. Please reach out to us with any questions you have about these updates, and let us know if you need any assistance: 1-866-998-9991.