There were 3 posts tagged: Evolve 65
March 8th, 2021 • 0 Comments
Our team recommends Jabra Evolve wireless headsets for a variety of reasons,
and most especially for the superior Active Noise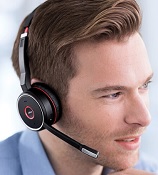 Canceling (ANC) found in the
Evolve 75
. This is our go-to headset for working in the office, working from home, and traveling. Yet, this is just
one
of the many reasons why we like Evolve wireless. The portfolio accommodates a variety of wearing preferences, from true wireless to the traditional over-the-head headband. All of these Evolve headsets connect to two devices at the same time: both mobile and PC; a
Link 370 USB dongle
is
included
with each of the headsets. Each Evolve carries a two-year warranty, longer than the typical Bluetooth headset warranty of a year or less, and all are available in both Certified for Microsoft and UC variants. To decide which variant you need,
this blog post has the information
.
If you work in a noisy office (or, work at home amidst cute children and pets), Active Noise Canceling headsets increase productivity by providing a "cone of silence" for dedicated work and interruption-free calls. Noise-canceling microphones block background noise so that your callers will hear only you and not your environment. You can wear the Evolve 75 all day — the cushioned rubber headband and large padded leatherette ear cushions provide extreme comfort. Get up to 15 hours of talk time on a single charge. Mute the mic as you lift the boom arm up.
The Evolve 75 also has a charging stand that can be purchased with the headset, or without. If you later decide that you need the charging stand, it is available as an
accessory purchase
. We recommend the version with the charging stand for those who work primarily from their desk. Otherwise, the headset is charged with the included micro USB to USB cord.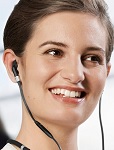 For those who prefer an alternate wearing style with Active Noise Canceling, the
Evolve 75e
is a neckband with ear buds. Wear one ear bud to be aware of your environment, or both earbuds with the ANC turned on for complete concentration. The lightweight design rests comfortably enough that you don't even realize you're wearing it. The neckband will vibrate at incoming calls, so you're assured not to miss anything. A great feature: when the ear buds are together (they are magnetized), your music pauses or your call ends. There is up to 14 hours talk time in this battery life, and a 2-hour time for a full recharge.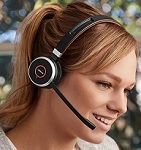 If ANC is unnecessary,
Evolve 65
headsets have three wearing choices. Evolve 65 is the over-the-head headband style;
Evolve 65e
is the neckband with ear buds (similar to the Evolve 75e above, without ANC), and
Evolve 65t
are true wireless ear buds in a charging case.
Evolve 65 offers a choice between mono and duo ear versions, and comes with a charging stand, or without. The Evolve 65 has a smaller profile and ear cushions than the Evolve 75, and is a comfortable option. We like the freedom of a mono Bluetooth headset with a traditional headband style, leaving an ear on the call and an ear on your surroundings.
Jabra Evolve2 wireless headsets
are the latest additions to the Jabra portfolio that you will want to consider.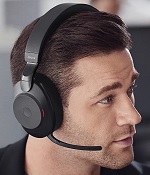 Evolve2 85
are wireless, Bluetooth, Active Noise Canceling headsets with ear cushions that completely surround the ears. The folding mic boom arm is handy when you need it; and when you don't, simply fold it up and store it in the ear speaker. The ear speakers also have microphones, so it isn't necessary to have the mic boom in place, if you don't like that look on Zoom calls, Teams meetings and more. The hard-sided zip case stores the headset, cords, flight adapter, and USB dongle, and if you are part of the current "hybrid work" force, you can easily transport your headset, safely. There is an optional charging stand, if you would like a place to store and charge the headset when not in use. It is available in both Black and Beige, USB-A or USB-C, as well as UC and Certified for Microsoft Teams variants.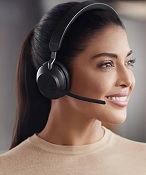 The
Evolve2 65
headsets give you 37 hours of battery life and it takes only 15 minutes to charge for 8 hours of talk time (full charge time is 90 minutes). The soft memory foam ear cushions mold to your ears, for supreme comfort. and the brightly-lit busy lights are integrated into the ear speakers. If you do not need Active Noise Canceling, we recommend this headset, rather than the Evolve2 85. Within the Evolve2 65 line, you have choices: Black or Beige, USB-A or USB-C, UC or Certified for Microsoft Teams, with a charging stand or without the stand.
If you need a recommendation for an Evolve headset that fits your work style, call our headset experts at 1-866-998-9991 or Chat us now.
January 7th, 2021 • 0 Comments
The extremely generous Jabra trade-in promotion has been extended for another year, and is available through the end of 2021. This is a great opportunity to stretch your budgets farther when upgrading your communications experience with these industry-leading headset, speaker and video solutions.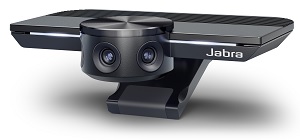 Jabra PanaCast
camera is the world's first intelligent 180° Panoramic-4K plug-and-play video solution. With purchase of the PanaCast, get $75/unit for existing PanaCast 2 or 3 cameras; or $150/unit for non-Jabra huddle room cameras!
Learn more about the amazing PanaCast on our blog,
or watch our overview video, here:
Introducing Jabra PanaCast
.
The Technology Refresh program also offers
$40 cash back for each non-Jabra wireless headset that is traded in
, with the purchase of an Engage Series DECT, Evolve2 65 or 85 Bluetooth, or Evolve Bluetooth wireless headsets. If you have wanted to make the switch to a Jabra wireless headset, NOW IS THE TIME!
Or, if you already use a Jabra wireless headset (specifically, the PRO 920, 930, 935, 9450, 9460, 9465, 9470, or Motion Office), you can upgrade to the new wireless headsets and receive a $20/unit rebate check in the mail for the trade in.
Additionally, when you upgrade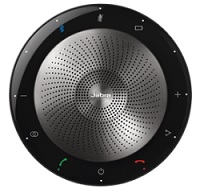 your technology to the
Jabra Speak 710
wireless speakerphone, receive $20 back for a Jabra Speak 410/510, or $40 for a non-Jabra personal or huddle room speakerphone that is traded in. The Speak 710 (both UC and MS versions) offers wireless linking and connects to an additional Speak 710, for double the room coverage (up to 12 people). Connect to laptop, smart phone and tablet via USB or Bluetooth, and with plug-and-play simplicity, it's easy to set up — wherever you take meetings. Fifteen hours of battery life ensures you can meet (or listen to music) for a long time.
Corded headsets have also been added to the mix, and with any Jabra Evolve2 40, Engage 50, Biz 2300 or Biz 2400 II headset purchased, get $10/unit for existing Jabra wired solutions; or $20/unit for any non-Jabra wired solution.
These
Technology Refresh
promotions are only
good through December 31, 2021,
so take advantage of the savings and equip your staff with the latest and greatest in office and mobile wireless technology. Click here for the promotion's
T's and C's
.
Learn more about the qualifying headsets, below: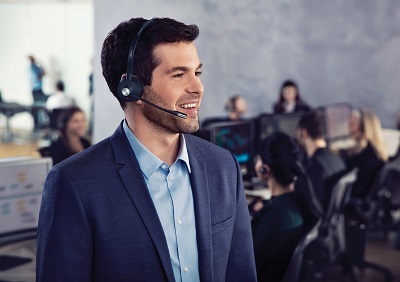 Engage with Jabra
and its Engage series, an entirely new class of DECT wireless professional headsets. The series provides superior wireless connectivity to a range of up to 490 feet - and enables up to 3 times more users to operate in the same office space with no loss in connection quality. Integrated busy lights in these headsets increase productivity and alert co-workers' to your busy status.
Engage 75 headsets connect up to five devices simultaneously, increasing availability for customer calls. And the choice of wearing styles support workers' preferences and workstyles.
For detailed information about each Engage headset, click on any of the following links:
Engage 65 Mono
Engage 65 Stereo
Engage 65 Convertible
Engage 75 Mono
Engage 75 Stereo
Engage 75 Convertible
Evolve wireless headsets
These Bluetooth headsets connect to mobile phones and PCs, thanks to the included Link 370 USB dongles. Active Noise Canceling headsets, Evolve 75 and Evolve 75e, keep the user focused on tasks and conversations, and the Evolve 65, Evolve 65e and Evolve 65t offer a variety of wearing styles (including true wireless with the Evolve 65t ear buds) for clear calls, wherever you work.
Evolve2 65 and Evolve2 85 wireless headsets
connect to computers and mobile phones, via Bluetooth and with the included USB dongle. Digital hybrid Active Noise Canceling in the
Evolve2 85
has been designed for incredible noise isolation with ear cushions that completely surround the ear.
Evolve2 65
gives you 37 hours of talk time. The isolating foam oval ear cushions and pioneering new angled earcup design work to effectively block out your surroundings. When you move the boom arm up, it will mute the mic, and down to unmute or answer call.
Evolve2 40 corded headsets
The call controls have been moved to the ear speakers, for an easy way to answer calls, change volume levels and more. Put this headset on and the noise will fade away: the isolating foam oval ear cushions and angled ear cup design block out your surroundings, for outstanding passive noise cancellation. Move the boom arm away from your mouth and the intelligent mute switch is automatically activated.
Evolve2 40
headsets are available in mono or duo; Certified for Microsoft Teams or UC; and USB-A or USB-C variants.
Engage 50 headsets
These headsets have been created with state-of-the-art software including in-depth analytics for businesses, as well as live on-screen microphone guidance for agents. The three-mic system eliminates breathing sounds, background noise, and other distractions. Available in either mono or duo, the Engage 50 is a USB-C headset; an additional call controller unit can be purchased to enhance the headset.
Biz 2300 and Biz 2400 II headsets
Jabra's corded headsets feature world-class sound, tough construction, and comfort for all-day use. The specially designed "air shock" noise-cancelling microphones filter out sharp breathing sounds and popping noises often heard in conversations. Available in both one-ear and two-ear models, and with connections to desk phones or PCs, Biz 2300 and 2400 II headsets are perfect for all-day wear in contact centers, offices and more.
Visit the Jabra web site to learn more about the promotion, and instructions on how to claim the cash back:
Jabra Technology Refresh
This promotion expires December 31, 2021, and all claims must be submitted by January 31, 2022.
Contact us today for recommendations on the best headsets for your unique requirements! 1-866-998-9991
September 6th, 2019 • 0 Comments
We've seen EarPods, AirPods and wireless ear buds for fitness and everyday use ... but did you know that
Jabra
has engineered wireless ear buds for professionals working inside or outside the workplace? The Jabra Evolve 65t ear buds are equipped with microphones for superior conversation, and the included carrying case charges the ear buds on-the-go, while storing the USB dongle.
Features: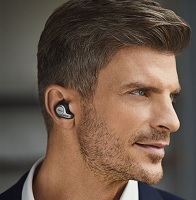 •
UC version
•
Microsoft-certified version
• Passive Noise Canceling — find your perfect fit with the three included sizes of ear tips (Small, Medium, Large)
• HearThrough — Double press the multi-function button to hear the outside world without taking off the earbud
• 4 microphone array
• Up to 15 hours battery; 5 hours talk time
• Connects to PCs and mobile phones, simultaneously
• High quality
• One-touch access to digital assistants and voice commands
• Superior musical experience with
Jabra Sound+
app integration
• MSRP: $329.00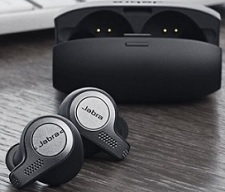 Jabra Evolve 65t was named to Fox News'
10 Top Gadgets of 2018
. This listing of top gadgets in each category, including phones, TVs, tablets and laptops, John Brandon of Fox News proclaimed the Evolve 65t sound as good - if not better - than wired earbuds and have the benefit of one-touch access to a voice assistant.
We realize that while this wearing style isn't for everyone, it will be great for those who are accustomed to ear buds and like the comfort and subtlety (there isn't an obvious "headset") that ear buds offer.
Call our Headset Experts today: 1-866-998-9991 to learn more about the
Jabra Evolve 65t
.