Pack These Devices for Your Next Business Trip
August 13th, 2019 • Comments
Tags: Travel, Business, Professional, Plantronics Voyager 5200, Poly, Bluetooth, On the Go, Mobile, Jabra, Speak 710, Sennheiser, MB 360 UC, ANC
In the U.S. alone, about 1.3 million business trips happen each day*. If you are one of these business travelers, then you know that dependable communications devices are a must for meetings, client calls, and entertainment, too.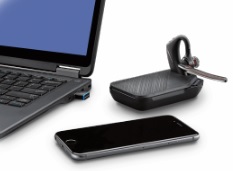 These devices go on the road with you, so that you can work anywhere.
Here are our top picks for travel gadgets with high quality, professional sound: the Plantronics Voyager 5200 UC, Jabra Speak 710, and Sennheiser MB 360 UC headset with Active Noise Canceling.
by Poly is a traditional Bluetooth style headset. Its sleek size, smart design, and comfortable fit start to tell the story. What you don't see is the technology powering it: the unique WindSmart technology detects wind direction and responds accordingly, so that your voice comes through.
Four adaptive microphones offer dynamic noise reduction. Whether you're taking a call outdoors, or running through Chicago O'Hare airport, your voice sounds clear and professional as you seamlessly transition between environments, inside or out.

Connect to mobile phone or tablet via Bluetooth; or, plug the included USB dongle into your PC, and your webinars and videoconferences are handled. (Be sure to change your Sound settings on the PC to recognize the headset!)
The included charging case stores both the headset and USB dongle, giving you up to 7 hours of talk time, and an additional 14 hours with the charging case. MSRP is $219.95.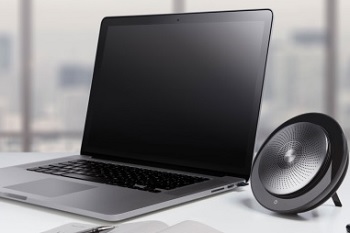 is a Bluetooth speakerphone with a USB dongle.
The omni-directional mic has 360-degree pick-up and crystal-clear audio for echo-free calls. And, it's easy to use: plug-and-play either Bluetooth or USB (using the dongle or the cable that's integrated around the middle of the Speak unit). When you're not using it for meetings, listen to music and multimedia. The rich bass hits all the right notes.
An added bonus: Connect 2 Speak 710s together when you're back in the office, and you have double the coverage. Jabra recommends the Speak 710 for up to 6 people, so it's great for individual use and also small teams. The portable device comes in a neoprene zippered carry case so that you can toss it in your briefcase and go. We especially like that the USB dongle is stored in the bottom of the speakerphone; one less thing to think about when packing it up and taking it on the road with you. MSRP is $299.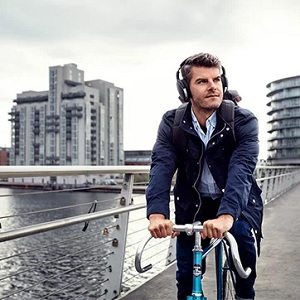 has a unique ear cup design: its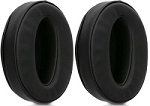 over-the-ear design completely surrounds the ear, and deep, ergonomic ear pads add noise dampening and long-lasting comfort for hours of wear. Testers report that the sound quality of this headset is excellent; whether listening to music and audio books, or during phone calls. There is no boom mic, yet the two digital noise-cancelling microphones pick up your voice for clear conversations.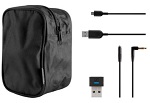 Innovative NoiseGard hybrid adaptive ANC constantly monitors your background environment for noise, thus adjusting the level of noise reduction in the headset seamlessly.
The MB 360 UC ear cushions fold to fit inside the included storage bag, which also comes with a USB dongle, USB to micro-USB charging cable, and an audio cable with 2. 5mm twist lock, 3.5 mm jack plugs and answer/end button.
Battery life is 25 hours and with Sennheiser's 2-year warranty, you've got peace of mind. MSRP is $249.00.
The best part of these devices? You can use them once you return to the office. If you're not sure which travel headset or speakerphone would best suit your needs, our team is ready to work with you! Call us at 1-866-998-9991, send an email, or Chat with us now!
*
Lola.com
:
50+ Business Travel Statistics: Airlines, Hotels and More