7/14/2016
Research supports the finding that today's consumers conduct their own research before making a purchase. A survey found that 60% of a buyer's journey has been completed before they reach out to a company sales rep. With the Internet open 24/7 as the encyclopedia of everything, information is accessible to all – at all times. Resources such as customer reviews, blogs, and web sites can provide a wonderful look into the pros and cons of any product or service.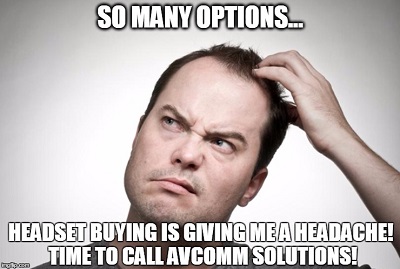 But, when we talk about headsets for business communications, many times the more you try to research on your own the more cumbersome and confusing it becomes. That's why we say "Leave it to the Experts," the Headset Experts here at Avcomm Solutions! Headsets are our specialty and with our high level of product knowledge and support, you are sure to receive what you need, when you need it.

At Avcomm Solutions, our staff availability can be considered as one of the best characteristics of our small, woman owned business. When you call, we answer. The time savings that a call can provide may actually surprise you! If our staff doesn't know the answer immediately, we will find out – and get you the answer as quickly as possible. You can count on us to do what we say we're going to do! Our staff and business has direct connections to our manufacturers. We are certified by our manufacturers in their respective training programs, and know the right people to call for answers. We stay up-to-date on all new issues, promotions, discounts, products, and more – anything that affects our customers, and potential customers. In short, we prefer to be our customers' main point of contact, to simplify the headset process for them.

With our office and warehouse located in the middle of the United States, shipping to locations on either coast is typically 3 days. We offer many ways to place an order, including on our web site, via email, phone call, and in person. The relationships we have with our customers helps keep the order process simple, yet accurate.

Talking through a product question, or environment need, is typically best accomplished with a phone call – and we're here to help. Any question – large or small – has value and we're here to help! Contact us today: 1-866-998-9991. If you'd prefer email, reach us here: Avcomm Solutions.
TAGS: Headset Experts, Communication Is Our Business, WOSB