12/7/2016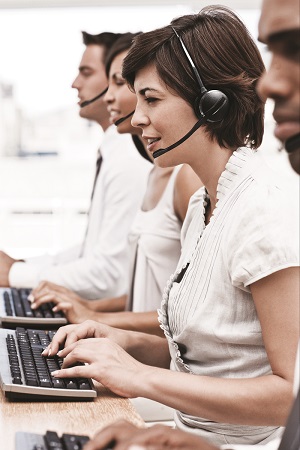 With a wireless headset, employees can work from their desk just as before, but now have the ability to leave their desks whenever necessary to test, consult, or refer to resources elsewhere in the office while continuing the conversation with the customer. Wireless headsets de-clutter the workstation, and eradicate the fluid spills, snagging and general inconvenience associated with cords.

Another really great benefit of most wireless headsets: supervisors can move freely among agents in the call center and guide their work, joining calls on the fly without the need for Y cables and physical interruption.

Many of the headset manufacturers refer to this feature as "headset conferencing."

Side by side training is easy when you use wireless headsets.

Here's how:

1. Remove the primary/host headset from the base.

2. Drop the secondary/guest headset into the headset cradle. The host headset will hear a tone to accept the new headset. The host headset will click the "Answer/End" button.

3. Remove the guest headset from the host base. The headsets are now paired and ready to work together. This process can be repeated for an additional 2 headsets, for a total of 4 headsets on the same call.

4. The guest headset can be muted for listening purposes; simply unmute if necessary.

5. To end the conference/pairing feature, press the End button on the primary/host headset. It's that simple!

If you have questions about wireless headsets in the contact center environment, contact us!
TAGS: Wireless, Headsets, Training, Contact Center, Office, Side by Side