There were 4 posts tagged: Yamaha
March 2nd, 2020 • 0 Comments
No conference room? No problem.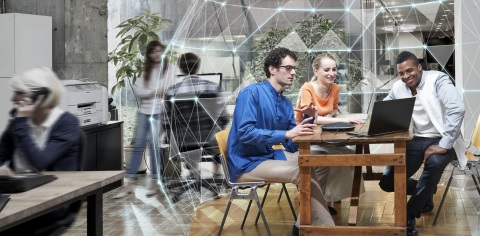 The new
Yamaha YVC-330
USB conference phone with
innovative SoundCap technology
converts the audio of open spaces into a clear and natural signal that is almost as good as being in a quiet meeting room. Essentially, it's like meeting inside a "bubble," in an open office environment.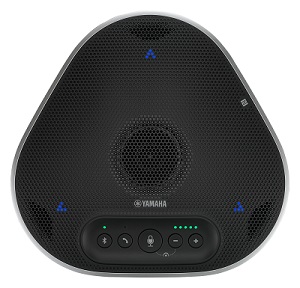 Three technologies together become SoundCap:
•Far Field Noise Reduction (FFNR): reduces & removes distracting noises that come from sound sources outside of the meeting area (the image above shows a "bubble" over a conference table which Yamaha calls the "bubble effect" because FFNR reduces every sound that comes from outside the meeting bubble)
•Self-silence: This is basically Auto-Mute. It utilizes Human Voice Activity Detection (HVAD) technology to mute mics automatically when meeting participants aren't speaking
•Self-volume balancer: Automatically adjusts speaker volume properly to fit surrounding ambient noise levels
SoundCap can be turned off if you would like to
daisy chain
2 Yamaha YVC-330s together (with cables), or if you would like to use it in a larger space. With SoundCap on, recommended coverage area is up to 3.3 feet; with SoundCap off, it is suitable for 4.9 feet, up to 9.8 feet. MSRP for the YVC-330 is $349.00.
Not sure if this is the right unit for your environment? Contact one of our team members today at 1-866-998-9991, or Chat us now!
January 24th, 2019 • 0 Comments
Are you trying to solve an echo problem? Trying to maximize security in your conferencing? To answer customers' needs, Yamaha designed a new tool, the
Conference Product Finder,
to identify the right
Yamaha
Unified Communications product with ease. Answer a few questions, and immediately your recommendations pop up.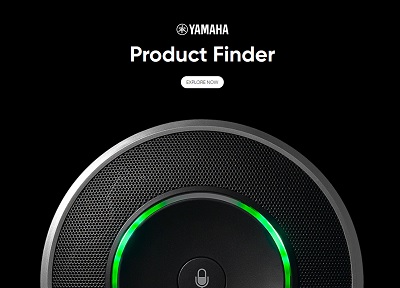 Yamaha recognizes that conferencing needs are unique; even within one organization, there may be different connection types and room arrangements. A huddle room does not require the same type of coverage that a large board room would, for example.
The first series of questions asks what you're trying to do: Enhance sound quality? Record voices? and other options. The next screen is about Compatibility: Bluetooth, VoIP, USB and Microsoft Skype for Business, or other UC platform? Next up, how many people does this system need to cover? It could be for as few as one person, and as many as 20+ people.
Depending upon your answers, the product(s) that best match your requirements, will populate. The Product Finder will ensure the best fit for device and environment, connection type, and more; we will work with customers further on pricing, availability, and delivery status.
Or, if you prefer to speak with someone directly, our staff will be happy to discuss the various conference products offered by Avcomm Solutions, and help you determine the best fit. Call us at 1-866-998-9991, or send an
email.
January 19th, 2018 • 0 Comments
"Alright, stop! Collaborate and listen… " These wise words from Vanilla Ice circa 1989 still hold true today, especially in today's work climate. With employees working some or all of their week from home, and the Open Office design making private collaboration difficult to accomplish in the office, huddle rooms have seen an increase in popularity.
Huddle rooms, defined by AVI Systems, Inc., as "small conference areas that are equipped with audio, video and display system technology," support group collaboration at a small scale. These informal team collaboration spaces are a place to "huddle" together for impromptu and scheduled meetings, and to collaborate on projects. Typically, an average huddle room houses 5-7 people, and contains a table, TV, and some type of speakerphone and USB video camera arrangement. White boards are also prevalent (and even some smart boards) to complete the tools available.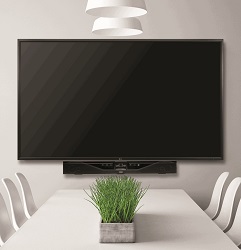 With the limited space comes requirements for equipment that not only allows for meetings and content sharing, yet doesn't cost a fortune. Organizations typically have more than one huddle room to equip.
The wall-mounted
Yamaha CS-700
(MSRP: $799) from Revolabs is a new all-in-one video and sound collaboration system that allows for simple USB connection to PC. The
CS-700
is easy to use, but don't let the simplicity fool you: it's a powerful tool. A beam-forming microphone array, and four speakers provide clear, rich sound. The 120-degree ultra-wide angle camera captures all meeting participants in one field of view. Audio, video, and screen sharing are all accomplished with one USB cable!

According to Revolabs co-founder and former CEO, JP Carney: "What this means for IT teams is a simple to use, set-it-and-forget-it meeting room audio and video system. No longer will they get calls asking how to connect to meeting room equipment, how to use camera controls, or worry about control pads walking out the door." This means that "the remote monitoring and provisioning of this unique system simplifies installation and control, reducing the number of IT service tickets and enabling simple collaboration for their customer base," said Carney.
Any video conferencing software may be used. Common applications include Microsoft Skype for Business, Vidyo, Zoom, BlueJeans, and many more. The
CS-700
provides a SIP interface to the corporate call manager, replacing the need for a separate conference phone in the huddle room. USB and SIP communications can be easily bridged in the
CS-700
, expanding the communication opportunities even further. And Bluetooth allows for fast and easy audio connections, instantly turning a mobile or computer call into a conference call.
If you're unsure about how to set up a huddle room, contact us for recommendations. The
CS-700
is just one of the many options we can put together to best fit your requirements. After all, Communication is Our Business.
December 10th, 2014 • 0 Comments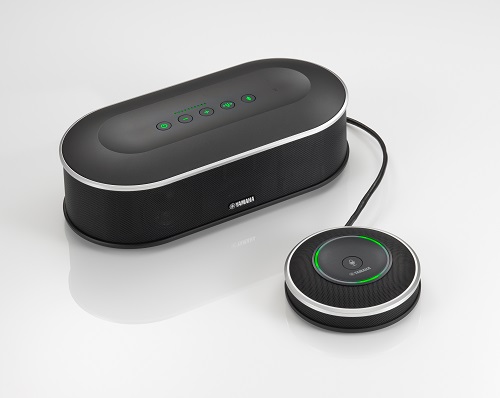 The latest offering from Yamaha's audio division is the YVC-1000, a USB Microphone Speaker system that will take your video conferencing to the next level. In addition to USB connection, the YVC-1000 connects to smart phones and tablets via Bluetooth and NFC technology, as well as to existing video conferencing systems.
The highly configurable and scalable device is unique in that it offers a separate speaker and microphone. Out of the box, the YVC-1000 is perfect for small to medium-size meetings (13'x16') and can be expanded for a room up to 30' x 36'. The unit allows for up to five expansion microphones and two external speakers to be connected for additional participants.

Tuning Fork Feature
To ensure optimal sound quality at the touch of a button, simply press and hold the Tuning Fork button at the top of the YVC-1000. This will activate the automatic audio tuning function, measure the room, and optimize the acoustic settings for your current environment. Voice prompts and a green lit tuning fork button indicate that the process has been done successfully.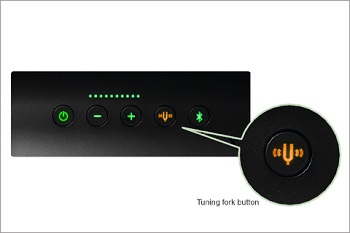 Yamaha's sound optimization technologies deliver features essential to effective communication, such as Adaptive echo canceller, Automatic tracking, Automatic gain control, Noise reduction, Reverb suppression, and Automatic room EQ. More information about each of these technologies can be found here:
YVC-1000 Product page
.
What's in the box?
Control Unit (with built-in speaker); Microphone; Power Cable; USB Cable; Microphone Cable; Quick Start Guide
The YVC-1000 has been available since mid-July and has been a popular offering in the web conferencing market. Organizations that may find this YVC-1000 Microphone Speaker System to be of value are businesses, hotel conference rooms, health care organizations, educational environments, and more. It's a truly versatile system that warrants a second look.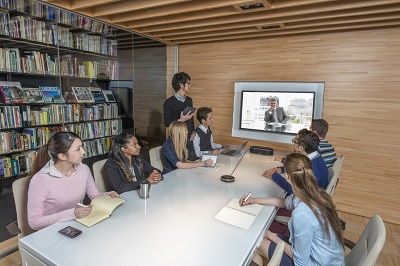 Interested in finding out more about the YVC-1000?
Contact us!
We would love to demo this product for you!