2/5/2018
The Sennheiser Presence Grey UC Bluetooth headset brings Sennheiser sound quality and unique technologies together in a sleek device to offer some of the best noise-cancelling properties available on the market today! The durability of

the Presence Grey cannot be understated; boasting a petite frame (2"x .75" x .91") and compact design, it fits in the palm of your hand, and can be tucked into corners of purses, briefcases, or pockets, with no fear of damage. (A small, hard-sided carry case is included with the Presence Grey UC.) Its discreet profile is perfect for those who want the convenience of a Bluetooth headset, but don't necessarily want to "show off" their device.



How does it work?



Plug and play connectivity assures easy set-up and immediate use. To pair the headset to your mobile phone, press in the multi-function button at the top of the device, and at the same time, slide the on/off power slide away from the headset to turn the headset on. Release the button and it is in pairing mode. "Power On. Pairing," the friendly Sennheiser voice says. The light on the device flashes red, then blue, in pairing mode. Enable the Bluetooth visibility on your mobile phone. From the found Bluetooth devices, select "Presence Grey" to establish a Bluetooth connection to the headset. The Presence Grey is equipped with the most updated version of Bluetooth 4.0.

Connecting to the computer is just as easy: place the dongle in a USB port and the Presence Grey is ready to use for softphones, webinars, podcasts, or listening to music, providing a rich listening experience. Seamlessly switch between mobile phone and computer with ease. You can talk all day on the Presence, because the battery holds a charge of 10 hours (narrowband sound) and 8 hours (wideband).

It's simple to answer and end phone calls: slide the aluminum microphone boom arm open to answer; then slide back to end the call. Managing calls from the headset is a snap with 3-way calling and voice prompts that provide instant status updates, such as the caller's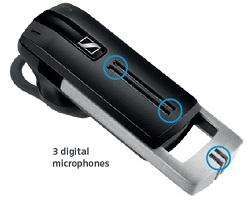 name as they are ringing in.

Talk and walk up to 82 feet (25 meters) away from your computer and 33 feet (10 meters) from mobile phone—you've got that freedom. Another neat feature: iPhone users have real time battery monitoring for the Presence.

The Presence Grey is equipped with Sennheiser ActiveGard® hearing protection technology: sound spikes and acoustic surges won't bother your calls or ears! The SpeakFocus™ technology enhances speech clarity, and WindSafe™ technology reduces wind noise in outdoor environments. These technologies, along with three strategically placed microphones, deliver sound performance that is almost too good to be true.

Does the Sennheiser Presence Grey UC overpromise and under-deliver?

We tested the Presence Grey in the exhibit hall at an annual SOCAP Conference. When our tester called in to the office, she sounded as close to us as if she was sitting at her desk. And we didn't hear any of the noise associated with hundreds of people talking in the background!

"Using the Sennheiser Presence Grey UC headset was a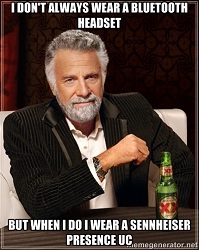 wonderful experience. It was comfortable, fit well, and most importantly, provided premium audio quality. I don't typically wear Bluetooth Headsets, but when I do, I wear the Presence Grey UC." - Sara Diaz, Director of Sales & Customer Support at Avcomm.

Many of us have spoken with colleagues or customers who are calling in from the road, in their car or passing through a busy airport while using a Bluetooth headset. And, I think we can all agree that many times the poor quality of those calls can be downright unbearable. That's what we absolutely love about the Sennheiser Presence Grey. The user's voice is clearly transmitted and at the same time, almost all of their area noise is canceled out.

The Presence Grey offers two wearing styles: over-the-ear with the included ear hook, or placed directly in the ear.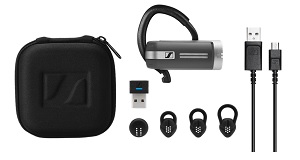 Wearers who prefer the in-the-ear style can choose from the 4 ear sleeves of varying sizes to attach to the earpiece; or may find that an ear sleeve isn't necessary. When we tested, we found that the Presence Grey was perfect without an ear sleeve, and the device remained securely in the ear.



What's in the box?

A Presence Grey headset; ear hook; BTD 800 USB dongle to plug into your computer; car charger; USB charging cable; 4 ear sleeves; carry case; and Quick and Safety guides.

Although you may find the price to be slightly higher than similar headsets in the market, we think the Presence Grey is well worth the extra dollars and with a 2-year warranty, provides peace of mind!

The Sennheiser Presence Grey also comes in a version without the USB dongle: Presence Grey Business.


TAGS: Bluetooth, Presence Grey UC, Sennheiser, Noise-Cancelling