There were 2 posts tagged: Revolabs
January 19th, 2018 • 0 Comments
"Alright, stop! Collaborate and listen… " These wise words from Vanilla Ice circa 1989 still hold true today, especially in today's work climate. With employees working some or all of their week from home, and the Open Office design making private collaboration difficult to accomplish in the office, huddle rooms have seen an increase in popularity.
Huddle rooms, defined by AVI Systems, Inc., as "small conference areas that are equipped with audio, video and display system technology," support group collaboration at a small scale. These informal team collaboration spaces are a place to "huddle" together for impromptu and scheduled meetings, and to collaborate on projects. Typically, an average huddle room houses 5-7 people, and contains a table, TV, and some type of speakerphone and USB video camera arrangement. White boards are also prevalent (and even some smart boards) to complete the tools available.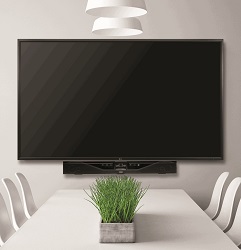 With the limited space comes requirements for equipment that not only allows for meetings and content sharing, yet doesn't cost a fortune. Organizations typically have more than one huddle room to equip.
The wall-mounted
Yamaha CS-700
(MSRP: $799) from Revolabs is a new all-in-one video and sound collaboration system that allows for simple USB connection to PC. The
CS-700
is easy to use, but don't let the simplicity fool you: it's a powerful tool. A beam-forming microphone array, and four speakers provide clear, rich sound. The 120-degree ultra-wide angle camera captures all meeting participants in one field of view. Audio, video, and screen sharing are all accomplished with one USB cable!

According to Revolabs co-founder and former CEO, JP Carney: "What this means for IT teams is a simple to use, set-it-and-forget-it meeting room audio and video system. No longer will they get calls asking how to connect to meeting room equipment, how to use camera controls, or worry about control pads walking out the door." This means that "the remote monitoring and provisioning of this unique system simplifies installation and control, reducing the number of IT service tickets and enabling simple collaboration for their customer base," said Carney.
Any video conferencing software may be used. Common applications include Microsoft Skype for Business, Vidyo, Zoom, BlueJeans, and many more. The
CS-700
provides a SIP interface to the corporate call manager, replacing the need for a separate conference phone in the huddle room. USB and SIP communications can be easily bridged in the
CS-700
, expanding the communication opportunities even further. And Bluetooth allows for fast and easy audio connections, instantly turning a mobile or computer call into a conference call.
If you're unsure about how to set up a huddle room, contact us for recommendations. The
CS-700
is just one of the many options we can put together to best fit your requirements. After all, Communication is Our Business.
February 1st, 2016 • 0 Comments
Today, more companies are separated by distance and can be drawn together with conference calling and videoconferencing. Clear and precise communication is always the goal for business success. Conference units are an essential piece of the conferencing puzzle and these devices are replacing the built-in computer microphone and speaker, especially for meetings and videoconferences when excellent, high fidelity, sound is mandatory. Revolabs' FLX UC line of conference phones fits into this niche perfectly.
"From enterprise to education, and government to healthcare, organizations are taking advantage of UC systems to be more productive and efficient. But no matter how sophisticated the hardware and software, people have to be able to hear each other in order for a UC system to reach its full potential. That's where Revolabs comes in," said Jim Fairweather, executive vice president of global sales at Revolabs. "Our products play a critical role in an integrated system by providing pristine audio quality."
FLX UC 500
How does this conference phone provide great sound? It starts with a subwoofer and tweeter, and has four omnidirectional microphones built into the corners of the FLX UC 500. The full duplex allows for both audio capture and audio playback at the same time – so your sound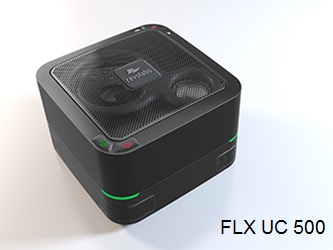 does not cut out or break up, for a more natural conversation on both sides. Integrated acoustic echo cancellation is another great sound feature.
An included AC power adapter provides power to the FLX UC 500. Connect via USB to any PC, Mac or Chromebook, and it works with any collaboration software you choose, such as Skype for Business, Cisco Jabber, Vidyo, and more.
This device is ideal for huddle rooms, executive offices, and conference rooms for up to 10 people and is available in two colors:
black
and
white
. MSRP is $399. Watch Revolabs' video on YouTube:
Revolabs FLX UC 500
.
In addition to the FLX UC 500, Revolabs offers two additional models that combine a VoIP phone with USB conference calling. These devices connect to IP PBX's and integrate with conferencing applications. They are powered via Ethernet cable.
FLX UC 1000
This device bridges USB and SIP calls with the included dial pad that has a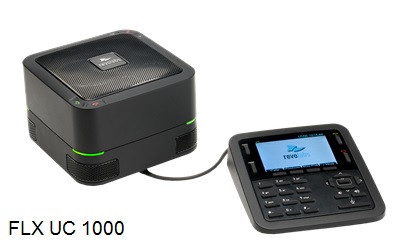 3.5 inch color display and easy to use functionality. You can manage up to 2 SIP calls, 1 USB call, and the user, at the same time.
This solution works best in a conference room for up to 10 attendees. The FLX UC 1000 MSRP is $799. Watch the video about the FLX UC 1000 here:
Revolabs FLX UC 1000
.
FLX UC 1500
The FLX UC 1500 has the same pieces as the FLX UC 1000, and also includes two expansion microphones, providing coverage for up to 18 people in a room. With an MSRP just shy of $1,000, this device gives a lot of bang for the buck!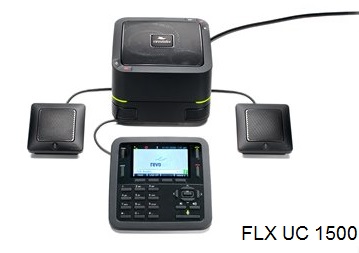 Revolabs suggests downloading the conference phone's latest firmware once you receive the product, to ensure best use. The complete User Manuals for these products are also available for download on the
Revolabs
web site.
Warranty on these devices is 1 year.
Are you perplexed about your conference room configuration? We would love to speak with you about these 3 options from Revolabs, as well as other solutions that will best meet your requirements. Don't leave your conference room audio to chance and risk poor meetings;
Contact us today
!