Huddle Rooms: STOP! Collaborate & Listen
January 19th, 2018 • Comments
Tags: Yamaha, Revolabs, CS-700, Huddle Rooms, Collaboration, Audio, Video, Video Conference, Telecommuting
"Alright, stop! Collaborate and listen… " These wise words from Vanilla Ice circa 1989 still hold true today, especially in today's work climate. With employees working some or all of their week from home, and the Open Office design making private collaboration difficult to accomplish in the office, huddle rooms have seen an increase in popularity.
Huddle rooms, defined by AVI Systems, Inc., as "small conference areas that are equipped with audio, video and display system technology," support group collaboration at a small scale. These informal team collaboration spaces are a place to "huddle" together for impromptu and scheduled meetings, and to collaborate on projects. Typically, an average huddle room houses 5-7 people, and contains a table, TV, and some type of speakerphone and USB video camera arrangement. White boards are also prevalent (and even some smart boards) to complete the tools available.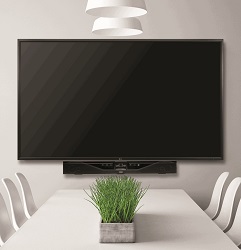 With the limited space comes requirements for equipment that not only allows for meetings and content sharing, yet doesn't cost a fortune. Organizations typically have more than one huddle room to equip.
The wall-mounted
Yamaha CS-700
(MSRP: $799) from Revolabs is a new all-in-one video and sound collaboration system that allows for simple USB connection to PC. The
CS-700
is easy to use, but don't let the simplicity fool you: it's a powerful tool. A beam-forming microphone array, and four speakers provide clear, rich sound. The 120-degree ultra-wide angle camera captures all meeting participants in one field of view. Audio, video, and screen sharing are all accomplished with one USB cable!

According to Revolabs co-founder and former CEO, JP Carney: "What this means for IT teams is a simple to use, set-it-and-forget-it meeting room audio and video system. No longer will they get calls asking how to connect to meeting room equipment, how to use camera controls, or worry about control pads walking out the door." This means that "the remote monitoring and provisioning of this unique system simplifies installation and control, reducing the number of IT service tickets and enabling simple collaboration for their customer base," said Carney.
Any video conferencing software may be used. Common applications include Microsoft Skype for Business, Vidyo, Zoom, BlueJeans, and many more. The
CS-700
provides a SIP interface to the corporate call manager, replacing the need for a separate conference phone in the huddle room. USB and SIP communications can be easily bridged in the
CS-700
, expanding the communication opportunities even further. And Bluetooth allows for fast and easy audio connections, instantly turning a mobile or computer call into a conference call.
If you're unsure about how to set up a huddle room, contact us for recommendations. The
CS-700
is just one of the many options we can put together to best fit your requirements. After all, Communication is Our Business.