There were 2 posts tagged: Telecommuting
January 19th, 2018 • 0 Comments
"Alright, stop! Collaborate and listen… " These wise words from Vanilla Ice circa 1989 still hold true today, especially in today's work climate. With employees working some or all of their week from home, and the Open Office design making private collaboration difficult to accomplish in the office, huddle rooms have seen an increase in popularity.
Huddle rooms, defined by AVI Systems, Inc., as "small conference areas that are equipped with audio, video and display system technology," support group collaboration at a small scale. These informal team collaboration spaces are a place to "huddle" together for impromptu and scheduled meetings, and to collaborate on projects. Typically, an average huddle room houses 5-7 people, and contains a table, TV, and some type of speakerphone and USB video camera arrangement. White boards are also prevalent (and even some smart boards) to complete the tools available.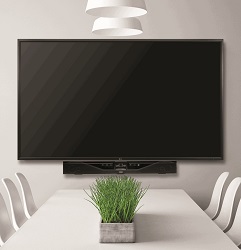 With the limited space comes requirements for equipment that not only allows for meetings and content sharing, yet doesn't cost a fortune. Organizations typically have more than one huddle room to equip.
The wall-mounted
Yamaha CS-700
(MSRP: $799) from Revolabs is a new all-in-one video and sound collaboration system that allows for simple USB connection to PC. The
CS-700
is easy to use, but don't let the simplicity fool you: it's a powerful tool. A beam-forming microphone array, and four speakers provide clear, rich sound. The 120-degree ultra-wide angle camera captures all meeting participants in one field of view. Audio, video, and screen sharing are all accomplished with one USB cable!

According to Revolabs co-founder and former CEO, JP Carney: "What this means for IT teams is a simple to use, set-it-and-forget-it meeting room audio and video system. No longer will they get calls asking how to connect to meeting room equipment, how to use camera controls, or worry about control pads walking out the door." This means that "the remote monitoring and provisioning of this unique system simplifies installation and control, reducing the number of IT service tickets and enabling simple collaboration for their customer base," said Carney.
Any video conferencing software may be used. Common applications include Microsoft Skype for Business, Vidyo, Zoom, BlueJeans, and many more. The
CS-700
provides a SIP interface to the corporate call manager, replacing the need for a separate conference phone in the huddle room. USB and SIP communications can be easily bridged in the
CS-700
, expanding the communication opportunities even further. And Bluetooth allows for fast and easy audio connections, instantly turning a mobile or computer call into a conference call.
If you're unsure about how to set up a huddle room, contact us for recommendations. The
CS-700
is just one of the many options we can put together to best fit your requirements. After all, Communication is Our Business.
January 20th, 2014 • 0 Comments
Fortune Magazine recently released its ranking of the 100 Best Companies to Work For in the country. In addition to such perks as compressed workweeks, job sharing programs, and subsidized gym memberships, telecommuting was offered at an overwhelming
85 percent
of the companies.
Telecommuting, work at home, and work from home programs offer obvious benefits to employees (no commute, dress code, or office politics, among other matters); yet the organization can reap rewards, too.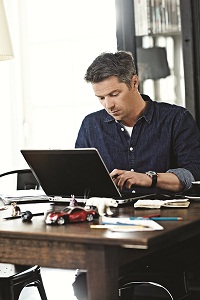 In a study reported by the
Harvard Business Review
, Ctrip, the Chinese travel web site, gave its call center employees the choice to work from home or stay in the office. Half of the staff chose to go home. The result? Those working from home
completed 13.5% more calls
than the staff working at the office!
Increased employee retention, schedule flexibility (in essence, the business is open longer hours to the public), lowered overhead and program stability are additional organizational benefits.
To make working at home a success, the right tools are essential. Unified Communications allows for collaboration with co-workers, customers, and more, and is delivered through programs such as MS Lync, Cisco Jabber, and others. UC integrates video, email, documents, fax, phone and computer to create a fully functional and collaborative workspace.
As insignificant as this may seem, one of the most important tools that ensures an optimal user experience is the actual audio hardware device being used for the voice communication. These audio devices can be in form of a headset or speakerphone. Investing in a high quality UC platform is a no-brainer. The audio device is just as important!
This is commonly referred to as "the last 3 feet" in the communications continuum, and can make or break the success of your telecommuting solution. We recommend taking the time to work with a headset expert to evaluate your company's UC environment and hardware needs. Testing the products for comfort and high quality voice transmission is key. A good, high quality audio device must be used in order to achieve the optimal experience for everyone involved. Companies are investing significant amounts of money in UC platforms and must spend ample time evaluating their audio device options as well.
Fortunately,
Jabra
,
Sennheiser
and
Plantronics
produce high quality headsets for every situation. Here at
Avcomm
, our training and expertise allows us to match the best solution for each environment. Each organization is unique and we are prepared to work on your behalf.
Taking a cue from those 100 best U.S. companies, small and medium sized businesses can offer the telecommuting option to their employees as a viable benefit that doesn't cost a lot.
To see the entire list of best companies, and the benefits they offer, go to the
CNN website
.
BACKGROUND on the 100 Best Companies study: Forbes magazine, in conjunction with the Great Place to Work Institute, chooses the companies based on these criteria:
       1. Company must be at least 5 years old and have more than 1,000 U.S. employees
       2. Employees are randomly surveyed and 2/3 of the company's score is based on the Trust Index survey, which asks questions related to attitudes about management credibility, job satisfaction and camaraderie.
       3. Responses to the Culture Audit (including questions about pay, benefit, training, recognition, diversity efforts, methods of internal communication, etc.)
Information on the benefits of telecommuting came from the Research Advisors article
here
.