There were 4 posts tagged: Conference Phone
March 2nd, 2020 • 0 Comments
No conference room? No problem.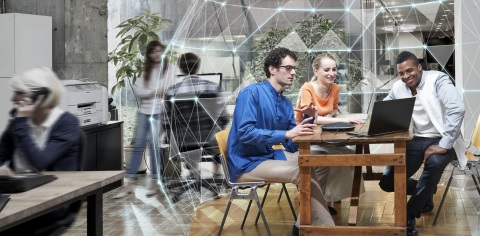 The new
Yamaha YVC-330
USB conference phone with
innovative SoundCap technology
converts the audio of open spaces into a clear and natural signal that is almost as good as being in a quiet meeting room. Essentially, it's like meeting inside a "bubble," in an open office environment.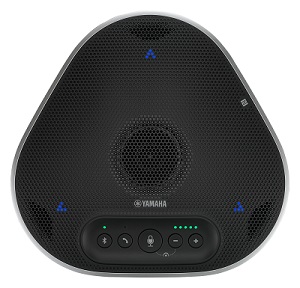 Three technologies together become SoundCap:
•Far Field Noise Reduction (FFNR): reduces & removes distracting noises that come from sound sources outside of the meeting area (the image above shows a "bubble" over a conference table which Yamaha calls the "bubble effect" because FFNR reduces every sound that comes from outside the meeting bubble)
•Self-silence: This is basically Auto-Mute. It utilizes Human Voice Activity Detection (HVAD) technology to mute mics automatically when meeting participants aren't speaking
•Self-volume balancer: Automatically adjusts speaker volume properly to fit surrounding ambient noise levels
SoundCap can be turned off if you would like to
daisy chain
2 Yamaha YVC-330s together (with cables), or if you would like to use it in a larger space. With SoundCap on, recommended coverage area is up to 3.3 feet; with SoundCap off, it is suitable for 4.9 feet, up to 9.8 feet. MSRP for the YVC-330 is $349.00.
Not sure if this is the right unit for your environment? Contact one of our team members today at 1-866-998-9991, or Chat us now!
February 1st, 2016 • 0 Comments
Today, more companies are separated by distance and can be drawn together with conference calling and videoconferencing. Clear and precise communication is always the goal for business success. Conference units are an essential piece of the conferencing puzzle and these devices are replacing the built-in computer microphone and speaker, especially for meetings and videoconferences when excellent, high fidelity, sound is mandatory. Revolabs' FLX UC line of conference phones fits into this niche perfectly.
"From enterprise to education, and government to healthcare, organizations are taking advantage of UC systems to be more productive and efficient. But no matter how sophisticated the hardware and software, people have to be able to hear each other in order for a UC system to reach its full potential. That's where Revolabs comes in," said Jim Fairweather, executive vice president of global sales at Revolabs. "Our products play a critical role in an integrated system by providing pristine audio quality."
FLX UC 500
How does this conference phone provide great sound? It starts with a subwoofer and tweeter, and has four omnidirectional microphones built into the corners of the FLX UC 500. The full duplex allows for both audio capture and audio playback at the same time – so your sound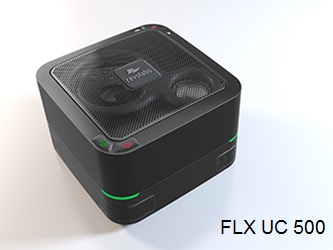 does not cut out or break up, for a more natural conversation on both sides. Integrated acoustic echo cancellation is another great sound feature.
An included AC power adapter provides power to the FLX UC 500. Connect via USB to any PC, Mac or Chromebook, and it works with any collaboration software you choose, such as Skype for Business, Cisco Jabber, Vidyo, and more.
This device is ideal for huddle rooms, executive offices, and conference rooms for up to 10 people and is available in two colors:
black
and
white
. MSRP is $399. Watch Revolabs' video on YouTube:
Revolabs FLX UC 500
.
In addition to the FLX UC 500, Revolabs offers two additional models that combine a VoIP phone with USB conference calling. These devices connect to IP PBX's and integrate with conferencing applications. They are powered via Ethernet cable.
FLX UC 1000
This device bridges USB and SIP calls with the included dial pad that has a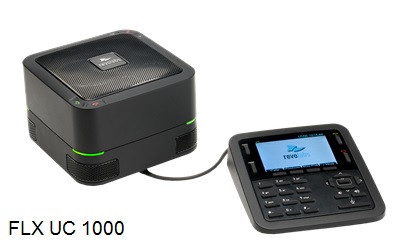 3.5 inch color display and easy to use functionality. You can manage up to 2 SIP calls, 1 USB call, and the user, at the same time.
This solution works best in a conference room for up to 10 attendees. The FLX UC 1000 MSRP is $799. Watch the video about the FLX UC 1000 here:
Revolabs FLX UC 1000
.
FLX UC 1500
The FLX UC 1500 has the same pieces as the FLX UC 1000, and also includes two expansion microphones, providing coverage for up to 18 people in a room. With an MSRP just shy of $1,000, this device gives a lot of bang for the buck!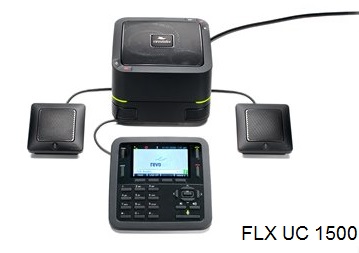 Revolabs suggests downloading the conference phone's latest firmware once you receive the product, to ensure best use. The complete User Manuals for these products are also available for download on the
Revolabs
web site.
Warranty on these devices is 1 year.
Are you perplexed about your conference room configuration? We would love to speak with you about these 3 options from Revolabs, as well as other solutions that will best meet your requirements. Don't leave your conference room audio to chance and risk poor meetings;
Contact us today
!
April 8th, 2015 • 0 Comments
Video or audio conference calls will sound great with the Konftel 55 series of conference phones, a nice mid-level offering from the Swedish company
Konftel
. The bright display, sleek modern design, and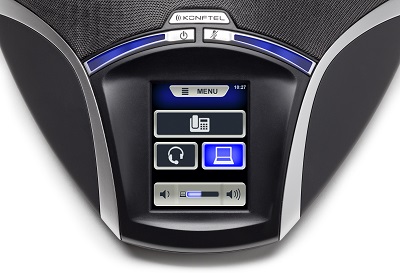 multi-connection to PC, desk and mobile phone all recommend the Konftel 55 for small-to-medium sized conference rooms. The
Konftel 55
is ideal for a room of up to 12 people, and can easily be moved from desk to conference room, as needed. The
Konftel 55W
allows expansion mics (sold separately) and therefore can accommodate up to 20 people.
In a company press release, Konftel Product Manager Tommy Edlund said that "the biggest difference between traditional conference phones and the Konftel 55 series is the ability to connect the Konftel 55 to a vast range of communication devices available today. As we become more mobile and flexible greater demands are being placed on remote meetings and professional tools that work together regardless of the technology platform."
Out of the box, the Konftel 55 series connects to a PC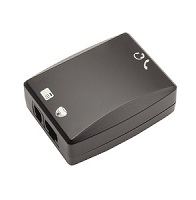 via the included USB cable. Connection to a desk phone requires the purchase of the
switchbox accessory
. The Konftel 55W allows Bluetooth connection to a mobile phone, whereas the Konftel 55 requires an accessory cable (sold separately) for mobile connection.
The high definition screen with touch functionality is the centerpiece of the conference phone. The LCD color screen displays only the current connections, and allows you to easily combine and switch connections. The 55 automatically detects the connections and the corresponding icon appears on the easy-to-read display. Press the icon to activate the connection. Flexibility to bridge calls from web applications to analog calls is a key feature!
It is important to note that the Konftel 55 series allows call bridging between the computer and desk or computer and mobile phone; however, bridging between desk and mobile phone is not offered.
Another nice feature of the Konftel 55 series is the 3.5mm headset port, allowing you a more private conversation if/when required. The headset icon lights up on the 55's display screen when the headset is in use.
UC Integration
Perfect for your unified communications systems, such as Microsoft Lync, Avaya One-X and Cisco Jabber, Konftel offers free downloadable software that enhances support for answering / ending calls and other functions.
OmniSound HD, Konftel's patented sound technology
All of Konftel's conference phones have OmniSound® HD, a sound technology that keeps conversations natural and crystal-clear. OmniSound HD can handle full duplex, echo cancellation and static reduction for both sides of the conversation, simultaneously.
Rechargeable battery
The rechargeable battery (included) provides up to nine hours of talk time. An AC Adapter is included; when the battery is inserted, the battery is powered via USB with a USB cable.
Use as a dictation machine
A unique feature of the Konftel 55 is its ability to record phone calls and dictations by inserting an SD card into the unit, and pressing the record button. You can move the memory card to your computer to save or share the audio files.
As an authorized reseller of the entire line of Konftel conference phones, we look forward to helping recommend the best conference unit for your environment. Contact
Sara
,
Amber
or
Carey
to learn more!
TAGS
March 12th, 2014 • 0 Comments
Here at Avcomm Solutions, Inc., we keep things simple. Are we giving you, our customer, what you need? We sure hope so.
Finding the very best solutions to your headset and conference phone dilemmas gives meaning to our days. From the home office in the center of the U.S., our customer care team of
Sara Diaz
and
Carey McCoy
work hard to give you answers, great products and fair prices.  
How do we manage this? In a few ways, such as:
Our Midwestern Hospitality
Clichéd? Of course. True? You bet! Neighbors looking out for neighbors is a common theme around here, and one that we at Avcomm embrace. We're always on the lookout for products and services that make sense for you. Once your products reach you, we expect to continue the relationship by answering any questions you may have about product setup, assisting with technical concerns and warranty repairs – and, of course,
your feedback is always appreciated
!
Strong Partnerships
By working with the best manufacturers in the headset and conference phone world, Avcomm Solutions offers products from
Jabra
,
Konftel
,
Plantronics
,
Sennheiser
and
Yamaha
. Partnerships with these companies allow us to get the essential support, resources, and information to you when you need it. You can rely on our expert advice!
A Commitment to You
We understand that you want to do your very best for your customers. We know that you want to keep your employees happy and productive. Sure, it's a balancing act, but when you get it right, the results can be transcendent. We have great products that make communication clear and simple, and we're here for you.
At Avcomm Solutions,
Communication is Our Business
.
We are very excited to announce some new ways to reach us: on Twitter:
@AvcommSolutions
, LinkedIn:
http://www.linkedin.com/company/avcomm-solutions-inc-
and Facebook:
Facebook/AvcommSolutions