3/17/2020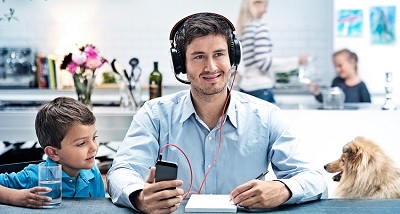 We are moving to a work-from-home situation across the world. For those who haven't set up a home office yet, here are our suggestions for a productive space to work during this modern-day pandemic.

The best option for home work is to close yourself off in a dedicated office space, or a quiet out-of-the-way bedroom. If you have younger children who need you near, you may be working in the middle of the family at the kitchen table. In either situation, a headset with a noise-canceling microphone is a must! We offer headsets with both noise-canceling and ultra noise-canceling microphones, for extreme noise cancellation.

We recommend an Active Noise Canceling headset for complete concentration, and with a variety of wearing styles and connection types, there's guaranteed to be a headset that works for you. The Jabra Evolve 80, pictured above, is a USB and 3.5mm headset with large ear cushions that completely surround the ear; and with ANC, and Busylights on the ear cups, it's a great choice for productive working and clear calls.


Other work at home tips:
•Don't sit in the same place all day. Get up and move! Wireless headsets let you walk and talk.
•Take a lunch break ... but don't extend it to all-day grazing. No need to gain weight in your comfies while you enjoy unlimited snacks from the pantry.
•Speaking of comfies, you may find that you accomplish more when you're not wearing pajamas or sweats. That's something you'll have to test for yourself.
•Take breaks ... but not too many. Turn off notifications for any non-essential tasks (such as social media) so you can focus on what needs to be done.
•When it's time to take a break, walk around outside for a few minutes. Get a change of scenery and clear your thoughts.
•Take advantage of collaboration tools and communicate with your co-workers regularly. A quick conversation can go a long way to building relationship, and don't forget to have team meetings to keep everyone connected and informed.

Take heart! This quarantine cannot last forever, and may provide you the time necessary for personal reflection and family connection that we typically don't get in our usual daily lives. And, once we get the "all-clear" to return to our work spaces, we go with the knowledge that we can conquer anything! (And now have a GREAT headset to work with!)


Call or Chat us now for recommendations! We are your Headset Experts.
TAGS: Work at Home, Work from Home, Home Office, Headsets, Evolve 80, Active Noise Canceling, ANC, Ultra Noise Canceling Microphones, Noise Canceling Microphones, Noise Canceling Mics, Jabra, Poly, Plantronics, Sennheiser, Pandemic