9/8/2020
The extremely generous Jabra wireless trade-in promotion that was new last year, has been extended to the end of 2020! And, it now includes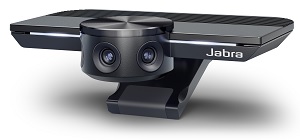 the Jabra PanaCast camera, the world's first intelligent 180° Panoramic-4K plug-and-play video solution. Get $75/unit for existing PanaCast 2 or 3 cameras; or $150/unit for non-Jabra huddle room cameras! Learn more about the amazing PanaCast on our blog.

The Technology Refresh program also offers $40 cash back for each non-Jabra wireless headset that is traded in, with the purchase of an Engage Series wireless headset. If you have wanted to make the switch to a Jabra wireless headset, NOW IS THE TIME!

Or, if you already use a Jabra wireless headset (specifically, the PRO 920, 930, 935, 9450, 9460, 9465, 9470, or Motion Office), you can upgrade to the new Jabra Engage wireless series and receive a $20 rebate check in the mail for trading in your old Jabra wireless.

Additionally, when you upgrade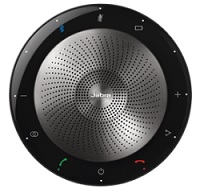 your technology to the Jabra Speak 710 wireless speakerphone, receive $20 back for a Jabra Speak 410/510, or $40 for a non-Jabra personal or huddle room speakerphone that is traded in. The Speak 710 (both UC and MS versions) offers wireless linking and connects to an additional Speak 710, for double the room coverage (up to 12 people). Connect to laptop, smart phone and tablet via USB or Bluetooth, and with plug-and-play simplicity, it's easy to set up — wherever you take meetings. Fifteen hours of battery life ensures you can meet (or listen to music) for a long time.

Corded headsets have also been added to the mix, and with any Jabra Engage 50, Biz 2300 or Biz 2400 II headset purchased, get $10/unit for existing Jabra wired solutions; or $20/unit for any non-Jabra wired solution.

These Technology Refresh promotions are only good through December 31, 2020, so take advantage of the savings and equip your staff with the latest and greatest in office and mobile wireless technology. Click here for the promotion's T's and C's.

Learn more about the qualifying headsets, below: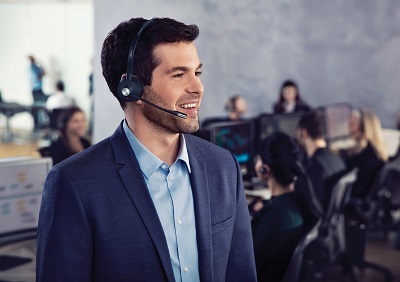 Engage with Jabra and its Engage series, an entirely new class of DECT wireless professional headsets. The series provides superior wireless connectivity to a range of up to 490 feet - and enables up to 3 times more users to operate in the same office space with no loss in connection quality. Integrated busy lights in these headsets increase productivity and alert co-workers' to your busy status.

Engage 75 headsets connect up to five devices simultaneously, increasing availability for customer calls. And the choice of wearing styles support workers' preferences and workstyles.

For detailed information about each Engage headset, click on any of the following links:

Engage 65 Mono
Engage 65 Stereo
Engage 65 Convertible
Engage 75 Mono
Engage 75 Stereo
Engage 75 Convertible

Evolve wireless headsets
These Bluetooth headsets connect to mobile phones and PCs, thanks to the included Link 370 USB dongles. Active Noise Canceling headsets, Evolve 75 and Evolve 75e, keep the user focused on tasks and conversations, and the Evolve 65, Evolve 65e and Evolve 65t offer a variety of wearing styles (including true wireless with the Evolve 65t earbuds) for clear calls, wherever you work.

Engage 50 headsets
These headsets have been created with state-of-the-art software including in-depth analytics for businesses, as well as live on-screen microphone guidance for agents. The three-mic system eliminates breathing sounds, background noise, and other distractions. Available in either mono or duo, the Engage 50 is a USB-C headset; an additional call controller unit can be purchased to enhance the headset.

Biz 2300 and Biz 2400 II headsets
Jabra's corded headsets feature world-class sound, tough construction, and comfort for all-day use. The specially designed "air shock" noise-cancelling microphones filter out sharp breathing sounds and popping noises often heard in conversations. Available in both one-ear and two-ear models, and with connections to desk phones or PCs, Biz 2300 and 2400 II headsets are perfect for all-day wear in contact centers, offices and more.

Visit the Jabra web site to learn more about the promotion, and instructions on how to claim the cash back: Jabra Technology Refresh This promotion expires December 31, 2020, and all claims must be submitted by January 31, 2020.


Contact us today for recommendations on the best headsets for your unique requirements! 1-866-998-9991
TAGS: Jabra, Trade-In Trade-Up, PanaCast, Promotion, Cash Back, Pro 9400, Engage, Evolve 65, Evolve 75, Evolve 75e, Active Noise Canceling, Speakerphone, Speak 710, Speak 410, Speak 510, Biz 2300, Biz 2400 II, Corded Headsets, Evolve2 40, Evolve2 65, Evolve2 85