Plantronics Savi 8220 is 1st Wireless ANC Designed for Desk Phones
October 16th, 2018 • Comments
Tags: Plantronics, Savi, 8200, 8220, 8210, Active Noise Cancelling, ANC, DECT, Wireless, Mono, Duo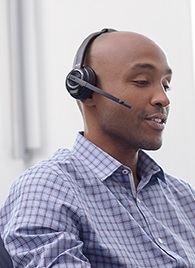 Noisy open offices can lead to unproductive and stressed-out employees ... and, unfortunately, this work environment is prevalent. Organizations should look to headsets as tools to bridge the gap and increase productivity in the workplace. Headsets must meet the needs of employees (who need headsets that are comfortable, convenient, and cancel background noise)
and
their customers (who need clear conversations, every time they call) to achieve organizational goals.
Plantronics' newest DECT wireless headset series, the Savi 8200, has been built for the human experience. The Savi 8220 features active noise canceling (ANC) that blocks out background noise so you can always stay focused on what's important. This is the first headset on the market that's designed with ANC for desk phones! And, to further enhance collaboration and communication, these headsets also connect to PCs and mobile phones/tablets. Count on Plantronics technology for rich, people-first collaboration experiences so good that ideas can be shared and heard—wherever, whenever and however they happen.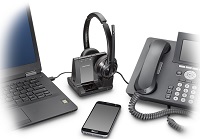 With the noise-canceling mic, you'll sound your best even in noisy environments. For the most sensitive environments, you can turn up noise canceling with the close conversation limiting feature (configurable in Plantronics Hub,
free download here
) for additional privacy. The mic boom is flexible, allowing for optimal placement: two finger widths away from the corner of the user's mouth.
Top Features of the Savi 8220:
*Active Noise Canceling
*
UC
and
Microsoft certified
versions
*Conference up to 4 headsets to 1 base unit - great for training in contact centers and also conference calls
*Connect 2 devices together, for conferencing between PC to desk phone; or mobile phone to PC
*13 hours of talk time!
*Ringer on the base (can be disabled, if needed)
*Large leatherette ear cushions and padded leatherette headband
*Roam up to 590 feet away from the base (this depends upon physical environment)
*DECT Security certified: uses the latest standards in DECT wireless security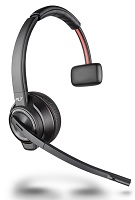 The Savi 8200 also comes in a single-ear variant, which does not have ANC. And, just like the Savi 8220 headsets, the Savi 8210 comes in
UC
and
Microsoft
versions for every user environment.
Is it time to reassess headsets at your organization? Are you looking for high quality professional headsets with superior sound?
Take a look at the Plantronics Savi 8200 headsets, and call one of our headset experts today: 1-866-998-9991.