Best-in-Class Noise Canceling Earbud Headset: Plantronics Voyager 6200 UC
March 14th, 2018 • Comments
Tags: Plantronics, Voyager, 6200 UC, ANC, Active Noise Cancelling, Earbuds, Neckband, Wireless, Bluetooth
Professional, versatile, and ready for business. Just like you.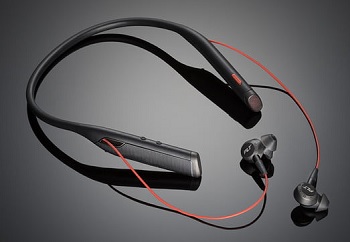 The
Plantronics Voyager 6200 UC
is the latest Bluetooth headset for business that offers Active Noise Canceling in the earbuds, for complete concentration.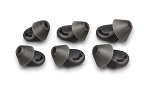 The comfort-fit earbuds come in 3 different sizes, for maximum passive noise canceling - plus the headset features Active Noise Cancellation that can be turned on and off. The option to change earbuds ensures that users will find their best fit. The earbuds should fit snugly inside the ear.
You can wear one earbud, or both for stereo sound, or simply wear the neckband and when a call comes in, the neckband vibrates to alert wearers of the incoming call.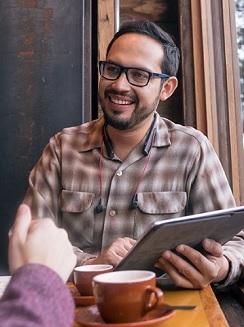 We tested the 6200 and could not believe how lightweight the neckband is - we almost forgot that we were wearing it! The headset reminds us of popular sports headphones on the market that you see at the gym, but this headset is
all business
.
Four omnidirectional mics have Plantronics clear talk technology and enhanced noise cancelling, optimizing your voice and minimizing background noise. Wear it in the office, in the car, on the train, in a coffee shop ... wherever you work, the Voyager 6200 will help you conduct business like the professional that you are.
The BT 600 is the USB dongle that connects the headset to PCs. A micro USB to USB charging cable connects to both the headset and the weighted desktop charging stand. It all comes in a hard-sided zippered travel case. This travel case will protect the headset and we like that there is a small pouch inside the case that holds the extra ear tips, USB dongle, charging cable, and if needed, the charging stand.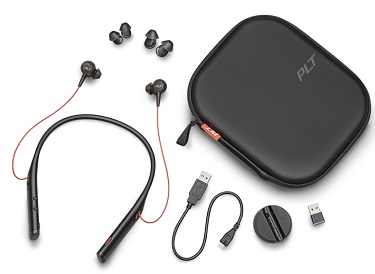 There is much to recommend this comfortable, premium, Active Noise Canceling headset, and professionals who prefer wearing earbuds will want to wear this headset every day!
Check out the How-To video below from
Plantronics
, and
contact us today
for more information about the Voyager 6200 UC.
Communication is Our Business
and our headset experts are ready to help!